2006 North West Regional Championships - Championship Section retrospective
16-Mar-2006
Was this really the must see event that it promised to be, or did Fodens win a contest that saw their rivals come no where near their brilliant standard?
---
Most of us have been there: A must-watch sporting event is imminent and you have your plan of action at the ready; whether it be a trip to the pub, or a gathering at the house for what you hope will be an enjoyable and memorable occasion both sporting and social.
Unexpectedly, something crops up, making sure you miss the first seventy minutes of what was a drab and uneventful affair, only to come to life towards the end, and whilst you promised yourself the chance to watch it all, you're glad you didn't. It didn't quite work out like that here this Sunday, but in a way we, and quite a few of the audience possibly wished it did.
It's fair to say that the Championship Section in the Opera House wasn't an inspiring affair at all. The way the draw worked out, meant that the serious contenders for the title in Fodens, Fairey's and Leyland (in search of a hat-trick) played in the last section and those who missed the earlier parts of the contest, through commitments in other sections, the weather or just plain lucky, didn't miss a great deal.
Fodens Richardson won this contest because they put down a marker that was unbeatable on the day with some superb playing that had musical moments that at times touched on the pure gold. It didn't quite get into the Grimethorpe or Dyke category from Bradford, but it was timely reminder from Mr Cutt (who put in a sterling performance despite his obvious disability) and his troops that when Fodens perform like they did here, you never discount them from the running.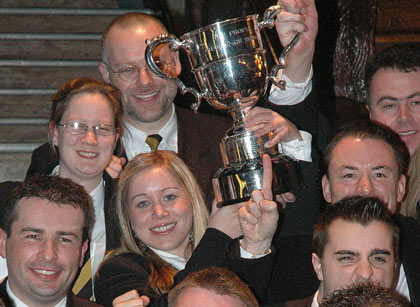 A 'Journey' made all the better by winning - Fodens celebrate
Picture John Stirzaker
This was Fodens at 95% throttle – all that was missing was that little extra touch of the sublime that comes when a band is so well rehearsed it travels almost on auto pilot. Here they just couldn't quite do that perhaps because each of the players were conscious of the MD and lack of mobility (and the real possibility his back may 'go' at any moment), or that because of his disability they were just one or two rehearsals off being 100% prepared. Whatever the case, it was still a remarkable performance and one that showed that this is a combination (when fully fit) that could take majors honours this year.
Having had a couple of lean years at the area, where they've failed to qualify, this performance will set them up for the remainder of the year with oodles of confidence. If you excuse the pun – it showed a remarkable amount of back bone.
Fairey's took the runners-up spot with a marked degree of comfort, even if they were a little way off their best form.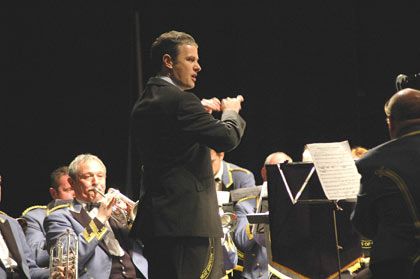 Stonehouse style - Fairey's MD leads them on a journey to London
Picture: John Stirzaker
Foden's got the nod overall for what was a more musical offering, but the Stockport-based band went for it big style and like the winners, it was real edge of the seat stuff with a snorter of performance from Rebecca Crawshaw on sop, and Kevin Gibbs on trombone, not forgetting Brian Taylor whose support to Steve Wilkinson on principal cornet was superb. As we said though, it just also had those little moments when the gloss finish was chipped slightly and they had to work hard to regain their composure.
John Berryman though had his winner and having praised the soloists on the day, it was Fodens' soloists that gave them the edge. It was a well deserved result both for the winners and the runners up.
Leyland finished in third place in what wasn't the best performance you'll ever hear from a National Championship winning band, let alone one going for a hat-trick of wins. Errors cost them dearly and there was a marked looseness in the ensemble that must have annoyed both Russell Gray and the players. Perhaps the subconscious played a part and the 'edge' required was missing with them already having qualified.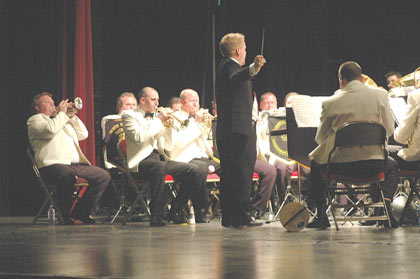 Leyland suffer a bit of a grey day under Mr Gray at Blackpool
Picture: John Stirzaker
Whatever the reason, it wasn't the Leyland of London or last year here for certain. They will be a different proposition in Belfast we are sure though.
Wingates under Dr Roy Newsome played from the number seven draw and were the first band to put a performance in of real merit that would need to be respected by the big three tat were to follow. Fourth place was as comfortable for them as it was for Fodens and Faireys, and if it hadn't had been for an uncertain ending, they could have sneaked third.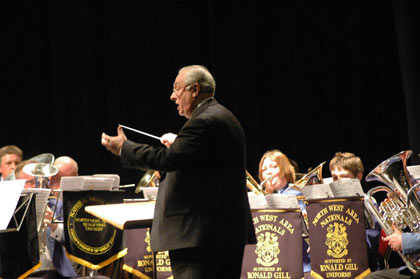 The Newsome factor - Dr Roy leads Wingates into fourth place
Picture: John Stirzaker
Dr Newsome was a model of elegant baton work and his payers responded magnificently for almost 90% of the piece. If they carry on like this for the rest of the year it will be a combination to look out for.
Dobcross played last and had more than enough quality about them to come in fifth, but just not enough to snatch a top four place. The stars of their show were the Moore brothers, Peter and David, off which more later on.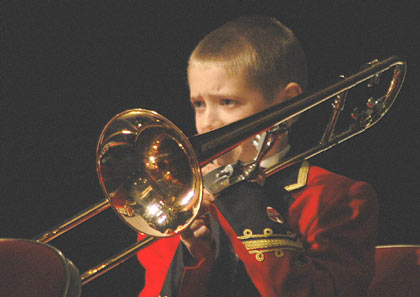 Star man - or boy. Peter Moore struts his stuff
Picture: john Stirzaker
Behind them came BT and Freckleton in sixth and seventh place respectively, and after that, the standard was mediocre at times from the remaining bands, and although some individual performances from players stood out, the general level of ensemble work was not that clever.
Some bands walked on stage thinking that having seen Dyke perform the piece on CD/DVD that they could match it - they couldn't, and shouldn't have tried.

Many went for big, bold and brash (although sometimes in a slightly different order) instead of concentrating on their own strengths, and as a result the error counts were far too high and the approach far too aggressive.
Too many bands had soloists who fluffed their first entries but recovered the next time they came in, whilst some of the tempos were pushed beyond some of the bands limits.
The overall result of this was that the Championship Section was a disappointment, whilst as with other areas, some of the bands found the step up from the First Section into the Championship a really tough challenge. There were people in attendance who had been involved at Yorkshire the previous weekend who were heard to mutter 'Well our band played better than that …and how did a particular band finish in a certain position?' That was of course a tedious and irrelevant argument because the one thing that 'Journey to the Centre of the Earth' has done in Yorkshire and the North West is made sure the best bands have come out on top. That was certainly the case at Bradford and at Blackpool.
John Berryman admitted from the stage that had a splendid day and that it had been a joy to listen to the bands, even moving him to tears at times. Whilst not giving an indication to the winners, John did refer to the lovely chording within the piece, the incisive and exciting music and praise for the soloists; for the detailed listener that tended to suggest that Fodens had come out on top and in the end no-one who heard them could disagree with that.
Back at the beginning of the contest, the first three bands to perform Haydock, Pemberton Old and Freckleton came 9th, 8th and 7th respectively.
Haydock under Ed Kennedy got the show on the road but their performance suffered from slips all over the place and intonation problems. The opening wasn't bad but the fair start didn't last long and apart from the solo cornet and soprano they did struggle. Fair play to the MD though who was aware that all wasn't brilliant around the stands and as a result didn't push the boat out when it came to the tempos.
He put the brakes on something that could have fallen apart and Ed Kennedy can take credit for their ninth place. It wasn't the best opener, but ninth out of thirteen isn't a bad return, although something of an indication that some of the performances were a long way short on the day.
Pemberton Old under Mark Peacock opted for a steady, almost cautious approach that wasn't consistent enough to become a serious challenger, but was sufficient to guarantee that it didn't finish towards the bottom end either. Mark Peacock gave the opportunity for his soloists shine and whilst they all had a few wobbles, all of them did well enough not to have been overly disappointed at the close. It was more a question of stamina though and the band did sound a little tired at the conclusion.
It might have only been two bands in, but we started to think it was going to be a long afternoon.
Freckleton with Paul Dalton made a return to the Championship Section producing a fine display that was more than worthy of seventh place overall. Once again, the MD took a sensible approach to the score and it was the first performance where a lot of the musical detail shone through. RNCM student, Matt Palmer was in fine form on top man as was the soprano, who could be forgiven for the odd glitches; a nice warm sound that brought much to the performance.
United Co-op Milnrow wasn't great at all overall but did feature a fine contribution from Mark Rodgers in the Principal Cornet seat. Mark took his part in his stride, overcoming any obstacles that were in front of him - not just an indication of a fine player but one that had clearly put in a lot of graft into his part away from the rehearsal room. Unfortunately, Mark's colleagues didn't have as good a day as himself, with the piece stretching the players too much and finally producing numerous errors and a very tired sound.
Michael Fowles led BT from the number five draw into sixth place in what could be described as a 'no quarter asked, no quarter given' performance. Michael worked BT very hard, dragging every ounce out of them and they deserve credit for responding. Whilst the opening wasn't brilliant, it did recover and settle down, but the tempos were pushed to their limits. The fight scene was certainly their finest moments and although they did sound a little tired at the end, BT once again demonstrated that they can cope with a challenging test piece such as Journey.
Besses wasn't good at all and the band sounded completely ill at ease with the piece. The poor opening never recovered and the performance nose-dived down hill with a real uninspiring flatness about it. Sadly the soloists didn't shine and their wobbles didn't bring any real stability to the performance. It's possible that relegation is on the cards for the band, and although they finished in fifth place at Pontins last year, this was another offering indicating Besses are a bit out of sorts at the moment.
A performance that had a real sense of authority and quality about it had been a long time in coming but we finally got one from Wingates led by Dr Roy Newsome.
Dr Newsome's approach was steady as opposed to spectacular but it enabled the performance to develop into what was a fine all round show which if it hadn't been for an uncertain conclusion, could have taken third place. The atmospheric opening was the first to make you sit up and go 'hello' and they built on the sound beginning; the tempos weren't stretching the band beyond their means, Phil Dias was in fine form on trombone and with a persuasive Day of Rest, effective Whispering, you did wonder just how far off the top this could finish.
Unfortunately, it was right at the death that perhaps cost them with their conclusion, but congratulations should be given to the MD who used his years of experience (and is clearly enjoying fronting bands again) to coerce a fine performance out of the band.
There wasn't a lot of difference between Blackburn & Darwen and Besses and it was a case of splitting hairs on who finished with the wooden spoon. Once again it was a poor start that never gave the chance for the MD to initiate a recovery; the tempos were pushed far too much; the soloists struggled and the whispering was far too loud sadly. If anything you felt for the band because this was completely outside their comfort zone.
Longridge was another band under Gareth Pritchard that struggled to get to grips with the complexities of the work, and although the opening wasn't too bad, it wasn't long before it became evident that they could really struggle with poor ensemble work and soloists who were hanging on to their coat tails for dear life. It wasn't as bad as the bottom two but it wasn't clever and it will be one of those contests the band will be glad to have seen the back of.
Wingates apart, nothing had really shone, but the hall filled up for what was the contest within a contest with Fodens, Leyland and Faireys going head-to-head.
Fodens played first with Garry Cutt at the helm. An indication of Garry's back problem was evident before a note had been blown with a problem with the MDs podium. Mark Wilkinson just looked at the MD with a broad grin but Pete Coulson came to the rescue and it seemed to relax everyone and take away any tension.
The opening sent shivers down the spine (which may have been good for the MD too) and although the piece had only just begun, the audience knew very quickly that they were in for a real musical feast; at times it was awe-inspiring with a quality of sound and solo playing that was magnificent to listen too. Helen Fox produced the best flugel playing of the whole day; Mark Wilkinson was so smooth, Alan Wycherley was secure on soprano and Les Neish and his bass colleagues really scrapped it out in the big fight scene. Glyn Williams matched Messrs Wilkinson and Wycherley (not forgetting Helen Fox) with a fabulous display on euphonium, and you did wonder how the remaining bands could beat it. They didn't.
Leyland took to the stage looking for a hat-trick of wins here - so we expected them to really go for the jugular. It didn't happen and too many individual errors from the soloists meant that the approach from Russell Gray became a cautious one. The shining lights soloist wise was Lesley Howie who produced the horn performance of the day, and although Brenden Wheeler wasn't always 100% he did a good job in the euphonium chair.
Whilst victory was out of the question, you started to ponder where it would finish, and Leyland had left the door wide open for Fairey's to take second place. On the evidence of this performance though, glory at the European and Grand Shield are a way off, but the one thing Russell Gray will make sure of is that his troops work extremely hard in the next month so the playing will be much tighter around the stands.
Simon Stonehouse directed Faireys into second place with a performance that was almost chalk and cheese in its execution compared to Leyland. The standard of performance was maintained from the first note to the last with some impressive displays all over the stand, most notably from Rebecca Crawshaw on soprano and Kevin Gibbs on trombone. With a delightful sound coming from the front row cornets of Steve Wilkinson and Brian Taylor (who performed like a man possessed) it was going to be a matter of taste (and a possible calculation of the error count) for what John Berryman was after.
Having acquired some new faces around the stand since London, this was a highly commendable showing from Fairey's and although they're not at the All-England International Masters, they'll be relishing their chances at the English National come July.
That left Dobcross to take the stage in what became a rapidly emptying auditorium. The overall performance wasn't the best with some unforced errors but it was memorable for the contribution of the Moore brothers, Peter and David. Peter is the reigning British Open Solo Junior Champion and at ten years of age, he nailed the trombone part as well as anyone on the day performing to a level far greater than his tender years.
What stood out was his warmth of tone and his control of the instrument; the lack of any nerves on show whilst there's a glint in his eye, and a smirk of enjoyment that demonstrates above anything else, he just loves what he does. The only thing not there is power, but it will come as the years go by.
Peter's older brother, David, just sixteen, also produced a delightful sound on flugel and contributed to an overall showing that far from perfect was worthy of a top six showing.
The North West 2006 title though belonged to Fodens. As Regional Secretary Peter Bates announced the results at the end of what had been a demanding day, the placings came out as many expected; John Berryman's job to pick a top six wasn't overly taxing but Fodens had shown that they are back to something approaching their best.

Malcolm Wood