2006 North West Regional Championships - First Section retrospective
16-Mar-2006
Wire Brass will head to Harrogate as deserved champions here on a day when perhaps all their challengers didn't quite go for broke.
---
There are times when a contest just underwhelms you. Not disappoints you to any great extent, but just fails to capture the imagination as a listener with it blandness and lack of ambition from its competitors. That was the feeling that you got here in the First Section where a contest that could have promised so much became something not of an anti climax, but of no climax at all.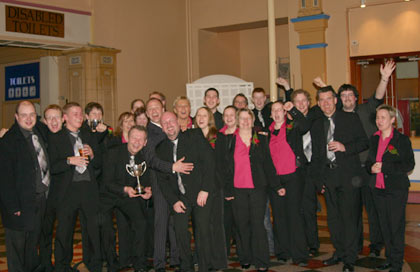 Wire in the blood: Paul Andrews celebrates yet another trip to Harrogate
Picture courtesy of Wire Brass
Adjudicator Derek Broadbent was diplomatic, to a point, after the section had finished but he too seemed to also invest in his timbre a little disappointment with the overall standard of the contest. You had to agree with him. To paraphrase he stated: "The title of the piece", he said "…is 'Voyage of Discovery', but I wonder how much some discovered in the piece. Perhaps," he smiled and said, "… some bands dived for treasure but didn't quite dive far enough." You knew what he was talking about, and it wasn't just because you picked up on the hidden subtext of his language.
It was a shallow contest – not a bad one by any means, but one that could have been so much better if only the bands had thrown caution to the wind a bit more and tried to explore the music contained within Goff Richard's score rather than just the notes on the page.
He stated that he had listened for a band to make a Championship sound given the promotion that quite obviously could follow on from these performances – and in the event he identified two or perhaps three that met his expectations.
Again, we think he was being a touch generous with his assessment on that one as with the best will in the world there was really only the one – the winners Wire Brass who really commanded the piece in a true Championship style. Others did try, and for a variety of reasons fell short – poor form, too many errors, poor interpretations, lack of confidence, but only Wire really made you stand up and think – yep, a championship band in waiting.
It is not to say and stress that the other ten bands didn't have a full and at times majestic bloom but the consummate artistry that is the hallmark and defines that Championship standard just wasn't there elsewhere.
The results show a single point separating the winners and runners-up Wire Brass from United Co-op (Crewe) but in reality it was the opinion of many that Paul Andrews and Wire won this contest by the proverbial country mile.
Commenting to 4BR following the announcement of the results Paul spoke of it being "Fantastic! Beyond our wildest dreams." It may well have been given how far this band has come in such a short space of time, but in truth it was a very well managed and well maintained performance that had quality about it. If that is fantastic, then great, but heaven help the MDs use of hyperbole when they play better again (and they are more than capable of doing so.)
Of the performance he told 4BR: "I felt the band played well but we didn't know if we were going to be up there at the results. To feature would have been good enough but to win - it is amazing."
There may have been some crack bands in this section but Wire stood out for us and fully deserving the award of 191 points from Derek in the box. From a number 7 draw of 11 it was a performance that stood out as an absolute winner.
Virtually every other performance on the day, whilst not challenging Wire certainly had thoughtful integrity, but they were not consistently impressive. They were often introverted and very literal and played all the notes on the page, but at this level, and bearing in mind we should be seeing and hearing bands wishing to progress further, there was very little music making. Again, that is not to say they lacked concentration but they failed to convey those spontaneous bursts of vitality that characterize winning performances and mark out true Championship Section bands from First Section bands at least.
Wire Brass delivered the performance that found within the score the opportunities for exceptional richness of expression and a wonderful use of resource within the playing capabilities of the band.
The MD summed it up nicely in saying "There are still at least 50% of the band who started with us, what, nearly five years ago now and they have continued to work as hard as I've always asked them to. They deserved absolutely everything that they got today."
Placed second were United Co-op (Crewe) under the direction of Jef Sparkes. They gained 190 points and they did well to ignore a lot of noise in the auditorium in the early stages of their performance which could have undermined them.

The overall felling though was that the playing was just safety first in approach and one longed for them to deliver bolder colours and the greater power that they seemed to save up for the final thematic lines. When they did open out they sounded glorious, and they did have a neat sense of style and execution in the quieter stuff, but oh for some vibrancy and a bit daring do!
Alan Lawton exuded great control over the Vernon Building Society Poynton Band, who played 9th on the day and came third. An award of 188 points was not unjust but the weaknesses were mainly intonation issues toward the end of the piece and what felt a very hurried opening motif that was very distracting and lacked clarity. Again, there was a good band here just itching we suspect to get out and show what it was worth.
Diggle finished with a prize and 4th place but they were our runners-up on the day. Norman Law conducted the band from number 1 and gained 187 points. For us they were one of the very few bands that did look for the changing moods of the music. It was a decent marker from that early draw but the cornet lines at times were a little less cleanly focused towards the close and this may have been costly.
Straight and direct could sum up the Haslingden and Helmshore performance that finished in 5th place. Gaining 186 points David Holland chose a very deliberate style but again early positive work was lost as the music unfolded and the lack of colour and timbre was evident especially as there was a lack of dynamic contrast in too many places.
In 6th place with 185 points came Poulton-le-Fylde led by Steve Tarry. The band had a bright tone and a crisp edge but some of the solo work suffered and some of the upper register requirements did stretch technically and lost them that chance to show off their darker hues from the fine sounding middle of the band. This was another that had so much promise about it, but just lacked for ambition.
Philip Chalk drew from the Ashton Under Lyne Band a very full sound gaining 184 points. Despite the generally confident ensemble work the overall performance had perhaps a few too many blemishes all across to challenge for a prize, although they really did sound like a quality Championship band at both extremes of the dynamic range. As we have said earlier, there were a variety of reasons why some fancied bands didn't shine on the day and for Ashton it was a combination of poor form, too many errors and an approach that possibly under estimated the piece. Whatever the reason, they will be deeply disappointed with the result.
The Roberts Bakery Band didn't produce for Richard Evans the very concentrated reading that his conducting style conveyed. Richard must have known that the resources under his command were a bit threadbare in places, but he went searching as he always does for the music in the score. The pity was that his players couldn't quite respond in kind and so there was a general sense of unease throughout as the MD asked for one thing and was given something totally different in return.
Maxilead Metals Tyldesley conducted by Robert Taylor with 182 points were served about right for us in the final placing. The band had clarity but rather a thin tone on the day and they never quite sounded at ease especially when the music demanded a broader, fuller tone. It was safe and no sorry, but so were so many on the day and as a result the performance got lost in the miasma of mediocrity that so blighted the contest.
10th place with 181 points came Stalybridge Old with John Binns conducting. One was left with a feeling that the dynamics could have been a bit braver and it therefore left the listener thinking that the band could have produced a performance with a little more scope. John made the most of resources for sure, but at this level if those resources are not quite on form then they suffer in comparison to those who are. And that was the case here.
It would be curmudgeonly to dwell on shortcomings of the performance from Old Hall Brass under Andrew Jones but with 180 points awarded it never really challenged. The transitional passages were generally well shaped but the overall impact of the performance on the day didn't fully convince and we think they couldn't have any complaints about the result. .
In our run up to this contest we anticipated a cracking battle. There was unquestionably a number of good quality bands playing on the day, but in the event only the one really made the most of the opportunity presented to them – an opportunity that an experienced judge such as Derek Broadbent had no trouble in picking out. If only more had really gone for it like Wire then Derek would possibly have had his work cut out to pin down the result.
As we have said, why so many on the day didn't do themselves justice is a mystery, but fancied bands (and quality bands too) such as Aston-under–Lyne didn't sound like the same outfit that took the stage in the Symphony Hall Birmingham.
United Co-op Crewe took the second spot we predicted but they too have played better and not come in the prizes elsewhere. Diggle can count themselves a touch unlucky whilst VBS Poynton could have won it if they had just let themselves get into the music more.
It was just one of those days and as a result you left feeling just a tad unimpressed.
John James.