2006 North West Regional Championships - Second Section retrospective
16-Mar-2006
It was a home town win here in the Second Section as Blackpool stormed to victory on a day when Howard Snell's test piece once more took casualties.
---
Blackpool Brass's victory in this section on Sunday morning was as convincing as the three point gap over Bollington in second place suggests. Hoover (Bolton) and Delph weren't too far behind, but sadly it was only these four bands that got anyway near performing the piece as written, and none of them got through unscathed. As for the remaining seven, you have nothing but sympathy.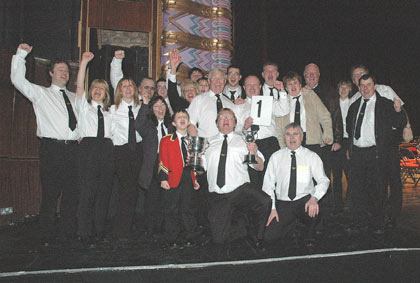 Blackpool celebrate their home town win by three clear points
Picture: John Stirzaker
Getting to the venue for the 9.30am draw was an effort for most and by the time they'd played on stage, most of them looked exhausted. If it had been eleven boxing matches, seven would have been stopped before the end to make sure they didn't suffer anymore undue punishment. Was this what contesting is really about?
Yes, the standard was better than Bradford, by a good margin, but 'Images of the Millennium' confirmed our first thoughts from the previous weekend. It was a bad choice and just too damn hard.
Perhaps adjudicator Goff Richards knew it as well. Having judged the contest, Mr Richards made no comments from the stage; a shame in many respects, but that's his right, and maybe just maybe, he knew that his First Section piece would give the bands a better opportunity to demonstrate their talents than Mr Snell's difficult, and for many, impossible challenge.
Blackpool Brass strolled to victory with ease. Playing last from eleven bands in what was a bitterly cold Opera House, they didn't just have the best sound, they were consistent enough in solo and ensemble lines right the way to the end. The scherzo was taken at the right tempo, but victory was secured in a wonderfully executed Nocturne, that had this reviewer dreaming of something warm!
Seriously though, the cornet ranks excelled here, and credit to conductor Andrew Warriner who pulled out all the stops – clearly spending an awful lot of time in getting the basics right.
Some of the band were sat behind 4BR at the announcement of the results and they were convinced they'd got victory. The roar said it all, not quite in the Gary Neville fashion after Man U toppled Liverpool in the last minute in January, but they enjoyed themselves on stage and they'll return to the Nationals for the first time in over a decade in confident mood.
Speaking with 4BR, Blackpool's Chairman Stuart Ward added: "We're delighted, absolutely delighted. Andrew came in after Steve Simpson had to step down last year due to poor health. He has done a great job, but he's worked us very hard and that work has paid off. Steve is very much in our thoughts at Blackpool at the moment as he isn't well; I have spoken to him to tell of him of the win, and although he's not here today to share with us, we hope it has put a smile on his face."
Bollington under Peter Christian, played from the number four draw and after the first few bars, settled down to give a fine display, particularly, as with Blackpool, with the Nocturne that was arguably the best of the whole contest. The Macclessfield based lads and lasses might have played early, but it was always going to be in with a shout of being in the frame, and it was.
Hoover (Bolton) went on stage just before Bollington and can consider themselves unfortunate not to have qualified for Harrogate. With Robbie Cargill at the helm, the opening was the finest of the day by a long way – so steady, so deliberate and so effective. Well done to everybody for this because this was where many performances were over before they'd begun such were the demands of the piece. It was close between the second and third placed band, but Bollington's Nocturne, could well have been the difference.
With a number of players from Smithills School within Hoover and a new MD at the helm the foundations laid by former MD Chris Wormald have paid dividends; it remains to be seen whether they'll go up to the First Section or not, but whether they do or they don't, Chris's hard work has given everybody a platform to build on.
Delph led by Dyke's Phil Goodwin had their best result here since 2003. Without question, Phil got more out of the score than anyone else on the day, but the playing didn't quite have the degree of quality of the first three. It was impressive though as the work that had gone into preparation was visible and playing tenth out of eleven, suited them. There was some lovely cornet work throughout and it was glitches, more than huge blips that cost them on the day.
Manx Concert Brass played from the number five slot and under the knowledgeable Ian Claque, gave it their best. It was as rocky as the Irish Sea at times and the opening wasn't brilliant at all but they kept going sufficiently and finished stronger at the end and with something to spare. Even though they were shattered at the end it was a performance that perhaps still had a bit left in it.
Silk Brass was another performance that gave it everything, but unlike Manx, they started better than they finished. The opening Scherzo wasn't bad by any means, but it started to go wrong in the Nocturne and it never really recovered and it just petered out to end.
Boarshurst Silver and United Co-operatives 2000 both finished in seventh place and they found it really hard going.
Boarshurst would have left their Saddleworth base before the snow started upon the moors, but their performance was as slippery as the roads leading into the venue. Dave Hebb did a good job holding it together because it had more than a few moments where you hoped it wouldn't fall apart as it could easily have done.
United Co-op's was a similar situation and Mr Richards clearly couldn't find anything to split them and Boarshurst. It was in the Nocturne when the band eventually relaxed producing their best moments, but the outer sections were messy and lacked balance and it got the result it deserved.
Greenalls, Eagley and Hawk Green will possibly just want to forget about the contest as quickly as possible. They deserve a great deal of credit for turning up and giving it a go, but the test piece was far too much for them.
John Ludden's Greenalls was a performance that reinforced the point as good a band as they are (3rd on Variations for Brass Band last year) this stretched them beyond their limits and the basics of good playing had deserted them long before the end. It was not their fault though we add, but that of the Music Panel for picking the piece. For a band with such promise as Greenalls and others, it must have been a real test of patience and fortitude to make it to the contest platform.
David Thornton made his contest conducting debut with the Eagley Band from Bolton. Fair play to the Dyke euphonium star, he kept things as tight as he could, and from the evidence of his body language on stage, he enjoyed himself. We couldn't see, but from the energy he was producing he seemed to bring confidence to his players even when they were noticeably nervous. On a different piece this could be a band with a very promising future.
The same can be said for Hawk Green (Marple) and its conductor Phil Pavey who deserved a medal for pulling the band through to the end. It was the equivalent of hitting the wall in marathon running and crawling over the line - almost in agony at the end. A good band such as this can be damaged by having to play a test piece of his difficulty. It was sad to hear them play like this as they are a much better band that this showed.
Well done to Blackpool and well done to every other band here on the day. This was a real trial of strength and fortitude, character and talent. Even the taste of success for Blackpool and Bollington would have been tinged with some regret that they had to go through the wringer in this way to get to Harrogate. Lets hope all the bands recover and come back stronger next year. They deserve to be given as much encouragement as possible from the Music Panel for one.
Malcolm Wood