2006 North West Regional Championships - Fourth Section retrospective
16-Mar-2006
It was arctic conditions outside but inside there was a great atmosphere and a red hot Fourth Section contest which was won in fine style.
---
In what could be only described as arctic conditions, twenty two bands arrived in Blackpool to compete for the top three places at the National Finals in Harrogate.

The weather outside was cold with plenty of snow on the ground whilst the temperature inside the hall was chilly to say the least. I've never had to sit through a contest where for the most part I had my top coat on and so had the rest of a very good audience. Still, it didn't detract from what was to be a very good contest, even if it did take a while fr the feet to warm up!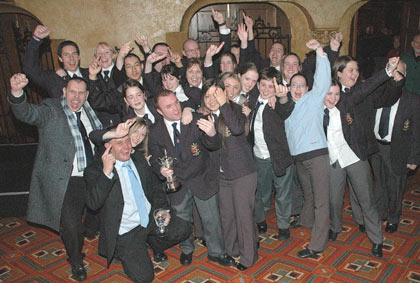 Are we happy or what! Oldham (Lees) Band celebrate their victory
Picture: John Stirzaker
The great thing about this section was the fact that the large majority of the bands gave very decent performances of the music, but the winners Oldham (Lees) conducted by John Collins were a clear winner, with Formby Band and Lostock Hall Memorial Band taking the other two qualifying places.

Drawn number 1, Formby set a very good standard with Louise Hough allowing the music to flow and overall the playing had control with some nice solo cornet playing noted. This band set its stall out to impress and the Adagio in the fourth movement was a feature of their controlled and balanced playing. They certainly deserved their reward and it says a great deal about the standard of their playing that it stuck in the minds of the judge Ian Brownbill right to the very end. It was a fine marker indeed.

Tarleton & District Brass off the No 2 draw had some nice moments but overall it lacked a bit of style although some fine bass sounds were evident. The third movement sounded rushed though and it was a bit tired to the end. Eleventh place was fair enough.

Meanwhile, Uppermill under the experienced Alan Widdop had a fine opening to the piece but poor balance from the trombones in the second movement alongside intonation problems detracted from what at times was a most musical performance and seventh place was a fair return. If they could have sorted those out they would have come much closer to a top three finish.

Littleborough Public followed and to be fair never got to grips with the piece with too many clipped notes and uncertainty especially in the cornet section. Despite a good final movement the damage had been done and sixteenth place was the verdict.

Band no 5 Rode Hall Silver put in a performance that lacked conviction throughout despite some nice soprano cornet playing. The band was not at their best and 21st place was the result. Plenty to work on though. Meanwhile band no 6 Ramsay were a different kettle of fish and this young band did themselves and their conductor proud with some mature playing all round the stand and with only the odd hiccup. It was good stuff and very well directed and they were awarded a well deserved 4th place. To see so many youngsters enjoying their playing only added to the experience. Great see, and we are sure they will return next year with an even stronger band.

Golborne directed by the energetic Dave Chapman had a good opening and overall put in a fair show but some of the playing was indecisive and it was a performance of what might have been rather than what was. 8th place could have been higher but there was plenty for the MD to be pleased about from his players.

Greenfield playing no 8 at times promised much with some nice contrasts in the fourth movement but poor ensemble crept in and 12th place was for us slightly lower than they deserved for a well thought out performance - but were splitting hairs here.

Besses Boys followed with another performance which could have been higher than 9th place, but not enough attention to the dynamics cost at times. This young band has plenty of promise though and a bit more of a controlled approach would have reaped a higher place. Again – plenty of good stuff to work on for the future.

Tottington Public suffered from poor intonation throughout and despite some nice cornet playing the band did not do the piece or themselves justice and 20th place was the result.

Then at last came a performance which from the opening Maestoso had real authority about it. Oldham (Lees) to put it in a nutshell were a clear winner with tight ensemble, good direction from the conductor and some fine solo playing from all the corner men. All the ingredients needed to win a contest in fact and the playing was of a higher standard than anyone else and a pleasure to hear. Well done indeed, and they will be one heck of a strong band come the finals.

We then had a break for ten minutes giving both audience and I suspect the adjudicator a chance to warm up. Yes - it was bloody cold!

Coppull & Standish resumed the contest and overall were a bit of a disappointment with not enough attention to detail and a tendency to overblow, which was a shame for when they did control the dynamics they had a nice sound. The Adagio is marked pp for most of it but this was ignored and the ending was erratic so 17th place was bang on for us.
The Band playing 13, Brindle had one of those days they will want to forget as all in all the performance was bland and lacked feeling with some awful tuning at times. This band can play better than this, and there is a good foundation here to work from, so 22nd place and no complaints this time.

Carrbrook followed with a mixed bag that featured some controlled playing but then some lapses in concentration. When it was good it did show real promise but 14th place was reasonable for just that lack of consistency throughout all the movements. Band number 15 Lostock Hall fully deserved to reach the finals with a spirited performance which had plenty of conviction and contained good attention to detail. This was also a very well directed performance and the band sound was balanced and warm. 3rd place was very well deserved.

Hesketh Bank gave a good account of themselves with a performance which with more control could have been higher than the 6th place it received. In the 3rd movement we had accents on the minims which really spoiled the effect, but there were real signs of a good band in the making here and if they can just control a little of that obvious enthusiasm we think the future could be rosy indeed.

Denton came next and this band is showing improvement all the time. The music had a nice flow to it and if they would believe in themselves more they could make a mark at this level. Jut when you thought it was going to blossom they seemed to go back into their shell. Experience will surely help them, but once more, plenty to be pleased about even if the result may have not been entirely to their taste this time around.

Dobcross Youth once again showed they are a force to reckon with at this level with a well thought out performance excellently directed by Ted Griffith. There was real attention to detail and an emphasis on a warm rounded sound both from individual as well as ensemble players. 5th place was well deserved, and you suspect we haven't heard the last of the band this year for sure.
The bands playing 19 and 20, Parr Richardson and Blackley never got to grips with the dynamics of the music and overall their 19th and 18th placings were fair reflections of their performances. It sounded a bit like hard work in places, but there were glimpses, although only small at present that suggest that there is talent to work with. This was a hard test for both bands, but we are sure they will return next year the better for the experience.

The last two bands of the day, Eaton Farnworth and Walkden and Barnton Silver both had some good moments, with Barnton finishing in 10th place and Eaton in 13th place. Again with both performances it was a question of consistency throughout the full five movements of the test piece. Each will take something back with them for their efforts here and there is enough talent in the ranks for both to come back stronger for this experience.

Speaking about the playing Ian Brownbill said overall he had enjoyed the playing but felt too many bands had needed to control the dynamics more in this acoustic. As usual with Ian, he speaks honestly and clearly about what he wants to hear – and on this occasion he felt that a number of the bands needed to concentrate perhaps ore on the basics. Good sense from a very good judge that.

For us, more basic direction from the MD's would have helped, with some conductors never getting there heads out of the score. Players need basic training sometimes, but so too do conductors. Like good footballers, good conductors don't need to keep their eyes looking at their feet.

The day though belonged to Oldham Lees who gave a performance I doubt will be beaten in any other region. The conductor told 4BRt he was delighted with the performance and looked forward to the finals. He should be. All three bands in fact will serve the North West well.


David Tinker