2006 Midlands Regional Championships - First Section retrospective
16-Mar-2006
This was a real First Section contest. Plenty of good solid bands and a lot of quality playing made for an enjoyable day sat in the splendour of the old Town Hall.
---
When the First Section was set up in 1992 it was meant to provide a new level of brass band contesting. It was rightly seen as a stepping stone to the Championship Section, a means for bands to continue their development in a realistic fashion, be it by moving up from sections below or by coming down from the top tier above.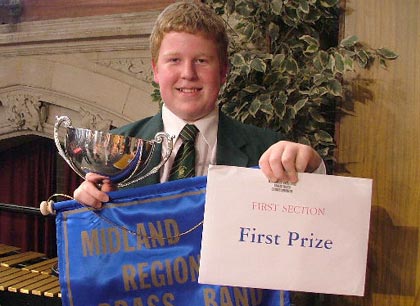 Having it in writing - Foss Dyke's Chris Hart enjoys the number 1 feeling

The 1992 model has lost its focus somewhat in recent years and in many regions it is difficult to really identify the purpose of the First Section in terms of either developing bands or allowing others to regroup and recover. Not so here in the Midlands, where on the weekend 4BR really did get to hear a true First Section contest.
17 bands lined up, and 17 First Section bands they were too. The standard did vary from the best down to the bottom of the pile, but all the bands displayed enough quality of sound and technique, individual and ensemble balance, control and compactness to suggest they were in the right section. It made it such an enjoyable experience that even though it was a longish day of listening, you never felt bored or disappointed at what you heard and you had to really concentrate to separate the bands out.
Malcolm Brownbill had it right when he suggested that Voyage of Discovery was a very good piece for this level of banding. "There is so much detail in the writing," he said. "The opening is marked 144 plus and takes some playing, whilst only a few bands really did that today. Letter D must not slow down, whilst the quartet at bar 73, is just that – some didn't sound like it today."
Malcolm in fact gave a very perceptive analysis of the test piece, delivered with just the right amount of humour, but spiked with the right degree of sharp eared comment on what he had to judge. "There were some suspect things going on here," he said of the bass duet – something that struck a chord in the hall. He also pointed out the difference in the tempo marking at the final Presto – "brisk and light in style" whilst he also made the precise comment on the percussion at the very end – "sometimes it obliterated things," he said.
He was also right in his analysis that no band came through unscathed and that the piece did what it should, and stretched the bands here. The only thing he got wrong was his final comment that the two best bands would go through to Harrogate (there were in fact three qualifiers). It was a very thoughtful piece of adjudication and explanation though.
David Horsfield was much the same. His comments were aimed at the overall standard of playing on show. "There was some good playing here today," he said. "The overall standard was good although there were a couple of bands a notch or two ahead of the rest. The treacherous opening certainly caused problems and there was a great deal for everyone to do – even the back row cornets. It was enjoyable however to judge – even the bagpipes didn't stop us." As with Malcolm it was a neat and well thought out piece of explanation.
It was in fact difficult to disagree with both the judges when the final result was announced. We picked Kibworth as our winners, with Derwent Brass as runners up and with Riddings in third. We had Foss Dyke in fourth with Hathern and Enderby making up our top six.
The judges went ultimately for Foss Dyke, and you could definitely hear why. Led by the quietly efficient Gary Wyatt at the helm, theirs was a performance of real quality in the ensemble, which was perhaps just let down by the nasty little clips and unforced errors in the individual lines at times.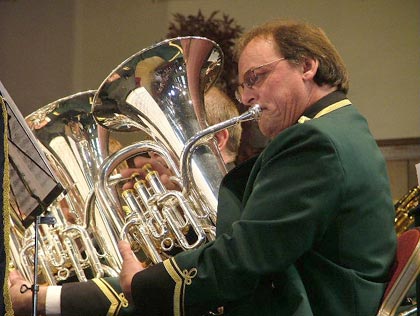 Euph beauties! - Foss Dyke's euph section lead the way to victory

They did sound the most compact band on the day with a lovely bass led foundation and with some classy touches and crispness to the beginnings and ends of phrases. It was those nasty little moments though that we felt may have cost them their chance, but Malcolm and David felt that these didn't detract to much from what was a very good band sound and a well organized interpretation of the score.
Our winners were Kibworth who eventually came runners up and in the process gained their overdue promotion to the Championship Section. John Berryman took to the stage minus a score, but such was his command of the music that this never looked like a party trick.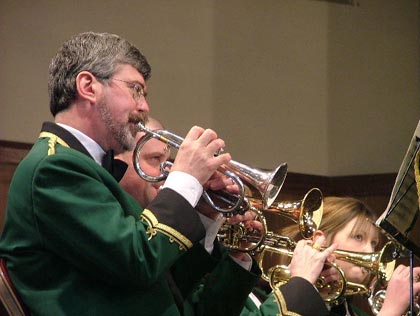 Sop it too 'em: Kibworth's soprano leads the back row into second place

They produced the most authentic Championship sound of the day – a little too powerful at times for the music, but there was an inherent classiness about the way in which they performed. It just got a touch over blown in the final quarter of the work – from the cornet feature onwards, but by then they had more than made their mark and they were the band to beat. Foss Dyke did just that, and as both performances did have errors it was perhaps a question of style: Foss Dyke lighter in tone and approach, Kibworth, darker and more forceful. It was the former that won out.
One of the delights of this contest was that the problems that so blighted the bands in Yorkshire the weekend before were noticeably absent here.
The soprano players generally had good days (the final tally was 4 brilliant; 9 nearly; 3 slurred to top C and just the one total miss), whilst the euph playing if at times a bit straight (a point picked up on by Malcolm Brownbill) had more security than in Yorkshire.
It was though the standard of the tenor horn playing that was a revelation. Not one player missed out, and the overall level of delivery ranged from the good to the quite superb. The were little clips in many, but the cadenza was so well shaped and matched that it never really detracted. A couple (especially from the players with the Hathern and Derwent Bands) was as good as 4BR has heard anywhere this year at any level. If there was a disappointment it was with the trombone playing which was at times strident and harsh and lacked lightness of touch especially in the trio.
The one band we did feel sorry for and felt may have been a touch harshly treated was Derwent Brass under Keith Leonard. Theirs was perhaps the most secure performance of the whole day and although it was a touch bland in places it was compact and very detailed. It may have just got a little OTT towards the end (the Tam Tam nearly went on a rolling tour) but by then we felt it had displayed more than enough class to have made it to Harrogate. It wasn't to be though and 6th was a touch harsh.
The eventual final qualification place when to Riddings conducted in fine fashion by Kevin Steward.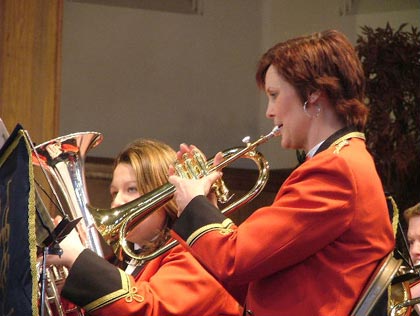 We are ladies: Riddings horn section put in the hard graft

This could have been a winner, as it displayed a very compact band sound (the band was in fact knee to knee on the stage) whilst the MD did make the noticeable change in style at the lilting 9/8 section. It was going superbly well (even if the MDs jacket was making 4BRs eyes go funny), but just before the final cornet presto it went haywire for a bar and took about 30 seconds to recover poise. The final bar was also a mess, with the timp absent which meant that it must have just taken a couple or more points off their total. It was still a worthy podium finish though.
The one band that we liked but didn't seem to register in the box was Hathern under David Newman. Perhaps it was the approach – it was businesslike and non nonsense from the moment the MD gave a good preparatory bar of beating before the first entry, right through to the rather abrupt end. It did contain some lovely individual moments though – the horn in particular and a quality sop (although he was disappointed at his top C!). Perhaps the sum of its parts didn't quite add up as they should have, but 15th seemed to be more than a bit hard on them for their efforts.
The band that did come fourth were Glossop conducted by Jon Davies, and they were pretty good value for the result even if we didn't quite have them up there. This was a commendable effort off the number 3 draw and perhaps in the ears of the judges it was just the little clips in the solo features that cost them as elsewhere it was solid and compact and very well directed.
The contest itself had got off to a very good start with a real marker from Enderby conducted by Huw Thomas and this was a performance that stuck in the mind throughout the day for its neat interpretation and solid soloists. The sop was excellent and even an errant telephone ringing in an adjacent office could put them off their stride. It got what it deserved (the performance not the phone).
The standard didn't really drop after the top seven or eight bands that took both our and the judges fancy. A whole batch in fact from about 8th to 14th had a great deal of merit and it would be harsh to suggest that the bands didn't get what they deserved from the judges as there was just as much to commend in each of the performances as there was to criticize.
Shirley, directed by Martyn Ford eventually came 7th with a bold and confident performance that perhaps just needed a bit more relaxation in the slower sections, whilst Bedworth came 8th under Colin Randle that also displayed a great deal of confidence but just cried out for a little more rubato in places and for the MD just to be a bit more sympathetic in the tempos. It was all there, but it tended to sound a touch harsh.
Raunds took the step of a different set up with the cornets in an inner arc and with the fugel sat where the sop usually sits. It just about worked, but a poor start (the dovetailing didn't work in the cornets) and a weak end (timp playing more notes than marked?) perhaps cost them the chance to come any higher.
Gresley meanwhile did very well to maintain concentration through the bagpipe incident (see postcard for details) as well as when the MD burst into full voice towards the end! The second baritone showed a great deal of virtuosity on the tambourine too, and overall it was a performance that did have its moments.
Jason Glynn also managed to pick out some neat moments with Brackley who came home in 11th place. Resplendent in a very fetching outfit with matching pink tie he brought a great deal of colour out of the score, but couldn't quite control the error count which at times threatened to spoil what was a well constructed reading.
Barry Pope also displayed a neat Harry Kewell hairdo, but to be fair was much better than the dilettante Aussie when he directed a solid show from Stourport on Severn early in the draw. It just lacked poise in places and became tired in the final section – something the better bands on the day managed to avoid and although it had some neat individual touches the ensemble was too scrappy for them to feature any higher.
Much the same could also be said of Tintwistle, who started in fact with a bit of distant bagpipe accompaniment. They didn't have the chance to start again however, although it didn't detract them from their task. It was just too scrappy and error strewn to have featured any higher than it did in the end, but it was still a commendable effort.
Of the final three bands, Ibstock made a messy start that took a while to recover, and whilst the soprano was top notch and there were also excellent contributions for the horn and euph, the general ensemble playing never gelled. Too much scrappiness and harshness of tone to end cost them dear we think.
The final two bands can't really complain where they came, but showed enough about them to justify their position in the First Section.
We may be well short of the mark with City of Coventry, but they sounded like a band that had a fair share of players with an orchestral technique to their playing rather than an old fashioned brass band approach. A great deal of the cornet work was technically OK but as straight as Geoffrey Whitham (please see postcard for an explanation), whilst it became hard and overblown in the louder passages.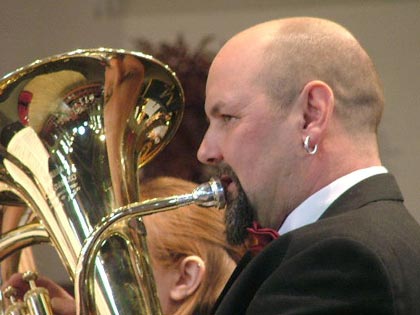 Black Jack Du Boir, Scourge of the Yukon struts his stuff...

A notable exception was the euph player, who looked like Black Jack Du Boir, Scourge of the Yukon with his goatee and ear ring, but played with a delicacy that was as pleasing as it was possibly out of place with those around him. Big bloke though and tough looking.
Finally, Bilton Silver (Rugby) who were last band on stage and were a little too error strewn and lacking in ensemble clarity to have made anymore of a mark than they eventually did. They had a fine flugel horn player, but others didn't follow here lea and it just fell away somewhat to end.
That was it then, and with a top three that was just about a mixture of nearly everyones picks it was a good day all round. The Midlanders were even complimentary about the bagpipe player.
Iwan Fox