2006 Yorkshire Regional Championships - Championship Section retrospective
9-Mar-2006
4BR looks back at a day when there was a clash of the titans on Journey to the Centre of the Earth in Bradford - how's that for a mixed bag of film references then!
---
If you get to hear a runners up performance as good as the one produced by Black Dyke at St. George's Hall this year then you can count yourself lucky. If you also get to hear a winning performance as good as the one produced by Grimethorpe Colliery (UK Coal) on the other hand, you can count it as one of the great brass band experiences of your life.
Both bands were colossal: Dyke, supremely controlled, balanced and purposeful; Grimethorpe incalculably thrilling, riveting and powerful. There was so little to choose between them - and we are talking in minutiae of brilliance, that in a way it was a pity one had to win and one had to lose.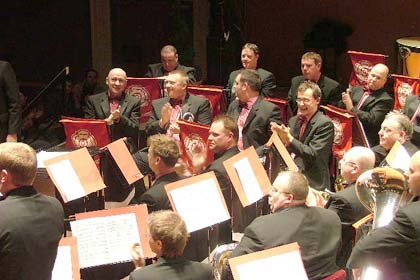 After a relaxing Journey - Grimethorpe enjoy the moment - and the applause

It does take a special band to win in Bradford – upsets in the Championship Section are rarities indeed, and adjudicators David Read and James Scott must have been licking their lips in anticipation before entering the box. They weren't to be disappointed, and in the end they got the result just about perfectly right.
The standard of the top eight of the overblown field of fourteen bands ranged from the decent to the scintillating. James Scott was spot on when he stated that some of the playing was "…as good as brass band playing you are likely to hear." The top two were of course exceptional, but YBS in third place delivered an account that would have in the majority of Regionals come away with top honours, whilst Rothwell in fourth would have easily secured qualification in just as many.
Behind them came four fine performances from Brighouse and Rastrick, Hepworth, Carlton Main and Sellers International which although by no means outstanding, were still of a quality that would most probably have seen the pushing for a podium place elsewhere too. Behind them though the standard did fall away and the remainder of the bands produced fairly prosaic accounts that never really rose above the mundane or average. Yorkshire needs to sort out this problem as it directly affects the standard of playing in the sections below the top tier. Four of the remaining six performances were really of a good First Section standard only.
Back at the sharp end though and we were talking in superlatives.
Given that the day before there has been an awful decision from the adjudicators in the First Section when they totally missed the one outstanding performance in the contest to come their way, there would have been riot if James Scott and David Read hadn't been able to pick the top two out here. The difficulty was of course in separating them out for the win, but you have to take your hat off to the pair that they not only got the most obvious candidates right, but also had the rest placed in an order that gained widespread agreement from the large (and at times vociferously supportive) audience. Both judges did a wonderful job here at the contest in a pretty fevered atmosphere.
David Read spoke of the 'wonderful symphonic scenes' created by the composer, and he was right about that. This is wonderfully descriptive music and he was also right again when he spoke of ability of the very best bands to create 'indescribable magic' from the detail in the cleverly constructed score – especially the big fight scene between the ichthyosaurus and plesiosaurus which in its odd way possibly
represented the fight to the death between the two leviathans of Grimey and Dyke.
James Scott hit the nail on the head when he said that there were three or four bands that were very good indeed in this respect, whilst David possibly narrowed it down further and more accurately by saying that one or two 'had that touch of magic'.
That magic was a while appearing as the first four performances of 'Journey to the Centre of the Earth' were more like a theme park ride at Alton Towers than they were a full blown musical sci-fi epic.
Innovate Skelmanthorpe under Alan Exely got things under way with a performance that never rose above the ordinary, although it got an amazing response from the audience. We don't know why that was really as it was error strewn and lack lustre for the most part although the louder bits had plenty of bite. The Day of Rest didn't quite have the feel of relaxation and the big monster fight was a bit like handbags at ten paces, so by the time it came to the overblown end it was a performance that failed to grasp the real intricacies of the score. 13th place was what it deserved and what it got.
Stocksbridge also found great difficulty in creating the atmosphere required at the different stages of the journey below the crust. David Hirst gave his band the time and space to deliver a musical performance, but his players were never really on the top of their game and for every good bit of playing there was two bad bits to take away hard earned marks. The Day of Rest came and went flatly (especially in the trombone), whilst the big fight was overblown and harsh.
Like a lot of bands on the day they didn't use the CD player to assist with the 'Whispering Gallery' and as a result it all sounded like two school kids being mischievous in the library behind teacher's back. They were however not alone in this, and even though musically the section may not appear to be an integral part of the score in pure contest terms, not taking it particularly seriously meant that it robbed many performances of the sense of tension and anxiety it was meant to portray in the poor lost hero, Axel.
Stocksbridge did recover somewhat to end and gain 12th place (we had them 11th) but it meant that a contest had started with two fairly non descript (and musical description is all what this piece is about) performances that certainly didn't get the blood coursing though the veins in excitement.
Simon Wood and Hade Edge were the next to try and capture the imagination, with the MD taking to the stage with two batons and no score. Why the two batons we don't know, but he has always been a man with faith in his own abilities, so having no score was par for the course.
This was a performance that promised much to start with a fine atmospheric opening, but there after it all went downhill (rather than underground) and it became more and more untidy with a high error count and some pretty dire flat tuning. The Day of Rest highlighted this the most, and after a prosaic whispering sequence (doesn't anyone take Latin in schools anymore) it all became harsh and hard towards the build to the ascent to the Stromboli volcano and safety. The fight scene was a bit like two old middle weight night club bouncers rather than a pair of heavyweight monsters of the deep. We had them 12th and judges had them 11th – but it was still a performance that belonged in the First Section rather than the Championship.
We were now rather desperately in need of a cracker to bring things to life, but Hatfield Main under Graham O'Connor were another band that couldn't match either the technical or musical hurdles placed in front of them by Peter Graham's score.
As hard as the MD worked to steady the ship, his band was digging themselves in to ever bigger holes in the ground. Not a bad thing you may think given the topic of the piece, but these were holes of a completely different nature. The CD was used, but used to poor effect – it was on too loud so it sounded like a bunch of excited ladies at a woman's institute meeting (and was abruptly switched off), whilst the Day of Rest section contained their best playing only to be undone by awful tuning before the final section and the ascent for home. It had much more security than the previous three but it was another underwhelming performance that got what it deserved in 9th place. Hatfield have come a long way in a short space of time, but there is no camouflaging the fact that they too are a First Section band.
Finally we got a cracker – although it was a very loud cracker at that.
Rothwell sounded like a quality Championship Band from the word go – and not just in comparison to what had gone before. Here we had security in both solo and ensemble lines, a sensible approach from the MD and some neat touches when required just to emphasis that here was a band that could play this piece and play it well.
David Roberts kept a tight lease on the tempos but did allow some of the dynamics to edge to the extreme with the percussion in particular at time threatening to obliterate the good ensemble work. Still, the Day of Rest was excellent with some top notch soprano playing in particular and the whispers were just the right side of audible. There was also the first example of quality bass trombone playing before a real bun fight between the monsters, although the percussion once again threatened to top the lot. A superb ascent and huge finish (just spoilt by a wayward euph on top E) underlined that this was a real contender and 4th place overall was just about right (we had them 5th) and well deserved. If they had just capped some of the dynamic excesses we think they would have come even closer to a podium finish. London beckons though and they will be a band not to under estimate for sure.
Yorkshire Imperial Urquhart Travel could have been many peoples choice for a possible top six place, but even though they fared better than most of the early bands, theirs too was a performance that rarely rose above the middle of the road.
Roy Curran didn't do anything other than that requested on the score and as such it became a slightly boring performance. Mark Walters was on fine form on solo cornet and there were other decent contributions from the main solo players, but when it came to the big fight and the chance to show a bit of welly, it was more like a spat between two drunks in a Chinese takeaway – all mouth and no action. It recovered its poise to end, but this was perhaps the one performance on the day that had more in it to give right from the first note to the last. 10th was about right again.
Grimethorpe however just obliterated the field.
Right from the word go with their relaxed demeanour on stage and from a spine tingling opening Allan Withington and his band had you right on the edge of your seats. This was Saturday morning pictures stuff – a great old story brought to life with an almost Spielberg touch of fantasy by the conductor and his players. It is hard to recall Roger Webster playing so well at this hall in all his years, whilst the other solo players, most notably Kevin Crockford and Sandy Smith were not far behind.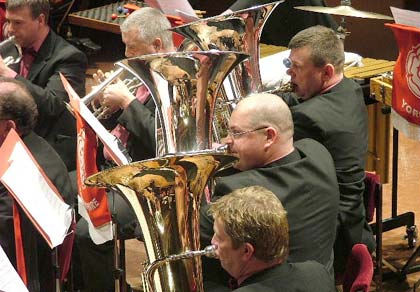 Grimethorpe's leviathan bass section get to grips for the big fight

It was the bass end though that took the breath away. They first showed their teeth about a third the way through the piece, but when it came to the fight scene they produced gnashers the size of elephant tusks. This was simply awesome playing – and we are talking sound here, not volume. This was a fight of Ali/Frasier proportions. Add to this a sublime Day of Rest sequence, some wonderful nuanced ensemble accompaniment and the ability to wrench up the excitement levels to those usually experienced by 5 years olds on a blue Smartie overdose and you really did have something special going on. The clarity of the ascent and the final, glouroius reprise brought deserved fevered applause and some disbelieving shakes of the heads even from some seasoned observers. This was a very special performance indeed and fully deserved to take the winners trophy for the second year in a row.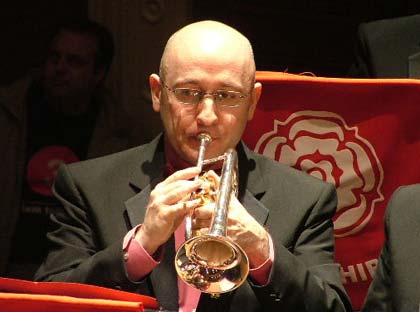 Wonderful Webster - The Eddie Noble Prize winner turns on the class

There are times when Grimethorpe can appear rather disinterested in the contest world of the banding movement, but since Richard Evan and Allan Withington have combined they seem reinvigorated to the task and on this form they are nigh on unbeatable. Birmingham and London awaits them in anticipation.
Carlton Main Frickley had the difficult task of following on such a performance, but to be fair, Alan Ramsey and his band produced a very fine account of themselves and the music and could count themselves a little unlucky to end up in 7th place. We had them 6th .
This was a good honest, no frills account that had a great deal to commend but which possibly didn't quite have the depth of sound and power to push itself further up the prize list. Alan Ramsey gave his players time and space to flourish and individually they did with some super solo cornet work from Ian Culross and some equally neat soprano work from Claire Taylor. What it just needed in places was that little bit of bite that so earmarked the very top bands, so after a well controlled Day of Rest and Whispers the big fight scene was conducted as if they had been given a health and safety certificate before being allowed to knock lumps out each other. It just lacked a bit of red blooded nastiness.
A fine ride for home though set them up for a good finish and if they had just gone for it a bit more instead of playing so safe they may have gained a better final placing.
Now the contest was really hotting up and the next band to take to the stage really set fire to the Bunsen burners.
YBS (no make that David King) took to the stage with a determined air about them, with the MD taking the time to what look liked making a seat by seat inspection of the audience before he turned his back on them to conduct the band. That somehow set the tone for what followed – a superbly crafted account that reeked of determination and purposefulness.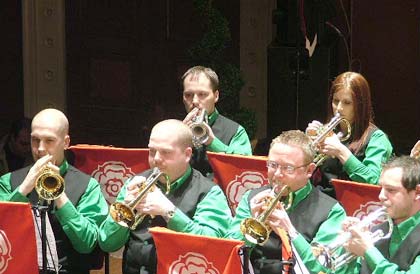 Stuart Lingard leads the YBS descent into the Centre of the Earth

At time it just got unstuck in some individual lines (The Day of Rest was not error free by any means) but there were some quite startlingly brilliant moments also, with Iwan Williams and Sheona White a perfectly blended combination and the bass trom nailing the beginning of the final sequence with a superb display of dexterity and clarity of sound at speed. The MD certainly played his part too, with some moments that bordered on genius with the tiny fragmented figures that break up the bass duet and during the Labyrinth section. No one did it better all day.
After a corker of a scrap between the basses and an impressive ascent to Stromboli this was a performance to savour and it gained just reward in third place. YBS are still in rebuilding it seems, but what a structure will be put in place once more if it continues like this. David King must have known his band weren't going to win on this performance, but the smile on his face and the sense of pride that could be detected when he rose his band to their feet, signalled that he knows that they won't be too far behind come Belfast, Birmingham and London. The rest of the bands have been warned.
Sellers International followed onto the stage and under Phillip McCann they produced a quality performance that although being one of the least error strewn of the day was also perhaps the least atmospheric
This was solid stuff right from the word go, with soloists all playing their part and an ensemble that was secure and compact. The problem seemed to be that it was a performance that just needed that spark of imagination and daring do. This was a descent into the bowels of the earth resplendent in hard hats, sensible shoes, Swiss Army knife and Magnatite torch, when what it just wanted to portray was two fairly bonkers Germans and an Icelander geared up in open toed sandals and a box of matches.
Everything was in its place (with solid solo efforts from the likes of Eliot Darwin, Mark Bousie and Leah Williams), and although it did sound a little overblown in places, what it really wanted was true excitement. The fight summed it up really: more Sumo than bear knuckle fisticuffs. By the time the end came you felt a little disappointed that this was a AA rated musical journey rather than an 18 cert with a bit of bodice ripping and plenty of blood and guts. 8th was the result and that was fair enough.
The contest took something of a breather next with Old Silkstone under Norman Law. This was a committed performance from a quality First Section band that featured all that was good and all that was not so good about a band of this standard. It never quite caught the imagination of the listener or quite overcame the technical and musical hurdles of the score, but there were moments when everything seemed to be going well enough, and well enough isn't good enough at this level.
Norman Law really got the bit between his teeth towards the end, but try as he might he couldn't quite replicate the heroics of Axel and his dotty uncle. A great experience indeed in playing such a piece at this level, but that was all it was and 14th was a fair result.
The hall was just about full when Black Dyke took to the stage and Dr Childs and his band were in determined mood to show the good folk of Yorkshire (and a great number from outside the county including a number of MDs from over the Pennines) that this was a piece that was meant for them and no one else.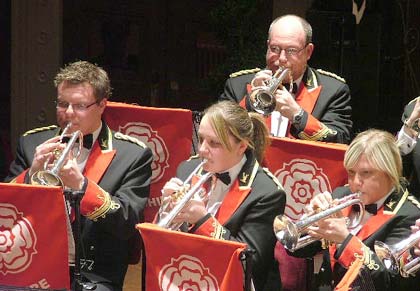 Marshall law - Richard Marshall leads Dyke's cornet section

This was an electrifying performance; different in style to Grimethorpe with a less aggressive touch in the louder sections in particular. The quiet playing in the Day of Rest Section and beyond was at time sublime whilst the soloists and David Thornton in particular were excellent. The whispering worked just as it should whilst the fight between the sea monsters was like Rocky III with old Sylvester up against Mr T. Come the fabulous ending and a huge final few bars with Peter Roberts scorching through the air like an exocet, you would have been forgiven into thinking that it was nigh on an unbeatable show.
Everyone had played as well as they could – from Richard Marshal, making a superb debut performance right down to the big lads on the bass end who piped it out like Trojans. It was just a matter of taste really between the two on the day, and that little extra frisson of excitement generated by Grimethorpe deservedly, but by the narrowest of margins, gave them victory. Dyke will head to Belfast though in some form, and with real determination to retain their title. On this form they will be hard to beat.
That just left two to come and Hepworth were many peoples fancy to put up a strong challenge, not perhaps for the title itself, but certainly for one of the two qualification places on offer. That they did.
This was further confirmation of their stature, with a performance that at times really did thrill, but which was fatally undermined by too many nasty individual errors and that lack of depth to the sound at the highest dynamic levels. 10% less silly clips and blobs and they could now be looking for B&B in Kensington for there was so much quality about the vast majority of their performance.
A superb start led to some equally fine and precise ensemble work, but just when you thought 'Hello?' little cracks appeared in the musical façade and by the time they got through to the Day of Rest they were just losing points and needed to recover poise. Rob Westacott and Mark Smedley certainly did that, but others couldn't quite match their lead and a messy opening to the final section which was more of a cruiserweight than true heavyweight fight and they had too much to do to pip Rothwell. We had them 4th, but you couldn't really argue with 6th. It was that close between the three bands fighting it out for that last spot.
The last of these bands was Brighouse and Rastrick, who started in fantastic fashion and seemed to be hell bent on winning the contest off the last band spot and at 10.00pm at night. James Gourlay allowed them the time and space to create the atmosphere in the opening section and then whipped up the excitement levels in the faster section to brilliant effect. It all seemed to be coming to the boil superbly before the wheels literally fell off big style in the Day of Rest section.
Here costly, and we mean costly individual errors rang around the band like a dose of salts, and not one solo player was exempt. What could have been a truly great show descended into a make do and mend operation and by the time the MD had once again got things back on track, Brighouse were mortally wounded and not even a wicked fish fight and huge ending could save them. In the end 5th place was perhaps a little generous, but they had been brilliant to start (we had them 6th). They will be kicking themselves pretty hard this week at a real golden opportunity lost here.
That was it for Yorkshire 2006. The results were announced amid growing excitement with Roger Webster taking the Eddie Noble Instrumental Award as best soloist and David Thornton the Best Soloist prize – both deservedly so. Then the finals announcements and the joy of seeing Terry Webster nearly lift Peggy Tomlinson off here feet as he went up to collect the Yorkshire Regional Trophy for a second successive year. For a bloke like Terry to do that must have taken something special, and his band were that and more on the day.
Iwan Fox.