2006 Yorkshire Regional Championships - First Section retrospective
9-Mar-2006
There is no other way to describe the decision on this one on the weekend. Awful, simply awful.
---
It's not very often that you will find anyone connected with 4BR lost for words, (and for those of you who know us well, you'll be amazed to discover that) but that was the case after the announcement of the results in Saturday afternoon's contest. 4BR along with those who'd heard every band, had a clear (and we mean clear) winner. Judges Colin Hardy and Denis Wilby had also a clear winner, and runner up too, but you could bet your bottom dollar, theirs weren't the same as 98% of people in the hall.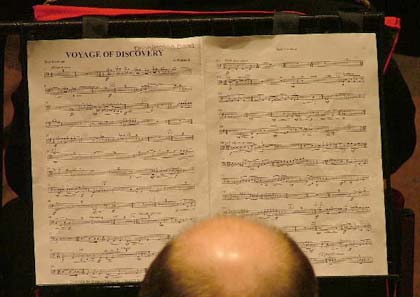 That's how it goes then - Drighlington's bass trom finds the winning formula

Judging a brass band contest is a matter of subjectivity of course, and should be respected as such, whilst it would be foolish to suggest otherwise. However, it should also be a matter of coherence. The First Section contest here raised genuine doubts in many people's minds to whether the result reached by the two judges had any relationship between these two integral parts of the adjudication process. This was a terrible decision.
Forget the conspiracy theories. There were plenty of them flying around at Bradford on the weekend, and all were as plausible as those who believe Elvis is alive and well and working in a DIY store in Carmarthen. Those who tried to give credence to suggestions of impropriety or bias on behalf of one or both of the judges were just making plain stupid remarks that totally and utterly missed the point. The genuine concerns lay with those who had listened to all the performances and wondered how on earth the judges didn't reward Pennine Brass with at the very least a qualification place.
Genuine concerns about the ability to make a coherent subjective decision - that was the point that couldn't be squared however you looked at it all weekend. There will always be decisions that people will disagree about, but it can usually be accepted that if your subjectivity is different to those of the judges, then at least both of you are working to some sort of identifiable criteria. That didn't appear to be the case to too many experienced observers here.
In fact the only area that 4BR could agree with the judges came from Dennis Wilby's thoughts to the audience just before the results.
We were in complete agreement that only two or three bands got to grips with the piece as most performances on the day lacked consistency. The opening six bars more often than not determined how the performance was going to go, and we shared sympathy with the soprano and horn players who had a bit of a torrid time. Why Dennis made so much of a point of the one soprano top C was also a little mystifying though.
On the day just the one player out of the 13 did nail it and nail it as written, but it wasn't a crux, contest winning point in the piece. (In fact, 1 player nailed it, 2 got very close, 5 struggled, 3 missed it completely, 1 solo cornet player played it and 1 employed a neat cheat with the glock to cover. Hey, but who's counting?)
"There were one or two difficult corners," Dennis said. "This is a wonderful piece for the First Section, but the bands here should have been get around them. None got away unscathed especially in those opening 4 -6 bars, whilst there was a need for consistency elsewhere in the piece."

He further added: "Two maybe three bands got to grips with the opening. There were those two dreadful bars for soprano – and we had sympathy for them, whilst horn players also had a difficult cadenza. There was some good euphonium playing, but all in all the performances were up and down and we were a little disappointed that we didn't get more consistency."
Not a lot here to disagree about then, so why, if they were employing those criteria did they so obviously fail to recognize the one performance that had them all so transparently on display?
To us, Pennine winning here was as clear as Pedro Mendes scoring for Tottenham Hotspur against Manchester United at Old Trafford in January 2005 – the winning margin for Pennine was as clear to us as the yard of green grass between the ball and the goal line had been on that occasion. There the assistant referee failed to spot that the ball had crossed the line, and whilst everyone is human and makes mistakes (and without being disrespectful to Drighlington) this decision was as mystifying as that the that allowed Fergie to claim temporary blindness and the goalkeeper to escape having the sack in the changing room at half time.
Denis Wilby compounded it somewhat himself though when he said, "On the evidence of this result, it will be interesting to see the results elsewhere". To bloody royal it will be.
Colin Hardy and Denis Wilby opted for a top six of Drighlington, Marsden, Stannington, Knottingley, Pennine and Holme Silver, whilst for us at 4BR it was Pennine, Hebden Bridge, United Co-op, Marsden, Drighlington and Stannington. Four of the top six then, just in a different order.
'Voyage of Discovery' is a cracking work by Goff Richards and it would certainly have been interesting to discover the results had the composer been in the box himself. The work is full of challenging music that commences with a complex semi-quaver opening statement of intent. There is plenty for the euphonium to do, never mind the soprano or the horn, and requires real insight from the MD and players as to what exactly they're looking to discover through the music.

Consistency was something that the judges were looking for, but in a number of cases, the consistency was lacking. The opening for instance is marked 144+, and although tricky should have been overcome. Too many bands failed to start well and too many failed to make it sound coherently grouped into fours. Later in the work the final section is marked 168, yet far too few bands had any noticeable difference between his and the opening. Finally, there was the problem of the last few bars where the tam tam allied to the percussion section in general, and timp in particular, required a bit of thought in execution to make come off as written. Again, too many went for volume and totally lost the accuracy of the writing.
Drighlington directed by Shane Foster wasn't a bad show for us by any means, but it wasn't a qualification performance either. The opening was a touch scrappy and it took a while to settle, but it contained some good euphonium playing, the sop was close to the 'top c' and the horn cadenza wasn't bad at all.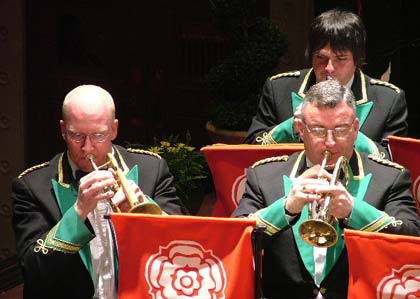 Heading for first place - Drighlington's top man leds the way to Harrogate

Although the tempos were pushed to their limits, there wasn't an awful lot of clarity coming through for us at times, and if anything, the conclusion of the work, was the band at its best, even though there were accuracy problems in those last couple of bars.
The bands representative on stage, Ken Crossland seemed genuinely surprised when he went up to collect the 'Music for Brass Shield' and the £200 top prize, and was honest enough to tell 4BR that although the band had played well they perhaps felt they had left the door open for some other bands to win. "We were very pleased by the way we played on stage, but we also felt we may have made a few too many little errors to have won. Still, we worked hard on the piece and Shane did a great job, so it all worked out OK, didn't it!"
It did indeed.
Marsden (Riverhead Brewery) were unlucky last year to miss out on qualification by one place, but they were perhaps a bit fortunate to gain the second qualification pace this time around. We've heard them play a lot better than on this occasion (Butlins in January for example) but nobody can deny they're not consistent and are always fancied to be in the prizes.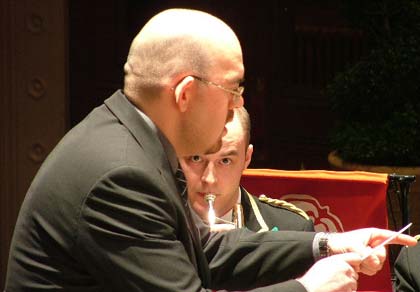 Eyes on me! Glyn Williams is being watched as they head for second place

As we've already said, we didn't have them in the top two on the evidence of this showing - it was just too inconsistent and scrappy in places. The highlight came from euphonium player, Matthew Stringer who quite rightly took the award for the Best Soloist with a lovely sound, coupled with technique. No doubt Matthew will have got a pat on the back from conductor Glyn Williams who once again directed in a very confident and relaxed manner, which brought out the music even if the error count was high.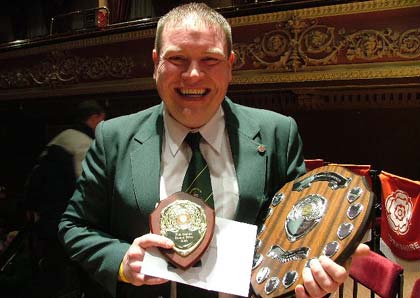 Smile please! Matthew Stringer celebrates his Best Soloist Prize

Marsden may not have been at their very best here, but we are sure they'll be looking to be leaving Harrogate in September as the National Champions. They are developing into a very confident and competent band indeed.
Stannington directed by the very neat Derek Renshaw followed Marsden on stage and they too suffered from a lack of consistency. The opening wasn't bad at all and the horn playing must be commended though for one of the nicest cadenzas of the whole contest.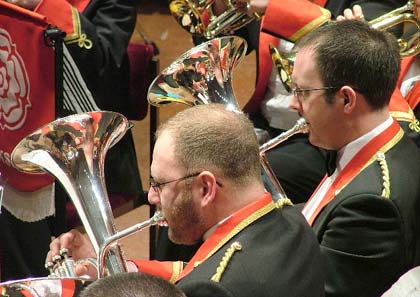 Harrogate by the double! Stannington's baritones lead the way

The tempos were pushed to the limit at times but for us, even though some of the detail didn't come through as it should it was a commendable performance (well done to the solo cornet for his soprano effort) and one that owed a great deal to the man in the middle.
Knottingley was another performance for us that never really got going, and was too untidy in places. The opening wasn't brilliant and although it did recover with a fair horn cadenza, it suffered again from that level of consistency required, even though the tempos were pushed to their limits. They did have their moments though and Kevin Belcher really did make the most of his resources, especially as he had only the three basses at his disposal.
So what of Pennine? As we have already suggested, they won this contest by the proverbial country mile. Ian Porthouse's band produced the tightest playing of the whole day, along with the best sound and although it had clips and a slightly dodgy opening bar, they never sounded in trouble at all with any aspect of the piece.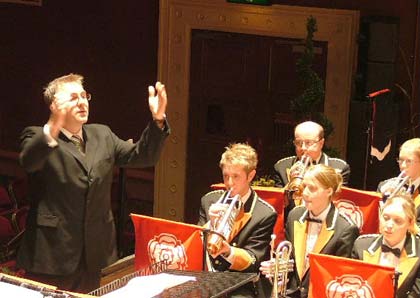 Gone to Potts - Ian Porthouse leads unlucky Pennine to fifth place

JJ Lees on top man was in good form as were the rest of his impressive soloists and come the conclusion of the performance even the band knew they'd played well and they would have fancied their chances of qualifying, never mind being in the frame.
Unfortunately though, it's a result that will have left Ian Porthouse scratching his head and wondering where he'd gone wrong. The band will bounce back though, that's for sure.
Sixth place went to Holme Silver led by the energetic William Rushworth whose individual performance was reminiscent of Manchester City's manager, Stuart Pearce – full of enthusiasm, passion and desire – great entertainment. The band with ex Dyke & CWS Glasgow stalwart Dave Nesbitt on tuba in its ranks didn't get off to the greatest of starts, and the percussion section seemed to be on a different planet at times, but after a fine horn cadenza it grew and grew to a super ending with the MD really finding the excitement in the music.
Lindley under Neil Jowett were the penultimate band on and at the conclusion of their performance it wouldn't have been a big surprise if it had got into the top six - and they only missed out by the narrowest of margins. The opening wasn't too bad, but like others they never really settled as a unit until the testing horn cadenza. After that they relaxed with some fine musical moments and a decent finish.
United Co-op Yorkshire Brass was the first band to make an impression on us from the number two draw. Kevin Wadsworth had clearly done his homework on the piece and Tabby Clegg on Principal Cornet was in fine form. Throughout the music had that real sense of authority and purpose about it, a nice sound, not harsh, not over-blown, but musical. OK, it had slips (but everyone did) but we thought they were worthy of a top three berth on the day and Tabby certainly had a look of disappointment on her face when discovering they finished in eighth place.
The Building Society bands of Barnsley and Yorkshire finished in ninth and eleventh places and neither of them can have any real complaints. Neither seemed to be at home with the music for us and both performances were at times far too untidy to sustain a decent challenge for a top six finish. Barnsley started well but a distinct lack of stamina was obvious towards the end and it became harsh and hard n the ensemble. Yorkshire meanwhile started poorly but recovered thereafter with some splendid cornet playing and a neat sense of style, before once again stamina told and it ended rather harshly.
Hebden Bridge directed by Professor Philip Wilby finished in tenth place and this was the other placing that left us extremely surprised. It shouldn't come as a shock to anyone that if Philip Wilby is at the helm, then you'll get a very musical performance and he certainly did that alright and arguably brought more music and a touch of imagination to the performance than any other conductor.
The playing was tight, and although it did have its uncertain moments, the only thing that comes to mind that the judges didn't like was the overall band sound, which was much lighter than the bands who eventually came above them. We had them in second place with a bit of distance between them and third place.
Finally Chapeltown and West Yorkshire Police finished in twelfth and thirteenth place respectively, and as with the two bands who eventually finished above them, they never quite met either the musical or technical challenges in Goff Richards fine score.
Phil Shaw had his work cut out to get more from his band off the number 1 slot and after a poor start it never quite recovered and it sounded a bit like hard work all the way to the end. Meanwhile West Yorkshire Police, with plenty of the players wearing little medals on their chests were also hampered by a poor start and although they too recovered they fell away towards the end, although the final few bars were played correctly (one of just a few to do so on the day)
The result though will be the abiding memory from this contest and whilst we wish both Drighlington and Marsden the very best come the finals at Harrogate, they may have used up a fair slice of luck in their attempt to win the National title already. Depends of course, who is in the box.
Malcolm Wood and Iwan Fox.