2006 Yorkshire Regional Championships - Fourth Section retrospective
9-Mar-2006
A great test piece, some great performances and a delightful start to the Yorkshire Regionals. Why couldn't it all have been like this then?
---
The Fourth Section gave the listener a very enjoyable experience on the Saturday morning. Not just because there was the opportunity to listen to a well chosen set work or because the standard of the playing from the 12 bands was much better than could have been reasonably expected. No, the main reason was that the conductors faced with a test piece their bands could play and play well, opted for music making rather than just competitive points scoring.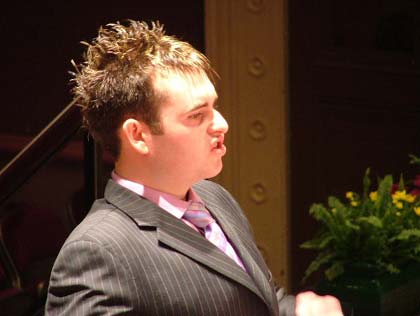 Origin of the species - Mr Darwin heads the survival of the fittest

It also meant a fairly easy task for the two men in the box as well, as the encouraging approach allowed for the best two bands to come to the fore. Both Dodworth and Emley will be strong contenders come the finals at Harrogate, whilst all of the other bands could take a great deal of satisfaction from their efforts. There was not one poor performance here, with plenty of merit and intelligence and more than a little skill, talent and potential. Alan Morrison and David Hirst must have thoroughly enjoyed their mornings work.
The set work, 'Anglian Dances' had much to do with that. Alan Fernie's neat and compact test piece perhaps doesn't need the one extra movement in its nap hand, but it is still a beacon of excellence, and an ideal test for the bands at this level.
Alan Morrison was spot on with his remarks (both he and David Hirst are judges we at 4BR would like to see used more often) and spot on with the result. He was quite right when he stated that the piece was 'a complete test'. "That was what made it enjoyable to listen to and judge," he said in his remarks to the audience. "It was easy to sort the bands out as there were lots of pitfalls and traps that not even the best bands on the day fully overcame. Even the lowest placed bands should be encouraged by their performances, and whilst there were five performances that stood out, the bands that came 3, 4, 5 could count themselves a little unlucky, although we are confident we picked the best two bands today." There was no argument about that.
The winners Dodworth M.W. provided both the listeners in the hall (and there was a good number sprinkled about) and the judges with an early marker that proved to be the benchmark that the others had to match. That none quite did was testament to the quality of Dodworth rather than the paucity of any challenge, as the band, quite excellently directed by Eliot Darwin was a class above the rest of the field.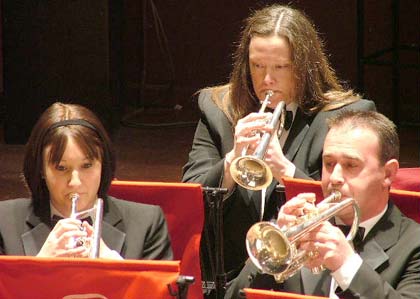 Studies in concentration - Dodworth head for Harrogate via East Anglia

In each of the five movements they brought a little bit of that extra class to bear. Alan Morrison had pointed out that each movement was cleverly constructed: The first rhythmic and precise in nature; the second lilting and broader; the third again precise and vibrant; the fourth – the crux of the piece, delicate and demanding; the fifth, up tempo and taxing on stamina, balance and sound. Dodworth excelled on all counts and much of that was due to the MD, as well as his well balanced mix of young and older players .
Eliot Darwin is a very talented young musician and takes his playing (he was to later appear with Sellers on top man in the Championship Section) and conducting very seriously. He possesses a very clear style and precise beat, only asks from his band what he knows he can realistically get back, and has the priceless gift of being able to conduct on stage with his head out of the score. That allowed him to use the ancillary skills, usually developed with experience, of subtle encouragement: a little smile here and there, the use of the left hand to control balance and dynamics whilst allowing the right to maintain the beat, and most crucially, to get away with wearing a suit that was a loud as a Grimethorpe fortissimo and just as inspiring. He is confident in his own abilities, but so crucially are his band. He is one of the brightest young conducting talents we have seen for a long while.
It was that excellent fourth movement which highlighted all that was good about Dodworth's approach. Here was a real attempt to play quietly whilst still maintaining balance and tone, and with some fine individual contributions from solo cornet, soprano and the bass end it impressed no end. It came as no surprise that they were declare the winners and will be one of the bands to beat we are sure come the Harrogate Finals.
The band itself was reformed in 1997 and as their delighted Band Secretary Rob Loukes told 4BR on stage: "We came here for experience last year and thoroughly enjoyed it, whilst this year we did think we may be in with a chance. We have a great atmosphere in the band and everyone thinks a great deal of Eliot. Lots of us were associated with the old Dodworth band that folded in 1990 and it is now great to come back and enjoy playing once again."
Joining them there will be the equally impressive Emley Brass conducted in splendid sartorial elegance by Garry Hallas, who like Mr Darwin later appeared in a different guise in the percussion section of Yorkshire Imps in the Championship contest.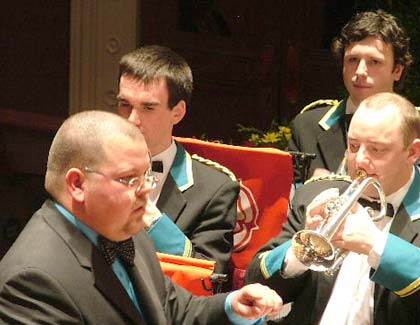 Clickety Click!! Gary Hallas leads Emley to Harrogate in sartorial elegance

He too is an impressive man with the baton in his hand. Clear beat patterns, lots of encouragement and his head held as high as a Meerkat surveying the Savanah, he also was able to get away with wearing a turquoise shirt and blue bow tie that made him look not dissimilar to a bingo caller at the local miners institute. He was also able to manage his resources wonderfully well too (encouraging a slightly nervous solo cornet player for instance) with an intelligent approach to the dynamics, a lovely sense of style in the fourth movement and restraint in both the first and last in terms of tempo. Second place was very well deserved.
Third placed Barnsley Metropolitan came closest to bridging the gap and bagging themselves a qualification place under the direction of John Ginnell. It was perhaps the lack of balance that cost them most as they took to the stage with just the three basses and with four horns and with the percussion set up right behind the trombone section.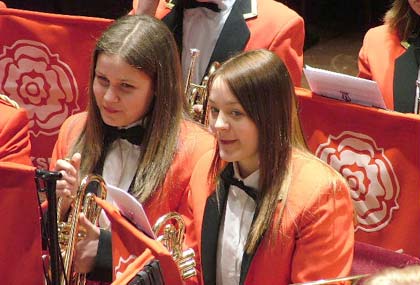 Something to smile about! Barnsley's cornet player enjoy coming third

It was most apparent in the last movement when they just got a bit tired and it sounded a little harsh and messy in places, but up until that point there was a great deal to admire. Third place was bang on the mark and they should take great encouragement from their performance.
There was also much to admire about fourth placed Crofton directed very ably by Malcolm Simpson. This was a young band with some very talented players in the ranks, and it was the solo cornet player in particular who really caught the ear with a lovely quality tone, secure technique and a classy sense of musical style. Andrew Clutton went on the deservedly take the 'Best Soloist' prize, whilst Crofton displayed more than enough good qualities to signal a rosy future.
Alan Morrison and David Hirst were quite right in saying that there were five performances of real merit and they were quite right also to reward Lofthouse 2000 with fifth place. Andrew Whitaker's band took to the stage with 4 troms and 3 basses (as well as a neat tie on the MD) and he managed his resources with remarkable skill right up until tiredness crept in and the stamina went awol in the last movement. Only then did it fall away as they tried too hard to maintain their form. That was the only real criticism though and they can take home with them a great deal of satisfaction for coming home in fifth place for the third consecutive year.
The final top six place was up for grabs somewhat with any number of the remaining bands putting forward a pretty good case.
In the end it went to Friendly Band (Sowerby Bridge) conducted in neat and tidy fashion by Carol Caton. Her approach to both dynamics and tempo allowed her band to get all the basics just about right and if it did just lack that little bit of extra fizz that others may have had on the day, it was an approach with much to commend. The band also had two very good percussion players on show who never overpowered the band even when they just tired towards the conclusion.
Just outside the top six came a group of bands that could have been placed in just about any order, although in reality it was difficult to argue against the final placings of the judges.
Innovate Skelmanthorpe B, very well directed by Phil Garlick had a bit of a wait to get going as the percussion team took their time to set up (and perhaps for one of their number to get his amazing Mohican hairstyle just right!), but when they did they put in a decent effort indeed. Some fine individual playing from the solo cornet and euph was noticed and even if the ensemble sounded a touch weak in places in style and tuning, it wasn't drastic.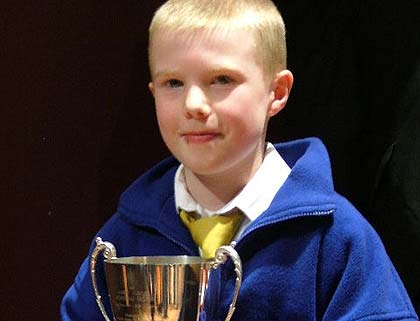 A future Principal Cornet of Black Dyke? Thomas Hunt collects his award with aplomb

The commitment was great (especially the sprinting perc play in the last movement) and for such a young band there was much to be chuffed about. In fact, one of their players, 10 year old Thomas Hunt picked up the award for being the youngest on stage during the contest, and he took his award with all the aplomb of a seasoned campaigner, even though he told 4BR, that he has only been playing for 3 years!

The same can also be said of Linthwaite (which by all accounts, according to two nice ladies in front of 4BR at the contest is pronounced 'Linwit'). Well, Linwit did themselves proud too with a neat show that just fell away as tiredness (and a touch of key signature amnesia in the horn section in the 4th movement) crept in during the last two movements. They did have an excellent flugel player, and whilst the MD, Dr. Owen Wedgewood just over conducted in places it was a well shaped and delivered account.
We had tipped Thurcroft Welfare before the contest as our potential winners (and we apologise forthwith for giving them the dreaded 4BR Kiss of Death), but on the day they just made too many mistakes to have come higher up the prize table. It was a much more refined approach though from Butlins and when it was going well in the outer two sections in particular they produced a wonderful compact sound. Just those errors (with a slight one at the start when the perc weren't ready to start) and a slightly strange decision to go straight into each movement literally without a break may have cost. There is a good band and conductor here though.
Haworth returned to Bradford after many a year away, and returned in encouraging style. Derek Tiller (who bore a striking resemblance to Benito Mussolini at a certain angle) directed the mature band with a great degree of care and attention, and it was just in the last two movements when stamina and nerves played a part in robbing them of points. For a band coming back to contesting though there were real encouraging signs of potential, with a fine flugel player and great lady on timps who gave of her all. Plenty to work on here and we would love to see them back next year.
Lots of potential too with Markham Main who were directed with real passion and enthusiasm by Mick Milner off the number 1 draw (he even broke into a bit of vocal support at one point). This too was a pretty decent effort with a real determination to play the dynamics and try and allow the music to speak. That it didn't 100% of the time was a pity, but it was nice to hear a band and MD opting for music making rather than just aimless blowing.
Finally Dearne Valley directed by H. Wright who had to overcome the dimming of the overhead lights as well as a tendency to play out of tune. A bit more care of the tuning would have really benefited the band a they had a lovely pair of main soloists on solo cornet and euphonium. They also needed just a bit more direction form the MD, and although he kept a good beat throughout the performance at times he needed to do it less often, especially in the second movement and needed just to make a bit more eye contact to give his players that extra bit of confidence. Still, another band with lots of potential, even if they didn't quite show it this time around.
No doubts as we have said though with the judges decision and congratulations to both Dodworth and Emley as they head for Harrogate. Yorkshire has a good quality Fourth Section here (as long as good choices of test piece, such as this one are made) and much to be proud about, whilst the two band will head for the Finals with realistic chances of bringing home some silverware.

Iwan Fox and Malcolm Wood