2006 Yorkshire Regional Championships - Fourth Section
28-Feb-2006
Nice to report a healthy turn out in the Fourth Section this year as 12 bands try to master the tricky but enjoyable Anglain Dances by Alan Fernie.
---
Date: Saturday 4th March
Adjudicators: David Hirst and Alan Morrison
Test Piece: Anglian Dances – Alan Fernie
Commences: 10.45am
Draw: 9.45am

No photo? Please send a JPEG to: general@4barsrest.com stating the conductors name, your band, your region and section.
---
Barnsley Metropolitan
Conductor: John Grinnell

Last Ten Years:
2005: 9th (J. Grinnell)
2004: 8th Third Section (rel) (J. Grinnell)
2003: 10th (J. Grinnell)
2002: 6th 4th section (prom) (J. Grinnell)
2001: 3rd 4th section (J. Grinnell)
2000: 5th 4th section (J. Grinnell)
1999: DNC
1998: DNC
1997: DNC
1996: DNC
Barnsley fell through the relegation trap door in 2004, but last year John Grinnell pulled them together well and they put in a decent enough showing to come home in 8th pllace. They will certainly want to improve on that this time around and a top six spot should be the least of their ambitions.
---
Crofton Silver
Conductor: Malcolm Simpson MBE
Last Ten Years:
2005: 6th (M. Simpson)
2004: 3rd (R. Morgan)
2003: 9th in Third Section (rel) (R. Morgan)
2002: 8th (R. Larder)
2001: 8th (R. Larder)
2000: 6th (P. Kitson)
1999: 2nd
1998: 13th
1997: 12th
1996: 4th
Crofton just dropped a few places last year after just missing out on a trip to the finals in 2004. Malcolm Simpson continues to encourage and develop his talented players in the band and it could be just the right time to gain a qualification spot for the first time since 1999.
---
Dearne Valley
Conductor: H. Wright

Last Ten Years:
2005: 10th (A. Lincoln)
2004: 7th (G. Williams)
2003: 3rd (H. Wright)
2002: 12th 3rd Section (rel) (H. Wright)
2001: 11th 3rd Section (H. Wright)
2000: 3rd (prom) (H. Wright)
1999: 3rd
1998: 7th
1997: 7th
1996: 11th 3rd Section (rel)
Dearne Valley has been on a bit of a slide here in the last two years, and they could only manage 10th place twelve moths ago. A return to the man who took them to 3rd place in 2003 could well signal a return to better contest results too if they can find some of that old form of a few years ago.
---
Dodworth M.W.
Conductor: Eliot Darwin

Last Ten Years:
2005: 3rd (E. Darwin)
Dodworth were really a bit of Phoenix last year and did exceptionally well under the baton of the talented young Mr Darwin. They were just pipped for a finals place by two equally good bands, who have since been promoted, so if they can play as well this year as they did last, they could be in line for a qualification spot or even the title itself.
---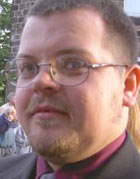 Emley Brass
Conductor: Garry Hallas
Last Ten Years:
2005: 4th (G. Hallas)
2004: 7th Third Section (rel) (G. Hallas)
2003: 11th (M. Robbins)
2002: 2nd 4th Section (prom) (J. Bowden)
2001: 6th 4th Section (I. Knapton)
2000: DNC
1999: DNC
1998: DNC
1997: 9th 4th Section
1996: 8th 4th Section
The hard working Garry Hallas returns for the third successive year with Emley, and after their relegation from the Third Section last year they certainly showed that they were strong contenders by coming 4th. More of the same could be on the cards if they can show that type of form once more.
---
Friendly Band (Sowerby Bridge)
Conductor: Carol Caton

Last Ten Years:
2005: 8th (C. Caton)
2004: 4th (C. Caton)
2003: 7th (C. Caton)
2002: 10th 3rd Section (rel) (C. Caton)
2001: 9th 3rd Section (G. Hooper)
2000: 10th 3rd Section (G. Hooper)
1999: 6th (prom)
1998: 3rd
1997: 11th 3rd Section (rel)
1996: 14th 3rd Section
Carol Caton is certainly working well with the Friendly Band but last year they just fell off the pace a little and came home in 8th place. That may just have been one of those days at the office, so they will be keen to put that behind them and rediscover the form of 2004 when they just missed out on a podium place.
---
Haworth
Conductor: Derek Tiller
Last Ten Years:
Haworth last competed here quite a while ago, but up until the late 1980's they were regular attendees at Bradford and won the Third Section in 1987. Further back they won the National Third Section title itself in 1973 and in the midst's of time were conducted by the great Handel Parker of 'Deep Harmony' fame. A mixture of youth and experience they return hoping to make a mark once again under the baton of Derek Tiller who has worked hard in the past couple of years to bring a famous banding name back to contesting. .
---
Innovate Skelmanthorpe B
Conductor: Phil Garlick

Last Ten Years:
2005: 13th (R. Broadhead)

On paper 13th place last year may seem a poor result, but this was a tremendous achievement for such a young and inexperienced band and all the people involved with them. Phil Garlick takes over the baton this year and we are sure that things have moved on in leaps and bounds in the past twelve months. Great to see them here again, and all power to their efforts.
---
Linthwaite
Conductor: Dr. Owen Wedgewood
Last Ten Years:
2005: 7th (O. Wedgewood)
2004: 6th (S. Platten)
2003: 5th (S. Platten)
2002: Winners (S. Platten)
2001: 5th (S. Platten)
2000: 9th (S. Platten)
1999: DNC
1998: DNC
1997: 14th 3rd Section
1996: 12th 3rd Section
Since winning the Fourth Section in 2002, Linthwaite hasn't quite achieved that same level of success and have just dropped away in the last three years. Dr. Owen Wedgewood pulled a decent enough performance out of the bag twelve months ago and hopefully there has been good progress since. A top six place should be within their grasp at last.
---
Lofthouse 2000
Conductor: Andrew Whitaker
Last Ten Years:
2005: 5th (A. Whitaker)
2004: 5th (A. Whitaker)
2003: 6th (A. Whitaker)
2002: 5th (A. Whitaker)
2001: DNC
Andrew Whitaker and his band must be fed up with just missing out on the podium places here. Once more last year they showed glimpses of the form that could have won them a qualification place, but it as just a touch too inconsistent and yet another 5th place was their ultimate reward. Hopefully they can up their form this year and maybe book a finals place?
---
Markham Main
Conductor: Mick Milner
Last Ten Years:
Another famous old banding name returns to the contesting arena after many years away. Formed in the 1920's Markham were a strong competitor in the old North East region as it was and enjoyed a great deal of success over a long period of time. Latterly they have concentrated on developing their youth and it is beginning to pay off. Nice to see them return back into the fold and we hope it will be a long association.
---
Thurcroft Welfare
Conductor: Andrew White

Last Ten Years:
2005: 12th (D. Hilling)
2004: 8th (O. Wedgewood)
2003: 8th (M. Battersby)
2002: 7th (P. Dickens)
2001: 9th (P. Dickens)
2000: 12th 3rd Section (P. Chapman)
1999: 11th 3rd Section
1998: 4th (prom)
1997: 3rd
1996: 4th
Our tip for the title – even though that may be the kiss of death! We heard them at Butlins where they tried too hard to blow their way to victory when as perhaps the best band there, they didn't have too. If those lessons have been learnt they could walk away with the top prize here as they had plenty of good players in the ranks and a talented MD at the helm.
---
Past Qualifiers:
2005: Gawthorpe Brass, Garforth Community
2004: Grange Moor, Gawthorpe Brass
2003: Dinnington Colliery, Grange Moor
2002: Linthwaite, Emley Brass
2001: Clifton and Lightcliffe, Maltby Miners Welfare
2000: Wetherby and District, Oughtibridge
1999: Maltby Miners, Yorkshire Traction
1998: Stanley Newmarket Coll, Yorkshire Traction
1997: Gawthorpe Brass '85, Walkley Clogs Hebden Bridge
1996: Gawthorpe Brass '85, Sheffield Youth
1995: Elland Silver, Todmorden Old
---
Yorkshire bands at the Finals:

2005: 2nd, 3rd
2004: 3rd, 6th
2003: 3rd, 11th
2002: 11th, 21st
2001: 10th, 11th
2000: 13th, 14th
1999: 2nd, 17th
1998: 7th, 17th
---
4BR Prediction:

A bit of a tough one this to predict as always at this level, but there are a few bands here who do stand out more than most and should feature if they play to form. Our tip is Thurcroft, if they don't try and just blow their way to victory with the likes of Emley and Dodworth we think pushing them the closest. Linthwaite and Lofthouse 2000 are consistent performers and should battle hard whilst Crofton could just take that last top six place. We bag Haworth as our dark horses though and we think they may just feature.
1. Thurcroft Welfare
2. Emley
3. Lofthouse 2000
4. Dodworth Colliery Miners Welfare
5. Linthwaite
6. Crofton
Dark Horse: Haworth