2006 Norwegian National Championships - Retrospective: First Division
16-Feb-2006
What do you get when you mix a Norwegian multi millionaire with a Belgian conductor and a story from an English eccentric? Answer - a winning perfomance for Tomra Brass Band that's what.
---
The most keenly fought section of the whole weekend took place on the Saturday morning when the bands with ambitions to move into the Elite Section battled it out in the First Division.
This really was a fine contest with a high standard of performances from all the 12 competitors and a nice selection of music for the judges Karl Ole Midtbo and Jens T. Larsen to consider in the confines of their black tent.
Even though the end result may have hinted that it was a close run thing, those who had listened to all the bands had no doubt that the judges had got it right by placing the Tomra Band in top spot after their excellent performance of 'Journey to the Centre of the Earth', under the direction of Frans Violet.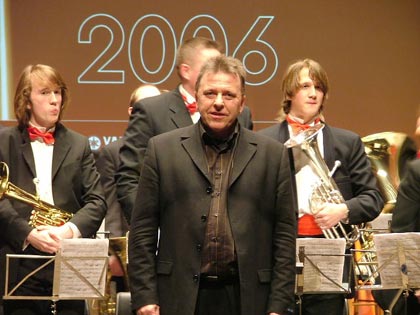 A winning violet: Frans Violet takes the applause after a winning show

Frans is a conductor who knows what it takes to succeed at the very highest level and the years of experience he has under his belt with Willebroek in particular where put to great effect here during their performance. Throughout he managed to keep the lid on the dynamics and maintained the balance between the different sections, whilst he allowed his principal players all the time they wanted to showcase their abilities in the more lyrical sections – something they did in fine style.
The opening section in particular was very nearly as good as that of Eikanger's later in the day and the sense of style and use of subtle rubato were hallmarks of a conductor who knew what the composer's intentions were. It was a performance that would do well we think in just about region this year in the UK, and it was certainly good enough to win, and win well here.
We did raise an eyebrow when the cornet player took over the flugel solo at one point using the old trick of a duster to try and mask the sound (it didn't), but all was recovered with a superb bit of trombone playing.
In the past, the then multi millionaire Band President of Tomra, who owned the huge shipyard there won't have minded having to put his hands into his pockets to pay for the celebrations or the expenses for getting Mr Violet out to conduct, but today the band is largely sef supporting and pay their way very much like all the rest of the cmpeting bands here. It makes their success all the more laudable.
It was in fact the bands third First Division title win here since 1993, and on this occasion they sounded like a band that could make the leap up a grade with a bit of comfort, as long as they can keep being conducted by someone of Frans Violet's class.
Just a point behind the eventual winners came Oslo Brassband conducted in effervescent style by Michael Antrobus, who it turned out had a very successful weekend with (or without as in his case) the baton.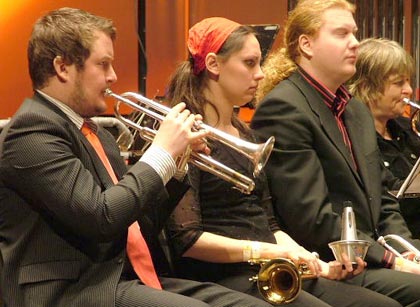 Eye contact: Oslo players keep their eyes on the job - just!

They chose Wilby's 'Paganini Variations' and gave it a real good lick with some excellent solo contributions (although there were some noticeable clips and splits) and some fine ensemble work, especially in the long run for home which requires a great deal of stamina and the ability to keep a lid on the dynamics.
A note too for the MD who was in excellent form and made sure each little nuance was marked with a slight nod, wink, flick of the right or left hand etc. It was a little mini masterclass of refinement.
These were the two performances that did stand out from the rest on the day, although third placed Kleppe Musikklag under the baton of that big man once more, Eirik Gjerdevik put in a very committed account of 'English Heritage' that featured an excellent solo cornet and had a real sense of style. It got a little over cooked towards the very end, but it was a brave choice and one that intelligently used the strengths of the band.
Rune Gunderson gave a very passable impression of David King with his conducting style in taking Sola Brass Band into 4th place, and you could tell that the talented man had learnt a great deal from his time as a player with the YBS MD.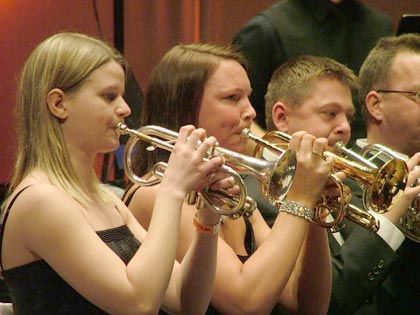 Dance fever: Sola get to grips with Dances and Arias

Their account of 'Dances and Arias' was not error free however and some of the solo lines were a bit shakey in places, but the percussion in particular were excellent and kept a marvellously tight rein on the pulse throughout.
Morten E Hansen is a very experienced campaigner at these championships and over the years he has tasted a great deal of success. Not this year though, as his choice of 'Between the Two Rivers' by Philip Sparke more than meandered and got stuck with a few tidal problems.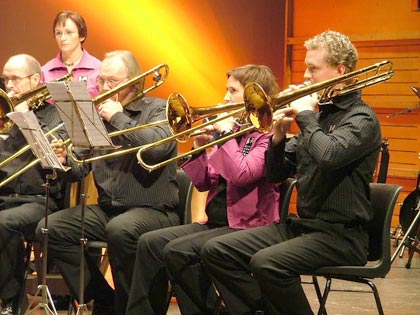 Alexander the great?: Morten Hansen's band couldn't make it a winner

This is not a great Sparke work; interesting yes, (it seemed to be derived in part or whole on the hymn Ein Fest de Burg) but no more than that and it tends to just lose its focus at too many points along its way. Brave though Alexander Brass Band tried, they were rowing upstream without a paddle (the lack of warmth of many of the lead players tones didn't help) once too often and that may have cost them valuable points.
The final band in the top six was Askoy Brass Band under the electric Helge Haukas. Now we don't know what Mr Haukas has in his tea, but by heck, it was either Bromide or an overdose of Gingseng! Here he was like preening peacock – all grand gestures and showmanship. We were just about to roll our eyes and start tutting, when you heard what was coming out of the bells of his band – which was a pretty good performance of 'Journey Into Freedom'. Not quite what Eric Ball possibly had in mind when he wrote it perhaps, but thrilling and a modern twist on an old theme. We quite liked it in fact.
The one band after the top six who really caught our imagination though was Tromso Brass, resplendent as usual in varying degrees of Bart Simpson yellowness.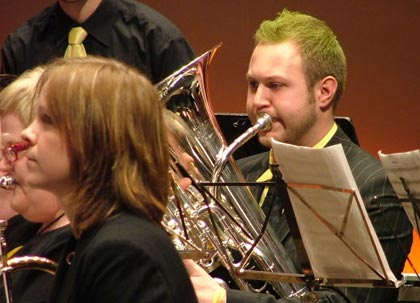 Mellow Yellow: Tromso get the Simpson feeling

It was in fact the brilliant euphonium player though who really made the most of his talents (with the exception of his yellow hair) and he led the band with a superb display during their interesting own choice selection of 'Babylonian Tablets' by Geir Davidsen. This was a cracking work, with much of the thematic material derived from ancient Persian folk songs (although the composer must surely have been tempted to put a couple of bars in from Kettleby's 'In a Persian Market'). We did wonder though how that incorporated the use of the didgeridoo?
Add to that some humming and a piano and you ended up with a slightly bonkers work that owed more to a composer whose lack of geographic and historic accuracy was more that made up by his verve and originality of musical thought. We loved it and thought it well played enough to have come in the top six for certain. They ended up 11th – so that tells you how much we know then.
Places seven to ten could really have gone in any order if truth be told, and it may well have come down to personal preference from the judges to the music rather than the standard of playing that was on show.
Haukas Musikklag put in a decent showing on 'Tallis Variations' that just lacked a degree of subtlety and the ability to really play quietly at the end. Thor – Arne Pedersen certainly knew how to bring out the excitement in the music, and his solo cornet player was good (although it was a bit of mystery how they won the solo prize on the day), but it all added up to a pretty under-whelming performance.
Gareth Pritchard meanwhile must have been pulling out what hair he may have left after Radoy's error strewn performance of Kevin Norbury's rather neglected (which is a pity)'Odyssey', which robbed the clarity of a well thought out musical picture set out by the MD. It was more like Homer Simpson than Homer the Greek in places what with the errors and mistakes blighting things, and if it wasn't for them they may well have found themselves higher up the prize table.
Oster Brass and their performance of 'Variations on an Enigma' was cut from the same gib and although the MD tried his best, his players found it tough going. This is a very difficult work and much is asked of individual players from the word go (including the bass trombone early doors), but even after a decent enough start it soon fell away and revealed itself to be perhaps a tad too ambitious a choice.
That just left Brottum directed by Thorbjorn Lunde and the Saturday morning men in tights special that is Martin Ellerby's swashbuckler 'Chivalry'. We don't know if the Norwegian's ever had Saturday morning pictures or have ever had the chance to witness Errol Flynn and the boys fighting off the baddies in Sherwood Forest, but one thing is for certain: Mr Lunde hasn't.
This was a performance that lacked a spark of wit and lightness of touch – essential elements in this piece. It was all too serious and earnest, all stiff upper lips and over tight corsets on the fair maidens. It just needed a few flagons of ale to loosen things up and we would have had a real good show on this. It is a piece that should be approached less seriously than most, but Mr Lunde hadn't possibly read the script.
That just left Vennesla Kristne Brass conducted by David Tellesfen who produced a rather dull and monochrome reading of Kenneth Downie's 'The Pilgrim'. We know this is a serious work from a serious composer with a serious message to make, but why the need to play it so dull and with very little sense of warmth in the tone? It was rhapsodic all right in style, but not in content, and that may have been its downfall.
Iwan Fox