2006 Norwegian National Championships - Retrospective: Second Division
16-Feb-2006
The conductors Egil, Erling and Eirik battled it out in the Second Division where Folleso finally came out on top of a high class field of 13 bands.
---
The first contest of the 2006 weekend took place in the Grieg Hall on the Friday morning, where 13 bands lined up to play their own choice selections in the Second Section.
The overall standard was very good, and although one or two bands bit off a bit more than they could musically chew at times, it was a pretty high class contest. In comparison to the UK, most of the bands here could compete quite comfortably indeed in the First Section – and that perhaps tells you more about the need for a reassessment of our sections at home than perhaps the standard of playing here.
The eventual winners were Folleso Musikklag conducted by the excellent MD Egil Magnussen. One of the more satisfying features of the contests here is the standard of conducting that is on show. Invariably the MDs have been taught about the basics of the art and many have sought further tuition rather than just rely on what they believe is right and proper. You therefore don't get many MDs who try to conduct through force of personality alone, or through a sheer doggedness to wave their arms in the same fashion regardless of the pace or dynamic of the music. Egil was excellent, as were the vast majority of others in all sections all weekend.
Folleso gave a fine rendition of Philip Sparke's 'Kaleidoscope' – 'Five Variations on the Brugg Song', which was used at the Lower Section National Finals a couple of years ago. It was an excellent performance full of control and detail, and although we didn't quite have them as our winners, it deserved to be up there in the top prizes when it came to the announcement of the results. The bands solo cornet player took the award as best soloist.
Just a point behind the winners came Sorum Musikklag, directed by Erling Myserth, who gave a powerful account of 'Trittico' which although a little rough and ready in places, had a real stamp of authority and was genuinely thrilling at times, whilst the bands percussion section that did so much to make it that way took the best section award. We had them for 3rd with Folleso 2nd.
Our winners were Tysnes Musikklag under the massive presence of Eirik Gjerdevik. And we say massive not just because he is a very big man (he would make an ideal second row forward in rugby), but because he really brought his large musical personality to bear on the performance of 'A London Overture'.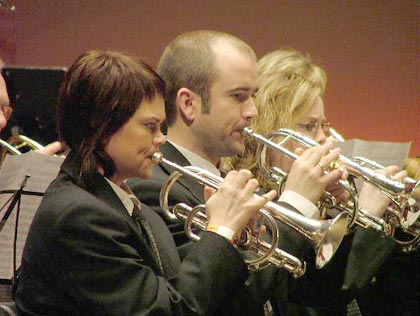 Top class Tysnes: Tysnes conets just miss out on A London Overture

This was big and bold, not error free in any way, but still thrilling and very competent (especially the Principal Cornet). Third place was a touch unlucky for us.
The final top six places went to Hornorkesteret Stavanger, Bergen and Oskog, who were a little bit behind the top three in terms of overall quality.
Stavanger chose 'Variations on a Ninth' which was given perhaps one of the most interesting performances we have ever listened too over the years. A cracking start, gave way to the usual problems with the trombones, but it was the cadenzas that were the real eye openers! To be fair to the players, if they haven't ever heard the famous series of cadenzas before then it would be difficult for them to make them link and sound if they belonged to the same piece. There can be no excuse for the MD.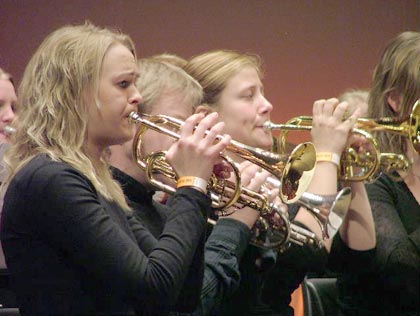 Variations on a Ninth?: Not quite for Stavanger perhaps

The cornet cadenza we were later told has been the bone of contention in Norway for many years, and after hearing it here you can tell why. It was played with more wrong notes than can be found in a forgers back pocket, but by all accounts that has always been the case with the piece here. Surely someone in the past 40 years or more has heard it played correctly?
Bergen meanwhile gave a neat account of 'A London Overture' under Stian E. Svendsen which featured a very good, but very laid back solo cornet player on a old cornet who had the relaxed stamp of class about himself (and he knew it!) that deservedly saw them come home in 5th place.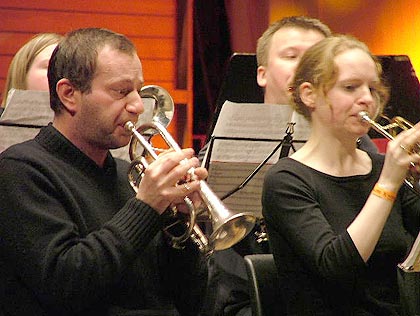 A laid back bit of class: Bergen's top man displays his class playing and dodgy jumper

The final top six place was taken by Orskog with the third performance of 'Trittico' to capture the ears of the judges Karl Ole Midtbo and Jens T. Larsen. This too was powerful and exciting, whilst the MD was a spitting double in looks and style of Whitburn's Andy Duncan. It started well, but just fell away in too many places to have come higher, but congratulations to the young solo cornet player who was excellent.
There were also a number of notable performances from many of the other bands which we and the sizable audience enjoyed, but didn't find favour in the box.
Seventh placed Sagvag Musikklag perhaps bit off more than they could chew with 'Blitz' which certainly sounded as if a few bombs had been dropped on the local zoo at times, whist eighth placed Tertnes Amatorkorps under Tormod Flaten were heading for a high placing for sure with their performance of 'Quintessence' before the side drum player decided to go AWOL and the wheels came off. It was car crash stuff for a moment, but it recovered a bit worse for wear and tear, although their chances had flown out of the window.
Stangaland under the big man Eirik 'The Viking' Gjerdevik played well indeed on 'Trittico' without ever suggesting it was going to be really up there come results time, whilst Flesland Musikklag suffered with speed problems in 'Land of the Long White Cloud' under Bengt Florvag. The quick parts of this piece can only be played at a speed dictated by the flugel player's ability to play the first semi quaver entry correctly and cleanly. Otherwise it becomes a mess. This one was a mess.
The one band we thought was really unlucky was Fraena Musikkorps directed by Jens Kristian Mordal on 'Firestorm' by Stephen Bulla. It may not have cackled and sparked like an inferno at times, but it was well controlled and retained its sense of balance right through to the end with an excellent soprano player the pick of the bunch of good performers. We had them in the top six, but the judges had them eleventh.
That just left Trondheim Politis Brassband and Borge to fill the bottom two places, and perhaps both suffered in the ears of the judges with the choices they made.
Trondheim went for 'Ballet for Band' – always a risky choice at any level, and they just didn't capture the balletic nature of the music. It was technically OK, but musically it was lumpy, harsh and hard – more a ballet by Stravinsky than Horovitz. Still – a brave choice and a possible lesson learnt – it takes a very good band to play this piece well even at the highest level.
The honour (if that is the right phrase) of propping up the table went to Borge under the baton of Torstein Aagaard Nilsen, who for a man who writes such contemporary works at times, rather enjoys himself with much more traditional fare on the conductors podium.
Their performance of 'Partita' on 'St. Theodulph' was big and broad and technically secure, and even if it did over reach itself in places (especially on the Devil and the Deep Blue Sea bit) it should have come much higher than it did. We had it around the top six places, but the judges didn't like it all. Perhaps Torstein should have been less humble and chosen one of his own works – you never know!
Iwan Fox