2006 Norwegian National Championships - Set work composer: Ørjan Matre - Klang!
8-Feb-2006
4BR gives the lowdown on the composer of the set work for the Elite bands, and a little bit of info on the piece Klang(!).
---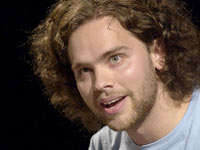 Ørjan Matre (born 1979) was born in Bergen, and has a wide musical background. He early started composing, but it was not until he started his composition studies with composer Rune Rebne, his musical curiosity was stimulated. He went on to study composition at Norges Musikkhøgskole, with Bjørn Kruse, Lasse Thoresen, Olav-Anton Thommessen and Henrik Hellstenius as mentors.

Ørjan Matre has written for and been played by different types of ensemble such as chamber works and solo pieces as well as pieces for lager ensembles and symphonic orchestras.

Matres orchestra piece Attempted Birdhouse 2.1 had its first performance in April 2003 by the Bergen Philharmonic Orchestra – a piece for which he won the annual young composers competition.

In 2006, Matres orchestra piece "Four Miniatures for Orchestra" was recorded with The Norwegian Radio Orchestra, conducted by its chief conductor Rolf Gupta. He has arranged and composed several pieces for bands, amongst them Klang(!) for brass band, and Logitech® Noise for trumpet soloist and brass band, performed for the first time by Eikanger-Bjørsvik Musikklag and Martin Winter during the BrassWind Festival in October 2004. These days, Matre is about to finish second larger brass band piece, ordered by the Norwegian Band Federation.

Klang(!) was Matre's first brass band piece, and was written when he was 21 years old. The piece was composed in 2001, ordered by Jaren Hornmusikkforening. It was first performed during the Norwegian Brass Band Championships 2002 by Jaren and conducted by Helge Haukås. It has later been played at several concerts.

As the title indicates, the bras band sound has been of major importance shaping the piece. The exclamation i brackets also implies the it can be read as an onomatopoetic – a sound painting for the opening attack sound .

The piece is opened with the metallic percussion sound, and from the piece gets it harmonic and gestique material from this primeval sound . Klang(!) consist of three contrasting pieces, glued together by two electro acoustic interludes, both based on the sound material from the brass band.