2006 Yeovil Entertainment Contest - Retrospective
7-Feb-2006
Malcolm Wood was at Yeovil from 9.00am right through to the bitter end as Tredegar restored Welsh pride on a day where elsewhere the Dragon took a bit of a beating.
---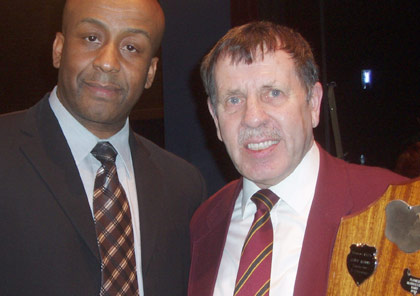 Alwyn Powell of Tredegar picks up the long awaited first prize at Yeovil

You can never beat that winning feeling can you? It doesn't matter what it is; competitive sport, band contests, a winning flutter or even beating your kids at their Play Station game. You can't beat the sweet taste of success can you?
Success can taste even sweeter when you've had to endure some tough times as well. When you have had to dig in, persevere and remain committed to the cause when the chips have been down and not much goes right for you.
That has what has happened to the Tredegar Band over the past 18 or so months, a period when they have lost their place at the British Open, failed to qualify for London, lost players to rival bands and found themselves in the bottom reaches of major contests that in the past decade they would have been one of the fancied bands to have done very well at.
This is a band that only as far back as 2003 very nearly won the National Finals, has been in the top six at the Royal Albert Hall five times in the last decade and has been placed been strong contenders for prizes at just about every Championship contest they have appeared at during that time. The drop from being a band to listen out for, to a band to miss and have a cup of tea instead, has been swift and severe.
They are of course not alone, but theirs has been a hard drop. That they are now back to winning ways is testament to their and sense of identity and commitment, and a never say die attitude that has made them a popular band on the contest and concert stage.
There must have been some pretty emotional people on the Tredegar bus as they made their way back the 100 miles to their bandroom on Saturday night. The Regionals in a month or so time and the Grand Shield later in the year can now be approached with solid and realistic confidence. It is nice to see and hear them back to the form we have come to expect of them.
Tredegar's performance stood out along with Polysteel and Wooley Pritchard Sovereign Brass on the day when a number of solid championship performing bands put in decent if rather uninspired performances at the Octagon Theatre. All three programmes from the eventual prize winners had plenty of contrast and flair within them and it was a difficult decision for Duncan Beckley to decide in which order they would finish. No other bands challenged on the day and it was (arguably) one of the easier contests of recent times to identify who would be in the mix at results time and who wouldn't.
Too many bands chose bland and unimaginative programmes that whilst bringing enjoyment for the large audience, never engaged the adjudicator into placing them higher than they were. Once more too many forgot that it is the quality of the playing that really counts, not the visual spectacle that invariably brings a smile to the face of the crowd, but cannot be appreciated by the adjudicator who is enclosed in the box.
Some bands could consider themselves a little unlucky not to have been placed higher, but the top three in a league of their own and they did what Duncan Beckley was looking for – they needed to convince him from the first note to the last.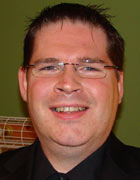 Led by the energetic Michael Fowles, Tredegar were drawn twelfth from a large field of fifteen, and they had to play whilst the England/Wales rugby was taking place! Unlike their fellow countrymen however, theirs was a performance that began strongly and towards the end, was inspired, - unlike the rugby, everything had clicked into place, even with injuries (two of their usual bass players were missing after being involved in an unprovoked attack in Cardiff earlier in the week) and with quite a few new faces in the ranks.
Even their longest serving player, third cornet player David Carey had shown that he was ready to die for the cause by moving from cornet to 2nd horn – a bit like Gareth Edwards taking up the prop forwards position late in his career!
With Polysteel having drawn number one, it had been a long wait before a band re -ignited the contest and grabbed its chance for success. Tredegar opened with 'Devils Galop' (an arrangement that dates back to the Granada Band of the Year contesting era and had appeal to the slightly mature audience here who remembered it from Dick Barton days on the radio) and the band really did hit the ground running – some real quality playing around the stand that revealed that they were not short of confidence.
Jonathan Pippen's trombone solo, 'Bolivar' was the best bit of trombone playing of the whole day; so self assured and eloquent in its execution, the former B&R man could consider himself unlucky not to have taken the solo award. 'Postcard from Mexico' is another Howard Snell arrangement from his days associated with Desford and Fodens and once again, the band played with confidence, whilst Evelyn Glennie's 'A Little Prayer' received a sensitive (and admirably quiet) rendition.
To close their programme, 'The Downfall of Lucifer' by Derek Bourgeois was where the band really excelled and the music was inspired. Michael Fowles was getting everything out of his troops and they responded in kind, giving everything. The applause from the audience told a great deal, for they had been waiting a long time during the day to hear a band to match or beat PolySteel, and for many, including the adjudicator, this was a worthy winner.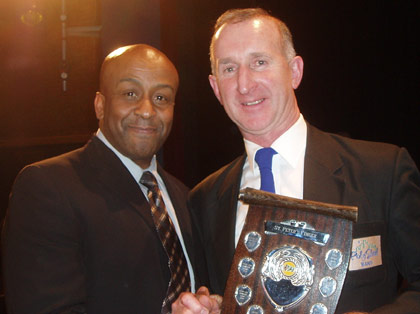 Mike James picks up more cash on behalf of second places PolySteel

PolySteel drew number one, but turned that negative into to the positive by giving another slick and professional musical performance that was on a par with Butlins two weekends previously. Their programme was on a similar line, except it was top-and-tailed differently having opened with 'Superman' and closed with 'Wonder Woman'.
Right from the opening notes, the band played with a real aura of confidence that was maintained throughout. Stuart Baglin set the standard for the other soloists to beat with a fine performance of 'Basso Continuo' and it was good enough on the day to take the soloist award against some pretty strong opposition.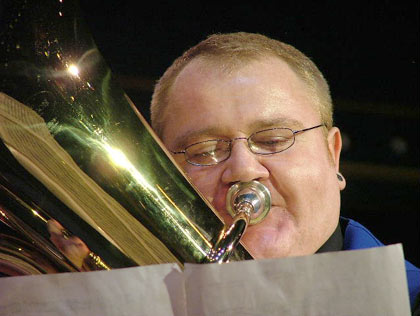 Stuart Baglin playing Basso Continuo
'Indian Daybreak' and 'The Incredibles' were effective and by the time the sound of the theme tune from 'Wonder Woman' was in full flow everyone knew Philip Harper's band would take some beating.
Perhaps it was that last number that just lost them the contest, as it seemed that it wasn't really needed, and to be truthful wasn't a well known enough tune to carry itself off. Everyone knows the Batman and Superman tunes, but does Wonder Woman - a pretty awful 1970s TV series with Linda Carter as a big boobed bird who tied up criminals with a rope of truth have the same ring about it?
PolySteel can consider themselves unlucky not to have taken the top award but second off a number one draw and another grand in the bank is a great result and they are certainly the band to beat come the West of England Regional Championships in March. They are not playing an entertainment programme there though.
Woolley Pritchard Sovereign Brass followed Tredegar on stage late in the day and their whole programme was engineered by conductor Stephen Roberts, reviving memories of how the Jones & Crossland Band (who he directed here into 2nd place as far back as 1984) tackled entertainment contests some years ago.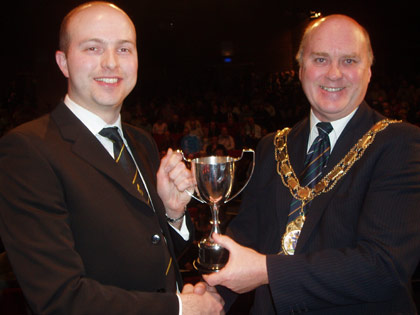 Sovereign Brass take third place

From the opening notes of 'In A New York Minute', music from the big band era, the sound of the band was solid and secure and this continued with music from Les Miserables in 'Bring Him Home' and 'Libertango'.
The band's bass section including ex Fodens stalwart, Phil Green had some fun in 'Tiptoe through the Tulips' but it was the final two classical arrangements that really did make an impression. Firstly, a lively and purposeful 'Dance of the Comedians' followed by a cracking arrangement by the MD of the 'Finale from Mahler's Third Symphony'.
As we said above, they could easily have won and whilst there was a four-point gap between second and third place, it could easily have been their day. Again, perhaps it was the inclusion of the two middle items that saw their level of performance dip, but Sovereign are an outfit going in the right direction and they play without fear or reputation of the other bands and they look up for the challenge of making their mark once more in 2006.
SWT Woodfalls produced a programme that had its moments, but it never really quite took off. Having opened up with Jack Stamp's 'Gavorkna Fanfare' and a nice interpretation of 'My Funny Valentine', the percussion team then went a bit haywire and seemed hell bent wanting to outdo one another in the lively 'Sing, Sing, Sing'. Meanwhile that seemed to rub off on the band and music from Schlinder's List suffered from poor intonation and a lack of warmth.
Having paid compliments to the banding press in 'Be a Clown', they closed with the final segment from 'Music of the Spheres', which was a strange choice to make, even though they had perhaps made it in recognition of their fine performance on the piece at the Scottish Open in November last year.
This didn't work at all (it didn't make much musical sense taken away from its original form) and suffered badly from a lot of over-blowing. Woodfalls never had enough on the day to break into the top three but certainly had more than most, and whilst a little disappointed perhaps not to have finished higher, fourth was a fair reflection of their performance. They too will travel to Torquay confident of doing well at the Regionals.
A relaxed looking Frank Renton in beautifully tailored black shirt led Camborne's challenge that was a mix of film music and clever arrangements from Adrian Drover. 'Chelsea Bridge' and Robert Jose's virtuoso performance in Peter Graham's 'Brilliante' were the major highlights, but the band did respond to the MD who was in fine form but still had the annoying habit of making too many unforced errors. The finale from 'Duel of the Fates' by John Williams was perhaps their weakest piece, as the repetitive theme never held the imagination long enough to really capture the attention of the audience, and it just seemed to fizzle out at the end.
Defending champions Aveley & Newham played early in the day from a number three draw and for us, shot themselves completely in the foot (and down the placings) with a strange piece of programme-planning.
Having opened with a new arrangement of Michael Jackson's 'Thriller' and some nice cornet playing in 'Share My Yolk' from Cliff Pask, the band seemed in reasonable form. Two members of the percussion team had some fun on the xylophones in 'On the Track' (although they have done this in a slightly different form before, and it did sound rather laboured) before what everybody assumed was their final number, Kevin Norbury's 'Truth Aflame', where the band was without doubt at their most impressive.
A fine close, leaving Duncan Beckley with some good impressions, about to get lengthy applause from the audience, Nigel Taken sat the band down and led them into Philip Harper's arrangement from 'The Muppets'.
It was disastrous. Why this piece was included after the impact made on their previous piece is a question that will baffle this reviewer for a very long time. The hard work was done; it wasn't a winning performance but it was one that had every chance to feature close to the podium places, why the need to include another piece here defies logic. It was definitely the wrong choice at the wrong time and it proved costly.
Aldbourne really upped their form here under the baton of Steve Sykes and put in an admirable performance that was one of the most entertaining programmes of the whole contest. The familiar 'Trumpet Blues and Cantabile' was an energetic opener closely followed by music from Rodney Newton's 'Echoes of the East', but their best playing came in John Rutter's 'The Lord Bless You and Keep You' which was so well shaped. They just fell away somewhat with 'The Little Russian' to end, but this was a band finding their feet in fine style.
Cwmaman's performance was commendable, and caught the attention of many in the hall with plenty of thought clearly given to it by their conductor Simon Dobson. This was a selection of music that was entertaining from the first note right until the last. Ok, it might not have reached the same standard musically as some of the other bands that were placed higher, but it had impact on the audience for sure. The march 'ORB' was tight, and there was some delightful ensemble playing in 'The Irish Blessing' paving way for the contrasting 'Chicago' which unfortunately was messy and lacked style.
Following Steve Barnsley's excellent performance of 'Flowerdale', the band concluded its offering with their finest contribution – 'Mars' from 'The Planets'. What stood out in Cwmaman's programme was the leadership of the conductor – every gesture was visible throughout and this is a man who is clearly enjoying writing for the movement along with conducting bands as well.
Overall it just lacked the classiness of the top three bands, but nevertheless it showed a band with a great deal of potential.
Staines, Harrogate and BTM all had their moments within their contributions but overall failed to make a major impact on the adjudicator and the audience.
Staines played the last of fifteen bands and having opened with a neatly packaged 'Praise', concluded with their best playing with Alfred Read's 'Armenian Dances'. After coming up from the First Section they sound a band moving very much in the right direction, even if they did try a bit too hard in places to blwo their way to the podium positions.
Harrogate chose a programme with an Eastern flavour that included a well shaped 'La Reine De Saba' but a number of pieces where players were standing. Whilst creating some different effects, this was a little strange as the adjudicator was in the box, so perhaps the real impact was missed and it wasn't perhaps needed as often. Still, David Lancaster is a clever MD and makes the most of his resources and his different approach should be encouraged and developed further. It may pay dividends in future.
BTM never really got into their stride on the day (perhaps their minds were more in Twickenham than in Yeovil), and their mixture of a programme lacked ensemble clarity on too many occasions. It did come alive on 'Sing, Sing, Sing' but they were not at ease with Downie's 'In Pefect Peace' or 'Shine As the Light'.
Tongwnlais seem to be a quality band that is just plainly off form at present. They gave a repeat performance of their entertainment programme at Butlins, and once more it failed to make an impact, this time under the considered direction of Andrew Jones. We are sure it will click before too long, but at present they seem ill at ease and trying a little too hard.
Bournemouth, Bodmin and Kidlington collectively suffered on the day, either from not the greatest choices of programme planning and ensemble playing that lacked clarity and security on far too many occasions.
Bournemouth will certainly need to up their form if they are to retain their West of England title in March, as here they lacked confidence in their ensemble work in particular and sounded a little under rehearsed. David Hayward brought his usual fizz in trying to drag a response out from around the stands, but it was to no avail on this occasion. Perhaps they are concentrating on Torquay?
Bodmin too were a tad disappointing too, with perhaps too many items in their programme. The finale from 'Gettysburg' saw the at their best, but the rest was too much of a muchness and they will also need to work hard on their ensemble playing on time for Torquay.
Finally Kidlington, who under Barry Wassell were neat and tidy, but lacked any real depth of sound and brilliance of technique, which at this level tends to mark out the best bands from the rest. There was some neat playing with their opening march 'Star and Stripes', but it sounded very tired by the end, and perhaps their ambition was a tad too much.
Yeovil always strives to provide excellent entertainment, and once again it did what it set out to do for the sell out audience. There is a good mix of music and the standard has upped itself again this year.

Unfortunately it is a very long day and perhaps the organisers may have to look at reducing the number of bands from the 15 here this year to around 10 or 11, which is both more manageable and won't dilute the overall entertainment (and give the adjudicator more than just the one break!).
Mind you, it is a problem perhaps all contest orgainsers would love to have, what with a capacity audience from 9.30 in the morning, run efficiently by Christine Buckland and her team from Yeovil Town Band, it's very easy to see why this contest has ran for twenty-nine years and it will continue for a good number of years yet as well.
For Tredegar though, the day will be remembered for a return to the form that brought them victories here in 1994, 1995, 1996 and 1998 and may signal the start of a return to the type of long term success that has been a hallmark of their approach over the years. The next hurdle is the Porthcawl Miners Contest in a couple of weeks, before the real acid test in Swansea in March.
Malcolm Wood