2006 Butlins Mineworkers Open Brass Band Festival - Postcard from Skegness
25-Jan-2006
There was some great entertainment on show at Bultins on the weekend - some intentional and some definately not.
---
The East coast of Britain in mid January isn't ever going to be like the Mediterranean coast of Spain at the same time of the year, but then again Barcelona isn't quite like Skegness either is it?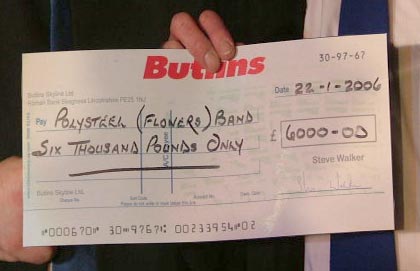 Can you cash this for me please? - PolySteel boost the bank balance

The great Spanish city may be able to boast Antonio Gaudi, the Nou Camp and Picasso as some of it major attractions, but to a lesser extent, the Skyline Resort does have the Sagrada Familia look about it, Skegness does have a football team (capacity 120) and at least one of the bands at the contest tried out their abstract painting skills for all the world to see.
There is no place quite like Skegness ('Bracing' as the old war time posters used to say) and even though it was a little parky if you were prone to wearing a pair of shorts and a Hawaiian shirt, Butlins itself offered a warm and entertaining welcome for the hundreds of players and supporters who descended on the resort this year for the 2006 Mineworkers Championships.
Butlins is really is all about entertainment; some of it intentional some of it not as it turned out.
The intentional had been organised by Steve Walker the Music Director and his team and over weekend you could hear just about any form of music making you could ever wish to imagine.
The Ransome Band gave a 45 minute concert as part of being the reigning champions, whilst those who couldn't get enough of brass bands could also get to listen to Ian Porthouse and his IP Brass group, SONAR Brass and even the National Youth Jazz Orchestra (who were quite outstanding). If that didn't tickle your fancy then you could let your hair down with a bit of heavy soul music!
Add to that well maintained facilities (although the price of a pint was a tad steep at around £3.00), apartments that were warm and well appointed, excellent food in the dining areas and happy smiling staff (although most seemed to be from Eastern Europe and were perhaps overjoyed o be spending January in Skegness rather than Siberia) and it all added up to a great atmosphere.
The bands themselves provided the unintentional entertainment.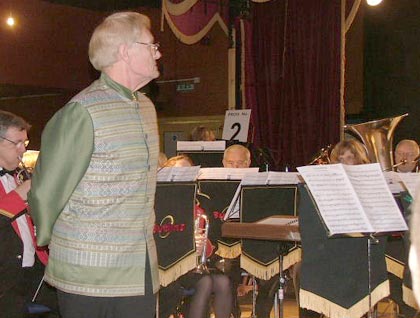 Suits you Sir! Brian Draper in his best conducting gear.

The first visual show stopper came in the Fourth Section where Brian Draper, the fine MD of the Bestwood Black Diamonds Band took to the stage resplendent (and that can be the only word for it) in a Nehru style jacket that appeared to be made from brown flock wallpaper. Not the sleeves mind you – just the main body. In fact on closer inspection it looked as if it was made out of top notch silk, but it still top a brave man to wear it on stage.
Brian though carried off with style and it was very much a reflection of his conducting style too, which was energetic, well crafted and brought out the colour in both the music and his cheeks!
We were left wondering whether he wears it out in Bestwood on a night out though?
The question of dress sense also raised its head at the Championship Section contest too, where Ben Godfrey, the immensely talented cornet and trumpet player was guesting as Principal Cornet of Redbridge Brass.
We know it is sometimes difficult when you are a guest player to have the exact matching uniform as the rest of the band, but usually if you have the right black trousers and white shirt you can't go wrong. Ben obviously got that part right, but when it came to the socks, he must have thought he was playing for Glasgow Celtic as he sported a wicked green pair of socks on stage that shone out from his exposed ankles like the green lights on a set of traffic lights.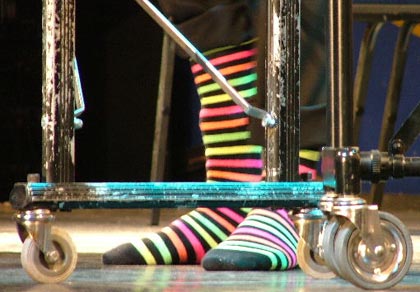 And the link to Monti's Cazardas here is?

He was not alone though, as the young percussionist for the Mount Charles Band took to his solo spot wearing Trebor Refreshers on his feet. Why this was seen as a good idea, heavens only knows. He was playing Monti's 'Czardas' on the xylophone, but where on earth did the link come with the socks? Was it meant to be a comedy item? We didn't think so. So why subject the bloke to such banality? It was embarrassing.
We could however see the link that was being visually created by two members of the Leicestershire Cooperative Band who took to the stage wearing kilts. As they playing Alan Fernie's 'A Royal Mile Suite' which took its inspiration from that area of Edinburgh there was an appropriateness to their decision, although if they were true Scots they would have found the cold breeze that came from the open door to the side of the stage and blew in a northerly direction towards their sporrans a bit disconcerting.
If that would have been a funny sight to sore eyes, then what wasn't was a couple of the lame attempts at humour in the Championship Section Entertainment contest on the Sunday.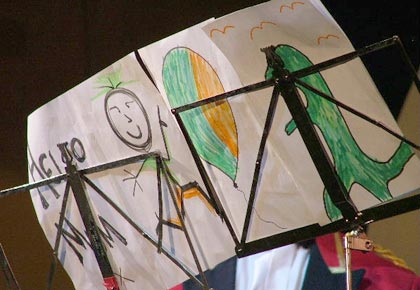 Who's the Picasso then? Ransome go all arty

Barcelona may have Picasso, but so too it seems have the Ransome Band given the drawings that accompanied their percussionists during 'Hogarth's Hoedown'. Either that or they have a talented chimpanzee that can wield a crayon or two. It curled your toes.
Still it didn't matter a jot for the winners in each of the sections who were presented with their oversized cheques to take home with them.
It used to be a fact that banks would have to accept a cheque that was written on anything as long as it was signed and dated. Nowadays, if you win at Butlins they give you one the size of a tablecloth and made out of reinforced plastic. Try pushing that under the counter at Barclays the next time you are there and see what they have to say for themselves!
Still who would mind when it read 'Pay the Bearer £6000' eh?
Butlins 2006 was a fine festival event. The organisation from the North East Midlands Brass Band Association was first rate, Butlins rolled out it red carpet and did its usual thing very well indeed, the traders were a happy bunch as they had plenty of passing customers and the audiences enjoyed just about every minute of it.
Who needs Barcelona when you can get all that on a brass band weekend?

Iwan Fox