2006 Butlins Mineworkers Open Brass Band Festival - Championship entertainment retrospective
25-Jan-2006
It was all to play for on the Sunday where PolySteel and Philip Harper may have been pipped by the surprise package of Redbridge, but it was still enough to take the overall title.
---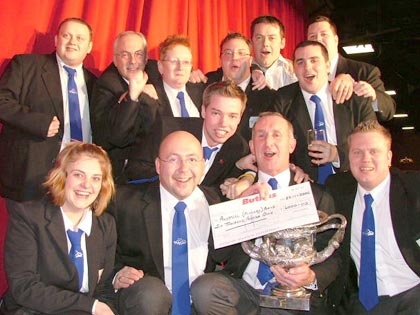 Winning smiles - PolySteel members enjoy the Butlins victory

With the demands of 'St. Magnus' behind them, the 11 bands had the chance to really play to their strengths on the Sunday to try and claim the big fate cheque for six grand that was on offer to the winners for becoming Butlins Champions.
A large audience of over 1200 people packed into the Centre Stage venue (there were upwards of a 1000 or more for the set test all day) who remained in their seats for all the bands – a sure sign indicator that they were enjoying themselves, or that they had nowhere else to go given that it was pretty parky outside.
Unbeknown to the bands, William Relton and David Hirst had placed them in an order that left PolySteel with a narrow one point lead over Carlton Main, with GUS a further point back and with Ransome a couple more in fourth. After that it was going to be difficult to see who could win the title, although Mount Charles may have well thought they were closer than they were and Redbridge may not have thought they were going to turn the form book of the previous day on its head.
William Relton was joined in the box by Steve Sykes, a combination that in its own way was a different as the 'chalk and cheese' analogy William used to describe the two legged contest when he spoke to 4BR after the results (and which can be hear on the 4BR Butlins Podcast on the site).
As there was no set work to use as a comparison it was also left to two non musical judges from Butlins to choose who they felt were the 'Most Entertaining' band in this section of the contest – a rather strange state of affairs in many ways as it seemed to take the responsibility away somewhat from the men in the box to adjudicate in what was a brass band contest after all. More of that later though.
Thoresby Colliery were first up and MD Martin Heartfield certainly put body and soul into leading the band through an entertaining programme that featured some excellent solo work from euphonium Simon Willis on 'Be My Love' and from the cornet section led by Steve Rudhall on 'The Water is Wide'.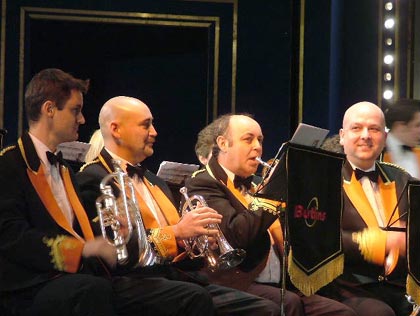 No (h)airs and graces - Thoresby's cornet section ready themselves for action

In between they provided some neat choreography with 'Gathering of the Clans', the upbeat 'When the Saints' and finished with a powerful and purposeful 'Peterloo Overture' that maintained its grip on the musical imagination from beginning to end.
It sounded well rehearsed and well executed and if we had them down for 7th place you couldn't really complain too much that they came 5th.
Next up were Dobcross Silver and they really caught the imagination of the audience from the word go with a cracking opening number entitled, 'Peace, Joy and Happiness' which was cleverly choreographed and featured some excellent solo and ensemble playing.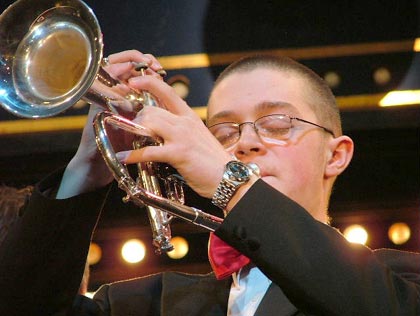 We want Moore! - 16 year old David Moore wows the audience

'Lawrence of Arabia' and 'Pastorale' were well delivered too, before a fine bit of flugel horn playing from 16 year old David Moore on the ubiquitous 'Children of Sanchez', which was not over egged with the filigree and quasi jazz riffs many try with the piece and was all the better for it. Here is a young man (his brother on solo trom is only 9 years of age!) who has a real future ahead of him and his cool performance received well-deserved and prolonged applause.
The weak spot of their programme came next with Stevie Wonder's 'You are the Sunshine of My Life' which featured the flugel (or 3 in this case with 3 troms) once more and could have been better left as a sextet without band accompaniment. It just didn't quite work. Finally though 'Galaxies' which rounded off things with a bang and showed that Denis Hadfield is building a very promising band here. We had them 5th, the judges 4th, but congratulations to all concerned.
Mike Fowles isn't that old we don't think, but he really got BT off to a authentic 60's start with 'The Sound of the Singing Cymbal'.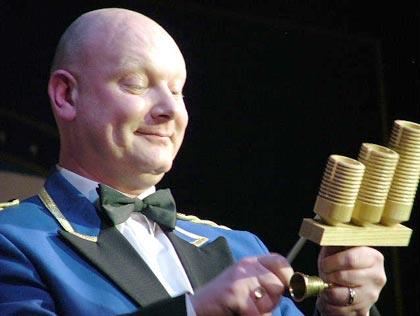 That's how it works!- BT's Kyle Harrison takes up clock repairs

Unfortunately they then remained in the 1960's with 'Pell Mell' by Elgar Howarth which has long since passed its sell by date and wasn't particularly well played, before Jamie Meredith on solo euphonium reclaimed things with a classy rendition of 'Benedictus' from 'The Armed Man'. This was high class paying indeed. 'Lezhinka' wasn't quite up to scratch, whilst the novelty item 'The Clock with the Dresden Figures' had a nice humour touch with the bass playing on the woodblock, but fell flat with the percussionists being hidden away at the back of the band. Given that some of the playing from them wasn't 100% accurate perhaps you could see why the MD chose to highlight the visual input rather than the music.
'The Circle of Life' rounded things off (although the chanting was more Salford than Sudan Savannah), but it was a decent programme that did have its moments. We had them 6th, the judges 8th.
Tongwynlais had promised 4BR that they were going to perform something different and they certainly started off that way with 'The Rap', which lent heavily on the choreography. This would have been an absolute cracker of a start but for the fact that one cornet player made a passable impression of Corporal Jones in Dad's Army and was half a second behind everyone else in his movements.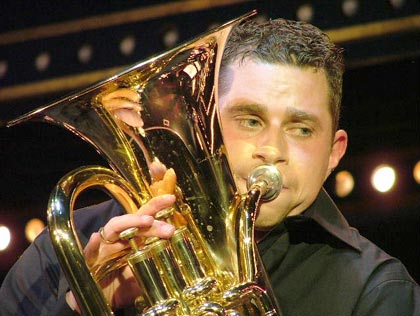 A face full of concentration - Martyn Patterson in Pantomime mood

'Caravan' was upbeat and rhythmic, before Martyn Patterson was a classy soloist in 'Pantomine', which was very well played despite the acoustic not being at all friendly to upward facing instruments – the sound just got lost. They rounded off though with the old pot boiler 'Pines of Rome' which suffered badly from wrong rhythms (is there a band that plays the groups of fives in any other way than a two and a three) and which came to a climax for the troops half a mile outside the gates of Rome.
Tongwynlais are a good band, but on the weekend they were too uneven and inconsistent to make a mark and 10th here was bang on the money.
Now to PolySteel and the audience were not to be disappointed with their usual blend of clever choreography, upbeat arrangements and that mix of the unexpected that Philip Harper always manages to bring to proceedings.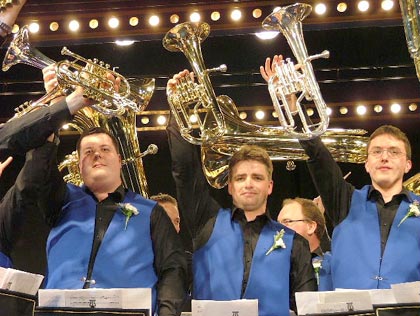 Hands up who thinks we've won! - Polysteel's horns section think so

'Russlan and Ludmilla' was a little untidy in places, but showed off the bands full range of dynamics, before Stuart Baglin was an exceptional soloist in 'Basso Continuo' – the old 'Peel Park' bit from 'A Lowry Sketchbook'. Here was a player with the technique of a class cornetist and a lovely rounded sound right through the range of the tuba. Perhaps the only problem was the acoustic which once more didn't help the soloist, but nevertheless it was a top notch bit of playing and fully appreciated by the audience.
'Indian Daybreak' as a single piece rather than part of the full 'Beyond the Tamar' Suite worked so much better than it did in Gateshead at Brass in Concert, with excellent flugel and percussion features, before their best playing in the music from the cartoon 'The Incredibles' which was funky and upbeat and full of quality. With the MD working his band hard (without a score) it was left to Chris Howley to really up the ante as he led the band in one of their signature 'surprise' items, 'The Sound of the Swinging Cymbal' which rounded off a highly polished and very professional performance.
We had them 2nd, and so did the judges but it was more than enough to clinch them the title – not that they quite knew that at the time.
Who would have guessed that Redbridge as next band on would have pipped PolySteel by a point to claim this section of the contest and push themselves up from a lowly 8th on the Saturday to 3rd place overall come the results? Not 4BR for one, and perhaps not too many in the audience too, although Melvin White has long had the knack of knowing what appeals more importantly inside the box than outside at these types of contest.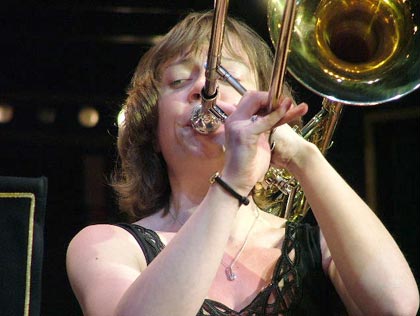 Brilliant Brazilia - Su Cordiner wins the soloist prize with Redbridge

This time he did it again with a clever mix that went more for the cerebral rather than chuckle approach.
The opening 'Jubilee' march was a touch messy in the bass solo in particular, but it was followed by a cracking 'Black Bottomed Stomp' that had an authentic Jelly Roll Morton feel and featured some classy playing from the soloists, even if the presentation was a bit prosaic with the players rather hidden behind the music.
The 'Humming Chorus' from 'Madame Butterfly' was a brave choice and full marks for the real attempt to keep the dynamics at the lowest possible level to capture the feeling of melancholy, but there were some nasty tuning issues that did detract.
Trombonist Suzanne Cordiner produced a fine account of 'Brazilia' to take the Geoff Dove Mineworkers Soloists Challenge Shield and the 100 quid, against some pretty strong opposition before Melvin White played what was to be his trump card and his second Kenneth Downie offering of the weekend and his 'King of Heaven'. This wonderful theme and variations on the popular hymn tune was perhaps more like a mini test piece than a true entertainment concert finisher, but it brought high praise from the men in the box in particular and resulted in them pipping PolySteel (we had them 4th) and jumping up that prize winners table.
Judging entertainment contests is perhaps the most subjective job adjudicators have, but in this case many people were left wondering whether or not they were judging simply the performances of the pieces that each of the bands played without recourse to their entertainment value, or whether or not they were doing that and had just been more entertained by Redbridge's performances than that of say PolySteel or Mount Charles later on. If it was the latter, you must respect their decision, but you are then left wondering why the need for 'independent' judges to make their choice of whom they felt was 'The Most Entertaining Band'? It is a position that perhaps needs clarifying a little before next year's contest.
GUS without doubt shot themselves in the foot, no, make that feet with both barrels with their entertainment programme that featured just the four items, and was way off the mark.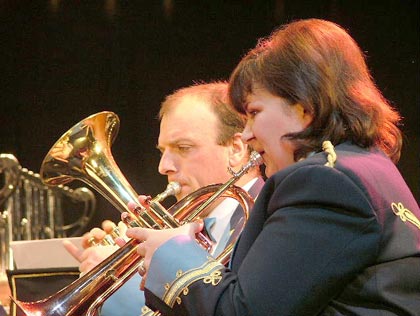 Claire Tomlin and Simon Smith lead GUS on their way

Mark Freeh's arrangement of 'Old Man River' can be sparklingly effective when subject to judicious cutting, but MD Dave Stowell chose to go with the full version and as a result it fell flat and lost all its drive and pulse with extended and rather pointless drum breaks. That was followed by a very neat account of the third movement of the Lars Erik Larson 'Concertino' for trombone featuring Duncan Wilson. The playing was excellent, but rather boring as an entertaining piece of music.
If that wasn't enough they then dragged their way through Jan Van der Roost's 'Canterbury Choral' which was overlong and as exciting as a school trip to the cathedral itself before finishing off with some excellent playing on Philip Sparke's 'Fugue' from 'Graduation Day'.
All the good work from the Saturday had gone up in flames with a programme that never engaged the audience, and a radical rethink is required if they are to do well here next year in this section of the contest. A better programme and they could have been walking away with some major bunce in their pockets. We had them 9th and so did the judges.
Ransome too will have to have a hard long look at themselves. The reigning champions sounded under prepared for this part of the contest, and as a result their programme, which tried to give the audience a bit of everything never found its mark.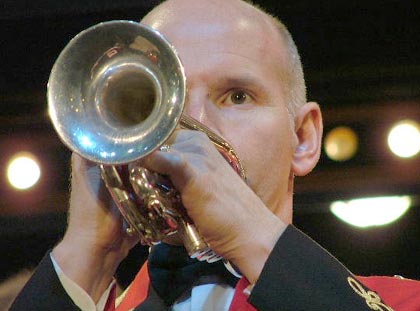 Birds eye view - Ransome's David Bird keeps his eye on the ball

'Stadt Wein' was an underwhelming start, and that was followed by the euphonium and soprano duet 'A Time to say Goodbye' which was what it should have done well before it ended. David Belshaw and Dave Bird are top notch players, but whether or not they like each other they certainly needed to be physically closer together than they were to have ensured that there was some musical rapport between them during the solo. It looked and sounded like they were singing off separate hymn sheets.
Chris Jeans was certainly on form with his rendition the 'Concert Etude' by Goedicke, which was perhaps a touch too highbrow for the audience and didn't quite suit the trombone as an instrument, whilst the band produced their best playing with 'It's a Lovely Day Tomorrow' which came off well despite some nervous solo playing.
Finally, we would have to draw a veil of embarrassment over 'Hogarth's Hoedown' which was simple lame in humour and poor in technique, whilst the ' Finale' from 'The Firebird' never caught fire at all and was messy and tired. We had Ransome 8th, the judges 7th, but they are a better band than this when they are on form, and we suspect, in full contest rehearsal mode.
Although Mount Charles didn't know it, they were just about dead in the water before they took to the stage. 6th place on the Saturday meant that they had to play out of their skins and still hope for a bit of luck to have won. In the event they very nearly did just that, but they still didn't have any luck whatsoever.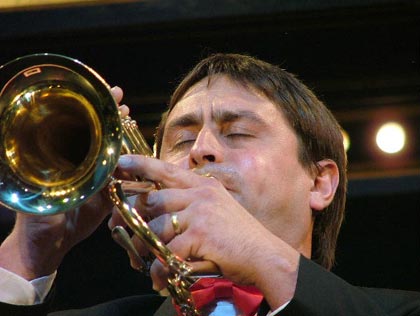 Tim Whitehead closes his eyes to find the Rainbow moment

Nigel Weeks had chosen a traditional programme: March, Solo, Upbeat item. Humour, Big finish. Perhaps that was the problem then, as it was delivered in fine style, sounded thoroughly rehearsed and prepared, and the audience and entertainment judges thought it a cracker. Not so the men in the box.
The march 'ORB' was strong and purposeful, whilst Tim Whitehead was exceptional as the featured flugel soloist in 'Over the Rainbow'. This was playing of the very highest class and for us he was a prime candidate for the Soloist Prize. 'Caravan' was very well handled and featured some fine trombone work by Nick Hudson on his usual form, but it was perhaps the 'humour' spot that let the band down.
Featuring a xylophone soloist is always popular, especially when they are playing a piece such as 'Czardas' by Monti. You can't go wrong usually, but you still have to play it, and play it well. Unfortunately that wasn't the case here and there were more 'wrong 'uns' entered than the race for the Liberal Democrat leadership. Add to that the idea of wearing multi coloured socks and it all fell a bit flat visually, and especially musically.
They ended their programme though in fine style with the 'Coronation Scene' from 'Boris Gudonov' which although loud and powerful maintained its balance right through to the end.
We had them as winners, so did the Butlins redcoasts and possibly so did the majority of the audience – but not those two men in the box. In fact they had them down as 6th, which was a complete and utter mystery. Every band contest has an odd result or two, but this one was odder than most, and they can count themselves more than a little unlucky.
That just left the two bands of Fishburn and Carlton Main they were contrasting performances to say the least.
Fishburn started well with a cracking new arrangement of the march 'The General Mitchell', before the usually impeccable John Gill gave a rather tepid account of 'Virtuosity' that didn't quite sparkle as it should, and we are sure, as John usually plays it. For such a classy player this was a below par performance.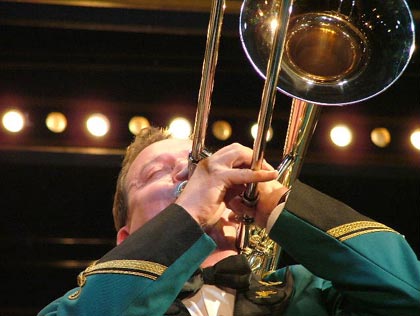 Malcolm Gill on high wire form

'Autumn Leaves' in a new arrangement by Alan Catherall followed and was neatly handled with trombonist Malcolm Gill on good high wire form before they opted to play yet another new arrangement with Ray Farr's 'Like Always' which was a touch like the cool jazz item he uded with Reg Vardy at Brass in Concert, but which this time wasn't quite cool, more like dead cold. It was a meandering piece of nothingness that filled time and space and that was all.
That just left another whip through 'Firebird' which sounded tired and a little under prepared (more Gas Mark 3 than Gas Mark 7) and rounded off a programme that certainly had the potential to have scored highly but failed in its execution, perhaps through lack of intensive rehearsal? 11th place may have been a touch harsh, but it perhaps was justified in context.
That just left Carlton Main under David Evans, and they got off to a cracking start with 'Valero' which was well controlled and once again showcased their big, broad, bass led sound and neat cornet section.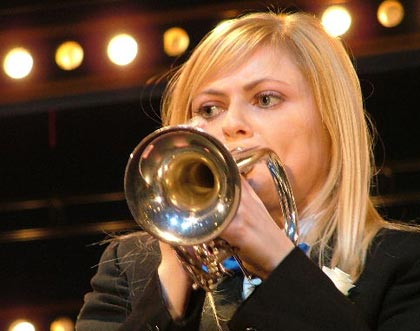 Taylor made - Soprano soloist Clare Taylor gives it 100%

Clare Taylor then gave her all in the soprano solo 'Gethsemane' from 'Jesus Christ Superstar' – and we do mean her all too, as she very nearly fainted after the last top C! This was a brave effort on a very difficult solo, especially as she is one of the sweetest toned sop players around and this was a piece that required a fair bit of whacking it out.
Kirsty Abbott then showed her class with a lovely leading part in 'Mid All the Traffic' before the band gave a slightly scruffy account of the march, 'The Melody Shop'. That was a slight disappointment given the quality that had preceded it, but normal service was returned with 'Sospan Fach' that was taken at breakneck speed but still retained clarity and ensemble security.
They then gave one of the best performances of the entire day with a tremendous account of 'Procession to the Covenant' arranged by William Himes that had such control of dynamics before building to a resounding finish. David Evans had worked his band well and had once again intelligently chosen a programme that highlighted the bands obvious strengths. More should have followed his example on the day, and the 3rd place from the judges was well deserved.
That rounded off the 2006 Butlins Championships, a contest that over the two legs saw victory go to the PolySteel Band after they had proved themselves the most consistent with a win and a second place. Carlton Main had plenty to celebrate with their overall runners up spot and Redbridge were obviously delighted with third place.
Meanwhile Mount Charles could count themselves more than a little unlucky not to have gained at least a podium place, but that is brass banding for you.
As for the winners? It certainly went to show that the former Flowers are now a band very much made of steel.
Iwan Fox