2006 Butlins Mineworkers Open Brass Band Festival - Championship set work retrospective
25-Jan-2006
4BR looks back at the Staurday section of the two legged contest and found that the real winner was once more the immense St. Magnus.
---
There is a problem with Kenneth Downie's 'St. Magnus', in the same way as there has been the same problem with Philip Wilby's 'Paganini Variations' and Wilfred Heaton's 'Contest Music': Its popularity could become its Achilles heel.
'St. Magnus' at this point in time is simply too difficult a test piece for the vast majority of Championship bands to play well, yet it is in real danger of losing much of its very special appeal as one of the truly great modern brass band test pieces by sheer mundane familiarity.
Nowadays there are anything up to 25 or more climbers reaching the top of Mount Everest each day. It doesn't belittle the achievement for the individual of conquering the highest mountain in the world, but in the eyes of the general public it no longer merits the proportionate amount of appreciation.
In its way, the same thing has happened to both 'Contest Music' and 'Paganini Variations', and 'St. Magnus' could well suffer the same fate. There are not too many top and first section bands that haven't had a go at the Heaton or the Wilby in the past decade, and now the brass band climbers all want to have a crack at Kenneth Downie's masterful composition as well.
However, the mountaineering analogy holds true though, as Howard Snell once remarked in an interview in the Brass Band World Magazine: "Heaton's 'Contest Music' while beloved by players and conductors alike, is rarely conquered," he said, "…and there are more dead bodies short of this particular peak than on Everest.' Since it was first used at the 2004 European Championships in Glasgow, he could well have been describing 'St. Magnus' too.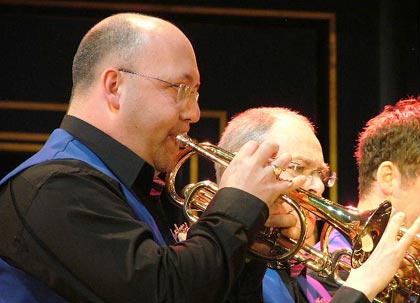 Chris Howley leads PolySteel through the ST. Magnus minefield

At Skegness, the immense composition, with its treacherous technical passages and demanding lyrical sections repelled 11 quality bands with a disdain that reinforced both its appeal and it reputation as the current ultimate litmus test for any band and conductor. At the end it remained unbowed and unconquered, despite the best efforts of the bands to tackle it with expeditions that tried their best by fair means or foul.
There has in our experience of listening to the piece live, only two performances that has truly tamed the beast; YBS at the 2004 Europeans and BAYV at the British Open. No one else has really come within sight of the summit and at the Centre Stage venue on Saturday, despite some decent efforts none did so again.
It was adjudicator William Relton who cryptically and rather generously said when giving his interview to 4BR (which can be heard on our Butlins Podcast) that he believed that there were just a number of the bands could 'practically' play the piece. Not a ringing endorsement for those here, was it?
Most of the bands fell at the first crevice – in fact the nursery slopes of the opening six bars where the duet between soprano and solo cornet was invariably blighted by either a slip or fall in the soprano line, or a noticeable imbalance between the two parts. Just the one band really cracked it on the day, and that was the very first band, Tongwynlais Temperance, who produced a quite stunning opening, only to be overcome by altitude sickness thereafter.
With that out of the way and with abundant misplaced confidence most bands jumped straight into the second trap in Variation 1, which is marked Andante: minium = 76 (quick but not electrifyingly so). Here the dislocated rhythmic structure and the need for pinpoint accuracy in the tiny motifs that litter the score, care and time was required. Why so many opted to blaze away like an Olympic sprinter was sheer lunacy, and it manifested itself with the first entry of the soprano at bar 34. Only two out of the 11 sop players on the day managed to play their running semi quaver two bar phrase with any degree of comfort, whilst the following euph and flugel motifs were a complete bluffers playground.
It was sad to report that just about every band also missed the chance in the final two bars to make more of Downie's nod of appreciation to 'Contest Music' either. Speed kills, and it certainly bumped off a few bands before they had even got further into the piece.
Thereafter 'St. Magnus' claimed more and more victims.
Xylophone players can get away with murder at the best of times, but having heard the superbly accurate playing of Gavin Pritchard (Grimethorpe's percussionist) with Tongwynlais and Fishburn on the fiendish parts in Variations 3 and the Finale, many of the rest sounded as if they had opened a bag of frozen peas and left them to drop on the instrument, such was their inability to play accurately or in time.
Meanwhile the standard of euphonium playing was pretty good, with only a couple of players technically not getting close to the cadenza that opens Variation 4. Musically though it was a different matter, as the whole solo never rises above a forte marking. Too many attacked it as if needed to be blasted into submission and as a result the Variation opened with a distinct lack for the feel of the music.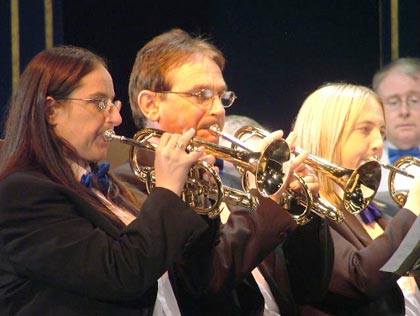 Not taking a break just yet - Kirsty Abbott leads Carlton Main into second palce

Further trouble lay ahead for those bands who decided that Variation 5 marked Allegro: crotchet = 120 was a bit on the pedestrian side, only to find out that they had to then needed to put their foot down hard on the accelerator for the Finale marked 152. The difference in many performances between the two was negligible and as a result the Finale was ratcheted up to a speed that the bands couldn't manage.
The proof of this was to be found in the four bars before the final rehearsal marking CC, where the lower horns and baritones, followed by top cornets have to play an ever increasing rhythmic pattern of broken triplets, triplets and semi quavers. Not one band had the ability to play this with any degree of clarity or accuracy (many opted for the flutter tongue cheat on the semis to try and replicate the effect).
Finally, proof that trying to recompose a piece just because it may be appear easier to play in 3/4 and 4/4 rather than the composers intentions of 5/8, 5/16, 7/16 etc is a sure fire sign of a conductor who has neither the belief in their own, or his bands abilities to beat or play with rhythmic accuracy.
It has become a well known fact that the 9 bar section of the Finale (bars 305 to 313) have now been re-arranged by just about every MD in the belief that it makes it easier to conduct and therefore to play, that it comes as a surprise that they haven't petitioned the composer to make the amendments officially to the score itself.
It is a cheat, and a cheat that a brave judge should penalize harshly. Not only doesn't it work (the section lacks any recognisable pulse and meter) it never fits with the important trombone part that invariably ends with the trio playing right through to the end of bar 313 and with the Eb bass part becoming totally lost. Fitting the xylophone part in with this becomes a near impossibility, as was shown (Mr Pitchard being the exception) in just about every performance.
The 11 bands all encountered these problems in their performances, but for us the one band that perhaps came closest musically (although perhaps not technically) to capturing the essence of the piece was Mount Charles under the direction of Nigel Weeks.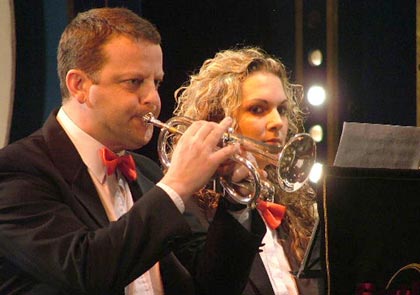 Eyes right! Mount Charles rep player keeps an eye on Jon Small

Theirs was an accomplished performance broadly set out and with some finely structured musical lines and ensemble work in the quieter sections. Some of the technical passages didn't quite sit as comfortably as they could have (the Finale was a mess) but for us, and for a number of seasoned observers we spoke to, it was the one performance of the day that allowed the beauty of Kenneth Downie's music not to be submerged by the need to overcome the technical obstacles it also laid in its path.
The judges, William Relton and David Hirst had PolySteel (Flowers) under Philip Harper in first place, and whilst you couldn't argue that theirs was a powerful and confident account (we had them 3rd) it never had any great dynamic contrast and lacked the more lyrical feel of their West Country rivals.
That said, we were sat at the very front of the hall, and the acoustic was such that much of the edge did come off the further you sat back, so perhaps that was why it found favour in the box than it did with us and others. Technically it was the most secure of all the performances on the day with some super solo cornet work from Chris Howley and soprano Spencer O'Leary (whose only black mark was to opt out of the top D at letter O, when he had it nailed) and Philip Harper never let up the pace and flow of the piece right to the end. Not the winner for us, but it was deservedly right up there at the top.
We had GUS under David Stowell in second place (the judges had them 3rd) and theirs was a performance that although never riveting either musically or technically, still had a great deal to admire in its overall presentation.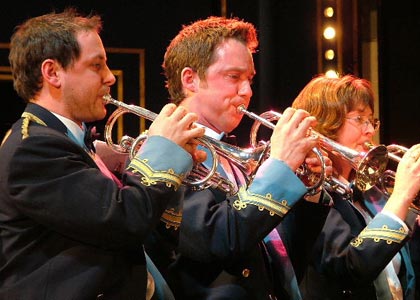 Alex Thomas leads the GUS line

The MD took few risks and that caution paid off (although the rep player who screamed out a super G at letter O instead of the soprano was given special dispensation to thrill we think) and it had the feel that they were keeping something in reserve. That may have been the case or not, but an untidy ending with an errant xylophone and cymbal entry before CC just took the gloss off a workmanlike performance. Given what was going on around them though with other bands it was an intelligent approach.
Ransomes came in fourth (same as 4BR) and owed much to their MD, Russell Gary who deliberately took Variations 1, 3 and 5 bang on the tempo markings, yet allowed a great deal of rubato to come through in the other sections.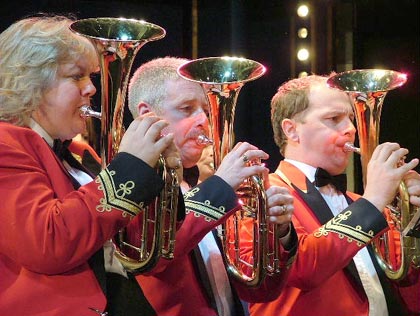 Horns to the fore! - or three, for reigning champions Ransomes

It was an excellent ploy (and one that seemed to suggest a possible lack of intensive rehearsal time perhaps) that seemed to be working well, but when it came to the Finale, the wheels fell off big style and it became a horrid mess that must have cost them quite a few points.
We had Carlton Main Frickley in fifth place (the judges had them 2nd) and given that during 2005 they had no luck at all at major contests, you couldn't deny them a fair slice of it here – it was long overdue.
David Evans cleverly emphasized the obvious strengths of his band and neatly disguised his weaknesses by keeping the tempos in check. It very nearly worked, but it did rely heavily on Kirsty Abbotts excellence in the lyrical sections and some risky decisions (only 1 solo cornet playing the semi runs at the Finale) that could have been disastrous if they didn't come off. Still, it paid off and that was all that counted and even if it was a touch messy in places, they still produced one of the best band sounds we have heard for a good while.
BT came in 5th for the judges (6th for us) with a bit of a hotch potch performance that improved as it went along, but never quite sounded as if it was totally under control. MD Mike Fowles added some neat touches here and there that added gloss to a somewhat matt finish whilst euph player Jamie Meredith was on classy form on his solo. It wasn't a bad show, but it wasn't a great one either, and it says something about the rest of the performances that came below it that it managed to come where it did.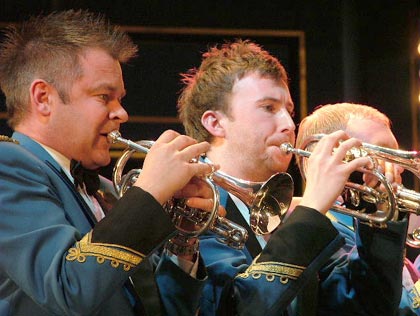 Peter Shaw and BT claim their top six place

The rest of the field struggled to make any decent sort of impression with the test piece, although each had their moments when it sounded as if they were mastering the music and the technique only for it to fall away as quickly as it came.
Dobcross Silver certainly put in a better performance here than they did in Glasgow a couple of months ago, but there were still too many unforced errors in the quicker movements that fractured the flow of the music. The quieter sections benefited from a broad approach by MD Denis Hadfield and his young players responded well, but overall it still sounded a piece that is just beyond their current capabilities. We had them 10th, the judges 7th.
Redbridge never got started – literally. After a 8 minute wait to get a timp head fixed and with the players on stage the whole time with instruments getting cold it came as no surprise that the opening was cracked and it took a while for the band to get into some sort of stride.
Ben Godfrey was an excellent lead on top man, but elsewhere Melvin White's players didn't do themselves justice and they were below the type of form they had shown throughout 2005. It was good in places, but it was also very poor in others too (the xylo and then cymbal before CC seemed to be on another planet) and it all accounted for them coming 8th in the judges view and 7th for us.
Thoresby Colliery suffered in much the same way as Redbridge but only more so in the quicker sections which for the most part were a mess. There was some real sloppy playing in too many places (vibraphone before Variation V for instance) and it never rally knitted together as it should. Martin Heartfield worked hard and did get occasional moments of class from his band, but overall it was not a good show. 9th was bang on the mark.
Much was expected of the reigning Scottish Open Champions, but in the event Fishburn under Chris Bentham reprised their performance of Glasgow. There they managed to ride their luck somewhat, but not here, and the costly individual errors and poor ensemble were more starkly felt in the dead acoustic of the Centre Stage than at the Royal Concert Hall. No real complaints we don't think in coming where they did.
Finally, Tongwynlais and a performance that started in brilliant fashion with the best opening bars all day and which promised so much. Thereafter it never reached those heights again and at times it was very hard work. Too many ensemble fragilities and individual errors cost points, and we would question why Gareth Pritchard chose to make such a long break between Variations 2 and 3, as it made the piece so fractured as to lose flow. It wasn't a good account at all, and 11th place was what it deserved unfortunately, especially after such a wonderful opening.
You may wonder why 4BR has taken the time in this retrospective to look so closely at the test piece rather than just the performances of the bands on the day, but as we stated at the beginning, 'St. Magnus' cannot be allowed to become dulled and less appreciated by audiences due to the inability of bands to really get to grips with it just because it is such a popular work.
It should have been used on its own at the British Open in 2004, a reflection of its true stature, and although it would be wrong to suggest that organisers should not pick it for contests such as this, they should be wary that it currently does it a disservice. There was no doubt who was the real winner on the Saturday at Butlins, and it wasn't any of the bands.
Iwan Fox