2006 Butlins Mineworkers Open Brass Band Festival - Second Section retrospective
25-Jan-2006
Nearly 90 years after it was written, Prometheus Unbound still proved itself to be one heck of a difficult test piece. Kippax found the right mix of music and the mystical though.
---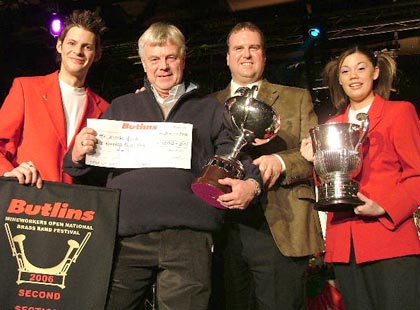 Joy 'Unbound' - Kippax celebrate their win with the Butlins redcoats

An entry of eighteen bands lined up to tackle Granville Bantock's classic test piece 'Prometheus Unbound', some with more success than others. Like a lot of the older test pieces that have been resurrected at major contests in recent years, it never fails to catch out bands and conductors alike, and to be perfectly frank, some MDs here in Skegness were found to be wanting.
Prometheus may be close to 90 years of age, and although it has had a bit of nip and tuck work thanks to the well known musical plastic surgeon Bram Gay (the original score was revised in 2001 to include additional percussion) it has not withered with age. It is a quite beautiful work that requires the touch of a true musician not a mathematician to fully explore this music; and on Saturday we had far too many of the latter.

Too many of the performances had no feeling for the music whatsoever and although most played the notes they were let down by lack of direction from the middle allied to bad intonation and tuning.

That said, there were some exceptions with five performances that ranged from the very good to the pretty decent. The rest though…

The Kippax Band conducted by Keith Wardle were awarded first prize with a performance that captured the mood of the music with a good all round band sound. There was a lot of detail with some nice solo work alongside some fine dynamics and although the performance wasn't blemish free but it was a good winner all the same.
The opening statements in particular set out their stall: full, broad and balanced pesante minims and a real sostenuto style through to the first Con Sforza before rehearsal mark 3. Thereafter it retains the sense of style with added touches of classy solo playing from principal cornet Nigel Darbyshire and euphonium player Colin Moss. Some of the more delicate work had real expression whilst there was a compactness and clarity to the quaver work. The ending had a few tuning problems, but by then they had done enough to put themselves really into the frame. The win was deserved.
Second place went to the Hopkins Blidworth Band conducted by Geoff Hawley. The best feature for us was the fine bass section led by John Wilmot which gave the performance a solid and broad foundation on which to build.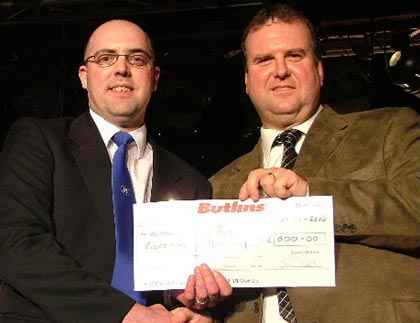 Solicitors Bill - Hopkins Solicitors Blidworth claim their runners up spot

There was always a flow to the music throughout the piece, even in the final sections where many bands drew out the peaceful redemption of Prometheus like the final dénouement of a Lassie film. Prometheus has just endured his liver being pecked year on year by hungry birds of prey, so you would have thought he would have taken the earliest opportunity to get away from the rock to which he had been chained. Not so in too many performances, which lingered at the scene of crime like voyeurs at a car accident.

Hopkins also benefited from an excellent soprano cornet, who nailed the difficult triplet rhythm before letter 15 and the quavers at 17 with real aplomb that brought a smile to the face of his MD. Add to that a solid trombone section and warm cornet and the little niggles in intonation and some sloppy phrase endings could be forgiven.

In third and fourth places were Carlton Brass and Frickley South Elmsall respectively with both bands giving committed, if more than a little error strewn performances.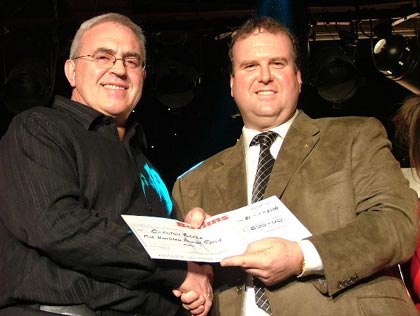 Carlton's Brass - Carlton take the third place cheque

Carlton under Tony Wilson put down an early marker from the number four draw with good attention to detail, although some intonation problems just took the gloss off some of the quieter areas. The MD perhaps tried to create too much excitement in places, where a little more reserve was called for, but overall it was a pretty good effort and sets the band up well for the forthcoming Area contest.

Frickley South Elmsall directed by Dave Nichols gave their performance a rather stodgy opening, but it soon settled down to give a nice reading of the music with the links between the various sections handled well.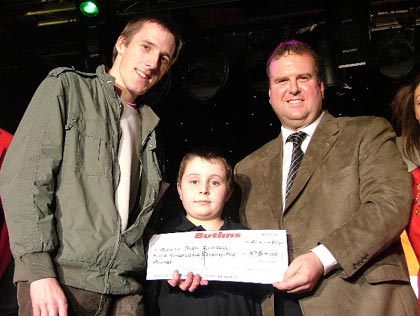 Small chap, big cheque - Frickley claim their fourth place money

This was a good sounding band when they played with control, but they lacked balance at the extremes of the dynamic range and the ending didn't really have a sense of resolve – more a puff of the cheeks and a thank heavens that was all over feel. Still, there was plenty to admire with the bands soprano player Diane Stoppard on excellent form throughout.
The final band to really make an impression on both 4BR and the adjudicators was fifth placed Shirland Welfare Training directed with her usual professionalism by Marie Smith. This for us was by far the most musical performance of the day – they did have some technical problems here and there, but the music flowed with a real sense of balance and warmth. A few intonation problems at the beginning may have just cast a shadow in the judges mind (they did resurface towards the end) but this was a fine effort, and we think they were more than a little unlucky not to have come in the top three at least.

The rest of the performances from sixth placed down were a real mixture, with some bands not responding to the direction that was trying to be imposed on them from the rostrum, and quite a few others not having any direction at all!

Rockingham, Tylorstown Arriva Trains, and Lewis Merthyr in 6th ,7th and 8th places all had good moments but lacked the concentration overall to feature higher. It was a question of trying to balance disparate timbres that cost each of these bands. On too many occasions single lines stood out and spoilt the fragile balance that is so essential in the piece. For instance, the final four bars of the piece are still quite heavily scored in terms of personnel, but it is marked piano with a diminuendo to pianissimo on a sustained final chord. All three bands finished with at least one player sticking out or struggling to keep a consistent airflow, so that the resolution failed to materialize. When the dynamic levels dropped below mp, the quality went missing and on this piece that meant points dropped – lots of them.

The bands placed 9th, 10th, 11th and 12th were Foresters Brass, The Harborough Band, Yiewsley & West Drayton and The Wigston Band, all of whom fell foul of poor intonation, which at times really grated.

The pick of these was Harborough conducted by the great Trevor Groom, who really did give the music time and space and a real sense of repose in the final few bars. Unfortunately he didn't have the resources at his disposal, although many of his players did try bravely to respond – none more so than usual MD Chris Groom on soprano cornet. Trevor's was a reminder that great players become great players because they are usually great musicians too.
Of the others, Foresters had their moments under Neil Keer, whilst Yiewsley and West Drayton overcame a poor start and improved as it went along, only to fall away in those crucial finals bars. Wigston also fell foul of the same problems.

The rest of the performances were very disappointing to say the least, and we wondered whether or not they were either under rehearsed or just didn't like the music that they were asked to play. And we are talking about both MDs and players here.
Although the music itself doesn't try to quote directly from the epic Shelley poem we still were left wondering if some of the MDs here had a real appreciation of the subject matter and of Bantock's other works for brass such as 'The Frogs' or 'Land of the Ever Young'? If they did then surely they would not have taken the approach they did, for one thing was for certain, Malcolm Brownbill and Derek Southcott certainly knew the piece well, and quite rightly penalised the remaining bands for what at times was a crass approach to the music.
The bottom six of Egham, Dinnington, Wansbeck's Ashington, Murton Colliery, Shirebrook MW Unison and Ynyshir either simply were under rehearsed, just had off days, didn't like the music or just didn't understand the piece and approach needed. Whatever the reasons they none were up to scratch and to be fair could have been placed in just about any order.
Speaking to Malcolm Brownbill after the results he said that although they were not too disappointed with the overall standard they felt that the bands in the top five had made a decent attempt at the music and were happy with there decision. The standard did fall away he admitted, but that was perhaps more to do with the piece still being a most severe test of musicianship and command of basic brass band essentials such a balance and tone. It was hard to disagree.

As we have said, 'Prometheus Unbound' may be a real golden oldie, but it is a 24 carat gold for certain. Only five bands managed to come to grips with it here, although they were five very good effort, whilst the rest found its mix of subtle balances, delicate phrasing and sense of repose to end, just too much. It could well be the same story in another 90 years as well.
Dave Tinker and Iwan Fox