2006 Butlins Mineworkers Open Brass Band Festival - Third Section retrospective
25-Jan-2006
Even though they may have only won by one pont, the Matlock Band were the clearest winners of the whole Butlins weekend with their cracking account of Alan Fernie's test piece.
---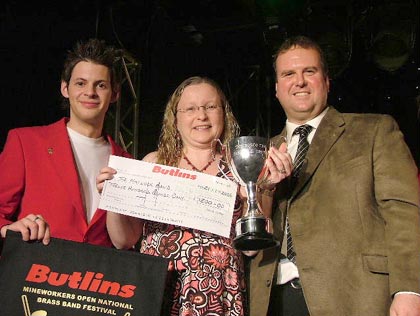 Matlock masters - Band rep Helen Lumbley collects the winners cup

There was no clearer winner of any of the five sections at Skegness at the weekend than the Matlock Band conducted by Roger Jepson.
The final winning margin may only have been one point from Whitworth Vale and Healey in second place with Moulton 77 Brass a point further back in third, but the award of points is just one indicator of victory. This was a comprehensive triumph.
Their performance of Alan Fernie's descriptive 'A Royal Mile Suite' was full of good basic brass band playing. In addition it also benefited from some fine individual contributions and direction that would not have gone a miss in the Championship Section.
It may also have helped that the band had played, and won on this piece late last year at the Leamington Spa contest, but that was then and this was now, and the standard of opposition they were up against here was significantly stronger, and the band was making its debut in the Third Section after gaining promotion in the Midlands region.
MD Roger Jepson was clearly thrilled when 4BR spoke to him at the conclusion of the results on the Saturday evening, but he made the honest and telling point that as with the vast majority of achievements in life, it was down to basic hard work. "We have worked very hard in the past year," he told us. "We did play this piece at Leamington Spa last year in the Fourth Section and enjoyed it, but we needed to do a great deal more hard work on it to really get it up to scratch here. I was quietly confident that we had done that and on stage I couldn't have asked for more from my players."
The four movement work is typical of the neat and clever compositions that Alan Fernie delivers for bands at this level. The first movement entitled 'At the Palace Gates' requires control and a sense of dignity and purpose, whilst the reflective 'Holyrood Park' asks quite difficult questions of soloists, especially the solo cornet's ability to play lyrically at the top and bottom of their range. Then comes the technical section of 'Jenny Ha's Reel' before an Edinburgh version of Pines of Rome and the slow march of 'Castrum Dun – Edin'.
Matlock were in control right from the word go with a real sense of style and balance in the opening movement and a fine sense of lyrical charm in the second where solo cornet player Colin Martin and soprano cornet Derek Swindell dovetailed neatly and cleverly to cover the high cornet solo line. The good work carried on in the next movement before the female duo on euph led by Diane Bonser showed the band the way home and everyone else responded in kind to round off a fine performance. There may have been a number of bands to follow, but it would have taken a top class show indeed to beat this one, and so it proved.
The closest challenge eventually came from Whitworth Vale and Healey conducted by John Binns who were the last band to take to the stage.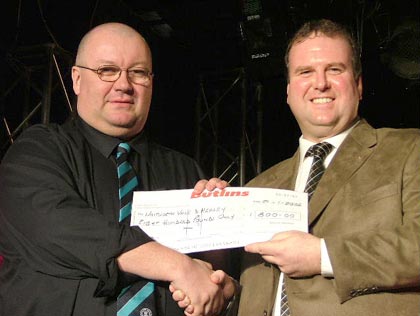 Whitworth wonders - Whitworth Vale take second place

This was a much more aggressive performance, although it was kept under good control by the MD. The opening set out their stall, and even though the second movement had its shakey moments, it really came to life in the last two sections where principal cornet Dave Tattersall and euph player Brian Warrington really hit form. It didn't quite have that stamp of control of the winners but it was nonetheless a very decent show and deservedly took second place.
There was very little to choose between the eventual third placed band, Moulton 77 Brass and Whitworth Vale, but we had to agree with the judges Alan Morrison and Dr. Robert Childs and their order of the top three.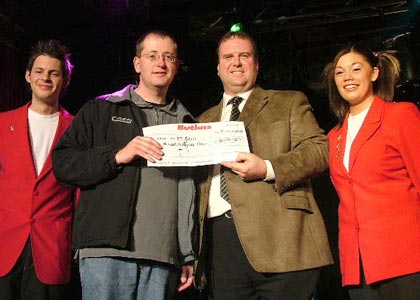 Moulton claim the money - Moulton 77 pick up their third place cheque

Moulton, directed by Howard Gibbs started impressively and that continued into the second movement, although it just fell away a little at the end. That unevenness carried on into the third section, but it soon recovered and a powerful finale brought them back on track and set the maker for the others to follow. That they were beaten by two performances of such merit was a credit in itself, and they too can look forward to the Regionals full of confidence.
Leicestershire Cooperative under Graham Jacklin certainly got into the mood of the piece when two of their players took to the stage in kilts, and it seemed that it was a wise move after a good start developed into an excellent second movement.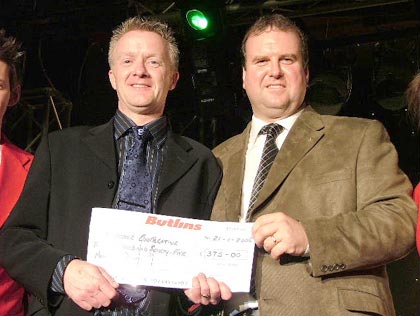 Well done Jacko! - Leicester MD Graham Jacklin picks up the money

Thereafter though it started to fall away and a scrappy third movement led to heavy handed fourth and their chance was gone. Still, they certainly put their money where their sporrans where and took a deserved fourth place.
The final top six places were taken by Stantonbury Brass directed by Alan Jenkin and Chinnor Silver conducted by David Pegram. Both bands provided the judges with something to consider, although they didn't quite have the sense of consistency that the top prizes winners displayed so well.
Stantonbury certainly benefited from some superb soprano playing from Michael Jenkin and some solid cornet playing from David Wilson, but some poor tuning in the second movement and rushing in the third took the shine off what could have developed into a very fine show.
Chinnor Silver resplendent in their Black Dyke lookalike uniforms started robustly but then showed real control and fine dynamic contrast in the second movement where their cornet player Stephen Clapton displayed a lovely sense of restrained class. That was carried on into the third section, but it started to get tired thereafter and the fourth section just fell away – and that cost them the points.
Outside the top six the next three or four bands could easily have changed places and even come in the prizes, but problems with intonation, some sloppy ensemble work and nervous soloists all cost points.
Whitwell under David Fretwell started off in fine style off the number 1 slot, but they couldn't quite keep up the good work, although a special mention must go to their young principal cornet player Rob Deakin who showed a considerable amount of maturity in leading the band. The result meant that Whitwell won the award as the highest placed mining band.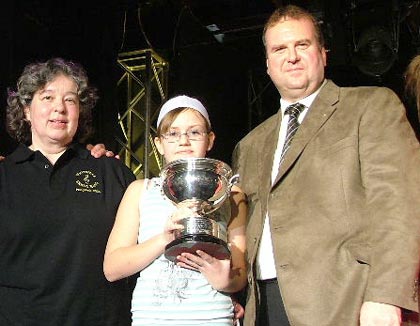 10 year old Shelby Jackson picks up the award for Whitwell

The same can also be said of BMP Europe Ltd Goodshaw under David Ashworth, who possibly deserved to come higher than they eventually did, but certainly paid the penalty for some poor tuning in the first section and scrappiness in the third. Still, it was a good account that benefited from some quality solo work, especially from Nicola Murray on principal cornet.
That just left the final four bands, all of whom found it a little bit of a struggle to overcome both the musical and technical challenges of the test piece.
Bakewell started nervously but improved as they went along and the second section with principal cornet Deborah Miles on good form was their best playing. It was a disappointing third movement that certainly cost them most and even though they recovered again in the fourth section the damage had been done.
Kirkby Colliery Welfare complete with bumper up with a broken leg, started robustly, but soon found trouble. It too recovered with some neat work from solo cornet player Leeanne Wilkins, but the final two sections saw them struggle and it just ended a touch overblown and tired.
Five Rivers also struggled and after a touch harsh sounding opening it never quite had enough ensemble clarity to challenge for the prizes on offer. There were some nice touches from solo cornet Teresa Harris, but we have heard this band play better than this, so the result may be out own to a bit of an off day.
Hilgay Silver came in last but certainly not least and there we moments in the performance that MD Andy Clarke can work on ahead of the Regional championships. They are a bit short of numbers, with just five cornets on show, so hats off to them for their efforts. Lets hope they can strengthen the ranks ahead of the Areas.
There was no doubt about the winners in this section. Matlock sounded a very neat and compact band, ably led and with strong players in all the major seats backed by a solid ensemble. The others tried hard, but just lacked that touch of class that they displayed so well. Overall it was a very good contest and the standard was high. Adjudicators Robert Childs and Alan Morrison couldn't really be faulted with their choices, with the first four quite clearly ahead of the rest, of which the next five or six bands could have exchanged places without too much of a quibble.

Kenneth Crookston and Iwan Fox