Composer interview - Phil Lawrence talks to 4BR
19-Jan-2006
Composer and Music Associate of the Fairey Band, Phil Lawrence will hear the UK premiere of his 'Gregoritas' on January 28th. He told 4BR all about it.
---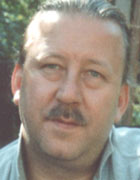 4BR:
Well Phil, 'Gregoritas' was composed nearly 5 years ago. It's premiered in Australia and New Zealand, but it has taken a long time to be heard in the UK. Why do you think that is?
Phil Lawrence:
I think it has taken a longish time really, but attitudes are starting to change for the good in some brass bands. Some are working out that new music is needed and they can raise their profile by championing new works. Some are positively hungry for new material and want to test out other composers to see if they are doing something different! Gregoritas is my first brass band work of length, and I had only written one work before it of some 9 minutes pitched at the First Section. I had arranged one large symphonic work by Rachmaninoff (1st movement of his Symphonic Dances) for band. So if you like, it's almost an Opus 1 for band.
4BR:
We have had a look at the score for 'Gregoritas' and for a first work it is very extensive and complex. Can you tell us more about the work in detail?
Phil Lawrence:
Erm, different in some ways I'd say, and yet not in others. I suppose this leads me on to some something about the work? Different and yet not - this to me means a marriage of old and new music.
Old as in where all western music is derived, plain song/chant, Gregorian chant. The opening begins with a solo off stage cornet playing a "Panis Angelicus" circa 1230 as it would be sung by the leading Father/cantor - second time through it would be harmonised by the other monks in answer. After two chants and answers, we dash off into our test piece like mode at crotchet 150, but all variation is built on the "Panis Angelicus". In the first moments I have deliberately avoided any effects, whizzes, flits, and wild pyrotechnicals. I'm afraid it just comes down to playing the notes on the page. Sometimes it's not in the nicest key for running around and there is no chance of approximation though! This movement has variations on the chant, the chant itself as a full blown tutti, and then even placed against 21st C harmonic jibes. Nearly all section leaders have some sort of solo, particularly in this movement, Solo cornet, Eb bass and BBb bass, trombone and both Euph's.
The 2nd movement leaves the chant realm (nearly) and we find ourselves approaching the "Angleorum" where Angels live, where cornet section is up for scrutiny for 8 bars, followed by a very languid flugel solo which takes us past the gates (if you like) towards the "Angelorum" - placid, calm, magical.
Events unfold via little trumpet like calls building to a very bright blinding light at the centre of the "Angelorum" and passing quotes from the original chant. This dies as we exit the bright centre and begin a calm magical exit to nothing and onto the third movement "Magnificat" which is based around rhythmical play in 5/8 & 11/16. A quandary - no chant?
We have 21st Century music upon us, so where can the chant be found? I then took on the idea that today the chant is probably used most in Holy Church of Mother Russia and the Catholic Mass. We are now tied up thus-wise - dominant 21st Century music and a panic to look for our musical roots. Russian influenced, as that is where it is used most today, then finding it and hearing it used via cantors and Russian Basso Prafundo's! We then settle as we join a Processional Hymn to a church where this processional slow march/hymn is full of hope and euphoria on finding the chant.
But it seems our search is not quite over, and we again dash in search! Second time lucky and we find where our chant is at singing praise at speed. We come to our Final Hymn & Dedication on entering the church there is much calm. This calm builds, and we are joined by our Trumpeters from the Angelorum with ringing church bells in support of our origins of music and the chants continued use!
4BR:
Thanks Phil! That just about clears that up for us – just about. It seems to be an imposing musical picture, and one that will take some understanding. Would that explain the five year wait perhaps?
Phil Lawrence:
I gave good reasons for the way things are changing for the good. Just 4 years ago I sent this score to most names you would recognise in banding both with and without batons. Most did not reply. First I took the wet copy to Paul Cosh at the Guild Hall in London and they were happy to play it through. I'm glad they did as I could see the changes in bandestration ahead, although both band and Paul were glowing about the piece!
I then sent a score to Paul Hindmarsh at the BBC - one has to really. He phoned me back during the World Cup when England was on the box - now there is dedication to respond to me! He too was very positive on the piece and also suggested one or two tweaks here and there, which were done. Bram Gay and Elgar Howarth both thought it was bound for somewhere in the great scheme of things, but no bands that I had sent it to had responded. Until, that is, I spammed half of the New World, North America, Oz, and NZ about my piece then my mail box exploded. The rest as they say is history?
4BR:
So, patience has been the watch word?
Phil Lawrence:
I suppose it is!
4BR:
Yorkshire Co-op are to give the premiere. How do you think it will be received?
Phil Lawrence:
Well, the Brass Band World won't all be in Norwich. In fact most will be at the RNCM. But that area booms with bands, and this is a shared concert with Norfolk Wherry Brass, so the profile may be lower but the cause just as important for me. I hope also one of your reviewers might be there?
Yorkshire Co-op and their MD are one of these forward thinking bands. They have spent time on this work, and I'm also thinking that in their opinion my piece is worth the work that they have put into it. After all, they could have bashed it through last July and then politely said, erm, no thanks. Instead I got very much the opposite!
They are really putting themselves forward and outwards in the name of new music. It's a challenge for absolutely any band on the planet!
As to being received, I'd like to think that news will travel, and those who are there on the night might even write to 4BR and give their honest opinion and what they have experienced. Word spreads, not as fast as brass band gossip mind, but there will be those like in Australia who will wonder why it's taken 5 years for a UK premier, and their guess will be as good as mine!
As received upon the ears, I hope it's just as I have painted it, an unusual blend of new and old in my style. I think it is an impressive piece as in size, and the end is certainly designed to take one's breath away both in the playing and the noise!
4BR:
How much are you looking forward to it?
Phil Lawrence:
Oh, well, I know I'll be gob smacked on the emotional side - I'm like that, and to see the baby walk, and at home, fantastic. I'll also be nervous. I was at the premiere of BLAZE. It will also be good to be sat there in the audience monitoring any reactions, and, I'll only be too glad to receive punters reactions and thoughts after. I'm getting excited even now talking about it!
4BR:
Thanks Phil, and good luck to you and 'Gregoritas'!
Phil Lawrence:
Thank you – and thanks to everyone involved in the premiere.