Alan Morrison Adjudication presentation - ABBA AGM
19-Jan-2006
British Bandsman Editor Kenneth Crookston was at the recent ABBA AGM where Alan Morrison put forward his assessment of a criteria-based system of adjudication.
---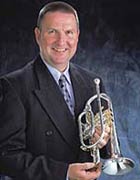 The Association of Brass Band Adjudicators (ABBA) held its Annual General Meeting in Ossett on Sunday 8th January, at which Alan Morrison gave a fascinating and enlightening demonstration of the criteria-based assessment system that he has developed over recent years.
Using his many years experience as an examiner for the Associated Board, which carries out over 750,000 assessments annually, Alan has consulted a number of colleagues during the system's development, with the aim of producing a method that will result in a greater degree of consistency throughout the adjudication process.

During his presentation, Alan Morrison alluded to the fact that band contests are judged using a 'system that hasn't changed in 150 years' and during his playing and conducting career, he had 'lost count of the number of times in which knowing what the adjudicator was looking for in advance would have made a difference to the band's approach to the event.'
Reducing the effect of an early draw

The resulting system, one of the major benefits of which is that it reduces or even eliminates the effect of an early draw on a contest result, was put to the test last weekend, with the Gawthorpe Brass, last year's Yorkshire Area 4th Section Champion, and its conductor, John Edward, giving performances of a march (Redcliffe) a hymn (St. Bees) and a test-piece (Darrol Barry's Pennine Moors) to be assessed by the gathering of around 25 judges.
Firstly, it should be said that the band was well chosen for the task, being a fine example of a very good Lower Section band, thus providing a suitable mix of good playing with one or two weaknesses that would be expected of a band at this level. Additionally, it gave of its best on the day and should be commended, both on the way it presented itself and on its performance, in what must have been a quite surreal, but nevertheless stressful situation.
25 judges, 25 different results?

Having completed its show, the band left the room and the ABBA members went about their business of discussion and assessment. With 25 judges in the building, some cynics might expect to get 25 different results, but very few seemed to stray from the general opinion that this was a performance that would have received a score in the mid 70s out of 100.
Concerns

Concerns were expressed from some present about the practical difficulties of continuously marking a sheet whilst listening attentively and writing remarks on a performance. However, solutions were also offered in suggestions that only general comments at the end of the performance may be appropriate if information is given within a grid showing specifically where bands have been marked up or down.
This is a system that has many benefits, especially for Lower Section contests, where the decision is more likely to be based on the fundamentals of good music than on whether or not a judge liked a particular interpretation or not. Own-choice contests would also be likely to benefit from such a system with more emphasis on the playing than the choice of music.
It remains to be seen if it is grasped by the majority of the ABBA members, but a system as comprehensive as this that can reduce inconsistency, which is possibly the average band player's biggest gripe regarding adjudication, is worth adopting.

Kenneth Crookston

4BR will be publishing the full presentation from Alan in the coming weeks