2005 4BR Awards - Player of the Year
9-Dec-2005
We have some of the greatest talents in the world within our movement, but who do you think was the one absolute star of the year.

---
Introduction:

The brass band movement continues to be blessed with a bumper crop of possibly the greatest players in history at present. Later this month we will reveal the 25 players plus percussionists who will have the honour of being nominated in our 4BR Band of the Year, and to be honest we could have picked two or even three bands of fantastic players.

That said, for this category we had to look at those players we thought made the greatest impression not only on the brass banding scene, but also in developing their profile as performers to the general public as a whole in the past twelve months. It is of course about how they play on the contest and concert stage, but that isn't everything.
We have therefore plumbed for selection of David Childs, Richard Marshall, Kirsty Abbotts, Chris Thomas and Roger Webster.
We could have easily though gone for the likes of Alexandra Kerwin, Alan Morrison, Katrina Marzella, Raf Van Looveren, Runar Valheim Varnes, Brett Baker, David Thornton, Philip Johnston, Mason Elliot, Owen Farr, Philip Dias, Allan Wardrope, Iwan Williams, Glyn Williams, Leslie Neish, Daniel Powell, David Danford, Kristy Rowe, Tormod Falten… and the list goes on and on.
---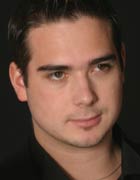 David Childs
The 2004 Award winner has certainly not rested on his laurels and if anything has projected himself even further into the public consciousness in 2005. He is now a regular performer as a soloist at some of the most prestigious venues throughout Europe and is in demand to play with many leading orchestral and wind ensembles.
He records for radio and for television whilst he has released at least two very well received CDs this year alone. His performances on the contest stage have been phenomenal, as ha his concert work and as one seasoned observer said to us recently, there doesn't appear to be anything written that he cannot play. In 2005 he was simply irresistible.
---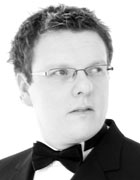 Richard Marshall
Sometimes it is easy to forget how good this player is until you hear him live. Then it hits you like an express train and in 2005 that train was like one of those Japanese Bullet things in Tokyo.
A wonderful exponent of both the cornet and the trumpet, he was on excellent form all year on the contest stage (memorably so at Bradford, Birmingham and Gateshead) and still had time to release a superb CD rightly entitled 'Blaze' amid all the week in week out concerts he does with Grimethorpe. A wonderful talent and one in 2005 who was at the peak of his form.
---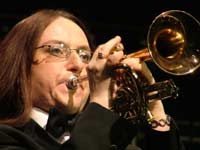 Kirsty Abbotts

There is little doubt that Kirsty Abbotts is one of the finest traditional cornet players in the banding world at present and in 2005 she demonstrated that to the full wherever she performed.
At Butlins she was magnificent and she carried that form throughout the year at Bradford, Blackpool and just last month at Glasgow – all with a band in Carlton Main that has been striving all year to get reward for their efforts, led by example by Kirsty herself. In between she has been on sparkling form on the concert stage and has taken time to record her first solo CD which will be released next year. All this and she is expecting a baby as well. What a player she has been this year.
---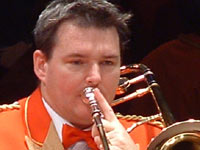 Chris Thomas
If there has been a better brass band trombone player going about their business this year then 4BR has certainly not heard them. Chris Thomas has been on sparkling form all year both on the contest and concert platform and has also shown immense quality and style in his recordings with the BAYV Band.
In London is was questionable if there was any player as good as him on the day on any instrument let alone the fiendishly difficult trombone features in 'Eden' and again at the British Open and once more at Gateshead, Cambridge, Groningen and Swansea he has not put a foot wrong. He is playing in the form of his life at present.
---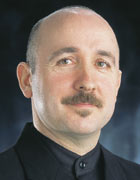 Roger Webster
What is there left to say about the Roger Webster? In 2005 he led Black Dyke with such authority and class that it was inconceivable that they wouldn't be rewarded in some way because of his efforts.
There is no weakness in his armoury, no sense of his powers being on the wane. His tone is a poure as gold, his technique as secure as toughened steel. Listening to him play this year has been an absolute please of understated brilliance. The best cornet player in the world bar none and in 2005 he proved it once again.