2005 Scottish Open Brass Band Championships - Contest retrospective
30-Nov-2005
What happens when you get 17 bands playing 14 different test pieces? The Scottish Open found out what on the weekend.
---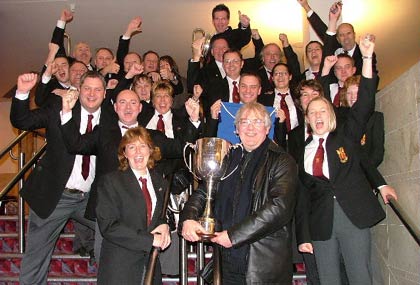 Fishburn Band celebrate with MD Ray Farr
To nick a phrase from the film Jaws: Just when you thought it was safe to go back in the water….
OK. The Clyde river that flows through Glasgow doesn't make it Miami but just when you thought the brass band contest had returned to calm waters after the unexpected shock it received at the Royal Albert Hall, a great big white shark in the form of adjudicators Richard Evans and David Horsfield comes along and bites the legs off any preconceived idea that results were getting back to normal.
You couldn't have seen this one coming if you had a musical telescope strapped to your head. No warning and no thumping cello playing to give you an idea that something nasty was going to happen. No Siree.
Most listeners, let alone judges can smell the blood of an injured band – when self induced mistakes and errors signal terminality in a performance, but this was as if the shark had decided to spare the one swimmer who had entered the water with a cut leg pumping blood and opted to eat up the rest who had just a few shaving nicks to the face.
The vast majority of judges would have put Fishburn out of their misery with a quick coup de grace and a midfield placing at best, such were the obvious nature of their musical injuries, but not Richard and David. There was plenty of claret spilt during their performance of 'St Magnus' but interestingly both judges went with their gut feeling that it was the making of music that they felt was the most important thing to reward on the day. Lots of bands they told 4BR in our Podcast interviews with them, had played lots of notes, mostly loudly, but even though they noted the two most obvious and damaging technical mistakes made by the winners, it still didn't rob the music of its integrity and purpose. It was the music making that they wanted to reward not just the technical pyrotechnics.
Fishburn's win was as unexpected a result as any you would ever likely come across, but in a strange it was also one of the most refreshing. This was a decision of two judges who wanted to hear music making first, the building of impressive technical yet musically vacuous performances, second. And to be fair, there were plenty of those on offer at the Royal Concert Hall on Sunday. It wasn't that the shark had turned vegetarian; more as if it preferred its musical meat less medium rare and a little more well done in the cooking process.
So did Fishburn deserve to win the 2005 Scottish Open?
In the eyes (and especially the ears) of the two adjudicators, of course they did – and they are the only two people they had to really impress. That, when it comes to the results is all that matters, and both Richard and David were forthright and clear with their opinions to why they picked Fishburn out from the rest of the field. That in its way was the refreshing aspect to the result – the judges had stuck to the criteria they had taken with them into the box and had not changed that criteria when presented with a performance that although flawed still retained for them its musical properties.
Not too many agreed with them though (4BR included), and it was a very difficult task to find many people who had heard their performance (including those who had played and directed it) who thought they had done enough to clinch the fine Scottish Open trophy and the one thousand pounds prize money that went with it. Not even Ray Farr.
The winning margin was only one point from Kirkintilloch in second place and with SWT Woodfalls a point further back, but you did wonder what the winning margin would have been if they hadn't had the nasty split at the beginning in the cornet and soprano introduction and the somewhat catastrophic euphonium cadenza later on.
Lots of bands played pretty well here on the day, but not one really took the contest and stamped their mark as winners on it – and that may be why the judges felt that even a flawed Fishburn was better than an exciting but slightly insecure Kirkintilloch, a solid but cold SWT Woodfalls, a detailed Carlton Main, a competent Kirkintilloch Kelvin, an uneven Whitburn, an excitable Wingates, a solid but prosaic Freckleton and an error strewn Scottish Co-op. And that was only the top ten.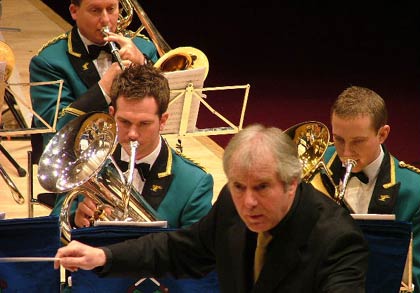 Fishburn Band: xxx
As a performance Fishburn and Ray Farr set out a persuasively broad and musical account of the Kenneth Downie work, but those two major faults coupled with some other untidiness seemed to have scupperred their chances way before they produced a technically secure and bold ending.
The MD (on secondment with a blessing from Reg Vardy) gave a philosophical shrug of the shoulders at the end of the performance, but rightly encouraged his euphonium player Jeff Bell to take a bow for the way in which he recovered with a splendid sense of character (and a fair amount of guts) after he had failed to play the fiendishly difficult cadenza in any way approaching the way he could. It takes a good player to put something like that out of the mind as quickly as he did and you have to take your hat off for being able to do so – not that he looked too impressed by his own recovery as he left the stage mind you! We had them down as 8th.
Still, and although they didn't know it, not one of the remaining 12 bands could rouse themselves enough to beat it in the opinion of the judges, although for us Kirkintilloch, Wingates and Carlton Main could count themselves a touch unlucky not to have been given the nod. On any other day perhaps one if not all of them could have taken the title.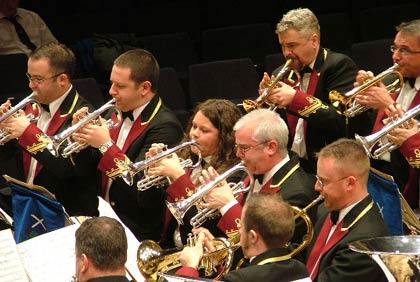 Kirkintilloch
Kirkintilloch under Steve Bastable started in riveting fashion on 'Music of the Spheres' with real detail and sense of purpose. However, as the music unfolded so did the mistakes and the ensemble untidiness, especially in the quieter more lyrical sections of the work. Dave Prentice on solo cornet was an outstanding presence and fully deserved to take the 4BR Best Instrumentalist Award for his efforts, but elsewhere it sounded hard work.
Steve Bastable is an animated conductor at the best of times, but towards the end he was slightly more animated than he would have wished for as he worked to keep the ensemble in check. It finished is classy fashion, but it was not without some obvious insecurity, and on the day that may have just cost them. We had them as runners up, but with a bit more care they could and should have won it.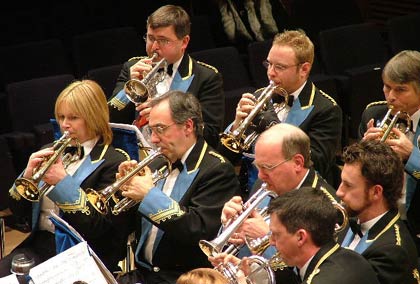 SWT Woodfalls
SWT Woodfalls also chose to play 'Music of the Spheres' but it was a differently shaped, almost elliptically spherical performance, which although solid and workmanlike didn't really capture for us the sense of excitement and colour that was evident with Kirkintilloch.
David Barringer literally rolled up his sleeves (he took to the stage minus jacket) and his players responded in kind. A classy opening statement from Trish Chislett on horn was very nearly blown away by an over zealous wind machine, but thereafter it all fell neatly, if a little prosaically into place. Mark Pye on soprano was excellent throughout and Barbara Camps was also classy (and brave) when standing for here extended solo spot. It just lacked clarity in places, especially in the highly technical section to end but overall it was a pretty good effort on a very tough test piece. Given that other bands made too many mistakes their safety first approach found favour and gave them third place. We had them 5th.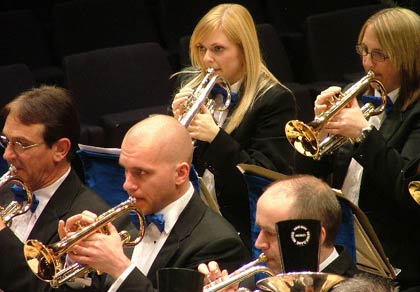 Carlton Main Frickley
Carlton Main Frickley once more found that luck had deserted them. We had them as winners as their performance of 'Masquerade' was detailed and balanced, and also benefited from some wonderful cornet and soprano playing from Kirsty Abbotts and Clare Taylor.
Allan Ramsay had prepared the band well and chose a broad operatic style that suited the music and his ensemble. There were some uncomfortable moments when the euphonium cadenza didn't quite sound as controlled as it was marked and some of the trombone work lacked balance, but it never failed to keep the listener engrossed and by the time they kept a tight lid on the technical challenges as well as the volume right to the last note it was a performance that had a great deal to admire. The judges liked it, but not enough to give them a podium place, which given their luck all year was perhaps all they could have hoped for. Their time will come we are sure.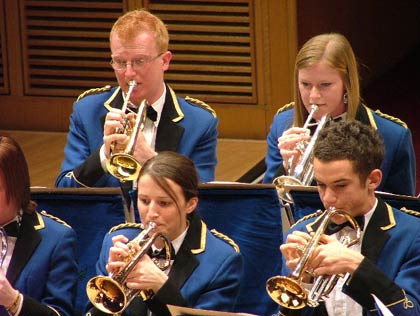 Kirkintilloch Kelvin
Seeing the delight of the players from Kirkintilloch Kelvin after the results was a real joy. The younger sibling of their second placed brother band, they produced a super account of 'Chivalry' under their MD Alastair Orr that not only delighted the judges (both commented that they were rather surprised, but very impressed to find out that the performance came from a band not readily regarded as a 'named outfit') but also impressed many in the hall.
It was an intelligent choice by the MD that allowed his players (notably soprano player Richard Pugh, euphonium Ranald Rixson and solo cornet Hazel Barr) to shine and which meant that where others possibly chose pieces that were over ambitious this one was bang on the money. It was a lesson others could and should have followed. We had them down for 7th, but you couldn't find much to complain about that they came as high as they did.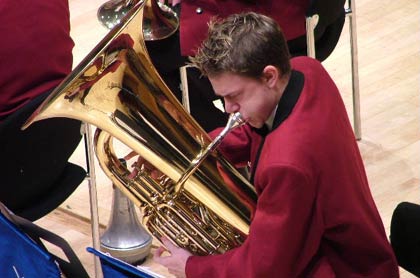 Whitburn: Graham Fraser
The final top six place went to Whitburn under Andrew Duncan who not for the first time in 2005 showed tantalizing glimpses of their true, possibly yet untapped potential only to be undermined by costly individual and ensemble errors. 'Concerto Grosso' suits the band, but it is also a piece that needs a great deal of concentration as well as application.
An untidy start possibly cost them any chance of victory, but it unfolded with some excellent individual contributions from Graham Fraser on tuba and Jim Chamberlain on flugel in particular. However, the concentration levels went a touch awol in the tico-tico section and so by the time it came to a big and bold end the excellent work had been undermined, fatefully by those errors. It resulted in 6th from the judges but we had them 4th, as they still had that class that wasn't on show all that often on the day.
The other two performances that stood out along with the eventual top six belonged to Wingates who came 7th and Freckleton who came 8th, who we had 3rd and 6th respectively.
Wingates did field a few notable 'guests' in the shape of David Thornton and Alan Hobbins and they did contribute enormously to their highly polished rendition of 'Harmony Music' that had the hallmarks of Philip McCann excellent preparation all over it. However the rest of the band were also on top notch form too. David Thornton may have been awesomely good on the euphonium cadenza, but it was also followed by some super cornet work from Andy MacDonald and Robbie Cargill on horn.
It seemed to be brewing into a winner for sure, but it got over excited and messy in the reprise and a touch hard and harsh in sound, but it was still a very good performance that certainly should have been rewarded by a higher placing than it got.
Frecklton meanwhile chose to perform Edward Gregson's 'Of Men and Mountains', a rather worthy piece that can sound overlong and a tad boring if approached in the wrong way. That was certainly not the case here with Paul Dalton revealing an intelligently balanced and controlled rendition that sounded very well rehearsed.
It had plenty to admire with some excellent flugel playing from Vicky Byrne in particular and even though it did meander and became a little tired towards the conclusion it was a performance that deserved higher than it got too.
After this the level of performances did fall away somewhat with Scottish Co-op in particular having the type of day when they would have wished to have stopped playing after about a minute and just started all over again.
Their 'Music of the Spheres' was so error strewn that it sounded as if each planet had at least one chip in it and the shooting stars were firing more than a few blanks. Frank Renton directed things in admirable style and with a sense of musicality, but even he would have known they were not performing to anywhere near they could, with the exception of Roger Webster who was his usual sublime self. 9th place was bang on the money after all the other performances followed from their number 1 draw.

Johnstone Silver meanwhile delivered a well structured account of 'Tallis Variations' under the excellent Chris Bradley that sounded as if it was another well chosen work.
It didn't quite have the forcefulness of others on the day in the louder passages and it did have a few wobbly moments, but overall it was well presented and delivered. 10th from the judges and from us was bang on the money and showed that this is a band that following the departure of Gavin Lindsay to New Zealand (who played second cornet on his farewell appearance) is in very good hands indeed with the acting principal cornet of Whitburn.
Dobcross Silver chose 'St Magnus' and although it did have its moments, Dennis Hadfield's band couldn't quite master the technical hurdles with real comfort and at times it sounded forced and hard. Both Laura Hirst on solo cornet and Nigel Atwell on euphonium performed well, but it never felt totally controlled in the ensemble and ended harshly. 11th place was more than we expected as we had them down for 17th, but there again, it was a piece that the judges seemed to had taken a liken too.
Behind Dobcross came Kingdom Brass and Graham O'Connor who produced a confident if a little forceful 'Between the Moon and Mexico' that certainly caught the feel of both the Lunar and the Latin but did so without much recourse to subtlety. It was all a bit loud throughout and although it is an exciting work to listen to it also has its more tender and retrospective moments which on this occasion were not always revealed. We had them 11th.
Newtongrange came to the contest hoping to show that as reigning Scottish Champions they would be up amongst the prizes up against bands from south of Hadrian's Wall. It wasn't to be as their 'Montage' which started so well under the accurate direction of Steve Sykes fell away badly in the testing second movement and taxing technical third. There were too many individual insecurities from towards the end of the opening movement to the very last, and 13th place on reflection wasn't a bad return. We had them 16th.
Besses o' th' Barn suffered very much in the same vein as Newtongrange, and under the direction of Jim Cant their 'English Heritage' never quite sounded comfortable in overcoming the technical challenges that the sometimes repetitive music reveals in slightly differing guises.
It did have its moments and there was a stamp of quality about the more relaxed sections, but it all became a touch frantic just when it sounded as if it was going to develop in a performance of real merit – the fine solo cornet work of Tim Hynd being a case in point. The famous run up to the high cornet hold was exemplary, but just in sight of the summit he tried too hard when he was in comfortable control. It was a lesson for a fine prospect of a player and for a band that is heading in the right direction.
Unison Kinneil headed by a flamboyantly clad MD in Andrew Berryman (who took to the stage in a shirt last seen on Errol Flynn in one of his great pirate on the high seas films) produced a forceful and harsh 'Blitz', which unlike the other pieces on the day, was for the most part what was required.
It just fell away because quite a bit of the technical passages were not under control, but it had plenty of passion and benefited from an excellent reading from the MD and some neat individual playing from Iain Culross on principal cornet and Alison Hall on horn in particular. 12th for us, 15th from the judges.
Bon Accord gave a decent showing to 'Paganini Variations' under Duncan Beckley that did have its moments, but also suffered by it being a little one dimensional in terms of tempo – too many of the variations were of the same pace.
The best section of work came in the extended cadenzas and it was nice to hear some lovely plumby Bb bass work, but it was that lack of tempo definition that we think cost them the chance to come any higher. 16th from the judges and 13th from us.
Finally, Bo'ness and Carriden under Bryan Keachie who produced an interesting account of 'Devil and the Deep Blue Sea' which revealed itself to be still one of the most enjoyable works in the modern banding repertoire. It has its tongue firmly placed in its musical cheek, although it is still a formidable technical tour de force (especially for the back row cornets who played it well here), and whilst the band managed most of the hurdles (with some superb soprano work from Michelle Ibbotson) the Devil still came out on top in the end. We had them 14th, the judges had them 17th and last.
The Scottish Open was a very enjoyable event. Crowds were up – over 2000 tickets were sold to the public and performers and it benefited enormously from the excellent organization from Alan McLaren and his team from the Scottish Brass Band Association.
Having an own choice contest at this level does make for the possibility that the result may be one that would be open to question and argument. That was certainly the case, and it therefore came as no shock that there was a shock (if you get the drift) when Fishburn were declared champions.
Sometimes it may be safer for performers (and the organizers in this case) to dip their toes into the water before they dive straight in for the future, with a contest that has 14 different things on the musical menu in terms of own choice pieces played. Shark bites can hurt, especially when you are not expecting them, and the pair of judging sharks here had sharp teeth and a mind of their own.
Iwan Fox