2005 Scottish Open Brass Band Championships - Postcard from Glasgow
30-Nov-2005
Glasgow is a great city with a great big divide: Football and Brass Bands - there was nothing to choose between them on the weekend - just ask the conductors and managers.
---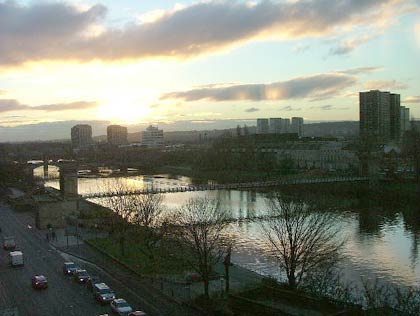 The River Clyde
You can't really say Glasgow is a beautiful city. Any metropolis that owes its prosperity to the industrial exploitation of working people in the shipyards and heavy industry of the Clyde isn't going to become the Paris of the North is it now, but there is still something wholesome and sturdy about Glasgow that makes it a delight to come and visit.
It is also a city that has clear divisions and you can see that as soon as you set foot off the plane at Glasgow Airport. Walk towards the duty free area and there right in front of you are the two symbols that tell you everything you need to know about the Glasgow divide: Rangers and Celtic.
Here the two underachieving giants of Scottish football are locked side by side in the shopping mall, enticing the thousands of supporters who regularly make the trip here to watch either of the two teams play at Ibrox or Celtic Park with shirts and baseball caps, scarves and videos, bags and even bed spreads – for the overweight and over aged who should know better to the under age and indoctrinated who have no choice. You are either green and white or blue and white in this city.
Times are not that great for both teams at the moment and both managers are under a bit of pressure. Just think of the pressure to succeed for the likes of David King and Nicholas Childs and then multiply it by a million and you may get close to the fervour and passion football, and support for these teams in particular has in the city.
At the weekend Celtic lost at home to Dunfermline: the equivalent of Black Dyke losing to Elland Silver in a knock out brass band league. Meanwhile Rangers lost again, and have now not won a game in eight attempts making them officially the worst Glasgow Rangers team in their entire 132 year history: that's the equivalent of YBS not being able to win even a deportment prize at Whit Friday.
To see the ranks of Celtic supporters hollowed eyed and sullen as they drank their pints of Magners on Saturday night after their defeat was like being present at a funeral for a close friend. They take their football seriously here, and even the kids (all kitted out in Celtic colours) didn't have a single smile on their faces. How could you explain to them that it was only a game they lost?
The same thing could also be said for the bands that took part at the Scottish Open, for the conductors are somewhat like football managers and the supporters just like those fans. The men in the middle take the glory and the praise when they win, but they are on thin ice when things don't go the way in which they hoped for too.
There were quite a few though on the weekend who could also play the age old game of not taking any of the blame themselves (just see Arsene Wenger or Sir Alex Ferguson for great examples) and putting it all on the referees – or in this case, the two adjudicators, David Horsfield and Richard Evans when they don't get the supposed rub of the green.
Just like a football manager the conductor is powerless to make the players do the right things when they are on stage – although it doesn't stop many of them from trying to play the damn instruments for the players if they could. If it doesn't go their way though, they can always put the blame on the men in the box.
The individual approaches to enticing and cajoling, encouraging and controlling, demanding and pleading to get the things that they want out of the bell of the instruments of their players is fascinating to watch and on the weekend the whole panoply of emotions was laid out in front of us to witness (we were watching from behind the bands so we could see every MD in their full frontal glory). Not even Rafa Benitez or Jose Mourinho can match some of the brass band guys for sheer emotion.
As we have said before, the dress sense of many an MD can be something to be desired, but on only one occasion have we seen a conductor take to the stage with a shirt that belonged more at home on the back of Errol Flynn as he won a fair maidens heart in a swash buckling MGM film epic on the high seas.
David King tried it once when YBS played 'Cry of the Celts' a few years ago, and very fetching he looked too, whilst Andrew Berryman tried it here, except this time it was for his direction of 'Blitz'. We don't know if the Third Reich would have been put off by the sight of a middle aged musician with a flouncy shirt directing the attack against the Luftwaffe, but it would have certainly got them puzzled.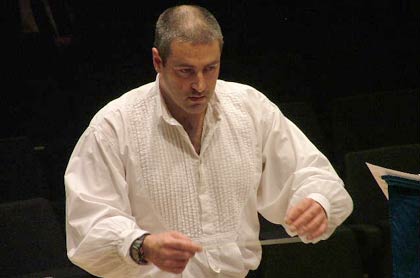 Andrew Berryman
It is a good job he is such a fine musician and a damn good conductor as this was a touch surreal to say the least with his shirt billowing in the wind. He looked like a cross between a contestant on Come Dancing and Captain Pugwash. Blitz will never be the same again.
If it is a question setting an example then Dave Barringer certainly made sure his band were clear that he meant business. The MD of SWT Woodfalls took to the stage minus his jacket for their performance of 'Music of the Spheres', and all that was needed for him to carry it off big style was to take the time to roll up his sleeves, unbutton his shirt and throw his tie to the stage floor.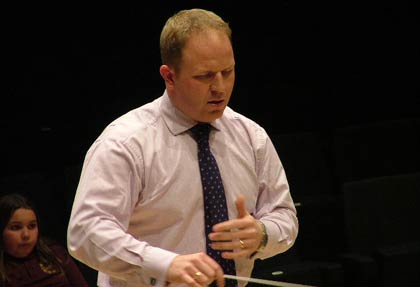 David Barringer
This was an MD showing that he was determined to muck in and mix it with the big boys – a bit like those blokes who take their jackets off before having a scrap outside a nightclub on a Saturday night. All that was needed was for a few female SWT supporters to start shouting, 'Go on Dave, give 'im a belter on the nose' and the image would have been complete.
To his credit though 'Big Dave' kept his cool and directed his charges with accomplished professionalism and control from the word go into an excellent third place. He didn't even break into a sweat. We wonder where he left his jacket though?
Two of our most talented younger conductors also showed that when it comes to control, they have both learnt a thing or two from the master who taught them. Thankfully we are not talking about these young Ninja conductors learning the dark arts from Mister Kobiashi, but from that well known Grasshopper teacher, Professor David King.
Steve Bastable has certainly started to make a name for himself, and after a period when he has directed the likes of Tredegar, SWT Woodfalls, Staffordshire and Wooley Pritchard to success he has turned his gaze upon the Scottish banding scene.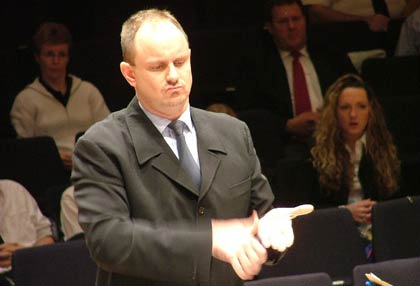 Steve Bastable
A bit like Gordon Strachen now at Celtic, except Gordon Strachen was rubbish as a manager at any of the last few clubs he was in charge at, and Mr Bastable seems to have a bit of a golden knack of winning pots and prizes wherever he goes.
His conducting style does have echoes of Professor King – he is a very animated presence on the stage, and likes to ensure that he just about beats every bar of a piece to ensure he is in complete control. He is very good at it, but he is also a great one for those type of face gestures that mean so much to players who are on the edge of their seats when it comes to playing searching exposed parts.
On the weekend, Alan Wardrope, Kirkintilloch's solo horn player gave 'Music of the Spheres' the type of opening a conductor can only dream of and as a result the player got a great big cheesy smile and a nod of appreciation back, whilst a few minutes later after the bubbling fizz bomb of a soprano player Steve Stuart had whacked out a top D with such clarity it knocked your teeth out, he gave a wonderful smile of almost resigned and disbelieving pleasure.
He has one of those faces as if it was made out of plasticine – a bit like Wallace, from the Wallace and Gromit films, and when he smiles he faces lights up like a little light bulb. When he is not pleased though….
Allan Ramsay is the other leading conducting exponent who has certainly taken his lead from his mentor – although thankfully on the weekend he had left his wicked waistcoat at home and went for something a bit more subdued and conservative as he headed the challenge of Carlton Main Frickley.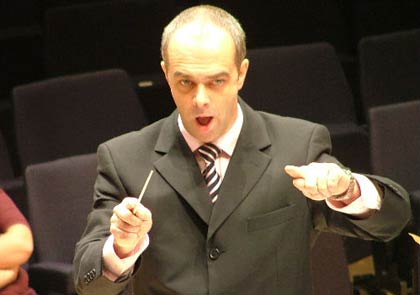 Allan Ramsay
He too is a conductor who makes the most of both his hands (something others do not and tend to conduct like Napoleon Bonaparte – one hand tucked away in their vest), as well as the full array of facial gestures. He is also one of the most accurate beaters of time you would ever wish to see and the clarity of his beat patterns would make Marcel Marcaeau envious with their meaning. Add to that the way in which he keeps his head out of the score to make eye contact with his players and you can see why he too is such a sought after talent with the baton.
Now all he has to do is improve his choice of colour schemes for those waistcoats and he would be made.
Finally it is always a pleasure to check out Graham O'Connor who as always brings a new meaning to the term hyperactive.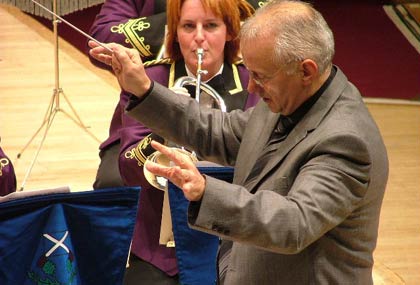 Graham O'Connor
It doesn't matter what the tempo and what the mood, Graham is there making sure everything is in its right place and at the right speed and dynamic. He doesn't miss a beat or a trick and he must be the fittest conductor in the business for he works himself like a Japanese prisoner of War to ensure his band plays just the way he wants them to do. There is nothing to big nor small that he doesn't miss, nothing in the score that he hasn't noted and made a point of bringing out.
It may seem like a hard way of making music, but making prize winning music is hard work, and none have worked harder or been as successful as Graham O'Connor. And if you don't believe us, just look at his record; it stands up there with the MDs at the highest level.
And that just left us with the one man who didn't actually conduct on the day, but who played second cornet with the Johnstone Band, and enjoyed himself immensely before flying out and becoming the new MD of the Dalewool Auckland Brass Band in New Zealand.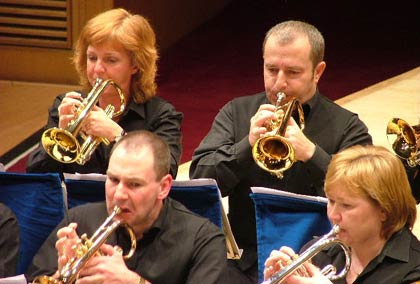 Gavin Lindsay [Back Row]
Gavin Lindsay was for many years the very fine soprano player of the Scottish Co-op Band and carved himself a reputation as being a nerveless performer on the biggest contest stages in Britain and Europe. Here he was happily playing away on the back row, supporting in a capacity like a player-manager, putting on his boots to give it one more go at full back to help the cause.
It was great to see him play, and great to be able to catch up with him afterwards as he explained to us how he was looking forward to starting a new musical life some 12,000 miles away in a foreign country. After all the success he has tasted both as a player and a conductor, latterly with Johnstone Band we are sure he will take New Zealand by storm. We wish him well.
Glasgow was a very nice place to be on the weekend if you liked bands and liked football. Luckily we like both, but it also reminded you of how close the two pastimes are in terms of endeavor and support, triumph and disappointment. Only one band, Fishburn claimed victory on a weekend, and both Rangers and Celtic tasted defeat. They of course, along with the other 16 bands at the Scottish Open were not alone, and like Alex MacLeish and Gordon Strachen the conductors will have plenty to think about by the time of the next training session. The pressure in this business to succeed never ends.
Iwan Fox