2005 Brass in Concert Championships - Contest retrospective
25-Nov-2005
Brass in Concert at The Sage, Gateshead proved to be a superbly organsied event at a great venue. So did the contributions of the bands prove just as memorable?
---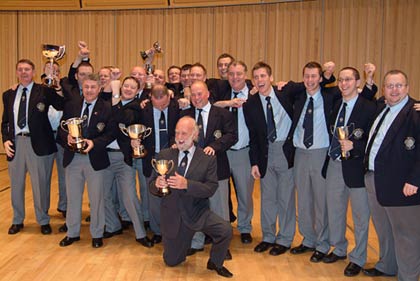 Grimethorpe Collliery UK Coal Band
So despite a different venue and different opposition to challenge for their crown, Grimethorpe Colliery (UK) Coal Band and Richard Evans, once again took home the Brass in Concert crown for the fifth year in a row.
That is now their fourteenth win in the contests history and coupled with additional awards for Best Soprano, Best Percussion, Best Soloist, Entertainment and Presentation, Quality of Performance and to the winning conductor, they left The Sage, Gateshead once more laden with silverware and close to five grand in prize money.
Is Brass in Concert getting boring and predictable then? Not in the slightest.
The truth of the matter is that Grimethorpe know that to win this event they have to work harder every year to improve on the standards they annually set themselves when this contest looms close in the calendar. The fact that they beat Brighouse into second place by four and a half points is no mean feat, and when you can consider the gap between themselves and BAYV in third was eleven and a half, its testament to just how good the boys from South Yorkshire really are when it comes to entertaining. The result did not flatter them at all and tells you how seriously they take that standard setting process.

It's fair to say that despite some brave and optimistic talk emanating from some band camps prior to the contest, with the exception of Brighouse and Rastrick and BAYV none of the others came within a musical street of challenging Grimethorpe for the title. Even those two fine bands were a good couple of semi detached musical houses in arrears.

The point should also be made that no band really grabbed the contest by the scruff of the neck and made certain it was theirs in the minds of the knowledgeable and sizeable audience here at The Sage, Gateshead – a fabulous venue for the contest. Grimethorpe certainly more than anyone else came the closest on the day, but there were mutterings from those who had thought they were going to get more of their Spennymoor programme of last year, that they had perhaps taken a couple of risks too many this time around.
However, the point should be acknowledged that Grimethorpe's performances this year on the contesting platform have been superb, and if they can maintain this form into 2006 and beyond, it could become a golden era for the band. Even in entertainment, as opposed to test piece mode, their quality of performance here was reminiscent of both Birmingham and London.
Can they beaten at this form of brass band contesting then? Well of course they can, but in recent years, no one band has come really close to them. With the dawn of a new era for the event, the opportunity is now there for the organisers to persuade the best bands in Europe, and possibly beyond to compete. Only then perhaps will Grimethorpe be tested to the full.

What all the bands should appreciate however is that they are never going to get a better chance to perform an entertainment programme to a large audience (around 1300 seats in the 1650 capacity hall were sold) in such a fantastic venue.
Paul and Jacqueline Beere and their sponsors deserve every bit of credit for their organisation and presentation here this year, from the standard of the printed programmes to the inspired use of the multi media screen above the bands. Everything ran like clockwork and in such a professional manner that it was easy to forget that this was the start of a new era for the contest. The onus is now very much in future on the competing bands to produce performances to match their new surroundings.

This year's event will have been seen by a number of bands as a learning curve; a new hall, different acoustic, the realisation of just how big the stage is here - all factors they'll benefit from in the future if they take their lead from the contest structure itself and look above and beyond the musical and presentational confines that they have restricted themselves to in the past. There is now such an exciting future for this event that the bands must accept they too must change.
With comfort breaks after each band, plus a twenty five minute lunch break, the multi media screen tuned into the bands playing on stage and then to World of Brass DVD clips in between performances (which worked gloriously – James Morrison in concert with Black Dyke even got applause for his recorded efforts!) it all enhanced this year's Brass in Concert to the full and to be fair the bands played their part too.

Grimethorpe Colliery UK Coal: Richard Marshall
Grimethorpe Colliery UK Coal and Richard Evans, produced a programme that treated the audience with musical respect; a mix of intelligent arrangements and polished presentation allied to some thought provoking works.
Everyone from the BBC to supermarkets have been accused over the past few years of 'dumbing down' their product - and brass bands can also take their fair share of the blame too. Not Grimethorpe here. This was sophisticated (and that is a word both Richard Evans and Band Manager Terry Webster quite rightly used to describe their efforts) music making that asked for, and received a cerebral appreciation from the audience it was aimed at.
Their opening item, the complex 'Duke of Malborough Fanfare' by Percy Grainger highlighted this perfectly. With two separate 'choirs' at either end of the stage it wasn't a 'blast away' 'hit 'em between the eyes' opener for sure, but it was immensely enjoyable and certainly different.
From here, a complete change of mood and tempo courtesy of Richard Marshall's corker of a performance on trumpet in 'Everybody Loves The Blues', that brought him the best soloist prize for the second year running. Again different (and certainly not a repeat of his trumpet efforts of last year).

Then a brave and uncompromising piece of programming (arguably of the whole day) in W Hogarth Lear's 'Red Sky at Night' – not it has to be said, music that would instantly come to mind when compiling an entertainment programme. Elgar Howarth wrote it for the band over 30 years ago and it sounded just as opaque and challenging in 2005 as it must of in 1975. It was playing of the highest order, but also a form of intelligent music presentation that although raising a few eyebrows was certainly appreciated by a knowledgeable audience.

Bob Blackburn, Kevin Crockford (who took the best soprano prize for his playing) Shaun Crowther, Michael Dodd, Richard Marshall and Ian Shires then combined as a septet to find and perform the gospel inspired 'A Quiet Place' at the side of the stage – after which you knew you had heard something very special.

All that was missing was the injection of Grimethorpe humour, but this time they opted for a slightly more restrained approach with percussionists Gareth Pritchard and Will Martin have some fun and games on the xylophones out-witting one another with a multitude of Lizst tunes and humour. It could have become red nose territory, but a superb arrangement which made much of the accompaniment saved it and the result was clever and enjoyable rather than plain old slapstick belly laughs.
To end another Sandy Smith arrangement in the cracking 'Finale from Gayaneth's Ballet Suite No 2' by Khachachturian with bass playing that was nothing short of awesome.
Once again, Richard Evans was in his element: he loves the stage and he loves fronting a brass band like this. This was Richard's second triumph with the band and his sixth overall. He hasn't been beaten with Grimethorpe either – so look out in 2007.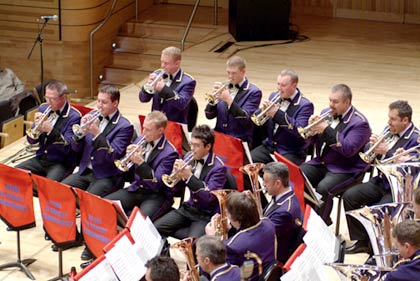 Brighouse and Rastrick

Brighouse and Rastrick under their exuberant and at times electrifying MD James Gourlay were making their debut and their musical and technical playing was always good enough for the top three bracket and in the end, they cemented second place with ease. The entertainment though, even if it was enjoyable seemed rather dated compared to Grimethorpe.

After the obligatory few bars of their signature march 'West Riding' it was straight into Duke Ellington's 'Caravan' complete with piccolo trombone, and by now Brighouse were into their stride.
The march 'Barnum & Bailey's Favourite' wasn't one of their best pieces on the day – was a touch brash and over bold, but there was no denying that Alan Morrison's 'Somewhere Over The Rainbow' was playing of unquestionable class. Alan's playing throughout brought him the 'Best Cornet' of the day award and his solo was impeccable.
Thereafter, David Hebb took the lead vocal role in 'Papa Loves Mambo' whilst Leigh Baker, Sam Fisher and James Gourlay relished their roles as backing singers (reminding us of those great Muppet Show backing groups they used to have when star artists strutted their stuff on the show). One to look out for on the highlights DVD for certain.
Brighouse concluded its contribution with 'Saint Gregory the Great' from Respighi's 'Church Windows' arranged superbly for band by Rodney Newton. It was a powerful and purposeful finisher that was perhaps a little too loud at times, but after being absent since its inception, it was great to see Brighouse here enjoying themselves and the experience. They deserved the runners up spot, but may just have to tweak their approach for next year.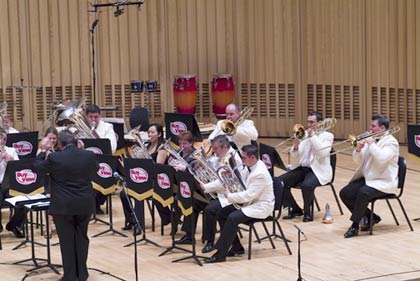 Buy As You View

A deserved third place went to Buy As You View directed by Dr Robert Childs who by the time the results were announced had arrived back home in Wales. Drawn first and resplendent in white tuxedo for the men and slinky black dresses for the girls (which was slightly surreal given it was 9.30am) they set the standard for the rest to follow. However, whilst it was a quality performance with some stunning technical playing it never quite had that 'WOW' factor about it.

Widor's 'Toccata in F' opened the whole day's proceedings but took a little while to settle (the acoustic was good but a little lively) before Philip Harris, dressed like a French waiter, was the featured soloist in Sousa's 'La Cloghe De La Liberte' (Liberty Bell). It was clever and neatly humorous.
The best solo playing of the whole day though came from David Childs in 'Benedictus' from 'The Armed Man' by Karl Jenkins. David can consider himself very unfortunate not to have been given the nod for Best Soloist from Nick Hudson for his efforts, although he did gain the prize for the Best Euphonium of the whole day. It was sublime playing.

'Hora Staccato' featured a red hot cornet section in full force, aided by some unnecessary choreography from the percussion that was accentuated a little too much, before music from Stravinsky (Firebird) and the 'Gypsy Dance' from 'Echoes of the East' brought things to a terrific close.
Like Brighouse, it was comfortably in the top three, but there was evidence that a slightly different and perhaps more modern line of entertainment thinking will be needed for 2006.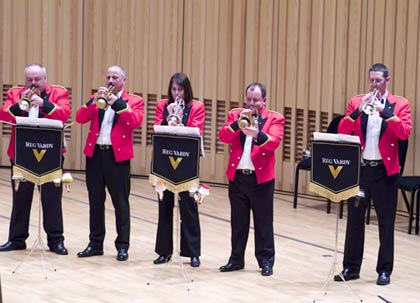 Reg Vardy cornets

Fourth place went to Reg Vardy and Ray Farr, who perhaps didn't make as big an impression over the whole weekend as they have done in the last couple of years. Sunday's performance was much better than Saturday night's 'Gala Concert' that was rather insecure and overblown, but it never really shone for us even though they took the welcome step of relying on the music to entertain rather than unnecessary visuals.
The whole programme was performed with cornets standing either side, trombones standing behind the basses and with players stepping forward as necessary to perform solo stints.
'Peel Park' opened things up with much more cohesion than the previous night, before Tom Glendinning gave a rather strained account of 'Live and Let Die' that didn't quite come off.
'It's Just Talk' by Pat Metheney gave the band the award for the Best New Composition or Arrangement, and this was the undoubted highlight of their programme. This was subtle and cool and very classy, even if the poor little vibraphone player was hidden by her music stand. They rounded off with 'The Red Machine' that was again more compact than the previous night, although the piece itself seemed to be an amalgam of just about every composition Peter Graham had written for brass band in the last 15 years!
Reg Vardy are a very good band without doubt, but this year they haven't really progressed as you thought they might have after the great strides made in 2004. The potential and the talent is there though. We had them fifth on the day.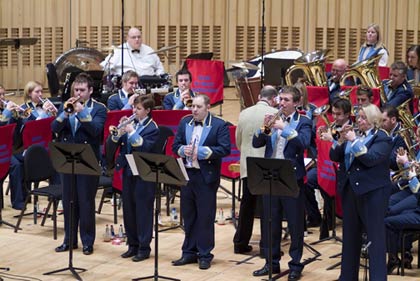 Sellers International

Sellers International and Phillip McCann had the difficult task of following BAYV on stage and whilst they finished third in the music category, they'll probably have traveled home disappointed with fifth place overall.

They had moments that we enjoyed, most notably 'Une Tabatiere a Musique' (A Musical Snuff Box) featuring the percussion team, but the low point (and perhaps of the whole day) was the appearance of a bee buzzing around the stage in 'The Green Hornet '. It was simply toe curling.

Leah Williams was in fine form in 'The Water is Wide' whereas 'The Circle of Life' featured some Swahili chanting and good rhythmic playing – although the use of the electronics didn't enhance at all. The past two years the band has done superbly well at this event but by the time they concluded with 'Glorifco Aeturnum' you did wonder if a top four place would come their way.
The playing from Sellers was at times as good as any of the bands in the top three, but the entertainment factor given that they tried eight different pieces (including a rather rough and ready tuba duet and Freddie Mercury inspired bit of Pasadena Roof Orchestra stuff) was negligible. Sellers desperately need to rethink what they believe is entertaining – for when they do they could very well win this contest. We had them sixth.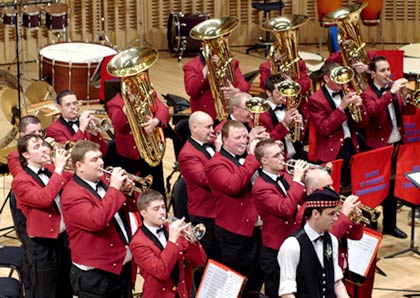 Whitburn Band
Whitburn and Andrew Duncan finished directly behind Sellers last year and did the same again this time around. Apart from BAYV, they were the first band to really make a musical impression with a programme full of the conductor's arrangements.
The overture 'Taras Bulba' was bold and purposeful (and surprisingly short) and this continued through Jim Chamberlain's excellent flugel playing in 'When She Loved Me' which strangely was a fine arrangement of an awful piece of music – it went absolutely nowhere.
'The Duke of Cambridge' march was well delivered, but the undoubted highlight was the delightful playing of Chris Bradley in 'The Water is Wide' which was a superb arrangement given superbly understated treatment by the top four solo cornet players.
The 'entertainment' factor for Whitburn consisted of a drum feature called 'A Caledonian Fanfare' which although different wasn't different enough – impressive but not quite riveting.
Up to this point Whitburn were just behind the top three for us in playing terms, but their concluding piece 'Peterloo Overture' just didn't catch fire, with the sound being a little forceful and with somewhat strident trombones standing towards the end to project their parts, it became overcooked. For us, this piece might have cost Whitburn a couple of places further up the prize list. We had them fourth and if they can just up their game entertainment wise they too will be a forceful presence here in future.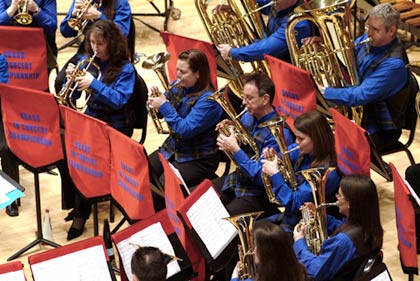 Scottish Co-op

The highlight of Scottish Co-op's programme directed by Allan Ramsay for the judges at least was their opening march 'Keighley Moor', that brought them the award for Best March of the day. But after such an impressive opening the wheels slowly became unstuck as the overall performance went on.
Jonathan Gawn's attempt to imitate bass player Oystein Baadsvik in 'Fnugg Blue' fell flat – the electronics (or lack of them) robbing any of the strange and purposeful effects from coming over. Oh for an electrician being in the house! It was a pity.
'Mid All the Traffic' was rather lumpy to start and not as quiet as it could have been, but Paul Kiernan on trombone was outstanding on 'Bolivar' and would have been close to winning the soloists prize for his efforts. 'Glorifico Aeternum' was a little scruffy in places but had class as well, but it was the Finale from 'Daphnes et Chloe', that scupperred their chances of coming any higher than they did. It was error strewn and untidy and that robbed them of valuable points. Some nice ideas overall, but too many errors as well to come higher than they did which was about right. Roll on 2006.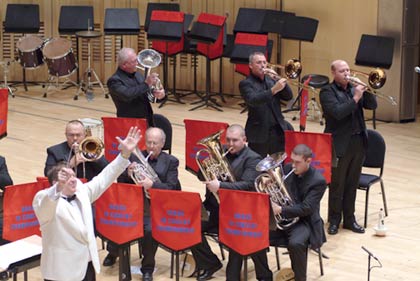 Mount Charles and Nigel Weeks

Mount Charles' programme under Nigel Weeks never captured the imagination on the day at all.
Having opened with an out of tune and badly dented 'Deep Space Nine', their two most impressive numbers were 'The Melody Shop' and the flugel playing of Tim Whitehead in Ray Farr's version of 'Somewhere Over The Rainbow'. The former was neat and tidy, but didn't need the MD almost pleading for the audience to clap along, whilst the latter was an exemplary display of musicianship from a very fine exponent of the art of flugel playing.
Jonathan Camp's portrayal of Noel Coward in 'Nina' was misplaced and overlong, but this was compounded by him reappearing as narrator for 'Battle of Trafalgar'.
Why someone couldn't see that this was a mistake is beyond us – it is a brass band contest after all, whilst the intended aim of appealing to the patriotic vote by lowering and raising the Union Jack (didn't the Navy use the Red Ensign?) was as dated as the splendid uniforms the percussion section wore for their part.
Mount Charles has shown real innovation in the past at this contest, but this was a poorly structured programme that did little to showcase their more obvious talents. Next year they will have to raise their game considerably. We had them 10th.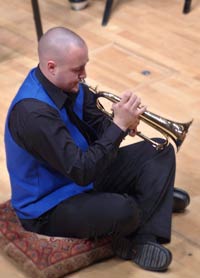 You've got to hold your hand up and acknowledge what a fine arranger and composer, Philip Harper is, but his twenty five minute, seven movement 'Beyond the Tamar' performed by his Polysteel (Flowers) Band never caught the eyes or ears of the judges or the audience.
The idea was excellent – and it is the type of format of themed programme of original music that the Norwegians are exploring with such success at the SIDDIS Entertainment Contest. The problem was simple though. It just wasn't hard enough.
Commissioned and first performed by the Cornwall Youth Brass Band in March this year, the music takes a similar vein to 'Windows of the World', and whilst the band can be applauded for trying something a little bit different here this time, it wasn't Flowers as we know they can entertain.
There was too much emphasis on the visual and not enough on the musical so we had extended periods of thigh slapping, foot banging, chanting and clapping and not enough playing. Polysteel has some excellent players in their ranks too – but the whole piece lacked a focal solo spot as well (with the exception of the flugel player sitting on a cushion in the fourth movement) and so it all became very much of a muchness.
Philip Harper is a very gifted composer, but choosing to try and highlight the excellence of his Championship band with a piece written for a youth band left them with little material in which they could really sparkle. Great idea but one that didn't work as each movement was simply a variation on what seemed to be the same theme. We had them 8th.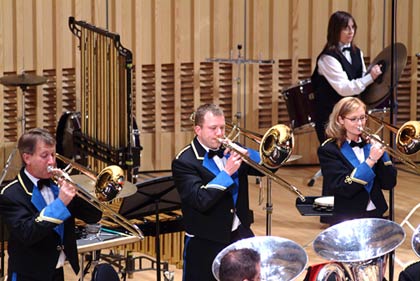 Hepworth (Persimmon) Homes Band: trombone section
Mark Bentham's Hepworth (Persimmon) Homes Band, have risen through the banding ranks in the past eighteen months, with the Scottish Open and Grand Shield titles, not too mention, credible performances at the All-England Masters and British Open.
When they play to their strengths of a compact ensemble and well rounded sound they are excellent, but as they are not the biggest sounding band in the world, when they try to match the huge sounds produced by the likes of Brighouse or BAYV they simply sound harsh, brash and very untuneful. There was simply too much of that on the weekend, and they cannot complain that they found themselves ultimatley in 10th place (we had them 9th).

'Ritual Fire Dance' set the tone for their programme; assertive and bold, yet forceful, but Rob Westacott's 'Tico Tico' was excellent if a little bit of a trip back in time both to the Granada Band of the Year and the early days of this contest.
The real low point though was Eric Ball's prayer 'Begin The Day With God' from 'Songs of the Morning'. Sadly, for us, it just never even felt like it was a prayer at all with no sensitivity and little regard to dynamic contrast, whilst the tuning was awful. This was sloppy and lacked concentration and was way below what we have come to expect from them.
Earl McCoy's 'Lights Out' is an old-fashioned march that had been arranged by the conductor, but again the sound was harsh, and by the time the band had blown their way to the end you were rather left scratching your head. Why were they playing like this?
The least said about 'Show me the way to go Home' the better. This was 30 years out of date – and a good bass trombone player in Graham Starr deserved better.
That just left the Finale from 'Daphnes et Chloe', and it was now clear that the blow it hard and blow it loud approach was once again to the fore. There was some excellent technical playing, but it all lacked composure and texture and it all ended in something of a brazen mess. It summed up a very disappointing performance.
Why Hepworth and Mark Bentham chose this approach we don't know, but it was a huge miscalculation. Hepworth have been on great form all year by playing to their strengths, but none of this programme did that at all. A good band having a big off day.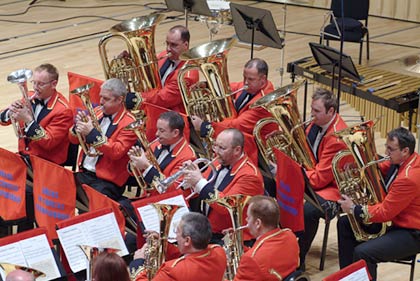 Ransome Band

The final band was Ransome whose performance never really got going. David Belshaw on euphonium was the star of their show in Howard Snell's arrangement of 'The Swan' whilst other contributions included 'Liberty Bell', 'Highland Cathedral' (featuring Fraser Cruickshank on bagpipes) and excerpts from 'Firebird'.
They were somewhat hostages to fortune when Frank Renton introduced their first item 'Anything you can do, we can do better' as you somehow knew that wasn't going to be true.
'Highland Cathedral' was a neat idea that just about came off – although tuning between pipes and band really scratched before 'Liberty Bell' and the poor unfortunate percussion player dressed in a fireman's helmet which should be consigned to the dustbin of musical history. It was awful.
David Belshaw was classy and very composed in his solo, whilst the humour in 'The Cuckoo' just about came off with the neat touch of musical dyslexia.
The ender though was their real weakness with a rather asthmatic 'Firebird' closing a programme that never quite got going and which ended with a triangle coming in early and hugely out of tune last note. No complaints on them coming 11th we don't think.
The 2005 Brass in Concert Contest though was a great day out and congratulations to everyone: Amicus, TUC and World of Brass, whilst Dr Roy Newsome who continues to act as the Musical Advisor to the event must have been pleased that a more reserved approach to the humour stakes is starting to appear in the very best bands. Paul and Jacqueline Beere who are great host's on the day, provided the press lads with a list of all the music played and principal players and that is really appreciated because it makes our lives a lot easier. Thank you.

Take a bow the judges, Nigel Boddice, Nick Hudson, Stan Lippeatt, Dr Goff Richards and Simone Rebello who had the hardest job of all, and finally, the man who controls everything that goes on, front of stage, Frank Renton.
Once again though, it was Grimethorpe and Richard Evans' day once again. Five wins on the spin may seem a little boring to some, but that's not the case at all; it's hard getting to the top in any walk of life, yet even harder still to stay there.
It is now up to the bands to try and up their game to stop them making it six of the best – 2006 cannot come soon enough.
Malcolm Wood and Iwan Fox
---
Full programmes:
Grimethorpe Colliery (UK Coal) (Richard Evans)
The Duke of Marlborough Fanfare (Percy Grainger arr. Sandy Smith); Everybody Loves the Blues (Maynard Ferguson arr. Sandy Smith) (trumpet solo: Richard Marshall); Red Sky at Night (W. Hogarth Lear); A Quiet Place (Ralph Carmichael arr. Sandy Smith); Lizsteria (Lizst arr. Sandy Smith) (xylophone duet: Gareth Pritchard & Will Martin); Finale from Gayaneh Ballet Suite No. 2 Khachachurian arr. Sandy Smith).
Brighouse and Rastrick (James Gourlay)
Caravan (Duke Ellington arr. Steve Sykes); Barnum & Bailey's Favourite (Karl L. King arr. Peter Roberts); Somewhere Over the Rainbow ((H. Arlen & E.Y. Harburg arr. Eva Cassidy / Alan Morrison) (cornet solo: Alan Morrison); Papa Loves Mambo (Hoffman, Manning & Reichner arr. Rodney Newton) (vocal solo: Dave Hebb); Saint Gregory the Great from Church Windows (O. Respighi arr. Rodney Newton).
Buy As You View Band (Dr. Robert Childs)
Toccata in F (Widor arr. Simon Wright); La Cloghe De La Liberte (Sousa arr. Robert Childs); Benidictus from The Armed Man (Karl Jenkins arr. Tony Small) (euphonium solo: David Childs); Hora Staccato (Griogoras Dinicu arr. Goff Richards); Infernal Dance and Final Hymn from The Firebird (Stravinsky arr. Ray Farr); Gypsy Dance from Echoes of the East (Rodney Newton).
Reg Vardy Band (Ray Farr)
Peel Park from Lowry Sketchbook (Philip Wilby); Live & Let Die (Paul McCartney arr. Ray Farr) (soprano cornet solo: Tom Glendinning); It's Just Talk (J. Pat Metheney arr. Ray Farr); The Red Machine (Peter Graham).

Sellers International Band (Phillip McCann)
Chimes of Liberty (Edwin Franko Goldman arr. Loras J. Schissel); The Green Hornet Theme (Billy May); The Water is Wide (Trad. arr. Stephen Bradnum) (tenor horn solo: Leah Williams); The Circle of Life (Elton John arr. Reid Gilje); Elephantine Polka (L.P. Lauredeau) (tuba duet: Ben Thomson & Chris Doran); Bring Back That Leroy Brown (Freddie Mercury arr. Svein H. Giske); Une Tabatiere a Musique (The Musical Snuff Box) (Liadow arr. Stephen Bradnum); Glorifco Aeturnum (Dean Jones).
Whitburn (Andrew Duncan)
Overture - Taras Bulba (Franz Waxman arr. Andrew Duncan); When She Loved Me (Randy Newman arr. Andrew Duncan) (flugel horn solo: James Chamberlain); HRH The Duke of Cambridge (Malcolm Arnold arr. Andrew Duncan); A Caledonian Fanfare (Linsey Paterson arr. Andrew Duncan) (snare drum solo: Linsey Paterson); The Water is Wide (Trad. Arr. Andrew Duncan); Peterloo Overture (Malcolm Arnold arr. Andrew Duncan).
Scottish Co-op (A. Ramsay)
Keighley Moor (Joe Cook); Mid All The Traffic (Len Ballantine); Bolivar (Eric Cook arr. Derek Ashmore) (trombone solo: Paul Kiernan); Glorifico Aeternum (Dean Jones); Fnugg Blue (Oystein Baddsvik) (tuba solo: Jonathan Gawn); Finale from Daphnis & Chloe (Ravel arr. Howard Snell).
Mount Charles (Nigel Weeks)
Deep Space Nine (Denis McCarthy arr. Chris Davis); The Melody Shop (K.L. King arr. Peter Smalley); Over the Rainbow (H. Arden & E.Y. Harburg arr. Ray Farr) (flugel horn solo: Tim Whitehead); Nina (Noel Coward arr. Jonathan Camps);
Battle of Trafalgar (Albert Elms arr. Gerald T. Darwin).
PolySteel (Philip Harper)
Beyond the Tamar – World Tour for Brass Band (Philip Harper) – Intrada, Hymn of the Alps (flugel horn solo: Danny Winder), Storm over Leningrad, Indian Daybreak, Tongoyo, Salsa Tres' Pardo (featuring: Chris Howley – cornet, Danny Winder – flugel horn, Richard Knight – tenor horn, Nathan Jenkins – trombone), Finale.
Hepworth (Persimmon Homes) (Mark Bentham)
Ritual Fire Dance (Manuel de Falla arr. Allan Street); Tico Tico (Abreu arr. John Iveson) (cornet solo: Robert Westacott); Begin the Day with God (Eric Ball); Lights Out (Earl McCoy arr. Mark Bentham); Show Me the Way to Go Home (Irving King arr. Mark Bentham) (bass trombone solo: Graham Starr); Finale from Daphnis and Chloe (Ravel arr. Howard Snell).
Ransome (Chris Jeans)
Anything You Can Do (Irving Berlin arr. Howard Snell); Highland Cathedral (Rober & Korb arr. Simon Kerwin) (bagpipe solo: Fraser Cruickshank); Liberty Bell (Sousa arr. J. Ord Hume); The Swan (Saint-Säens arr. Howard Snell) (euphonium solo: David Belshaw); The Cuckoo (Trad. arr Sam Haigh); Excerpts from The Firebird Suite (Stravinsky arr. Ray Farr).