2005 Brass in Concert Championships - The Humour Stakes
25-Nov-2005
Making people laugh is a serious business at the best of times, so why do brass bands still think entertainment equals belly laughs. 4BR looks back at the humour, or lack of it, at Brass in Concert this year.
---
Making people laugh is a very serious business. Why else would so many of the great comic talents over the years be such serious people: Tony Hancock, Kenneth Williams, Frankie Howerd?

The list is as long as your arm, and as the bands at Brass in Concert have found out, trying to raise a smile on the faces of the audience here, let alone the judges can be enough to send even Johnny Vegas home in a frown.

British humour is a peculiar thing. For the most part we like to think of ourselves as sophisticates when it comes to it. That is why PG Woodhouse is so revered as a comedic talent yet Bernard Manning is not. The problem is, more people laugh at Bernard Manning than PG Woodhouse jokes – even if you do find them distasteful.

It may also explain why the comedy series 'Little Britain' is so successful. Two middle class white blokes taking the mickey out of the disabled, the mentally ill, those on benefit, the fat and the grotesque is not something which any reasonably intelligent Guardian reading liberal would not find mildly appealing on paper. Sit them in front of the television though and all of a sudden they are wetting themselves through the sheer horror of it all.

Brass bands have been faced with the problem since the advent of the entertainment contest, and given the evidence that was on show at Brass in Concert at the weekend, it seems that the dichotomy of what we would like to think would be intelligently humorous to what in reality makes us laugh, is in certain cases still as far apart as ever.

Humour and entertainment evolves, although strangely and not as straightforwardly as you may think in a British way. Thankfully the days of 'Love thy Neighbour', 'On the Buses' and 'The Black and White Minstrel Show' are hopefully dead and buried, but at a time when these were pulling in huge ratings we were also laughing at 'Monty Python', 'Morecombe and Wise' and 'Dad's Army'. What makes those still so funny and not the others?

Thankfully this year the amount of crass slapstick stuff on show at The Sage, Gateshead wasn't as great as it has been in even the most immediate past. No trousers down like a Brian Rix farce to slap the bare thighs of over plump bass players, or equally Reubensian tubas dressed as Sugar Plumb Faireys. However, there is still an over reliance on believing humourous entertainment equates to belly laughs.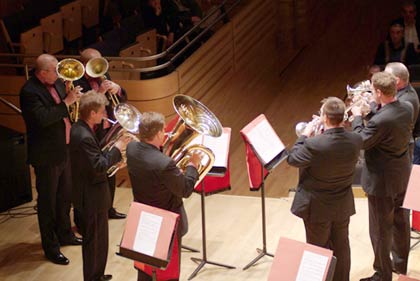 Grimethorpe Colliery UK Coal
Grimethorpe's 'Lizsteria' percussion feature thankfully was not a case in point. Here it was easy to see the chance to play on the slapstick element, and it very nearly could have degenerated into a jolly free for all as the two players tired to out do each other on the bones. However a very clever arrangement from Sandy Smith allowed them to play off each other musically, rather than physically, whilst the accompaniment was a brilliant mix and match of cross rhythms and ideas all based on the musical subject matter. It was on the border of perhaps donning a red nose when Gavin Pritchard threw away the sticks of Will Martin only for him to reveal a jacket full of extras like a black market spiv from the St Trinians movies, but the music saved this one from being just another unfunny comedy spat.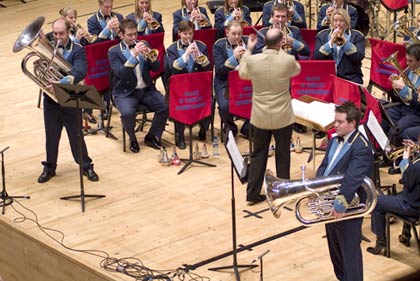 Sellers International

Not so Sellers International and their rendition of the music from the old American television series 'The Green Hornet'.

As a cornet feature it was OK, but why it was felt necessary to then try the visual joke of allowing a player to dress up as a bumble bee (which in fact made them look more like Bertie Bassett) to run around the stage clasping a child's toy car steering wheel was beyond comprehension.

The music may have had a nod to Rimsky Korsakov's little ditty, but the title really should have told the person who thought it a good idea something about what its content was all about. It was toe curling, head in hands, jaw droppingly embarrassing and couldn't have been any more old hat if Tutankhamen had been found trying it for laughs. The bee undoubtedly cost them the chance of third place. He should have been swatted before he had the chance to ruin all their good work.

Add to this the use of an electronic soundtrack to 'Circle of Life' that ended with a lion's roar followed by what sounded like an asthmatic wheeze as the poor beast caught his breath and you started to wonder what on earth Sellers were trying to achieve entertainment wise.

When they concentrated on the playing they were excellent – a superb little gem of a piece called 'Une Tabatiere a Musique' for instance, a fine horn solo and excellent finisher showed their class – but the scatter gun approach of trying everything just to get someone to laugh was awful. A tuba duet and even a bit of Freddie Mercury were tried – all to no avail.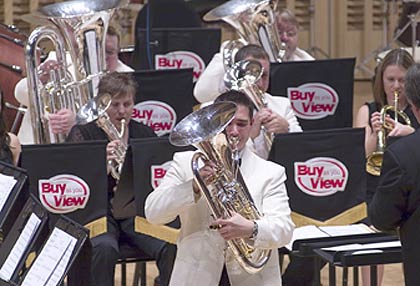 Buy As You View
Buy As You View fell into the trap as well. After a clever and amusing bit of musical humour with old pro Phil Harris dressing up like a cross between a French maitre-de and Charlie Chaplin for 'Liberty Bell' (all he needed to make it complete was to wax his luxuriant moustache) they then lost the plot with some prancing percussion players in 'Hora Staccato' which took the concentration away from some red hot cornet playing.
If that was faintly embarrassing, then the choice of their percussion player to dress in lederhosen for their finale, Rodney Newton's sizzling Gypsy inspired Festival from 'Echoes of the East' was simply strange to the point of being surreal. For the life of us, we just couldn't see the link in any way shape or form. Brilliant young player, but not much cop with ethnic geography it seems.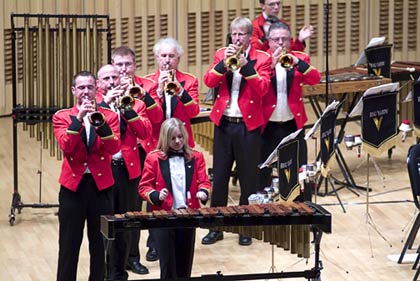 Reg Vardy
Reg Vardy kept the belly laugh factor to a minimum (and it helped their cause) – the only unintentional humour came with their fine percussion player (who is not a tall thing even in high heeled shoes we suspect) being hidden behind the music stand when she got up to play the vibraphone in 'It's just Talk'. As a result it sounded great, but looked awful.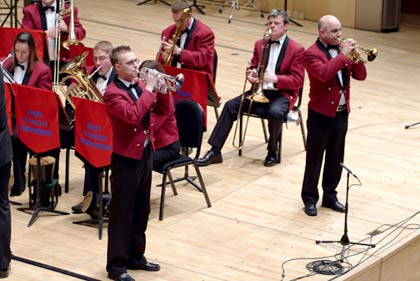 Whitburn
Whitburn were perhaps the one band that did need a touch of humour in their programme, although their clever percussion feature 'A Caledonian Fanfare' was genuinely entertaining and different (although Andy Duncan's colour coordination between suit and shirt, he wouldn't mind us saying, does bring a smile to the face at times).

Scottish Co-op
Their counterparts Scottish Co-op also opted for a fairly serious programme (although once more the MDs startling waistcoat brought a few wry smiles to the face). The one feature that could have brought a real entertainment smile didn't come off as their fine tuba player Jonathan Gann's effort to make his instrument deliberately sound like a cross between a didgeridoo and a bit of downpiping in 'Fnugg Blue' came to nothing as the electronics connecting him to the amplifier went awol. What should have raised a smile resulted in a collective raising of eyebrows instead. What was all that about you could hear the audience thinking.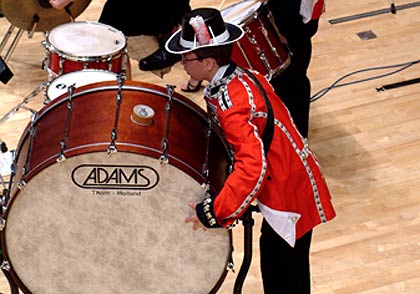 Mount Charles

Mount Charles went for the patriotic appeal of Noel Coward and Lord Nelson combined. Combined that is in the form of Jonathan Camps who came to the stage first dressed in smoking jacket and cigarette holder to give an over long and very dated run through the great man's ever so slightly non PC 'Nina' which contained the lyrics about Argentine woman that included the rhyming of sluts and guts at one point.
All well and good, but we have seen Mr Camps do this quite a few times before (notably in what seemed an annual revue at the Yeovil Contest), and this wasn't one of his best – indeed he didn't much sound like the old man either. Not quite Mr Bridger in the 'Italian Job' at all.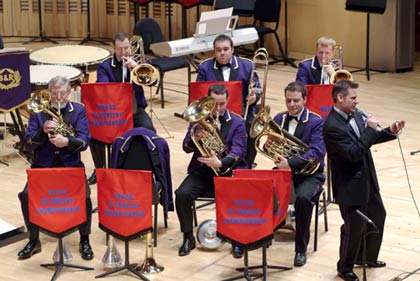 Brighouse & Rastrick

James Gourlay was certainly entertaining and funny for Brighouse & Rastrick – although we wonder if anyone had slipped him a couple blue smarties into his orange juice before he took to the stage. He was as hyper a four year old in need of a Ritalin jab.

His bit of what seemed 'Muppet Show' backing to the 'Papa Loves Mambo' certainly brought a smile to the face. It was funny but ever so slightly disturbing too.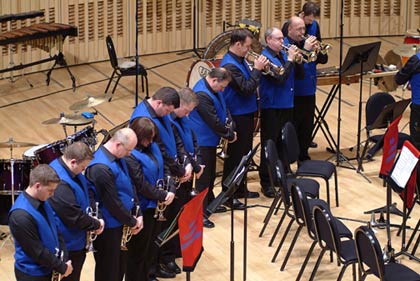 Polysteel (Flowers)

Polysteel (Flowers) and Philip Harper got his jokes in before the band started to play, when he announced through Frank Renton that he intended to get the audience 'aroused' as he indelicately put it. The opportunity to make it into a 'Carry On' sketch was just avoided and even though some wag suggested he bears a passing resemblance to Liverpool striker Peter Crouch we are sure he could score more goals than him at present given the chance.

Mind you, we wonder what Crouchie would make of eight movements of 'Beyond the Tamar'?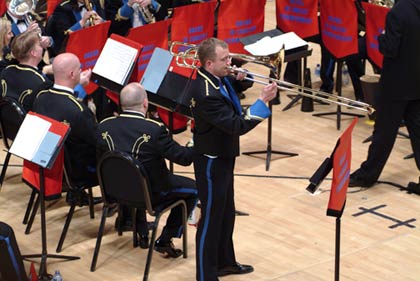 Hepworth (Persimmon Homes)
Hepworth went for an old faithful. When in doubt make fun of an unfashionable instrument, add a fair dollop of alcohol related humour, forget about the music and wait for the laughs.

To be fair the audience shared in the joke, but if this is cutting edge stuff in Hepworth then a night out must be a bundle of laughs. This was being done 30 years ago and as one line jokes go it wasn't very funny then either.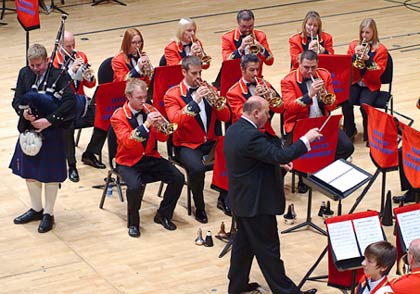 Ransome Band

Ransome went for the same funny bone although they didn't delve back in time as far as Hepworth. Their opening went back to around 1986 when Howard Snell did it. You knew somehow it was going to fall flat after Frank introduced it with the build up of 'Anything the other bands can do – Ransomes can do better'. Not on this evidence they couldn't.

Our hearts went out to the poor percussion player who had to dress up in a fireman's helmet (what was the link here then?) and stand to mock attention for 'Liberty Bell' (the long version as well) next to a table draped in the US flag (and it would have taken some particularly dull person not to have made the link to the USA without that particular visual aid). It was like watching a grotesque version of Trumpton with Captain Snort and the boys.
All in all you do wonder whether we really understand the concept of humourous entertainment at all. Why for instance do we think we need to make an audience belly laugh in a short programme at all? Can't it entertain and even make an audience laugh without recourse to donning funny hats, lederhosen and bumble bee outfits?

If you wanted to see how it was done then all the MDs had to do was take note of Frank Renton. He was on sublime form on the weekend; urbane and witty, educated and intelligent, topical and informative and even a tad risqué when required. He managed it all day without recourse to a single bit of dressing up.

A new era has definitely started for the entertainment contest at Brass in Concert - but it seems it may take a little while longer for the bands to work out that it means a new era for them too when it comes to entertaining the audience. Let's hope they do.
Iwan Fox