2005 Brass in Concert Championships - The Fashion stakes
25-Nov-2005
4BR's Trinny and Suzannah were on hand at the weekend to see what was hot and what was not. All in the best possible taste of course!
---
One of the more enjoyable and light hearted ways of passing time at an event such as Brass in Concert was the chance to talk to the newly appointed Fashion Correspondent of 4BR.

Hepworth Band: caption here...

Unfortunately 4BR hasn't got the funds to pay for Trinny and Suzannah to cast their beady eyes over the bands and their MD's sartorial senses of elegance, but our lady of the boutique culture was more than willing to pass judgement in a light hearted manner on what was good and what was not, and what was hot and what was not for the bands and conductors on the stage at The Sage.

Due to the wonders of technology, the new multi media format meant that we could now see up close what the Musical Directors had chosen to wear (although our fashion tipster pointed out that it would be fair to say that in most cases it was what the better halves of the male conductors had chosen for their men to wear) as well as whether or not some of the players had actually taken the trouble of ironing their white shirts before taking to the stage to play.

Stories of great fashion disasters in brass banding are legion: The story of an old Grimethorpe player who on tour of Australia with the band cut off his sleeves of his famous purple shirt and stitched the cuffs into the jacket so that he didn't overheat in the warm climes is well known. He was only found out when permission was asked by the rest of the band to take their jackets off due to the heat only for the player to decline to remove his in fear of showing what would have been the remains of a purple tank top underneath!

Then there are the whole plethora of bad uniforms and the shame of having to wear bright orange, fawn or even pink, as the old Hanwell Band had to year's ago!

Still nothing as bad as that to report this time around, although our lass did manage to make a point of a few potential howlers!

Top of the list of great returns however and certainly worthy of a mention in the sartorial elegance stakes was Richard Evans and his famous cravat. This year it flowed about his neck like something Isadora Duncan would have once worn – although not with the same consequences we hope. Spotted like a Damien Hirst painting it was a hoot and a splendid reminder of the great man in his pomp. He was not far off it this year either, with his hips swaggering like the doors to a western saloon. Dicky is enjoying life at the moment and who can blame him. He deserves every minute of it.

Not far behind came Ray Farr, who our fashion tipster noted was wearing a very plush and expensive suit that must have set him back a few bob or two. It was also noted that he certainly got his money's worth with his trousers too as they billowed around like wind socks on a airfield as he directed Reg Vardy in his usually elegant style. He must have paid for the extra material or the tailor though he had legs the size of a New Zealand prop forward. Still he looked the part as always!
More soberly attired were Dr Robert Childs in neat suit and band tie and Mark Bentham with very posh black DJ and wing necked collar shirt. Women of a certain age eyed him up in the front few rows we were told!

It was also nice to report that a couple of bands still stuck to the now largely forgotten tradition of wearing band trousers with stripes down them. Both Hepworth and Brighouse are keeping bespoke tailoring of band trousers in business it seems and congratulations to them for doing so.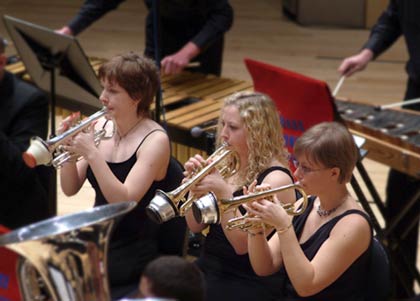 Mount Charles Band: The little black dress...
The ubiquitous white jacket also made an appearance this year – somewhat in greater numbers than expected. Nigel Weeks brought his over from New Zealand, and looked quite dapper (as did his band in little black dresses – and that was just the lads – only kidding!) whilst the BAYV Band all appeared in theirs (girls in very fetching black dresses as well), which was great, except it was 9.30am in the morning and it is very difficult unless you are a six foot 4 male model or James Bond to look that good in one at that time of day. Some as Welsh Mams say of boys of a certain size and shape – had no shape to themselves whatsoever.

Suffice to say, some of the larger lads looked a tad uncomfortable in them, whilst some sleepy eyed people in the hall thought Leyland, the new National Champions were putting in a surprise appearance!

Others also made an impression – perhaps for the wrong reasons. Alan Ramsay wore a waistcoat that literally took the breath away – all gold lamay it seemed so he looked as if he was auditioning for the Scottish version of 'Come Dancing', whilst Chris Jeans displayed the virtues of wearing a good fitting cumber band for those with a slightly fuller figure shall we say. He looked very neat. Andy Duncan meanwhile is a great musician, exceptionally talented composer arranger, player and conductor, but could make a Hugo Boss suit look like a potato sack on himself. Their better halves will now be getting the kitchen knives out and sending the boys to M&S for a new wardrobe for 2006.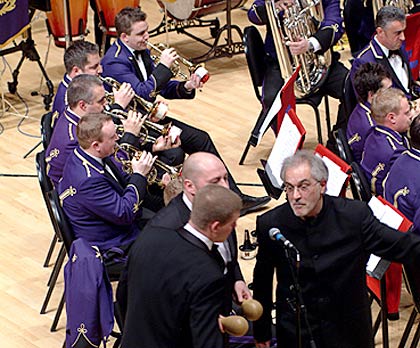 Brighouse and Rastrick and James Gourlay

Lastly Jim Gourlay in a super Nehru suit and Philip McCann in a very fetching fawn number that even had Frank Renton asking who his tailor was. Is that a good or bad thing do you think? Philip Harper meanwhile didn't even bother and turned up open necked minus jacket in a fetching purple shirt that had our correspondent purring with delight. That she said, was the way a tall man a relaxed attitude should dress

As for Frank – he had the kind of tie that would give you a headache is you had been drinking a bit too much the night before say.

And as for the 4BR team then? Well seeing the Editor hadn't shaved for a week or so and was wearing his usual garb of Socialist worker tee shirt and jeans, our fashion correspondent immediately gave him direct orders to shave, get a haircut and start wearing a suit again in order to look the apart of a professional journalist. Strange – I thought I looked OK – but them again so does everyone else don't they.

I'm off with thirty quid in my pocket first thing tomorrow to buy some decent togs. I think it may cost me a lot more, whilst the conductors and performers of the banding world beware – 4BR's Trinny and Suzannah are out there watching!
Iwan Fox and L. Coles