4BR Interview - Professor Philip Wilby
21-Nov-2005
The man who has brought us some of the finest works ever written for the brass band medium talks to 4BR's Chris Thomas about his influences and those great works themselves.
---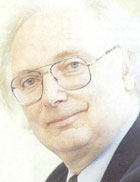 It seems remarkable that it was as recently as 1991 that Philip Wilby burst onto the banding scene when 'Paganini Variations', originally a BBC commission for Grimethorpe and the Radio 3 Band of the Year, was chosen as the test piece for the British Open.

It was a contest that Grimethorpe were destined to win, as was the case the following year when Wilby's first fully fledged work for band, 'The New Jerusalem', written for the National Youth Band at the request of Roy Newsome in 1990, was used for the National Finals at the Royal Albert Hall. In the wake of the news earlier that week of the imminent closure of Grimethorpe Colliery few present will forget the emotionally charged atmosphere as Alan Morrison's opening off stage solo rang around what for many remains the hallowed temple of brass band contesting.

It might have been 'Paganini Variations' that first brought Wilby to our attention but perhaps even more so, it was the prophetic nature of 'The New Jerusalem' as Grimethorpe rose victorious from the ashes that was to indelibly stamp Philip Wilby's name on the consciousness of the banding public.

Somewhat ironically 'The New Jerusalem' has been little heard since that day and is arguably overdue for a revival although it was in the immediate wake of 'Paganini' and 'The New Jerusalem' that the inspirational floodgate seemed to open for Wilby. 'Masquerade' appeared as the test piece for the following year's British Open, since when Wilby has continued to produce works for band at the rate of around two a year, this alongside his continued stream of music outside of the banding world. Few other composers of serious work for the band medium can rival his productivity.

Although 'Paganini' was immediately taken to the hearts of bandsmen and women everywhere it is in many ways 'Masquerade' that sums up all that has become familiar in Wilby's music. The uncompromisingly and often unnecessarily hostile attitude that bands can take towards music that challenges its inherently conservative tastes is often met head on by Wilby who has never shied away from stating his musical case in contemporary musical language. Yet underpinning the complex surface of the music coupled with the immense technical challenges that can come with it is a strong sense of the musical past and a deeply lyrical and melodic vein that gives the music its heart and ultimate humanity. It is this humanity that seems to strike a resonant chord with Wilby's banding audience.
Works such as 'Revelation' and '... Dove Descending' have continued to press a similar case whilst in bands the composer has found an outlet that accepts at face value the Christian beliefs that permeate a good number of his works.

Yet versatility is also a trademark. Various works have provided excellent tests for bands of lower sections, amongst them the 'Partita for Band' (Postcards from Home), 'A Little Light Music' and 'The Seasons'. Although Wilby shows himself capable of writing in a more light hearted style where it suits it is clear that he does not allow himself to "write down" for players of lesser technical ability.

It is only now, fifteen years on from 'The New Jerusalem', that we can truly begin to assess the magnitude of Philip Wilby's impact and contribution to the brass band repertoire. Within this period of time no other composer whose roots lay outside the movement has been as prolific as Wilby. To date his catalogue stands at around twenty five original works and is still growing annually. Whilst his music has occasionally courted controversy (and let's applaud the healthy debate that often ensues!) it is also clear that he has succeeded where many others have failed in entering our banding bloodstream, a feat that many would have thought impossible during the early years of the 1990's.


CT: Could you tell us something of your early musical experiences and influences?

PW: I was born in Pontefract (West Yorkshire), and began my musical journey singing in the church choir and playing the violin. I studied with Eta Cohen and joined the National Youth Orchestra at around the age of 14. I went to Keble College Oxford to read music at the age of 17.

CT: As a Yorkshireman born and bred were you aware of the brass band tradition around you during your youth even though you were not a brass player yourself?

PW: Certainly. Fred Ellis (later to become a player and band secretary at Black Dyke) was a school friend and Wilfred Heaton was our brass peripatetic teacher.

CT: You have stated that Herbert Howells was instrumental in awakening your vocation as a composer and you have recently prepared a percussion part for Pageantry to be used for contest performances at the 2005 National Championships. Were you aware of Howells' contribution to the brass band repertoire during your early acquaintance with him?

PW: Howells was Composition teacher for the NYO and I knew principally of his church music and organ compositions. Unfortunately his band works never came into our conversations.

CT: You were already a composer with an established reputation before you wrote your first music for brass band. Had you always had in mind that you wanted to write for brass band given the opportunity?

PW; I had written some brass band music before New Jerusalem, but not quite succeeded. I had written a deal of symphonic band music however, and had a 'Little Symphony' for 10 Brass played and recorded in California. Thus, when Dr Newsome commissioned me to write 'New Jerusalem' for the NYBBGB I had some music to play him and discuss.

CT: Who are the composers that you most admire and that you consider to have had the greatest influence on your own music?

PW: Baroque and Classical composers have been very formative and I played in Christopher Hogwood's Academy of Ancient Music on a large number of recordings on authentic instruments. Equally playing the violin professionally, not least in the CBSO, gave me a taste for orchestral scores. 20th Century English music has always been significant, as have individual figures such as Elliot Carter, Jonathan Harvey and Lutoslawski.

As part of my University work, I have reconstructed performing editions of a number of unfinished scores by Mozart, including a new edition of his Mass in C Minor K427.

CT: In terms of brass band music what are your favourite works for the medium by other composers?

PW: Eric Ball : Journey into Freedom; Gregson : Dances and Arias; McCabe : Cloudcatcher Fells; Howarth : Ascendit in Coeli.

CT: A good number of your works, including The New Jerusalem and Revelation to name but two, draw their inspiration from the Bible. To what degree do you feel that your Christian beliefs and the process of composition are interlinked?

PW: The Brass Band fraternity has always regarded religious imagery as 'normal', and this is an attraction for me. My wife is a serving priest, and we have lived in Vicarages for many years. Thus, the inspiration of some epic sections of the Bible, such as the two which you mention, seems quite natural to my more musical preoccupations.

CT: Paganini Variations has proved to be one of your most popular and successful works for band. Was there any underlying reason for you choosing one of the most previously utilised of melodies for your own set of variations?

PW: As I have said above, I was originally trained as a violinist, and both the Lowry Sketchbook Finale (based on Bach's Partita in E) and the Paganini Variations are based on pieces that I had played. I was also interested in the line that stretched from the 1830s to the present day, linking Paganini's own era (and the beginnings of Brass band music) with the virtuoso tradition it still enjoys.

CT: As a composer you have embraced the oeuvre of the "test piece" on many occasions now. How do you feel about adjudicating on your own music and what are your views on the band contesting scene generally?

PW: I am delighted to have provided test pieces for all the major competitions. I feel that I have been lucky to be asked, and proud to serve as a composer at all five levels. Adjudicating is another issue and I think that others have more skill in this area than I.

CT: Works such as Masquerade and Revelation have pushed the technical abilities of bands to the limits. From a musical point of view how do you approach the composition of a piece that you know will be used to test top flight bands?

PW: Public display is an inherent part of my musical makeup. I also have a strong desire to bring some of the 'straight' musical traditions into my band music. There are obvious attractions in hearing the most excellent performances of my scores, but the best performances are not those that make the music sound difficult, but rather those that demonstrate the most individual faithful reading of the score.

CT: You have also contributed several works as test pieces for lower section bands. Do you find writing for bands of lesser ability as challenging as writing with no technical constraints?

PW: I can honestly say that the lower sections, although they may be more challenging and restricted than more eminent contests, can be equally rewarding. Rehearsals in particular can be made or broken by a test piece, and there is a greater musical difference between the first and last places in such a competition than can be found at higher levels. These lower sections bands are the engine of the movement, not least because this is where children start their careers, and deserve the very best treatment.

CT: In the past several outside commentators have argued that the brass band has a lack of tonal variety. What are your own views on this and scoring for band generally?

PW: I have never found this to be the case. In every parameter of musical invention, there are maximum and minimum levels far in excess of any other medium.

CT: Could you tell us about the inspiration behind your latest band work Music for the Moving Image?

PW: This is a 'long' test piece, designed specifically for the World Championships in Kerkrade. There were seven competitors, playing two programmes over two days, and I was allowed the opportunity to compose something on a larger scale than our major contests could accommodate. I wrote a 'Californian' score, in three parts, which strove to catch something of the filmic traditions of that State. In each of the Sonatas, there is a transformation, as one might find in a film….. the 'Moving Images' of the title. Thus one movement moves from a bustling street-scene to a flash-flood deluge. The second moves from a breathless, insect-filled twilight to a serene Moonrise. The finale charts the progress and development of a river, racing from the high mountains to the ocean.

CT: The other work you have written in 2005, Northern Lights, shares its title with a work for band by John McCabe. Were you conscious of this while you were writing it?

PW: Northern Lights is only part of the title. For Black Dyke's 150th Anniversary, Nicholas Childs commissioned a historical book from Roy Newsome, and DVD charting the history of Britain, made in collaboration with The Royal Armouries, and CD history 'Jewels in the Crown', and two scores, and Opera without singers from Peter Graham, and a Ballet from me. 'Dance Variations: Northern Lights' is my ballet. It is something of a fantasy on Deep Harmony, which reappears at the work's climax, played by the Black Dyke Band of 60 years ago.

CT: Stylistically do you feel that your brass band music has evolved or changed during the fifteen years you have been writing for the medium?

PW: That's an interesting question which others may choose to address. I certainly hope that my growing understanding of the medium has developed clearer and simpler textures, but looking back on earlier scores offers only a dislocated view, more like seeing the work of a younger colleague.
Chris Thomas