2005 Brass in Concert Championships - The Adjudicators
14-Nov-2005
These are the judges who the bands and soloists will have to impress this weekend.
---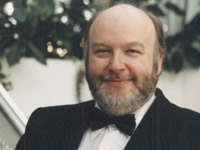 Nigel Boddice: (Music)
Nigel Boddice, Hon A.R.A.M, enjoys a busy, impressive and enterprising international conducting career. Among the highlights so far, are concerts, recordings and a live CD project for Naxos with the BBC Scottish Symphony Orchestra and some highly enjoyable children's concerts with the Ulster Orchestra in Northern Ireland.

For the last seven years he has been regularly commuting to Norway, having accepted the role as Chief Conductor to the Royal Norwegian Navy Band [ K.N.M.M.], and led the ensemble to a new and much admired international standing. He studied at the Royal Academy of Music, London and later with both the distinguished Scot Sir Alexander Gibson and the Polish Maestro Jerzy Maksymuick.

Currently he is on the staff at the Royal Scottish Academy of Music and Drama. Nigel has been honoured in the past by the Worshipful Company of Musicians, London, being the inaugural recipient of the Mortimer Medal for his beloved work in musical education principally for West Lothian, and also by the Society of Scottish Composers for his prolific presentation of contemporary works. Over the last five years he has worked with countless orchestras and bands of every combination, which has formed the basis of a strong repertoire in several mediums.

He has recorded much for Radio and TV and has also completed several CD`s for Naxos, Doyen and Polyphonic. Recently, through his Scandinavian connections, he has been especially lucky to have collaborated with Ole Edvard Antonsen, Christian Linberg, Michaela Petri and Solveig Kringlebotn.
Back home in the UK, Nigel has continued with his distinctly versatile approach to work by directing and presenting the Salon Orchestra throughout Scotland and making New Year's Day appearances with the Philharmonica of Scotland.

Throughout the years, choral music has been an additional interest and featured in many a concert with for example, the Edinburgh Royal Choral Union, the National Norwegian Girls Choir from Oslo and Norway's legendary Silverboys. Future travel and concerts are planned and anticipated in Argentina, Germany and Denmark. Future Summer Schools include return visits to the National Youth Wind Ensemble of Scotland, Glasgow Schools Orchestra , Moray and the R.S.A.M.D. Junior Orchestra.

Finally a brand new venture has just newly developed in Molde, where Nigel will direct their three orchestras amid the panoramic mountain landscapes of Middle Norway. He has conducted once at the European Contest, in 1979 when he led CWS Glasgow into 7th place overall. He has adjudicated at the contest on two occasion – in 1997 and 2000 on the Own Choice Section.
---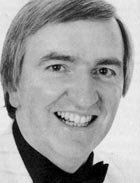 Goff Richards: (Music)

Goff Richards was born in Cornwall and after studying at the Royal College of Music and Reading University, embarked on a career as a Composer, Arranger and Conductor.

His works have been performed by the King's Singers, the Swingle Singers, various BBC Orchestras, Huddersfield Choral Society, London Brass, Evelyn Glennie, Benjamin Luxon and all leading Brass and Military Bands.

He writes extensively for BBC Radio and Television. Recent commissions have been for BBC's 'Festival of Cornish Bands'; TV's 'Songs of Praise' including special Orchestral arrangements for the 40th Anniversary Concert at the Royal Albert Hall.; 'Manchester 2002' Commonwealth Games; 'Mythic Trevithick' for the 'Trevithick Day' celebrations in Cornwall; 'Counting the Days to Christmas' for Huddersfield Choral Society; 'Sweet Thames Suite' for Reading Pheonix Choir; 'Vivid Colours' for Vivid Brass, Tokyo; 'Intrada' for the opening concert at the new Hall for Cornwall (Bournemouth Sinfonietta); arrangements for Grimethorpe Colliery Band and, in the Pop music field, Tori Amos and the Albion Band.

In 1982, the St. Austell Band released an LP of Goff's music, and since then BNFL, Brighouse & Rastrick and Fodens (Courtois) Band have each produced a CD featuring his music, and a new recording of Goff's ensemble THE ARCADIANS, with singers Margaret Richardson and Paul Whelan has recently been released.

From 1976 – 1989, he lectured in Arranging and directed the Jazz Orchestra at Salford College of Technology. For his contribution to band music throughout the world, the College, in 1990, awarded him an Honorary GDBM and the title Director Big Band Laureate. Since 1992, he has been directing the Jazz Orchestra at Chetham's School of Music, Manchester.

As an Educational Composer he has composed large-scale works for Barnsley Schools ('The River of Time') and for the East Ayrshire Schools Brass Band and Choir ('A String O'Blethers'), both produced in the year 2000.

As an Adjudicator he is widely travelled, having judged various British National Brass Band Area and Finals Contests; the European, Australian, New Zealand and Dutch Brass Band Championships; 'SIDDIS Brass', Norway; the National Male Voice Choir Championships of Great Britain and numerous Band Contests for BBC Radio and Television.

He has spent three years serving on the BBC's Central Music Advisory Committee and is currently a member of the British Music Writers' Council.

The Cornish Gorsedd made him a Bard in 1976 and he maintains his West Country links as President of the South West Brass Band Association and Music Advisor to the Cornwall Youth Brass Band
He has recently completed his third period as External Examiner for the University of Salford.
---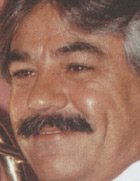 Stan Lippeatt: (Entertainment)

Born in Hemsworth, South Yorkshire, Stan was for many years the popular and virtuoso flugel soloist with the Grimethorpe Colliery Band – a band he joined as a youngster in the early 1960's. Stan became one of the most popular players and soloists, featured in many of the famous comic routines of the band at events such as Granada Band of the Year, although he had already built himself an enviable reputation as both a serious ensemble performer and soloist.

His playing career brought many successes as well as a great number of specially commissioned works – one such being the John Golland Flugel Horn Concerto which Stan gave the world premiere of in front of the composer himself.

His wealth of experience has seen him conduct numerous top section bands throughout the country, including a long association with the Thoresby Colliery Band, and he has adjudicated at Pontins, Regional and innumerable brass band contests. Over the last few years he has been an active member of the Association of Brass Band Adjudicators.

His love for the movement was shown in 2003 when he was asked by the Butlins Organisation to help revive the Mineworkers Brass Band Championships, and such has been his involvement that the famous CISWO Mineworkers Contest has become a huge brass band festival held in Skegness and featuring the largest single cash prize to the winners in the history of the banding movement.

He remains one of the most popular brass band personalities in the movement and brings a wealth of experience to his task as an adjudicator today.

Simone graduated from the Royal Northern College of Music with Distinction and a collection of awards including a major scholarship and The Phillip Jones Prize. She began a solo career which has taken her around the world with concerto appearances, solo recitals, master classes and appearances on national and international TV and radio. She has recorded several CDs and is in high demand as a soloist with brass bands, wind ensembles and symphony orchestras. She continues to win awards such as the 1998 Cosmopolitan/House of Fraser Woman of the Year in the Arts.
---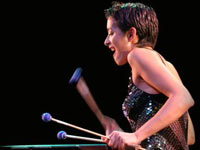 Simone Rebello: (Entertainment)
Simone regularly performs with the internationally renowned BackBeat Percussion Quartet of which she is a founder member. The group tours extensively in Japan and America and have also given concerts in Zimbabwe, the Cayman Islands and throughout Europe.

In addition to recording 2 CDs and numerous international TV and radio broadcasts the group has won several competitions including the Royal Over - Seas League Ensemble Prize (1997), The Osaka International Chamber Music Festa (1999) and The USA Concert Artists Guild (2001) which led to a USA debut at The Weill Hall - Carnegie Hall. The group has commissioned several new works and its 2002 Proms debut was broadcast live on BBC television.

In 1997 Simone formed Equivox with leading saxophonist Rob Buckland and this contemporary music group record and perform internationally. They have commissioned several new works and are releasing their latest CD in 2005. Simone collaborates with various musicians on projects and continues to work as a solo recitalist with pianist/organist Julian Wilkins.

Simone devises and presents concerts and workshops to children of all ages and works annually with Young World UK who produce concerts featuring large choirs (up to 8000 children) in UK arenas including the Manchester Evening News Arena.

She is frequently asked to adjudicate at national and international brass and wind band competitions, percussion festivals and events for BBC Radio, and speaks regularly at events concerning performance skills, the development of concerts and workshops for children and general percussion topics.
Simone Rebello is a solo artist and endorsee for Yamaha- Kemble UK.
---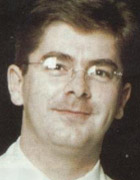 Nick Hudson: (Soloist)

Nick Hudson's musical foundations are firmly rooted within the brass band movement. He started playing at the age of eight and following initial tuition from his father and a brief spell in The Salvation Army, Nick was appointed principal trombone of the world famous Foden Motor Works Brass Band at the age of only fifteen. During his fourteen years in that position he established an international reputation as one of Europe's finest trombone players and teachers. He has presented masterclasses and performed in concert halls as far afield as Australia, Israel, Canada, the USA and throughout Europe.
As a soloist he premiered the Wilfred Heaton Trombone Concerto for BBC Radio 3 and gave the first public performance at the Royal Albert Hall in London of Philip Wilby's concertino White Knuckle Ride. He released his first solo recording 'Anthology' with the Britannia Building Society Band in 1996 which received enthusiastic reviews in the musical press. Nick has just released his second solo recording 'New Horizons' which features a diverse range of styles from jazz, avante garde and brass band repertoire.
On both resident and freelance levels, Nick has played with most of the UK's top brass bands; Britannia Building Society Band, JJB Sports Leyland Band, Yorkshire Building Society Band, Black Dyke Mills Band and Grimethorpe Colliery.
He has travelled world-wide coaching players and is trombone tutor at the celebrated Brass Band Summer School in Bromsgrove together with The International Brass Band Summer School in Sedburgh. He has been guest soloist with many ensembles including the National Youth Brass Band of Great Britain, Grimethorpe Colliery, National Youth Brass Band of Switzerland, National Youth Brass Band of New Zealand, NJBB Graubunden, Enfield Citadel Band, Brass Band De Bazuin Oenkerk, Brass Band Willebroek and Lyngby-Taarbaek Brass Band and Gothenburg Brass.
Nick was featured clinician and soloist at the Leeds University Chain Brass Festival, a week-long course of workshops and seminars for professional players from all over Europe. He has also given recitals and lectures at the Royal Northern College of Music, Royal Academy of Music (Stockholm), Melbourne School of Performing Arts, Newcastle School of Music (Australia), Goteborgs Universitet Artisten, RAF Cranwell, the Norwegian National Wind Band Championships in Trondheim, the British Trombone Society Festival at the Guildhall School of Music and London's famous 100 Club.
In addition to demands as a performer and clinician Nick is a regular editorial contributor and writer for many specialist brass publications. He is also a writer and advisor to the British Trombone Society on brass band editorial issues.
Now a clinician for Boosey and Hawkes Musical Instruments Ltd., Nick has a busy touring schedule including trips to Australia, New Zealand, Sweden, Switzerland, Canada and the United States which fit tightly into his duties as Principal Trombone of the Williams Fairey Band and trombonist in the SONAR Brass Quintet.
For further information on concert performances, recitals and workshops visit the Nick Hudson website on www.nickhudson.com.