2005 British Open Solo and Quartet Championships - Retrospective
10-Nov-2005
Malcolm Wood and Dave Tinker enjoyed themselves at Hyde Town Hall as a record number of contestants, but a poor turn out from the listeners took part in the prestigious event.
---
British Open Solo & Quartet Championships
Supported by Tameside MBC
Hyde Town Hall, Sunday 6th November
Sponsored by Tameside MBC
---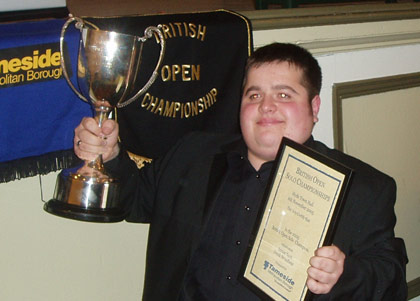 2005 British Open Solo Champion: Phillip Dias
Phillip Dias, the Solo trombone with Wingates, was in a bit of a state of shock on Sunday evening after he was crowned The British Open Solo Champion for 2005 at Hyde Town Hall, after a commanding performance of 'Concertina' by Lars Erik Larsen.
Phillip is in his fourth year at the RNCM studying music and has recently joined Wingates to as he told 4BR 'further his solo experience and gain knowledge of the demands of the Championship section contesting arena'. He won't be short of confidence though as he'll be introduced on stage for any solo spots now as the reigning British Open Solo Champion. It's the perfect start to his new career with the band.
With reigning champion Alex Thomas, not defending his title, a new name on the trophy was guaranteed and the RNCM student at Manchester, not only took the prestigious title, The Harry Mortimer Trophy, along with £350, he will now represent the UK at the Ern Keller Championships next February, in Sydney, Australia.
Sunday evening's final in the senior competition was a cracker with a high standard of playing, with adjudicator James Scott commenting that at the 'top end' the playing was 'stunning'. Phillip's performance made an impression on James (he himself a former title holder) and fellow adjudicator, Derek Broadbent which was full of self-belief, classical in style with real echoes of the quality of his teacher Andrew Berryman himself displays.
It was another trombonist, Gregor Stewart from Bo'ness & Carriden who took the runners-up spot courtesy of his performance of 'Arrows of Time'. Gregor like Phillip played with complete confidence and he looked delighted to have finished in the top three against some quality opposition.
Third place went to euphonium Nick Ost from Brass Band Willebroek. Nick's performance of 'Pantomine' off the number one draw set the standard for the final and it took those two exceptional performances from the trombone duo to stop him taking the title out of the country and into mainland Europe.
By the time of the announcement of the results, Nick was already en-route to Manchester Airport with the other participants who'd travelled over from Belgium for the contest, so unfortunately we couldn't gain his thoughts, but it has to be said, his playing in the preliminaries stood out and that was enough to give him the Individual Solo Champion award for the Baritone/Euphonium.
Nick's performance earlier in the day was matched by tenor horn, Rosie Pearce, whose performance of 'Concert Fantasy' by Gustav Cords was one of the highlights of the long round of preliminaries. Rosie's control, delivery and projection of sound made the most of the acoustic (which isn't the best it has to be said as it tends to boom around the room), but you wouldn't mind betting she'll come back in 2006 for another crack at the title. She is a super player.
Euphonium player Steve Walsh from YBS was another finalist who had stood out from the rest in the early round courtesy of his performance of 'Jenny Jones'. The competition in the final though was tough, but like Rosie, you wouldn't mind betting he'll be back.
Duncan Wilson repeated his form here from last year, not just by taking the Individual award, but by making it into the final with a fine performance of Gordon Jacob's 'Trombone Concerto'. His time will surely come as well in the future to lift the prestigious title.
This year's final was made even more fascinating with the inclusion of the reigning Ern Keller International Champion, Kristy Rowe from Gunnedah New South Wales. This is a talent to keep your eye on for the future without any shadow of a doubt. Kristy's control and delivery was quite superb at times during her performance of 'Rangitoto' by Goff Richards and there were many envious eyes from prospective Band Managers cast in her direction on the day – she could waltz her way into any top band without a problem.
John Berryman and Brian Buckley had the unenviable task at the start of the day of choosing six finalists from the preliminaries that lasted over six hours with the field just short of forty competitors. The lure of representing the UK at the Ern Keller influenced the numbers who competed and the standard was such that it meant players of the calibre of Chris Doran (Leyland), Daniel Powell (Brighouse & Rastrick), Mark Walters (Yorkshire Imperial) and Rob Westacott (Hepworth) all missed out at a chance of the title – that tells you something abut the standard for sure.
Two others that missed out for a chance in the final were Jef Vermeiren from Young Brass Band Willebroek and Toshiyuki Niizuma from Hepworth. Both of them had the consolation though of being crowned the British Open Individual Champion for Bb Cornet and Bass respectively – deserved honours, and although they couldn't make it to the final play off, it was no reflection on their playing – the standard was that high and only six could be there.
Senior Quartet

Derek Broadbent spoke on behalf of himself and James Scott at the end of the Senior Quartet competition. Derek stated that 'a couple of performances stood out' along with talking about the importance of balance and dynamics.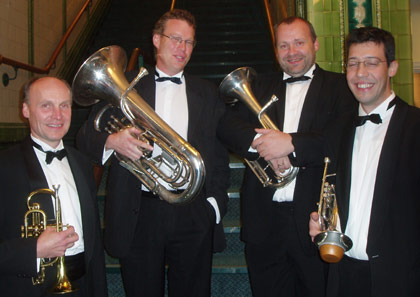 Cosy Brass Quartet
It was great to see the Belgian quartet representing Brass Band Willebroek return to defend the title they won last year.
Guy Godts, Kris Binon (Cornets) Dirk Reyniers (Tenor Horn) and Steff Pillaert (Euphonium) go under the name of 'Cosy Brass Quartet' had to settle for third this time though with their performance of 'Variance' by Darrol Barry. It's great that these gentlemen not only enjoyed themselves last year but spread the word on their return home with an increased contingent from the band flying to Manchester on the day of the contest and returning home that night – that's commitment.
Runners-up on the day though were Tongwnlais Temperance who performed 'Divertimento' by Philip Sparke to a high standard off the number one draw. Wales has a fine record of achievement here at these championships over the years, and the quartet certainly did their country proud. Now they have a taste for it, we are certain they will return, whilst on this evidence the latest CD release from the band should contain some pretty good playing if this was anything to go by.
The overall winners though were Carlton Main Frickley conducted by Ray Sykes.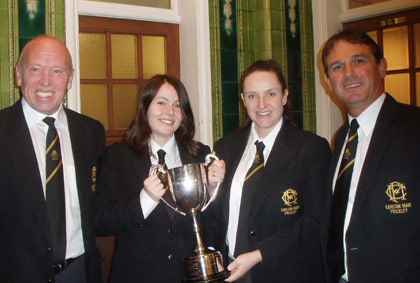 Carlton Main Quartet
Gilbert Vinter's 'Elegy & Rondo' benefited from some delightful cornet playing by Kirsty Abbotts, not forgetting, John Kendall (cornet) Kate Eggleshaw (horn) and Ciaran Young (euphonium). After a year when Carlton Main haven't had a lot of luck going their way, they didn't need any here as their performance was a hallmark of fine musicality and sustain technical excellence and fully deserved the reward it got.
The quartets of BT, Pennine and Timperley sadly missed out this year, but it was fabulous to see Timperley competing after their re-launch this autumn with Jon Davies and Stephen Booth amongst their newly formed ranks.
Intermediate Slow Melody

Thirty one competitors competed in the preliminary stages of the Intermediate Slow Melody contest with the top five going through to the final. The overall standard was high and certainly echoed the standard set by the Seniors, whilst in the end the adjudicators Derek Broadbent and Malcolm Brownbill chose the five who would contest the final play off itself.
John Berryman and Roy Newsome adjudicated the final and after an exciting series of performances it was Ben Hirons from the Boarshurst Band who took the title of British Open Intermediate Champion with a well shaped performance of 'Rusalka's Song to the Moon'. Second place also went to a member of Boarshurst Band in the shape of trombone player Christopher Mansfield who produced a well controlled performance of 'Abide With Me'. Third place went to James Mcleod on euphonium from Houghton Brass who played the solo 'Peace' displaying a full and warm tone and real security of technique. The other two finalists were Stephen Terry on Eb Bass and Glen Van Looy, both of whom provided the small but enthusiastic audience with performances of real merit and no little musicality.
All five were a credit to themselves and their tutors and both adjudicators spoke highly of the standard they had heard and wished all of them well in the future. All of them will certainly have successful futures ahead of them on this evidence and Boarshurst Band must be delighted that two of their players took the top two places in such a prestigious event. All credit to everyone concerned with that organisation.
Junior Slow Melody

Ten contestants competed for the title of Junior Slow Melody Champion and again it was a hard fought contest in which Roy Newsome and Malcolm Brownbill had plenty of encouragement for all the finalists.
The winner was Peter Moore of Dobcross Silver who gave a commanding performance of the trombone solo 'The Name' – what a splendid young player this young man is already, what with a lovely tone and secure technique already in place. The world is his oyster. In second place came Jan Norwicki from Dobcross Youth Band with 'Abide With Me' on Eb bass, who also displayed a firm and deep warm sound and lovely sense of musical line and in third place Hannah Regan on soprano cornet from Shaw Youth who played 'Loves Old Sweet Song'. This again was wonderful sweet toned playing and a credit to whoever taught her to play in such a way.
In fact it was that sense of musicianship that so stood out amongst the players here, and on three instruments that can at times sound forced and harsh as young players try in vain to make a big sound. Not so here and we hope that thoughtful progress is maintained by their teachers in the coming years – all players will on day learn to play loudly, but only the best will play loudly with a fine sound.
The commitment that these young players put in to a performance was a joy to see and their parents and families have every reason to feel proud.
Junior Quartet

The Junior Quartet contest had eleven contestants (a real welcome sign) and some fine playing was heard all through the contest. Dobcross Youth D conducted by Ted Griffith was crowned champions with Shirland A in second place followed by Upper Rhondda in third.
All eleven quartets contributed to a fine contest and Roy Newsome and Malcolm Brownbill commented on some fine cornet playing and said it was the attention to dynamics that separated the first two bands in particular. All of the quartets though should be proud of their efforts and the winners in particular showed what results could be achieved by having a good teacher – all this and it was the D Quartet that won!
Overall the three sections had proved once again what fine young players we have in the band movement - its keeping them that's the difficult part.
Throughout the day, Roderick Barrand and David Jones did a superb job on the piano accompanying all the performers, as did Robert Kerwick as MC, and all the officials led by Frank Hodges and Derek Atkinson whom with a record number of competitors kept everything running smoothly with the proceeding's getting underway at 10.30am and concluding some ten hours later. They deserved a special mention.
In addition, Louise Atkinson from Tameside MBC who support banding throughout the year, and when it comes to sponsorship of events, that includes Tameside Open, Tameside Youth Contest, Whit Friday and this one, their commitment can't be praised enough – they are the Roman Abramovich's of sponsoring band contests!
This event is an important opportunity for players to gain invaluable experience when it comes to standing up and playing in front of an audience. During the day, attendance figures were healthy across the sections but for the senior's final only 29 people (including judges from other competitions) were in attendance to listen. For the UK's premier Solo and Quartet Championships, now attracting players from overseas, it's embarrassing.
Held in the heart-beat of banding, it's an opportunity to hear performers, many of whom have a presence in the movement already and those who will play a key part in the future. The finalists deserve acknowledging and encouraging for their efforts; you had sympathy for them though that more people weren't present to give support for such an important event in the banding calendar. Come on – the players are now doing their bit to make it a great contest again, so are the organisers and sponsors, so get off your backsides and come and listen. It is a treat.
Congratulations go to everybody though for competing, and to the winners, it is a day you won't forget in a hurry.
Dave Tinker and Malcolm Wood