2005 Pontins Championships - Mortimer Championship Retrospective
2-Nov-2005
It was Staffordshire who were the one band to make all the figures add up the right way on the weekend, when other simply found their musical arithmatic on Herbert Howell's odd old piece went astray.
---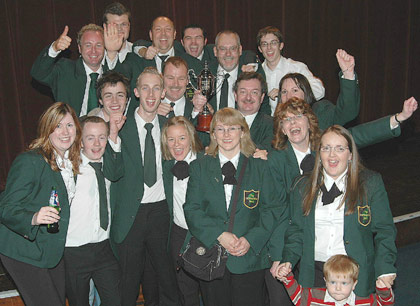 Staffordshire Band: Winners - Mortimer Championship
It wouldn't be a huge surprise if the wanted to carry the acoustic of the Fun Factory Ballroom at Prestatyn to every contest they play at. For a venue which isn't at all much fun to play at acoustically wise, they have found the knack of being able to produce a wonderful winning sound on it where others find it almost impossible.
And on a day when producing a well balanced, rounded and blended sound put you half way to producing a performance that would catch the ears of the two men in the box here, it made their winning effort even more creditable than you first imagined.
For the second year in a row, Steve Bastable's band took the title against a field of bands that on paper would have made the journey to Pontins with high hopes of walking away with the top prize. Staffordshire were not the outstanding band on the day – not one band really did themselves complete justice, but once more they showed that they are a very fine band in the making. Not quite there just yet – they still tend to make too many little unforced errors for that, but one that is definitely heading for the top most echelons. If they return in twelve months time having made the progress once more that they have in the past year they will be a very difficult band to beat indeed.
On Sunday they also showed that they also have the ability to win when they have not played to their full potential – a virtue of only the best bands have in spades, and even though both Geoffrey Whitham and Nigel Boddice, the two men in the box were disappointed by the overall standard on show from the 17 contenders they still both felt that Staffs had the class about them to separate them from the rest of the chasing pack.
Band Manager and Chairman Shaun Elliott echoed those thoughts when he told us that '...the band felt that they may have left the winning performance in the rehearsal room as slightly too many unforced errors and a lack of precision in the final movement may have cost them'. It was a refreshing recognition from an experienced player and confirmed what many keen listeners felt: Staffs were good, but they certainly left the door open to be beaten. Thankfully for them, with only the one band to follow them on stage, it was quickly shut.
That also didn't matter for the men in the box either: they liked the confidence that was shown by the band and the way that the band approached the piece. In the judges view, the bands on the day didn't really produce performances of Howell's 'Three Figures' that they were looking for and in Mr Whitham's words 'Never got the feel of what Howell's meant when writing'. That said, it was then admitted that the top three got 'near to it'. In Staffordshire's remarks both judges commented on the musical shape and the feel that the MD brought to the music – not that you could tell by Steve Bastable's demeanor during or after the band played. You sensed this talented and very musical interpreter of brass band scores didn't quite like the piece he had to work on and didn't allow him the usual flexibility he finds in the score to give the music real style and shape.
It was refreshing though that with so many new compositions nowadays that the audience had the chance to capture something from a different era. 'Three Figures' has been forgotten somewhat by contest organisers, but it's not easy both technically and musically (someone remarked it was a poor man's 'Pageantry' – and they were too far wrong what with the innumerable inverted cross references to his former composition littered throughout the piece)
It was as Geoffrey Whitham described though, "..still a very hard test. It's light and delicate and very detailed. It needed a light and delicate approach to make it come off, and not many bands were able to do that."
When looking down the list pf prize winners and their conductors, this was one of those contests where the MDs who really did take notice of who was in the box, and gave considerable thought as to what would meet with their approval were the ones who found ultimate favour.
Staffordshire were our pre-contest tip (and for anyone that scrutinises what 4BR does predict, then you'll know we tipped all but one of the winners for the five sections!) to win here, but in our opinion they were not as convincing as they needed to be on the day.
With five basses in the ranks, the opening section 'Cope's Challenge' and the second movement 'Iles Interlude' were reproduced with confidence and plenty of musical moments and a fine rounded sound, but some uncertainties towards the end, meant it never caught our imagination and left us thinking that this was the winning band – we actually had them fourth.
No band got away with errors, and Staffordshire were no different but Steve Bastable has the knack of pulling a few rabbits of the hat and he did so here. Not quite the big fluffy variety of the Leyland kind, but still one that surprised a few (including quite a few of their own players).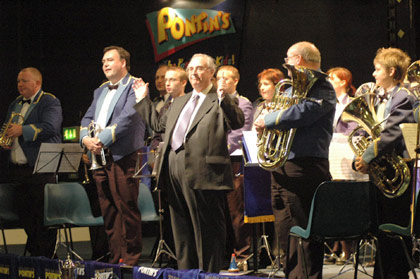 Wingates with MD Dr Roy Newsome: Rinners-up
Our winners were actually the eventual runners-up, Wingates, conducted by Dr Roy Newsome. Dr Newsome's interpretation was one where he gave time for the music to breath with plenty of space and the second movement, 'Iles Interlude' dedicated to John Henry Iles was wonderfully executed with some fine playing in response to the conductor's persuasions.
We'd heard whispers that the band were in good form, and they played with so much confidence and self belief here that they must have thought they were going to take the title.
Dr Newsome though admitted to us that 'they had left the door ajar' and he was aware of a few errors that meant that could cost them and that he wouldn't repeat his success with Besses at The Open in 1983. For us, they'd done enough on the day with Andy McDonald on top man a little unlucky not to have taken the soloist's prize for some great playing.
Dr Newsome lifted the band throughout whilst conducting with that easy laid-back approach that others could learn from. In the end only Staffordshire denied them, but Wingates and Dr Newsome appropriately really turned back the clock on the weekend – although they will hope that it can stay there a bit longer than next British Summer Time.
Fishburn and Chris Bentham was a band that must have paid particular attention to who was in the box and it influenced the MDs interpretation very strongly. Chris had mixed feelings afterwards when chatting to us before getting on the bus to go bark to the North East. He thought they'd done enough to win it on the day from an early draw of number five, but admitted his disappointment at missing out on the top spot whilst being satisfied that his belief in how to approach the piece paid dividends.
We actually had them in fifth place, but they did produce a very musical interpretation that had plenty to admire, and it had plenty of warmth that other performances were missing. The unexpected detour from their coach driver to the venue didn't give them as much time for preparations before performing, but that wasn't noticeable on stage at all. Winning here can be a tough ask but you sense they'll relish a crack in 2006.
Pennine were tipped by us pre-contest to come fourth, and they obliged 4BR well enough by coming just that. Ian Porthouse's troops played very well from the number eleven slot, with once again, plenty of thought given by the MD as to what the judges would look for.
The opening was one of the best of the whole day, full of authority and discipline and you felt that if they carried on like this, not only would they be in the prizes, but they could challenge for top spot. JJ Lees on Principal Cornet was in great form and the second section was delightful on the ear. They did finish well, but more errors in the last movement were apparent than other top three bands and fourth was about right. They are a good band though.
Fifth came Besses who were the first band to make an impression on Messrs Boddice and Whitham off their early number 4 draw. Tim Hynd had a fine day on top man, aided by Alex Thomas who was playing the assistant-principal's seat. Their opening was firm and forthright and clips were minimal in the first part of the performance, but the quality of sound appeared to be a touch aggressive (something adhered to on stage by Geoffrey Whitham whilst addressing the audience) for us and this definitely cost them a higher placing.
The cornet team was one of the nicest of the day though with some fine playing and despite a solid closing section, it seemed the 'band sound' was perhaps a bit too strong in the last movement in particular for what the judges were looking for.
Meanwhile Carlton Main's players looked bitterly disappointed to be declared in sixth place. We actually had them third on the day as they got to grips with some of the trickier moments a lot more easily than others. Kirsty Abbotts was in great form, and the band responded to Brian Grant's direction – they clearly wanted to make this a day to remember and the second movement stood out for us in particular.
It wasn't as musically convincing as Wingates, but we did feel better it was more accurate and technically assured than Pennine and Fishburn. They are not getting a lot of luck in 2005 and this was another occasion when their efforts deserved better. Not winners for us, but certainly a podium place.
Outside the top six, with one or two exceptions, the standard wasn't that great - and that was confirmed by Geoffrey Whitham afterwards. They didn't have the easiest of jobs placing bands in order of merit (apart from those round the bottom end) and this is what can so often make a judge's job extremely difficult.
With a piece so bitty as this (at times it seemed Howell's may have been unsure of where it should resolve itself – even the last few bars sound not quite right) bringing something out of the score with which to make an impression on the judges was exceptionally difficult.
United Norwest Co-op Milnrow should be delighted to have come in seventh place from the early draw of three. It sounded confident at times but a touch scrappy in places too, and if that hadn't had been the case, they may well just have crept into the top six. It was not a performance that really stayed in the minds eye, but it wasn't one that suffered in comparison to other more fancied ones on the day either. Seventh was about right.
Lindley and Tredegar both had moments where they played very well, but both had plenty of untidy moments to be considered as serious contenders. The audience wondered whether a shock was on the cards when it was announced that Lindley's solo cornet (Glynn Nash) had taken the solo prize (and he was the shining light for them in an otherwise workmanlike performance), but it wasn't to be and eight place was their return.
Tredegar meanwhile could certainly have finished higher than ninth if it hadn't have been the scrappiness that appeared in patches. With numerous personnel changes in recent months and the relegation to the Grand Shield, they seem a touch low on confidence, but they'll bounce back for sure and they did produce the best bass led sound of the day by far with real warmth and balance. Plenty to work on for the Welshmen for next year for sure.
Riddings was one of the placings that bemused us, as we had them near to the bottom after a performance which we felt was something of a struggle. They just never seemed to get to grips with the music and wanted to blow their way through the piece. Perhaps we totally misread it, but 10th seemed a tad fortunate, but they won't worry especially as they are a young band (so young in fact that their youngest player was Master Elliot Davies aged just 7 years old. What a future this young man has ahead of him!)
Beaumaris can consider themselves unfortunate to have been placed eleventh from the number two draw (although they were first band on due to a withdrawal who'd been pre-drawn number one). It was a decent show under Russell Gray, but all the 'psyching up' before hand went out of the window when it was discovered on stage that a horn player has mislaid part of their score, leading to frantic scenes to recover it.
Not even the winning conductor of the National Champions can do much to stop that from fraying the nerves, but if anything, that hiccup relaxed them and it was a solid show from them - not blemish free for certain and one we thought would be tough to move out of the placings – we had them sixth. The horn player will a photocopy of their part in their jacket pocket at the next contest we are sure.
BT and Kidlington were not the best at all and you sensed at times they wanted to be heard on the other side of the complex. BT under the usually excellent Michael Fowles was placed twelfth and although they had their moments it felt as if it was a piece that the band didn't like one little bit.
Kidlington, directly below them were another and thought projection of sound was the answer on the day. It was not and the lack of clarity and detail meant 13th place.
Much was expected of Yorkshire Imps after their victory in Harrogate, but this wasn't the same band that took to the stage there, although fourteenth place will probably have been a shock to them as it was for us. It was certainly one of the first readings that at times was very much 'in your face' and this was something not desirable for the judges, but they had more than a few quality moments.
Roy Curran directed with bucket loads of enthusiasm and commitment, but they too sounded a band that needed a more reserved approach dictated to them by the man in the middle. Not wishing to be unfair to the experienced Roy Curran, but Imps certainly missed Chris Houlding.
Finally, Longridge, Welwyn Garden City and Bodmin was placed in the bottom three places from a field reduced from twenty four to seventeen due to bands pulling out.
We may be a cynical bunch at 4BR, but you did get the feeling that a few of the withdrawals, not just here, but in other sections too may have been more to do with the bands making their decision based in what they were pre drawn, rather than on their form.
The pre draw is a welcome approach by the organizers, but it is open to abuse. Perhaps it would be better next year if the organizers copied the All England Masters and only made a pre draw in advance to tell bands what possibly sections of the draw they would appear in. Perhaps that would lessen the drop out rate a bit.
Back to those final three bands however, and each of them never got to grips with the score and struggled from start to finish. It would be wrong to suggest they couldn't play the piece – each had enough about them to make parts of it sound decent enough, but overall it was a struggle.
Bodmin can count themselves more than a little unfortunate to prop up the pile – but the difference between coming 17th and 15th wasn't that great whilst Longridge and Welwyn may want to write the day off as a one off if they are feeling generous of spirit or as a wake up call if they are being more realistic.

It rounded off a pretty decent contest. Not a thriller for certain and not one that will live particularly long in the memory banks either, but still, a pretty decent top section competition. James Scott had made an interesting choice this year for the bands to tackle, and it highlighted what many people can now see is a fundamental flaw in modern brass band performances – the inability to play with a real sense of delicacy and restraint.
Staffs very nearly did it, and so did a couple of the others, but the vast majority of the rest didn't come close. It may not have been a particularly popular choice from the players point of view, but then again, popular pieces are not always the greatest tests. And it certainly tested the bands here to the full.
Malcolm Wood