2005 Pontins Championships - First Section Retrospective
2-Nov-2005
Even in a huge 26 band field there was no doubt about who was the deserved winner here. Marsden and Glyn Williams took inspiration from the Fodens of 1928 and 1964 and it certainly paid off.
---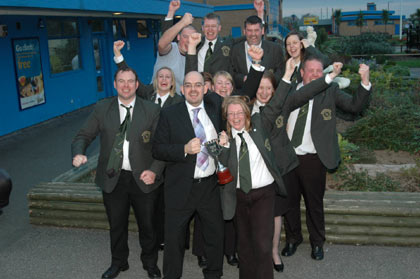 Marsden Riverhead Brewery: Winners - First Section
This was one of those contest victories where from the first note of the performance until the very last, it was a winner and nothing was going to touch it. In a nutshell, that was Marsden Riverhead Brewery under Glyn Williams, who left those who heard it in no doubt that it was a winning performance even with another 16 bands to follow it on.
The only thing that would have stopped them from winning could have been the adjudicators C Brian Buckley and Roy Sparkes, but they are well experienced enough to recognize a corker when they have heard one, and this was a performance of a classic old war horse that was right out of the top drawer. Speaking with 4BR afterwards, Glyn commented 'When the test piece was announced and the band wanted to enter, they were saying it was an old piece, an easy piece, and we will have no problem at all in making a good performance of this!' Glyn was having none of that overblown confidence.
Those words are interesting simply because you wouldn't have minded betting that those thoughts were mirrored across the majority of the bandrooms before the26 bands here had even blown a note in preparation for the contest day. How correct Mr Williams was.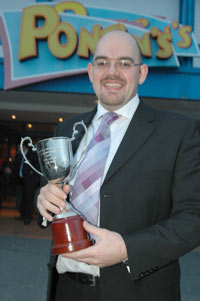 Glyn continued: 'Little did they (Marsden) know that 'Lorenzo' is still one of the great, and hardest test pieces that's ever been writte and after the first rehearsal the band certainly knew they were going to work their socks off to get the better of it.' Those words proved so telling on Saturday as Brian Buckley commented from the stage that 'Lorenzo' had 'stood the test of time' and 'bands didn't have easy time of it'. Fellow adjudicator Roy Sparkes admitted 'he was all 'Lorenzod' out' whilst commenting that 'older pieces are sometimes wrongly taken for granted'.
As we've already mentioned, Marsden won this contest by a country mile. Right from the opening bars, it was so clean, tidy and precise with great projection of sound without the need to over-blow at any point. The slips were so minute that they never detracted from the performance at all. It was polished and buffed up with splendid direction from the MD with the final section beginning with some cracking cornet fanfares that were just superb.
All of the soloists deserves acknowledgement for some fine playing – and this was most definitely a team effort, on a piece that is very close to the conductor's heart.
Foden's victory at The Open in 2004 was forty years after the same band won the contest on the same piece, and Glyn used the original score from 1928 when the music was first used, won on that day by the legendary Mortimer inspired Foden's Band. The old maestro would have enjoyed the latest Foden's player turned conductors interpretation for sure.
The other performances that stood out from the rest for us were Wrexham and VBS Poynton who we had second and third by a distance. However not so Messrs Buckley and Sparkes who declared that it was Blackburn & Darwen who should take the runners-up spot. From the early draw of number four, it was 'the marker' without question, but it did have slips and whilst it was a good show, we had down in fifth place.
Glossop Old came in third place and this was a result that really puzzles us and many who heard all the performances on the day (and 4BR did we can assure you). The band has been rebuilding of late and Jon Davies has done a great job in putting the long term foundations very much in place. It did have some fine moments, but the slips were evident, particularly in the solo lines and the bands soprano player will know that it wasn't the best of days. For the record, we had them eighth.
Jackfield (Elcock Reisen) under John Maines produced a cracking show from the late draw of twenty-three which deservedly took fourth place. It was solid and secure right from the off, but there were tiny glitches, but nothing major, whilst the tempo's were steady, purposeful and came off – where others went for plain speed. It wasn't in the same league (for us) as Marsden, Wrexham or VBS Poynton but they deserved fourth place. John Maines is an experienced campaigner and he certainly brought that to bear here.
Llanrug Silver was another band to play late and make an impression, this time under the fluent baton work of Irishman Jonathan Corry (who was a late replacement to conduct). This was definitely was one of those inspirational performances where the band responded to the MDs direction as he pulled every last ounce out of them. Some of the cadenza style phrases were wonderful on the ear and the solo lines were very musical and this showing was worthy of a top six-berth for sure. They should be delighted with fifth place.
Bedworth's placing of sixth was another one that puzzled us. At times it sounded too strident and hard work for them, but it appealed to the two men that counted - and that was not 4BR was it! Well done to them and the MD for a bold and brassy approach. On another day it could have come much further down the prize list, but on the other hand, if it had less slips the judges may have put it even higher. Strange things contest performances.
The adjudicator's openly admitted that the top and bottom six were easy to sort out, but the problems came with the placing of bands between seven and twenty. It was a good thirty minutes after the last note had been played before the judges came out of the box, and you suspected they'd been doing the brass band version of 'Play Your Cards Right' - Is a band higher or lower than another one?
It won't have been the easiest of jobs particularly as the majority of bands had very little between them and they must be congratulated for the time they took in making their decisions. Nobody would complain that they took their time, as in a field as large as this even small differences can have huge consequences. 10th place or 20th place – there really wasn't much to choose, but choose they had to and for the most part we think they were bang on the money.
There were, however, three bands whose performances should be commented on, and they were the ones that oddly enough finished eight-ten respectively: Hatfield, VBS Poynton and Wrexham (NEWI).
Hatfield it has to be said were unfortunate not to make it into the top six, which is exactly where we had them. Graham O'Connor's interpretation was thorough and detailed, but they suffered from those unexpected slips and it was those that went against them – perhaps a little too severely.
The placings of VBS Poynton and Wrexham (NEWI) really left us completely baffled though. Poynton's Alan Lawton wasn't happy at all when speaking with 4BR afterwards and he has good reason too, because only the judges know why they weren't in the top four.
Alan's interpretation was what you'd expect from a man who knows test piece music such as Lorenzo note by note. The players didn't let him down either, with some fine ensemble and solo playing. The overall quality of sound was good without being overblown either, and the whole performance had a sense of understanding and flow. For us it was the third best performance of the day with quite a bit to spare from Jackfield in fourth place. 9th was a mystery, but then again so is the sport of contesting at times.
Wrexham's draw of number thirteen was certainly unlucky for them. They were the last band to play prior to the comfort break and were the only band to challenge Marsden for us with their full bodied sound, neat compact precision and sense of style and flow. Wayne Ruston knows his stuff and gets the best out of the North Wales outfit and his direction was excellent from start to finish.
The ensemble work and solo playing was top draw, with so much detail shining through. The denial of a hat-trick of wins will have hurt, we had them in second place, but they're probably still scratching their heads as we speak – that's contesting though!
Chalford will have been thrilled at getting in front of Hatfield, Poynton and Wrexham respectively, but for us it was just one of those performances that didn't quite capture the essence of the music – it was all a bit too forceful. It was though very accurate and neat and it certainly made an impression on the men in the box.
The overall quality of sound, the intent on playing it too loud where the acoustic has a major baring, uncertainties in the ensemble and solo lines were all features of the bands who eventually filled those minor placings between 11 and 20.
Drighlington were one of the bands unfortunate not to finish just a touch higher, but Swindon Pegasus, Rogerstone and Tintwistle all produced uneven and inconsistent performances that had errors and glitches that lost them valuable points. Ammanford's conductor, Colin Hogg, tackled the whole thing without a score in front of him, which was a fine effort, especially as there were times when the musical connection between him and his players was tenuous to say the least.
Brackley, Solent and Kippax just about did enough to stay out of the bottom six as did Knottingley and Wakefield. None of these bands started off well, and in Knottingley and Wakefield's case, looked mightily relieved at the conclusion of their performances. All got through Lorenzo without ever suggesting that they had really mastered it. Good in places certainly, poor in places a little far too often.
We can't even disagree with the judges with their selection of bands whom finished in the bottom six, with three of the first four to play (Ibstock, Enderby and Langley) really finding the work a struggle to master. With these three performances under the belt there was reason to fear that the contest as a whole would be hard going, but thankfully that was soon proved an incorrect prediction.
Barnsley Building Society got the 4BR curse by being tipped as dark horses, but they struggled as did Greater Manchester's Moston & Beswick and Maxilead Metals Tylesdley respectively. All will found this a hard days work at the contesting office, but all will be better bands for the experience.
Predictions wise 4BR did ok in this section; besides picking the winners, we had Blackburn and Jackfield in the frame and as we have mentioned, Hatfield, VBS Poynton and Wrexham can consider themselves very unlucky not too have featured.
The day though belonged to Marsden and Glyn Williams who wrapped up this contest off the number ten draw with some style. Without doubt this is a band that has a very rosy future ahead of it, and as they showed on Saturday, they have learnt not to take things for granted at first sight. The MD certainly didn't make that mistake and his band followed his direction and instructions in full. It was inspirational stuff and it was a very deserved victory.
Malcolm Wood