2005 Pontins Championships - Third Section Retrospective
2-Nov-2005
On a day when the tuning problems led to some forthright views from one of the judges, it was Flixton who certainly kept things in check to take the Third Section title.
---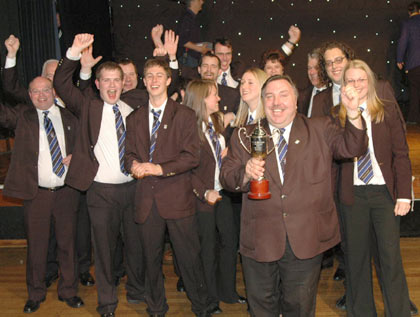 Flixton Band: Winners - Third Section
It is not too often 4BR totally agrees with the judges at a contest, but at the Third Section here you would have been hard pressed to disagree with a single word, or a single placing from Ian Brownbill and David Horsfield.
Flixton directed by Kevin Gibbs were deserved winners ahead of Wardle and District Anderson Brass conducted by Sean Conway, and these two bands were really the only pair in the 12 band field that just about mastered the set work, Howard Snell's difficult, and lengthy 'Excelsior!'
Ian Brownbill is a very talented musician who is not afraid to make bold and confident (and very true) statements about what he has just heard. Not for him the bland or the bonhomie of thanking everyone from the sponsors to the tea lady for inviting him to judge. No. Here is a man that tells it straight – for when he has heard a contest that has been bedeviled by such poor intonation and tuning as this one certainly was, he is as straight as an arrow.
It is a refreshing approach that more judges should undertake (and done in a manner that did not offend, unlike some of late – mention no names, Editor) and all of the bands and their MDs should take not of what he said, for if they do, they would certainly be better bands for it.
The crux of Ian's (and David's) criticism was the amount of poor tuning (which was at times very poor indeed) that was on show even from the better bands on the day. Ian made the point that it was difficult for him to be constructive with his remarks when so often the musical integrity of the performance was so undermined by sheer 'awful' (and that was the word he used) tuning. He was absolutely right.
When he spoke to 4BR after the announcement of the results he did qualify his remarks by stating that he fully understood that it was difficult at this level of banding to sometimes get complete accuracy in tuning between sections and with individuals, but at this particular contest it appeared that not enough care had been taken by the MDs to ensure that the tuning was at least in some proximity to what it should have been. You couldn't disagree.
Flixton, and to the same extent Wardle, although not totally free of poor intonation did provide the judges and the lisenters with the best accounts of the set work. They were clearly in a different class to the rest on the day and after they had played from draw numbers 5 and 6, respectively nothing came remotely close to challenging them.
Kevin Gibbs is a talented young man who has already made his mark as a trombone player with a number top flight bands. He is currently in a second stint with Fairey's whilst he has taken the opportunity to increase his conducting experience with a number of bands, most notably Flixton who have benefited from his clear direction and musical approach.
It hasn't all been plain sailing for the band in the last 18 months or so since he took up the baton, with some surprising ups and downs at contests that they hoped to have done well at. They missed out on the National Finals, but recently have returned to good form. Thankfully there were no problems here and by the time they displayed a firm controlled sound and plenty of reserve stamina in the final extended hymn like section of the work, it was clear theirs was going to be a performance to beat.
As Kevin told 4BR after the announcement of the results: "We worked very hard on tuning and control in the lead up to the contest and I think that paid off today. There is so much detail in the piece, but it is also a very heavy blow. Staying in control and not overblowing through the final section at the end was what I felt was needed." He wasn't wrong there and he went on to say. "This is a great win. The band has made real progress in the last 18 months or so and even though we have had a bit of an up and down year results wise I think this shows that we are moving in the right direction. The band works very hard and we enjoyed the test piece."
The only other band to seriously challenge Flixton on the day were Wardle, directed in splendid fashion by Sean Conway.
The comparison between the two was easily made as they followed each other onto the stage, but the comparison was also evident in the approach as well. Wardle didn't quite have the stamina of Flixton as the piece rather meandered to its over long end (it is a fine concert work this, but not really ideal as a test piece) and it just got a little too brash and hard in places. There wasn't a great deal to choose between the winners and runners up, but clear blue musical water for sure – and a great big river of it between Wardle and the rest.
Third place and the final podium position was taken by the Rainford Band conducted in quite nonchalant style by another fine trombone player, Neil Samuel. This was a nice and relaxed approach (although we would like the MD to dispense with the chewing gum – it really doesn't look good, even if it does help the concentration) and he managed to bring out a great deal of the detail that was contained within the score.
The tuning did go a little wayward in places, but overall this was a confident show, with just a couple little blips (the percussion went awol in one place) that robbed them of points. Third place was bang on the money for us though.
We also had Beuamaris B and Paul Hughes in fourth place after they put in the first definitive performance of merit from the number 4 draw ahead of Flixton and Wardle. Again, it was a neat and tidy approach from the MD and the band that was pleasing to hear, but the tuning in the slower movements did grate quite a bit and there was no real chance that it could have resulted in a higher overall placing come results time.
We had Whitworth Vale and Healey and Leicestershire Co-op the other way around from the judges on the day – but in truth there wasn't very much to choose between two performances that had a lot of merit in their approach but were fatally let down by intonation problems between the various ensemble sections. Fine in parts, pretty dire in others.
Out of the top six and those intonation gremlins really had a field day and most unexpectedly so with Phoenix West Midlands Brass conducted by David Bishop Rowe. The last couple of times we have heard this band they have been excellent – good compact ensemble, solid soloists and good intonation. For whatever reason, this time, not one of those virtues were on display and it was a performance that started OK but soon went downhill. Any band can have a bad day at the contest office and we think this was one of those occasions when it just didn't click from the word go. That they came 7th says a lot for the standard of the bands behind them.
The bottom five bands did come in a clear order, but it was an order that didn't really leave any impression of quality at all as the tuning went from bad to worse, and then some more. The acoustic in Lunars Bar may have had something to do with it, but as the bands were sat on the floor and not on the stage it did allow for some resonance.
No, these were just pretty poor performances. Middleton started well enough but soon the problems in intonation crept in and by the time stamina had started to wane it was a real struggle on the ears. They were the best of the rest though.
Dinnington also had their moments, but some real difficulties in the slower sections meant that Toby Bannan had to work hard to keep things on track. His band did show character to recover after a couple of real hairy moments but the tuning never got out of the critical zone and it showed.
Much the same can also be said of Newtown, who we definitely know are a better band than this under the baton of Steve Edwards. This though was a genuine bad day at the office and the tuning in places went not so much awol as totally disappearing.
Finally Croft Silver and Porthaethwy Menai Bridge. Croft started off the contest with a poor show that was so troubled by tuning difficulties that the good work that was put in became redundant. It was a pity as there is talent around the stands here and Steve Burton certainly knows what he was doing, but they will have to spend some considerable time tuning up in the bandroom, possibly before they take to the stage next time here.
Ditto for Porthaethwy Menai Bridge who we have certainly heard on better form than this in the past. This wasn't a good show though and they could have little complaint about their final result, although just like Croft they too have the talent around the stands to improve dramatically if the will and character is there. We hope it is.
It rounded off a somewhat lack lustre contest for us, and we think for the two men in the box. The winners and runners up were good value, but there after it became a task of picking the best from a pretty mixed bag. Well done Flixton though, a win is a win and this one was well deserved.
Iwan Fox