2005 Pontins Championships - Mortimer Championship: Intro & Prediction
26-Oct-2005
4BR will be at Pontins this weekend when over 100 bands will try and take home with them the 5 Pontins titles on offer. The Championship Section meanwhile offers a real test for some very well matched bands.
---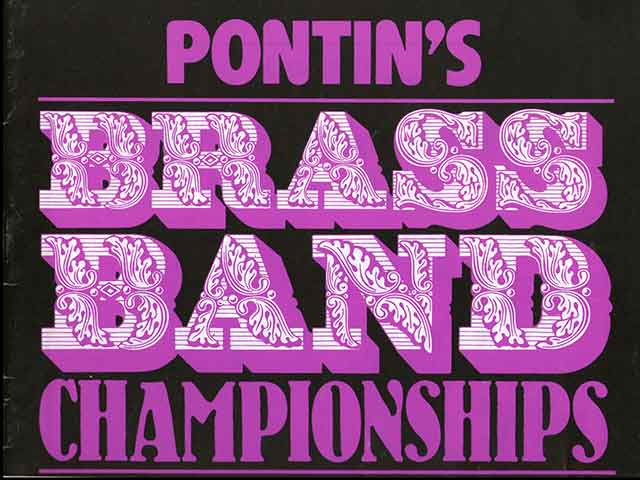 The Harry And Margaret Mortimer Championship
Sunday 30th October 2005
Venue: Fun Factory Ballroom
Draw: Pre-Drawn
Commence: 10.00am
Test Piece: Three Figures – Herbert Howells
Adjudicators: Nigel Boddice And Geoffrey Whitham
First Prize: £2,500
Second Prize: £1,300
Third Prize: £700
Fourth Prize: £450
Special Award: To the youngest player in the section
Best Soloist: The Arthur Bedwell Memorial Trophy
Controller: Frank Hodges
---
The Harry and Margaret Mortimer Championship may not attract the very best bands in the country to compete here at Prestatyn, but it still draws in a strong selection of ensembles. The eclectic mix includes bands on the up, bands in decline, bands with realistic ambition and those with ambitious but unrealistic hopes. It always makes for an interesting and at times very exciting event.
The Championships are also one of the most unpredictable contests to pick out potential winners and just like the Grand Shield it has a reputation of being one of the hardest to win. Some very good bands have come here in the past and have fallen short when the form book cried out that they would walk away with the handsome top prize. Last year was no different as the Staffordshire Band under the direction of Steve Bastable took the honours ahead of Tongwynlais in second place. Neither was really fancied before the contest, but they still left the likes of Ransome, Hepworth and Pennine Brass in their wake.
Staffordshire are back again this year, stronger and certainly one of the more fancied bands, but it is now 6 years since a band has returned to defend its title successfully. Staffordshire will be short odds for certain, but will the trophy be heading for yet another new home this year?
Yorkshire Imps will surely be one of the bands fancying their chances on the back of their fine First Section National win at Harrogate, whilst Tredegar will be keen to show that their rebuilding process is well under way after losing their place at the British Open.
Six bands who are just a step away from the British Open are here in force too and will be eyeing up that top prize of £2500 Pennine Brass were placed 5th at Blackpool ahead of BT (8th), Besses (9th), Beaumaris (11th), Carlton Main (13th) and Fishburn (14th). All of them have quality players in their ranks and all could well top the podium come results time.
Staffordshire will of course be in the Grand Shield in 2006 after coming runners up at the Senior Cup in May, and their current good form could well see them in the mix as well. Fellow Senior Cup contenders this year, Wingates (who came 9th) and Lindley (who were 12th) have more than enough about them for sure and Senior Trophy competitors Welwyn Garden City (14th), Riddings (15th), Kidlington (16th) and Longridge (20th) will be looking to impress.
Bodmin has been quietly but effectively rebuilding over the past two years and and United Milnrow who came 14th in the First Section here 12 months ago are solid and competitive enough to make a mark.
If it is then the 17 competing bands will have to get to grips with a tricky set work – Hubert Howell's 'Three Figures'. James Scott continues to make interesting traditional choices from the banding repertoire – works that have usually been neglected for far too long (last year it was Gregson's Dances and Arias) and this years choice should prove to be an interesting and enjoyable test.
Written in1960 for the National Championships of Great Britain it has been only sparingly used since. It is not seen as a composition in the same class as his celebrated 'Pageantry' but like that classic it is a piece that has weathered better than many other compositions of the same period. The three movement work takes its inspiration from the three great figures of the early twentieth century banding period: Samuel Cope, John Henry Iles and William Rimmer.
The work though is very much of a time before the 1960's – a period piece if you like, but one that still retains a sense of things to come. It is not as an affectionate a piece as you may think: each movement is about character and the alliterative titles do have duality of meaning. 'Cope's Challenge' is signposted by three main markings – the first the bold passages of the opening, the second the fanfare like passages that decrease in intensity and end in melancholy, and finally the cantabile theme originally given to the euphonium marked 'con moto' – the basis of the whole thematic material of the section. Bands will have to show the differences in full.
The second movement takes its inspiration from the great entrepreneur, Iles – a brief sarabande like movement serene and mystical – a bit like the man himself who was renowned for his 'deep running waters' outlook. This is serious, calm and placid and quietly sad, as Isles himself became bankrupt at the end of it all. It is marked ppp in places so bands who can really play quietly can expect reward.
Finally, the verve and excitement of Rimmer's Race – written to musically describe perhaps the greatest of all brass band conductors. Surprisingly, the composer writes in a rough and rugged manner with surprising chord structures heightening tension between sections of the band – a picture of Rimmer's ever increasing workload and almost unbelievable approach to the conductors art. He retired exhausted after his final triumph with Fodens in 1910. There is a moment of repose halfway through – as if the great man was catching a breath before further exertions, but it ends in splendid almost furious majesty marked Assai Ritmico.
All 17 bands here are more than capable of winning the title (and some have done here on more than one occasion) but a few bands do appear to have the class and the good form under their belt at the right time to really make a mark and carry away with them the £2500 top prize.
We will have to wait until Sunday evening to find out who it is, but this is who we think may well be in the prizes come results time:
4BR Prediction:
1. Staffordshire
2. Carlton Main Frickley
3. Yorkshire Imperial Urquhart Travel
4. Pennine Brass
5. BT
6. Besses o' th' Barn
Dark Horse: Tredegar