2005 Pontins Championships - Preview: First Section - Runners and Riders
26-Oct-2005
It should be a keenly fought fight in the First Section as a whole raft of bands will make the trip to Prestatyn confident of picking up the top prize on a classic work from bandings past.
---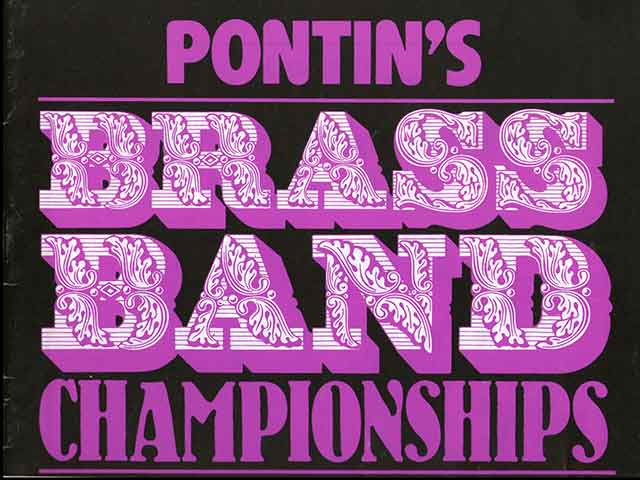 Saturday 29th October 2005
Venue: Fun Factory Ballroom
Draw: Pre-Draw.
Commences: 10.00am.
Test Piece: Lorenzo – Thomas Keighley.
Adjudicators: Brian Buckley and Roy Sparkes.
First Prize: £1,750
Second Prize: £900
Third Prize. £650.
Fourth Prize: £450
Special Award: To the youngest player in the section
Controller: Frank Hodges
---
Welcome to the opening banding marathon of the Pontins weekend. The First Section gets under way on Saturday morning with twenty six bands doing battle on Thomas Keighley's 'Lorenzo'. It promises to be a really good contest and despite being used three times previously for the National finals, 'Lorenzo' has plenty within it to test the bands and conductors alike, whilst being an enjoyable listen for the audience.

With so many bands competing, fingers crossed that adjudicators Brian Buckley and Roy Sparkes get at least one comfort break during the contest; 'Lorenzo' may be only just over eleven minutes long, but the odd breather will be appreciated for sure.

Those who've sat and listened to recordings of 'Lorenzo', whether it be on the recent recording from BAYV (Brass Band Classics III) or a recording from Fodens' Centenary double CD (in 1999) dating back to 1966 under Rex Mortimer (to name just two) will be all too aware that the tone poem will prove to be a stern test.

It's stood the test of time of course. It was written for Belle Vue in 1928, where on its first outing, Fodens and William Halliwell took the honours, before reappearing in 1942 and 1964.

Keighley wrote around a dozen works for brass bands with a number of them inspired by plays and literature. 'Lorenzo' takes its name from a character featured with 'Merchant of Venice' by Shakespeare. Shakespeare's play evolves around romance, deceit and greed, not forgetting friendship and Keighley's work captures all of these ingredients with melodic lines and a few dramatic moments, in what was considered his finest work for band.

The quality won't just be in the music, there are some fine bands whom will battle it out for the £1750 top prize on offer. That is a fair bit of bunce for what many may think will be a bit of a walk in the park, but 'Lorenzo' can still more than catch out the unwary and it is a piece that will require a fair bit of attention to detail and dynamics. It is not Wilby or Sparke or even Pickard for sure!

For three of the bands, Bedworth, Hatfield and Wrexham, they come face-to-face once again, a month after Harrogate, with the Welsh contenders under the baton of Wayne Ruston defending the title they won last year. Wrexham hold the bragging rights at the moment after their 5th place in Harrogate, although Hatfield also put in a fine performance to come 6th, whilst Bedford found it a bit more tough and ended up 17th.
It also promises to be a decent battle between the bands from the Yorkshire and North West regions who'll want to stop Wrexham from repeating last year's triumph.

Make no mistake, Hatfield Coal are a quality outfit who are quite capable of taking the title (they came 6th here last year) under the canny baton of Graham O'Connor, and you sense any disappointment in coming sixth at Harrogate will be a distant memory. They should give gave Messrs Buckley and Sparkes plenty to think about.

Marsden Riverhead Brewery narrowly missed out on a trip to Harrogate at the Regionals this year and under the multi talented Glyn Williams are beginning to be a band not just to look out for in the results, but to listen too as well. They'll be hoping for a decent draw as well, having played off number three in Bradford in March and even at the Tameside Open in April.

Barnsley Building Society and John Hopkinson will be looking to produce the same sort of form that brought them the Second Section title here last year whilst Drighlington, Kippax (who have had to overcome the loss of their repiano player) but who have enjoyed good form of late and Knottingley will all be looking for better luck on 'Lorenzo' than they had on 'Comedy' earlier in the year.

Blackburn & Darwen directed by Nick Shepherd along with Vernon Building Society Poynton head the contingent from the North West that we'd expect to do well here (they were 12th last year). Blackburn came third at the areas, only missing out on a National final appearance by one point and were 11th here last year, and what Alan Lawton doesn't know about 'Lorenzo' isn't worth knowing, and after their success at Buxton will go to North Wales in confident mood.

Maxilead Metals Tyldesley were a disappointing 24th here last year and will therefore be looking for a far better return this time around under Robert Taylor whilst Moston & Beswick directed by Stephen Rogers will have their say on the regions bragging rights (they were a slightly better 21st), even more so with Tyldesley, pipping the fancied Poynton by a place at the areas in March.

Glossop Old were battling in the Championship Section here twelve months ago (they came 16th) and will therefore be looking for a chance to show that they can still perform like a top section band. Tintwistle geographically are on the periphery of the North West region competing at many local contests whilst going head-to-head with rivals in the Midlands for National glory and MD David Shutter will be looking to bring some glory and prize money back to the bandroom for sure.

Glossop sat out the 'area' this year whilst Tintwistle had an off day on 'Comedy'. Glossop though have been rebuilding of late and if Jonathan Davies can get them to shine on the day, they should do well here.
Joining them from the Midlands are some fine bands who will fancy their chances of doing well here in what will be a marathon contest.

Pageantry was too much for Bedworth at Harrogate so they'll be hoping that Lorenzo suits them better here and they will also be looking to improve on last year's 19th place.
Keep your eyes on Brackley, Ibstock, Jackfield (Elcock Reisen) and Langley – all of them, more than capable of putting on good performances in the right place and at the right time. Brackley came 15th here last year, whilst Ibstock put in a good showing to come 7th. Jackield will want another top ten place here for a second year in a row.

The contest's 'host nation', have four contenders in this section. Reigning Champions, Wrexham (Newi) just can't be overlooked at all, and they're joined by Ammanford Town who were excellent in coming 3rd here twelve months ago, Llanrug (who were a disappointing 22nd) and Rogerstone.

The bands possibly making the longest trips this year will be those from the West of England in the shape of Swindon Pegusus Brass who will be looking to improve on last year's fine 5th place and Chalford, who came 17th. Both won't want to make the long trip back home empty handed, whilst Solent Brass, make the long journey to North Wales from the South Coast.

We've told you who is involved, but who do we think will be crowned winners on Saturday?

This is going to be a close old contest to call. Lots of the bands here can more than take this piece by the scruff of the neck and shake a winning performance out of it, but a lot of them may just shake the living daylights out of it and find themselves out of the reckoning.
Still, form and quality should tell and that is why we have gone for the following top six and dark horse.

4BR Prediction:

1. Marsden Riverhead Brewery
2. Wrexham (NEWI)
3. Hatfield Coal
4. VBS Poynton
5. Blackburn & Darwen
6. Jackfield (Elcock Reisen)
Dark Horses: Barnsley Building Society