2005 Pontins Championships - Preview: Second Section - Runners and Riders
26-Oct-2005
A huge turn out of bands should mean a marathon not a sprint to the title here, but with a very crafty choice of test piece that makes demands on the musicianship of the performers, it should lead to a long but enjoyable day.
---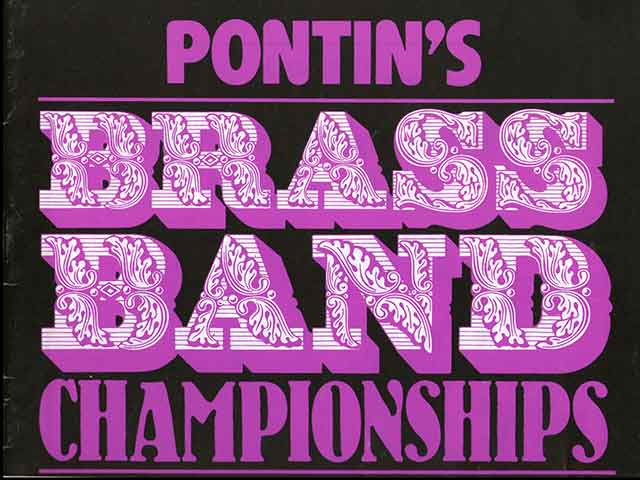 Sunday 30th October 2005
Venue: Lunars Hall
Draw: Pre-Drawn
Commence: 9.00am
Test Piece: Laudate Dominum - Edward Gregson
Adjudicators: Brian Buckley & Roy Sparkes
First Prize: £1,750
Second Prize: £900
Third Prize: £650
Fourth Prize: £450
Special Award: To the youngest player in the section
Controller: Colin Morrison
---
You wouldn't mind betting that the one thing Brian Buckley and Roy Sparkes won't be doing on the way home after their weekend at Pontins is listening to a brass band. The two judges will have benefited from the extra hours sleep on Saturday night (it's the weekend the clocks go back in the UK) having contended with twenty four performances of 'Lorenzo' in the First Section. It's a little strange then that these two well respected adjudicators should get more of the same on the Sunday with another twenty six bands doing battle in the Second Section.
This time, Brian and Roy will listen to one of Professor Edward Gregson's finest works for band, 'Variations on Laudate Dominum'; an early work that climaxes with the well known hymn 'O Praise Ye the Lord'. It's a very good choice for bands at this level as it combines the true brass band virtues of tunefulness and balance with a fine sense of lyricism.
As with all of the sections over the weekend, Gregson's work should prove popular with both band and audience, leading, hopefully to some fine performances.
Once again, the contest has strong representation from both Yorkshire who have six and the North West who have seven; Wales has three, whilst the remaining bands will have longer journeys to Prestatyn.
The First Section had representation within it from the finals in Harrogate and it's the same here with Hebden Bridge, Lockwood and Wire Brass all competing along with United Norwest 2000 who won the Third Section here in 2004.
Wire Brass took the runners-up spot for their performance of Belmont Variations in the Nationals, and you can expect them to put on a good show here as well – they were very good in Harrogate. Paul Andrews has nurtured a fine group of musicians, who want to play for the band and the conductor and we think they could be a band to beat.
Lockwood Brass edged out Hebden Bridge in Harrogate by one place with them finishing eighth and ninth respectively and both will be looking for improvement and a top six challenge here. Lockwood were in the Third Section here last year (coming 7th) and Hebden Bridge claimed 3rd place here – so both could well be in the mix come the results.
Boarshurst, Delph, Eagley, Hawke Green (Marple) & Hoover (Bolton) Band make up the contingent from the North West and you can expect some strong performances from within these bands.
Hoover under Chris Wormald will compete in this section having come up from the Third last year where they came runners up, and will be one of those bands who you can be certain will be there or thereabouts. Nothing will have been left to chance in terms of preparation and they will want that have that winning feeling back in their veins.
Boarshurst and Delph might be neighbours but they'll be keen to get one over each other here, having finished side-by-side at the areas. The respective MDs, Jonathan Webster and Philip Goodwin both will know the piece inside out, and will be hoping their ensembles give that winning performance. Boarshurst were 13th here last year in the Third Section whilst Delph were 11th at this level. It could be a fascinating battle of musical wits.
Another North West contender hoping to make an impact will be Eagley under recently appointed Foden's top man, Mark Wilkinson. Hawke Green (Marple) will be another band looking for some divine inspiration from the score for their performance also.
Yorkshire's challenge comes from Elland Silver, Frickley, Hebden Bridge, Meltham & Meltham Mills, Strata, Greenhalls and Wetherby.
Elland were 7th here last year and after their recent trip away Morgan Griffiths will be looking to put some conducting silverware on his shelf at home (if he has got the room) whilst Frickley will be looking to put a quality show here as well. Ian Craddock's Hebden Bridge stand out from their county counterparts here (they were 3rd here last year) and should be confident of doing well although David Hirst will have Strata Brass methodically prepared. Meltham and Meltham Mills under Stuart Fawcett cannot be discounted after coming 6th here last year and Wetherby will also travel with hopes of really making a mark. Greenhalls were 9th here last year, so they too will be looking to get a few rungs further up the prize list.
Travelling just a touch further from the North East comes Lockwood Brass, who competed well in the Nationals in coming 8th and were 7th here last year in the Third Section. They will be ones to look out for.
Foresters Brass 2000, Moulton Brass '77, Audley Brass and Stourport-on-Severn form the challenge from the Midlands with all three of them looking to challenge for the prizes. Foresters Brass were 5th here 12 months ago and Stourport were 12th so both will fancy their chances to do well. Audley will also be looking to do well here after coming 13th 12 months ago.
Lewis Merthyr, Conway and Rhyl represent the home nation with the latter pair not having the longest journeys of the weekend. Nice to see Lewis Merthyr make the trip, whilst Conway were 8th here last time out and could well feature highly once more. Rhyl cannot be discounted either.

The longest trip honours go to Capital Concert Brass, Forest of Dean, St Dennis and St Stythians – all of whom will be looking for some reward for their efforts., with the Cornish bands in particular ones to look out for.

So who do we fancy will come out on top then in what promises to be a closely fought contest?
A difficult one this as the test piece should have something in it to suit just about everyone on the day.
Quality players and quality direction should prove the difference for us though and that is why we have gone for a top six and dark horse in this order. You never know, we may even be right!
4BR Prediction:
1. Wire Brass
2. Hoover Bolton
3. United Norwest 2000
4. Lockwood Brass
5. Hebden Bridge
6. Delph
Dark Horse: Boarshurst