2005 Besson National Championships of Great Britain - Contest retrospective
18-Oct-2005
Off a terrible draw and against some pretty stiff opposition coming straight after them, did Leyland really did shock us all by winning the 2005 Nationals?
---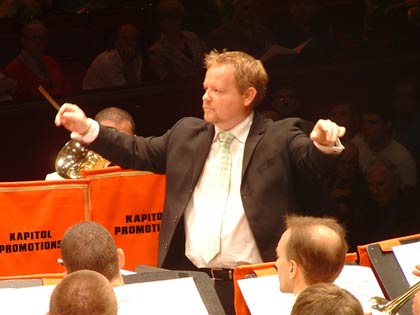 Leyland MD Russell Gray in action
Photo: Copyright Fitzgerald/Coles 2005
Audio Interviews:
Iwan Fox talks to winning MD Russell Gray, best instrumentalist trombonist Runar Valheim Vaernes of the Leyland Band, Composer of the test piece, Eden, John Pickard and the three adjucators, David Read, Malcolm Brownbill, John Berryman.

Listen to audio interviews [MP3 1.9Mb]
---
Was this a shock then? Of course it was. No point trying to deny it. Was it one that came right out of the blue though, like a latter day Marple or City of Coventry at the Open a few years ago? No.
Leyland played very well and put themselves in contention for the podium places with a performance of real merit. In all honesty though, not even their most dyed in the wool supporter could really have thought that they had done enough to stave off the other 19 performances on the day. Top four without a doubt; top three, possibly; top two, with a bit of luck. Winners though? Not really.
That is not to say that it was not deserved. Any band that wins deserves it. The only decision that matters is the one that comes from the three adjudicators in the box, and it was Messrs Read, Brownbill and Berryman who heard all the bands and honestly found themselves making a decision that they believed was right.
Others may have disagreed; some may have found it a shock, whilst a few ill-mannered louts thought it worthy of booing. That doesn't matter now. Leyland won the 2005 National Brass Band Championships of Great Britain and that is all that the history books will record.

Every band and their conductor knows the form, the rules and possible outcomes before they take to the stage. Every supporter and casual listener knows this too before they sit down to form their own opinions on the performances themselves. Every media critic as well – 4BR included.

That is brass band contesting. Love it or loathe it that is what makes it so unique and at times so gloriously unpredictable. 4BR had Leyland down for 4th place at the end of the 20 performances of John Pickard's wonderful 'Eden'; others possibly higher, some probably lower, but there would have been very few indeed who didn't have them in the mix come the results.
It was a shock that they were announced ahead of Black Dyke, BAYV and Grimethorpe – the three bands that had made the greatest impression on the audience throughout the day, but it was not a shock that they were being considered for the title with them.
As Leyland's MD Russell Gray told 4BR: "It hasn't really sunk in yet. I don't know what to say. I knew we played very well, but to win was just something else." And a little later: "Everyone is delighted. The shock of the win could have knocked me over when I first heard it, but since then I have come to terms with it. It really is a great feeling."

That was an honest appraisal all right. A fine show, but all things considered, perhaps one that he honestly felt may not have done enough to win from an early (and historically unproductive) draw.
The judges were confident though that they had made the right decision, and their comments highlighted the fact that Leyland had produced a consistent performance that met both the huge technical challenges that were apparent in the second section of the work, and the lyrical playing required at both the beginning and at its end. The final section with its laments was singled out as the key to their victory.

As David Read said: "There were six fantastic performances, but one or two just were knocked off the top spot by little lapses. The best bands played the fiery stuff so well, but just didn't maintain it in the laments and that was the difference. We are sure we got it right."
And in their mind – the most important minds, that was gave it to Leyland. Not a shock to them, but a shock to others perhaps – 4BR included.
The 2005 Nationals were a fine event. The test piece proved to be an absolute corker – so much so that the audience for even the less fancied bands didn't resemble the lame and forgetful after the first three rings of a fire drill bell. Plenty took the opportunity to stay in the hall to listen.
Meanwhile, even though there were a few gripes about the cost of the study score, it was a very high class bit of work and easy to read. The programme hadn't gone up in price (unlike the ridiculous prices in the bars) and the swift and professional back stage crews hired by Kapitol ensured that bands were catered for very well and the break between bands kept to a minimum. Much has been said of Kapitol's short tenure as event organisers here, but credit where credit is due – they are doing it rather well.
Just about bang on 10.00am the St. Austell Band took to the stage to give the first performance of 'Eden' by John Pickard. It was appropriate in its way that they were the band to do it, as they are based so close to the inspirational structures and bio domes in Cornwall that so inspired Pickard to close his work with such an uplifting feel.
After a nicely judged 'Queen' (no sign again this year) complete with tasteful diminuendo to end, they were ready to give the world premiere. And for such a young and inexperienced band they did themselves proud.
A solid start, with a perfect opening soprano D, was just affected by some individual nervousness, but David Loukes allowed the music to unfold. The wickedly difficult middle section of the work from the entry of the trombone quickly highlighted what terrors were in store for the competing bands, but they battled through to the final section where a lack of stamina and a lightness of sound just robbed the of the drama that was needed to quite reach the sense of fulfilled restoration that was required.
It was a decent premiere though and one that they could be proud of. St. Austell will be a band that will return here on a regular basis in the years to come. 19th was a bit severe for us and we had them for a well merited 14th place on a day when many others found 'Eden' no stroll in the park.
Whitburn are on a crest of a slump when it comes to the luck of the draw at the majors at the moment. As Andy Duncan said to us just after they heard their fate before playing: "If we added them all together we wouldn't get a good one at the moment!"
It seems to have affected them mentally too, as they started very poorly in the opening introduction leading to a insecure euphonium 'quasi recitativo' and opening section. Once they got their heads in order though they were very good indeed, with Mark Boyd on trombone quite outstanding and some fine bold and powerful ensemble work in the middle section backed up with a good final section.
It was too late though, and coupled with the draw their performance fell down the field as the day wore on. Oh for a decent draw and the real Whitburn will surely show their class. 11th on the day – we had them 13th. They are though, a band that could do with a bit of luck with the draw in future.
Cwmaman directed by John Hudson know a thing or two about early draws (especially at the Open), and here they too found themselves with the handicap of trying to create an impression very early in the proceedings. It was not to be as a hesitant opening few bars led to a lack of security in the opening third of the piece.
Thereafter it improved – but only marginally, and although Steve Howells on trombone was on good form the ensemble work lacked precision and character. By the time of the laments the tuning was suffering too and it ended in a big but harsh climax. Cwmaman are a band on the up, but this was a difficult performance. 15th from the judges was about right. We had them 17th.
With three bands gone, you sensed that a good number of the audiences were starting to get itchy feet. The piece seemed very difficult (and the study scores certainly showed that), and it needed a performance of merit to bring the contest to life. Redbridge did that.
Melvin White was the most experienced MD on show on the day and over the past few years he has moulded Redbridge into a very competent contesting unit. The results have not been spectacular, but they have been on a gradual upward spiral and here they finally and deservedly pushed their way to the next tier.
This was a measured performance, especially in the manic second section as Man descends to the abyss and his final annihilation. Here the MD lopped a bit off the tempo and allowed accuracy to feature in the ensemble lines. It worked too – especially against some of the more maniacal attempts later in the day. The opening section was a bit too obviously muted, but a wonderful bit of euphonium playing from Lisa James on the voice of Adam at the beginning (a very successful bit of gender reversal) set them up for the task ahead.
Tiredness may have crept in towards the very end, but it was the first performance to make you sit and listen. Melvin White deserves the plaudits for his intelligent approach, whilst his band deserved their result. 7th from the judges, 9th from us. London has a band that can now compete against the best in the land.
At this point 'Eden' was unfolding before us in all its glory. It was undoubtedly technically very difficult, but it was also so beautifully crafted and the music, especially in the last section was quite magnificent. The main individual challenges had also come to the fore with the opening voice of Adam (the 'quasi recitativo' euphonium solo) and the two individual tour de force trombone features the ones that caught the ear.
Why on the day so many euphonium players choose to play their opening contribution with such alacrity was beyond us. As an intended musical description of the rhythms and inflections of the spoken voice (in this case Adam in the Garden of Eden) many sounded like Peter O'Sullivan describing the last furlong of the 2.30 from Kempton Park.
John Pickard told 4BR that he did not write his piece to include the 'usual hoops and hurdles' to test players for testing sake. This was a musical statement reflective of the chosen subject matter. With a few exceptions on the day (notably David Childs) very few realized its meaning.
The same went for the trombone solos. The first (the description of the snake showing his fangs and rejoicing in Eve's poor bit of fruit picking) was marked 'ferocious' and 'theatrical' – real OTT stuff. It was the chance for trombone players to really go to town, yet most didn't take the chance to show off enough and sound like the cartoon eye boggling serpent Kaa out of Jungle Book. Too many were timid, yet given the chance to show their seductive powers a few bars later many opted to bite their prey on the bum and forget about the foreplay.
The second jazz inspired riff in the second movement was a technical tour de force, and it was simply too difficult for many of the performers. Lots put in decent efforts, given that so many had to do it at the ridiculous speed wrenched up by their conductors in a hope to mask the technical deficiencies of their bands through volume and speed, so many simply didn't have a hope in Hell – and that was were the music was supposed to be going anyway!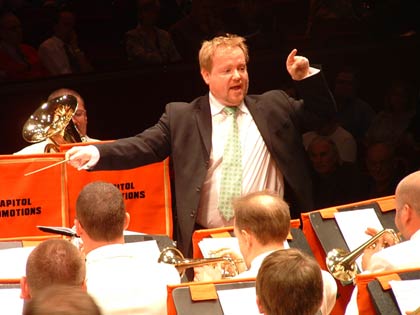 Russell Gray directs the winning Leyland Band
Photo: Copyright Fitzgerald/Coles 2005
Still, with all this in mind, Leyland, resplendent in their new white jackets and black trousers took to the stage to give what proved to be the winning performance. Not that anyone really knew it at the time.
There was a lovely warm feeling to the opening section, although it was not error free, but Runar Valheim Vaernes on trombone started the second section with a brilliant bit of pantomime playing that brought him the best instrumentalist prize. He was quite excellent and the second jazz riff was corking stuff. All this was backed by accurate and detailed ensemble work and the effect was further enhanced by some lovely pleading laments (the area which so impressed the judges).
A big bold close and it was in a different league to the four that preceded it. It had to beat the 15 to come though, and even though we stated: 'A very fine performance that deserves reward' in our overall summing up after they played, first prize and the title was perhaps was not quite what we thought it would get. In the end the judges made the only decision that mattered. We had them 4th.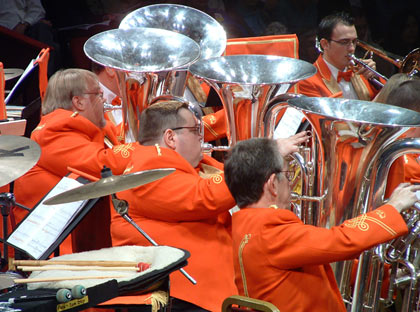 Buy As You View's 'big' bass section
Photo: Copyright Fitzgerald/Coles 2005
The reason why we had them behind Buy As You View who took to the stage after them was that we felt that they gave a quite fantastic performance that had so much detail allied to two quite outstanding soloists.
David Childs proved once again that he is in a class of his own with his contribution (with a beautifully elongated and elegant 'voice' of Adam), whilst Chris Thomas on trombone was simply stupendous. Both his contributions were of the very highest class, both technically and musically, and he could count himself a little unlucky not to have gained reward for his efforts.
There was very little we could fault with this performance. The opening had such control and atmosphere whilst the second section was a display of technical virtuosity. The final section was awesome in its control and spectrum of dynamics, but as one observer did say to us, it may have just lacked a bit of heartfelt warmth. In the end it couldn't beat Leyland (they were placed two points behind) and by the time the contest had come to an end they had dropped a further place down to 3rd. We had them 2nd – again, but a very close second indeed. Any band that beats them on this form deserves to win a National – and that is what Leyland did according to the judges - but not according to the vast majority in the hall.
After BAYV the contest rather went through a bit of a subdued period right up to the comfort break.
Aveley and Newham are a good band who had a very poor day. The decision of their MD to split his time between them and Bournemouth may have been done out of a genuine desire to not let anyone down, but in the event Aveley sounded under rehearsed and lacking in confidence.
Nothing went right both in the ensemble or the individual lines and by the time of the finale and the standing trombones (why oh why was this felt to be a good idea was beyond us, as although marked to be 'very prominent' it was not marked to 'blow the heads off the first four rows in the hall'). It rounded off a pretty miserable performance from a band that is obviously so much better than this. 18th from the judges and 19th from us.
Reg Vardy and Ray Farr came here hoping to show that their third place of 2004 was not a one off. However, as they have done throughout this year they haven't really been able to consistently recapture that form and once again it was a performance that never quite delivered on the promise that it showed in parts. It had its moments, but it also had its discomfort too and a final placing of 10th from the judges and 11th from us was par for the course.
Fairey's will be a little disappointed that they didn't quite do enough to challenge higher on the day too. An uncertain start (was the glock the wrong pitch?) took time to recover but thereafter it went along well enough without ever quite capturing the listener by the throat. Perhaps Simon Stonehouse is too nice a chap, but it neded a bit more devil in the soul in the descent to the abyss and the final laments were not all 100% secure. The over ringing tam tam summed it all up. Just a bit too untidy and lacking discipline to register, but one that promised much for the future. 8th for both the judges and us was right on the money.
Woolley Pritchard Sovereign rounded off the first half under Steve Bastable with a solid and secure enough account that did what it set out to do and nothing more - or crucially, nothing less. This too had its moments, but also its weaknesses and strangely for a Bastable led show it sounded a little lacking in musicality. They will be happy with 12th we think, but we had them 10th and it could have been higher if they just taken a few more risks.
Halfway then and a top three for us of BAYV (by a sizeable margin), Leyland (who we said should hang in there – it deserves it) and Fairey's. After that it was up for grabs.
The next five bands though were a real mixture of the good, the unlucky and the poor.
Tavistock Chester-le-Street Riverside at number 11 and Bournemouth Concert at 13 were poor. No doubt about it, although both did try to master the huge technical and musical hurdles 'Eden' placed in front of them.
Both though suffered with nerves, poor tuning and a desire to obliterate the detail in the second section through volume. Tavistock were bravely led by Ian Robinson and had to also overcome the lack of a bass trombone who unfortunately was taken ill prior to the contest. In the end though the experience will have done them a world of good, although they will have found out a very hard truth about contesting at this level. It is very hard at times. 20th from everyone was their return.
Bournemouth also suffered the same problems right from the start when the glock took off at a tempo ahead of the band. It settled well enough after that, although the technical obstacles proved very difficult to overcome with any sense of ease. In the end they should be delighted with 13th place against this standard of opposition and there is much to work on here. Interestingly it was a slightly different reading from the MD Nigel Taken as well, and it more suited Bournemouth than it did Aveley. We had them down for 18th, but well done to them as well especially as they had to put up with some cretinous booing from certain louts in the hall after they played.
The unlucky band were BTM and Philip Harper who eventually came 16th, when we had them heading towards a possible top ten place for the most part. Why the difference for a performance that was invariably neat and well managed and featured some solid solo lines? We don't know, but every contest throws up a strange result (and we are not talking the winners here either). A solid account and a clear approach from the MD deserved better. We had them down for 12th.
YBS and Desford were two bands who put in the good performances – although they were certainly musically different from each other.
Desford under the very elegant baton of Nigel Seaman produced an account as dapper as the MD himself. Lots of poise and reserved understatement in the solo lines and a compact ensemble sound seemed to set them up for a real high placing. It just lacked a bit of devilment in the middle section and needed a slightly more manic descent to the abyss – it was rather chauffeur driven in places, but by the time of the laments it was one that had held the attention from start to finish. An excellent close gave them deserved applause. 9th place from the judges was a bit harsh for us as we had them down for 7th.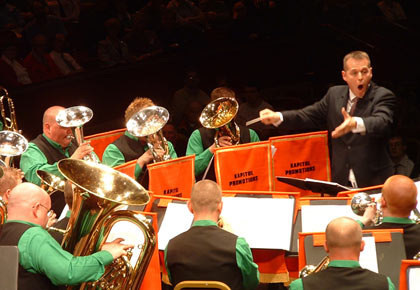 Big sounds: YBS Band lead by Prof. David King
Photo: Copyright Fitzgerald/Coles 2005
YBS and David King left London empty handed again, and this time they could not have real cause for complaint. Some will think it went wrong when Alan Hobbins on soprano unfortunately saw his lead pipe thwack into the instrument in the midst of him playing at fortissimo in the opening section, but that would be misleading.
It was the sense of fragility that undermined them this time. It seemed to be going so well, but little cracks in the ensemble and individual lines just robbed the persuasive musical picture being created by David King and started to gnaw at the players. The final lament section in particular just had too many little blips and blobs and it all added up to a performance that had undoubted brilliance but also undoubted costly mistakes. So it proved and they had to be content with 5th off the judges. We had them 6th. They will return again, stronger without a doubt.
That just left the final handful of bands, which contained three fancied runners in Black Dyke, Brighouse and Rastrick and Grimethorpe Colliery.
Before the grandstand finish though, BHK (UK) Ltd Horden under Michael Fowles put in a good performance that deserved more than its eventual 17th place. We had them down for 15th. It never quite matched the thrilling heights of others on the day, but the MD had deliberately chosen to highlight the strengths of his band rather than expose the weaknesses. It was an intelligent approach and even though it was a performance that didn't quite match the demands written, it didn't fall too far short either.
The two Yorkshire heavyweights were next up, with Black Dyke and Brighouse taking to the stage.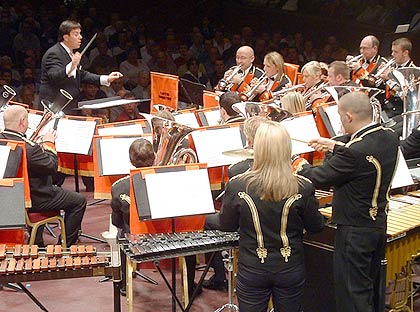 Black Dyke Band
Photo: Copyright Fitzgerald/Coles 2005
We had Black Dyke to win it by the narrowest of margins from BAYV and eventually Grimethorpe, after they gave a wonderfully rounded performance that for us captured the essence of 'Eden' through its two Milton inspired sections and the final arboreal restoration. On the day the bands soloists were not quite as stunning as they have been in the past, but the ensemble detail and huge dynamic variances at times made the hairs on the back of your neck stand on end. It was an awesome performance no doubt – but one that in the confines of the box just didn't have enough about it to dislodge Leyland, over four and a half hours before. We had them to win, the judges crucially had them as runners up. The 150th year celebrations could not finish off the way they would have wanted – but it was a very close run thing.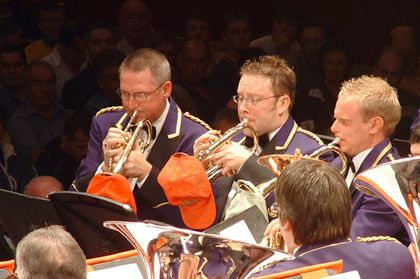 Alan Morrison leads Brighouse & Rastrick
Photo: Copyright Fitzgerald/Coles 2005
Brighouse and Rastrick meanwhile put in a real quality show that showed that when they do hit it off under James Gourlay they do so in a wonderful musical style. On this occasion there were just too many little errors in the individual lines in the opening and closing sections and a few nasty clips in the middle for it to challenge any higher than it did. The crash and burn approach to the descent into the abyss was the best of the day – real hell fire and brimstone stuff, but the quality of the final few bars once more showed up their weaknesses. 6th from the judges and 5th from us seemed to be about right on a day when they showed true glimpses of their potential.
Newtongrange under Raymond Tenant found themselves sandwiched between the Yorkshire trio, with Grimethorpe the band to finish off the contest after them. This may have unnerved them a bit as it was a performance that never really took off and contained far too many individual and ensemble errors for it to feature anymore highly than it did. Like many before it, it proved a difficult experience but one that will have enormous long term benefits. 14th from the judges and 16th from us was about right.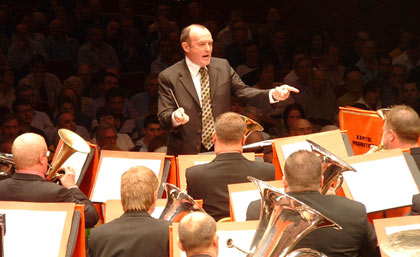 Grimethorpe (UK Coal) Band: MD Alan Withington
Photo: Copyright Fitzgerald/Coles 2005
Unknown to the audience, Grimethorpe UK Coal took to the stage as the only band that could now deny Leyland from their first ever National title. Not many bands win from playing last band on here, and ultimately it proved to be the case once more.
This was a cracking brass band performance; full of great sounds, fine individual contributions and a real sense of character and devilment in the fiery sections of the work. It really did thrill in places, but it just had a few moments when it needed a little more time and space.
The three chromatic runs for instance in the opening section were to indicate Eve as she at first approached the snake in the tree and then recoiled at the thought of what she was about to do. Grimey (like so many on the day) went for the jugular rather than entice her with a peck on the cheek followed by a short romance. It just robbed the opening of that bit of extra character it needed.
By the time they had fallen into the abyss led by a bass end that could wake the dead, it seemed back on track and after a lovely lament section and huge close you wondered what more they could have done to win the contest. We had them up there in 3rd place (the judges 4th), but the audience certainly loved them and when it was announced that they had come 4th, there were a few ill chosen boos. Grimey had been dreadfully unlucky at the Open, and rather unlucky here, but that is contesting for you.
That was that then and a well run contest (last band on before 5.00pm) had only the last sting in the tail to round itself off in memorable style.
In between Glyn Williams wowed the audience with his amazing pyrotechnics on a whole menagerie of instruments large and small (and it was nice to see a homegrown talent being used by the organisers) before Philip Morris brought the results to the stage.
The adjudicators were represented by Malcolm Brownbill who possibly could have said something with a bit more meat on it about the test piece and what the three men were looking for in the winning performance, but who nonetheless was the epitome of professionalism and good grace.
There was a little rumble in the hall when Brighouse were announced as sixth, which turned into a slightly bigger grumble when YBS were placed fifth. However there was some genuine booing and dismay at Grimethorpe's fourth spot and a real air of bemusement at BAYV in third. It seemed it was going to be Dyke's day, but the announcement of them in second place was greeted with somewhat bemused silence and the sound of frantic scrambles into programmes to see who could have won. The secret was perhaps let out by the announcement of Runar Valheim Vaernes as winning soloist for his fine efforts, before it all came clear. Leyland were the Champion Band of Great Britain for 2005 – although it took an inordinate amount of time for all their players to make it to the stage to join their representative Walter Ainscough to celebrate.
It was a shock of course it was. You just had to look at their faces to see that. But it wasn't as big a shock as you first may have thought. Leyland had put in a fine performance that had appealed to the judges early on in the day and couldn't in their opinion be bettered. That says a great deal - and it says that they deserved it.
Iwan Fox.