2005 Besson National Championships of Great Britain - Leyland beat the draw too!
16-Oct-2005
If winning the 2005 Nationals Championships wasn't enough - Leyland did it off the most unproductive and unluckiest draw number at the contest since 1968 as well!
---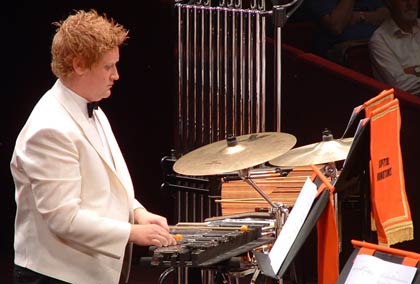 In tune: Leyland's percussionist
Photo: Copyright Fitzgerald/Coles 2005
Not only was Leylands remarkable success down to their playing of the test piece, 'Eden', but it was also done by winning off the most unproductive draw number in the last 36 years of the contest.
Winning off draw number 5 meant that it was only the second time since 1968 that it has been done, and remarkably it was only the sixth time in the same period that a band had come in the top six places.
MD Russell Gray was aware that many people might have thought that their chances of success could have been written off with the draw, but after a spirited team talk on the morning of the contest he knew that the chance to make a bit of history was there to be made.

Not undermined
"Once I heard the draw I made sure that we didn't feel that our chances were going to be undermined by it. We got together and I instilled in the players the belief that if they could play as well as they were doing in rehearsal on this piece it didn't matter what the draw was – we were going to feature highly in the results."
And so it proved. After Leyland the strongest challenge came immediately with BAYV trying but failing to win off the number 6 draw (2 wins and 7 places since 1968) and Black Dyke off statistically the most favorable draw of the lot at 17 (4 wins and 17 top six places). Even Grimethorpe at number 20 (1 win and 10 top six places) couldn't budge then either.
It also equaled Fodens winning draw number of 1999 and meant that that it gave the first five bands in the draw at the Royal Albert Hall only their third win (the other being Desford in 1991) at the contest since 1968.
The winning numbers this year were: 5, 17, 6, 20, 12 and 18.
At the other end of the table the bottom six lined up as 11, 1, 7, 16, 14 and 3
The early numbers 1 and 3 both featured for the seventh time since 1987, whilst number 7 made it onto the unwanted list for the tenth time. Number 11 featured for the fifth time and numbers 14 and 16 for the sixth.
Leyland though showed that even when faced with what on paper seems an almost impossible task, a bit of well placed belief can do wonders.