2005 National Championships of Great Britain - The Composer - Dr John Pickard
10-Oct-2005
Dr John Pickard is one of the most refreshing new composers to write for brass band - a medium he is no stranger to.
---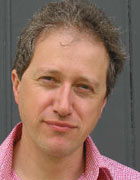 John Pickard was born on 11 September 1963 and started to compose at an early age. He was born in Burnely in Lancashire to a musical family – his grandfather was an army musician on his fathers side, whilst his mothers side had an association with Yorkshire banding in the form of the Todmorden Old Band.
His musical ability was nurtured from an early age after he underwent surgery to correct childhood deafness and which resulted in him being taught for a period at home. Following this he undertook music lessons on the piano at the age of eight and showed a natural ability to compose even at this tender age. His ravenous appetite to expand his musical education with study of musical scores from the Carnegie Collection of British Music as well as local libraries as well as taking up the Eb bass and playing in the Burnley Youth Brass Band.
This brought him into direct contact with the many musical influences that have since shaped his compositional life, including the music of Holst. Arnold and Vaughan Williams as well as the larger European influences of Schoenberg, Mahler, Bruckner and Berg.
Powerful Symphonies...

He read for his B.Mus. degree at the University of Wales, Bangor, where his composition teacher was William Mathias, whilst between 1984 and 1985 he studied with Louis Andriessen at the Royal Conservatory in The Hague, Netherlands on a Dutch Ministry of Culture Scholarship. He was awarded a PhD in composition in 1989 and is currently Senior Lecturer in Music at the University of Bristol where has worked since 1993.
John Pickard is best known for a series of powerful orchestral and instrumental works. He has written four symphonies (No. 2 premièred by the BBC Philharmonic Orchestra in 1989; No. 3, a BBC commission for BBC National Orchestra of Wales and Mark Wigglesworth, premièred in 1997), and other orchestral works of symphonic dimensions: Sea-Change (1989), The Flight of Icarus (1990), Channel Firing (1992-93) and the Trombone Concerto: The Spindle of Necessity (1997-98). The Flight of Icarus (a BBC commission), received its first performance in 1991 by the BBC National Orchestra of Wales, was repeated by them at the 1996 BBC Proms and has since been played many times, both in Britain and abroad.
Recent major works include, a Piano Concerto, premièred in Dresden in 2000, a large-scale song-cycle for baritone and piano: The Borders of Sleep (2001) and the hour-long Gaia Symphony (1991-2003) for brass band, which has been enthusiastically received by banding critics and audiences alike. This was given a world premiere at the Cheltenham Festival in 2005 and received excellent reviews in the national press.
Commitment to the banding movement

John Pickard's commitment to the brass band movement was marked in 2001, when he was appointed Composer in Residence to the renowned "Buy as you View" Cory Band, a position he held until 2004.
John Pickard's music has been widely praised for its large-scale architectural sense and bold handling of an extended tonal idiom. His four string quartets (1991, 1993, 1994, 1998), have received particular acclaim. Reviewing the première of the Fourth Quartet in June 1998, The Strad called it "one of the best pieces of British chamber music to be heard for years" while the January 2003 edition of Tempo, reviewing the Sorrel Quartet's CD of Quartets 2, 3 & 4 (Dutton Epoch CDLX 71117), said "even if Pickard were never to write another quartet in his life, his place among the greats is secure".
In addition to his compositional activities, John is General Editor of the Elgar Complete Edition.
John Pickard's music is published by Bardic Edition
4BR is grateful for the information for this biography from the composers own website
His website can be found at www.johnpickard.co.uk