2005 Besson National Finals - Second Section retrospective
29-Sep-2005
Malcolm Wood looks back at a contest won by the St. Keverne band from Cornwall that was overshadowed by the comments of one of the adjudicators - rightly or wrongly.
---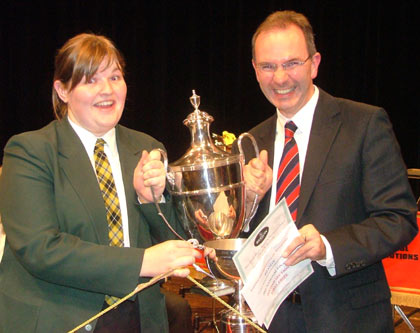 St Keverne receive their winners trophy from Besson representative
Rob Simmonds
Audio interviews:
Iwan Fox talks to winning MD Derek Greenwood, adjudicator Steve Sykes and best instrumentalist, Kelvin Retallack

Listen to audio interviews [MP3 1.13Mb]
---
This section belonged to St Keverne and MD Derek Greenwood who were the clear winners with their performance of 'Belmont Variations'. For the MD, it was the perfect way for him to bow out as he retired from 50 years of conducting in the perfect manner.
Derek Greenwood has been a musical influence in Cornwall for nearly all that time and any number of bands from Championship to Youth have benefited from his musicianship – all to the good. In the past decade he has been working with St. Keverne, picking them up when fortunes were not good, but he leaves them with an amazing future ahead, a band packed to the gunnels with talent and a conveyor belt of replacements ready and waiting to book their place in the senior band.
Tom Paulin, the former top man at Grimethorpe and someone who has been doing a bit banding missionary work in Australia for many years, takes over the helm now that Derek has hung up his baton, and he couldn't have asked to come to a better organized or well prepared band. The next few years could be a real golden period for the band – and Derek Greenwood should be proud of himself for creating such an opportunity.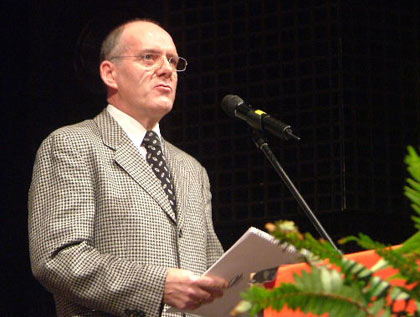 Adjudicator Phillip McCann
St. Keverne took the title here amid much Cornish celebration, but even that joy must have been tinged with a little bit of discomfort following the remarks made by the adjudicators and Phillip McCann in particular.
In three words, Phillip was 'blunt and honest'. Given that he is such a brilliant lyrical performer on the cornet, it came as some surprise to those who do not know him that he sounded so dour and humorless when he delivered his 11 minute long forensic address to the audience.

His detailed appraisal (actually longer the test piece itself) included a rather misjudged historical background to the piece, but his variation by variation investigation into the score was a model of excellent research and preparation. You can never accuse him of not being prepared.
What Phillip said was prescient and well thought out – it was the delivery for many that grated. Phillip McCann is no Richard Evans, whilst Richard Evans is no Phillip McCann, but you had the feeling that if Richard had delivered the very same remarks in his own inimitable fashion the audience would have loved it and laughed themselves hoarse.
Phillip has form with this type of thing – the National Youth Championships for instance earlier this year being a case in point, but he has also been a tremendously enlightening judge as well, with his remarks in Dundee at the Finals a few years back a brilliant piece well judged constructive appraisal.
The excellence of Phillip McCann as an adjudicator is that he brings the same discipline he had as a world class cornet player to the job of judging performances. The problem is that perhaps he also brings that same drive for perfection to his judgments. The result is that at this level he is invariably disappointed, especially when performances do not live up to the expectations and performances he himself was part of over the years as a player and conductor – and he tells you so - bluntly.
There is a way to do this, but to totally lack the ability to give even a modicum of praise or encouragement on the day is not one of them, and it was this a lot of people felt rather upset by. As one conductor told us afterwards; "Not all of us were lucky enough to play with Black Dyke for 15 years."
It could be all summed up in his remarks that, '…no-one played Belmont Variations today,' and '…if we edited something from all sixteen performances we still wouldn't have had a complete performance today'.
Perhaps he was right and the performances failed to make any real impression on himself and colleague Steve Sykes (who reinforced some of Phillip's point to 4BR afterwards) but the comments from the stage bemused many, although at the same time, the honesty of the judges brought numerous nods of approval – mostly from more experienced campaigners and listeners who knew Mr McCann of old and knew what you could expect if he wasn't totally thrilled by what he had heard.
In many respects those comments were born out by the fact the test piece was too difficult for Second Section bands. They all went to Harrogate representing their regions by right and by overcoming a tricky enough test piece at the Areas. They had also worked tirelessly throughout the year to raise the funds, attended extensive rehearsals and gave it their best shot - only to be told that even the winners, St Keverne, didn't actually play the piece.
As honest as Phillip was, what was missing from his comments was some encouragement for the bands. There is nothing wrong in giving an honest assessment but the players and conductors needed some encouragement – something positive to take away with them, and they didn't get it and it led to many disgruntled and frankly disappointed comments from players and MDs before 4BR had even left the Conference Centre itself.
People can take criticism, but when you've put the effort in and raised the money to travel, sometimes you need a little sweetener to help the medicine go down.

The piece itself is an old classic (one distinguished adjudicator called it a 'gem') of course. Some bands had a go at it, and there were a number of commendable efforts, but on a number of occasions, too many bands struggled with the work as a whole and looked relieved to get off the stage at its conclusion.
Shirland Welfare Training drew the dreaded number one, and in our opinion put on a reasonable show that wasn't going to challenge in the prizes, but nevertheless had moments of quality most notably from Chloe Noake on euphonium and eleventh place was about right for us on the day though.
Meanwhile, Woodfalls Concert drew number two and at times some of the playing seemed a little forceful to us, and we did comment that perhaps some of the clips may cost them dear at results time. A little more consistency and they could have taken the title, but third was a great result from an early draw and Daniel Pearce on solo cornet really did sound a classy player throughout. We didn't quite have them up there as high as they came but perhaps we were not listening as carefully as Mr McCann and Mr Sykes.
The first band to really make a mark for us was Granite City Brass under David James. David's reading was excellent and in our opinion there was some very fine playing (particularly from Calum Booth on solo cornet) mixed in with some sloppiness that may have cost them the chance of coming higher than their eventual sixth place.
It also marked David's last contest performance with the band and it was a fitting tribute to a brilliant brass musician that he leaves them in such promising fashion. David and his wife were off after the contest on what seemed a fantastic long holiday visiting friends and family all around the country with a final stop back home in Maesteg in Wales. We are sure he will enjoy himself and don't be surprised if he pops into a rehearsal or two for old times sake!

Lockwood Brass under John Roberts were our dark horses and again we thought it was more than a reasonable effort to get to grips with the piece, but we felt that the finale was their downfall on the day (as it was for many who tended to go hell for leather at it). It was just a bit too brash in places, but with Bryan Tams excellent on euphonium and nice reading from the MD perhaps they could count themselves a touch unlucky not to have come any higher – eighth though was more than respectable.
Coping with the various challenges of the variations was quite a test for some. GT Group (Peterlee) under Barry Holden had a good go and in our opinion more than held their own with some neat cornet and euph playing in particular being noted, but the last movement and a lack of overall consistency just cost them towards the end and a chance to just sneak into the prizes.
Drawn six were Diggle and they made an impression on us - so much so that they were the lead marker for us by a fair distance at the time, whilst we had them in third place at the end of the contest. With ex Black Dyke trombone player, Norman Law at the helm you'd expect a good clean start from the trombones and that's what you got. The set of variations were good, and although there were a few clips it had merit. Norman Law gave a nice interpretation that got the best out of his troops – fourth overallwas a touch unlucky for us.
Hebden Bridge will have made the relatively short journey home thinking 'if only'. Ian Craddock's charges were tentative and uncertain for us early on, and whilst the performance had some authority once it had settled down, ninth was fair return for a performance that grew in stature only after the early nerves had disappeared.
You only had sympathy for three of the next four bands that went on stage. West Yorkshire Police, Lochgelly & Deiniolen will want to forget Harrogate 2005, whilst Wire Brass who gave the judges plenty to think about may have the same thoughts but different reasons.
West Yorkshire Police for us were unlucky to come as low as fourteenth. It contained some nice playing on solo cornet from Huug Steketee, who performed like a player from the top end of the Championship Section but some of the variations were not as they could have been – especially the opening couple which didn't match the quality of the latter ones. We had them tenth.
Meanwhile, Lochgelly under Whitburn flugel player Jim Chamberlain were tipped by us to do well but the whole performance came across as though they were far from happy with the piece - and it showed. Karen Brow on flugel was the star for us (sounding every bit as good as the MD in his playing job) but the band never settled down at all and the errors and nerves were more than identifiable. It was a hard lesson learnt.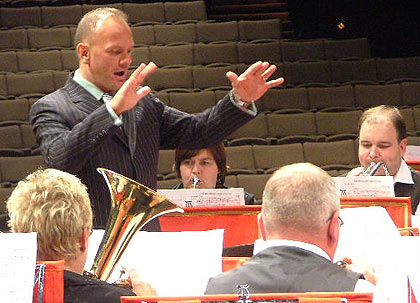 Wire Brass with MD Paul Andrews
Wire Brass were outstanding, and under Paul Andrews (in a very fetching pin stripe suite – made by David King's tailor perhaps?) gave a top quality show that immediately had them as the clear leaders. The overall sound was different than anything that had been produced on the day (up to that point) and the attention to detail was excellent. The music flowed with some great individual playing matched by the ensemble and yes, the odd slip, but certainly nothing to raise alarm bells. Dave Woolam on euphonium was in great form bringing so much to the performance
In our view, it would take a quality show to beat it, and at the end we still believed that the title would end up in the North West. Second place though is more than a decent effort but you suspect that missing out on top spot will hurt for a while.
Deiniolen were one of the bands that would have benefited from on-stage encouragement from Phillip McCann – if he was being in a very charitable mood. They had a day that nobody wants at any contest let alone the National Finals.
Sadly, they looked uncomfortable before a note was blown and they never got going, suffering from tuning problems, nerves and poor concentration leading to wrong entries.
Gavin Saynor did a great job in holding it together and whilst the performance wasn't what was required, they should remember what they achieved to get there – they'll bounce back for sure.
Sandhurst was a band that sounded like it was going to do well but sadly it never had the consistency throughout to challenge for a top six place. The sound of the band was certainly warm and impressive and at times you thought it was really going to take off, but they fell foul of that hard challenge of maintaining the level of performance throughout. A great bunch of people though and with the likes of Chris Hill on solo cornet and plenty of quality around the stands (even down to second horn) you sense they will return the better - most probably next year.
Horsham didn't make an impression on us but it did on the judges as they were placed fifth overall. Somehow it never quite sounded convincing for us, but some excellent cornet playing in variation 4 and classy euph playing from Mike Levett throughout pushed them into the frame for the judges. Sometimes you get a performance like that which appeals in the box – and as we have said a thosand times before, it is the men in the box you have to impress, not 4BR. Well done to them all and we hope they enjoyed putting two fingers up to us for proving us wrong!
RAF St Athan in our mind chose a safety first, no risks approach to their performance and considering the significance of the event, they perhaps had nothing to lose by going for it. Andrew Parks was very solid on solo cornet and the approach by the MD allowed just enough free rein, but if only he had really let the lease go a bit more slack we thought he had the quality to have made more of a mark. Twelfth was reasonable in our view – but a bit more RAF daring could have been so much more rewarding.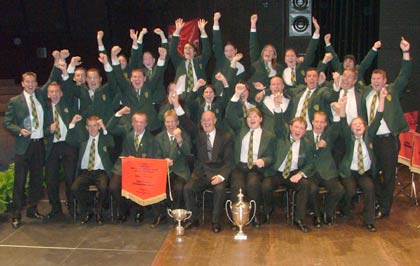 St Keverne Band celebrating their second section win
Next on stage were the eventual winners, St Keverne. Our 'live' comments stated that we thought it was a decent with moments of quality. Those moments though were big moments that brought them the title. Kelvin Retallack on solo cornet was in excellent form and it earned him the Instrumental prize of the day although we highlighted Angela Retallack on euphonium as the star player. Heck of a family full of talent though!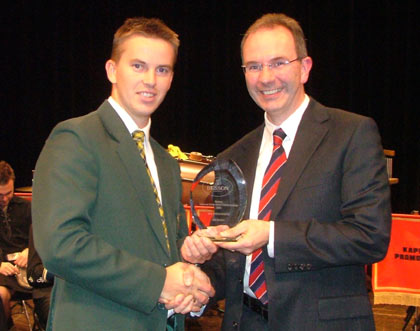 Kevin Retallack: Best soloist
Derek Greenwood, the band's MD made no secret in telling 4BR that he'd asked the band for a big effort for his farewell performance and they responded magnificently. Derek's reading was certainly one of the most thorough of the whole day, but at times we thought it was a touch overdone and would cost them the title. Again we were wrong, but the judges were in no doubt who the winners were and the hours of practice and enormous team spirit and friendship within the band was evident on stage afterwards.
The final band of the day was Wigston under Gary Sleath who gave a very interesting performance and interpretation that we felt was a 'thumbs up or thumbs down' show from the judges point of view. If they loved it, the prizes for sure, and if they didn't (which was the case), it would be down near the bottom - which it was in thirteenth place. They certainly showed moments of quality but the variations weren't as secure as needed and in the end, it wasn't their day.
You have to give the MD credit though for trying something different and playing to the strengths of his band. On another day it could have come much higher, and if there was an award for musical bravery he deserved to have it pinned on his chest.
Saturday though belonged to St Keverne and Derek Greenwood, a man who has given so much to the movement over the past fifty years. It was the perfect way to bow out and you bet the celebrations ran long into the night. The plan was to leave for home early on Sunday morning, but you can imagine that with sore heads and well deserved hangovers, the bus may have been a little late to leaving.
Malcolm Wood