2005 Besson National Finals - Third Section retrospective
29-Sep-2005
John James certainly enjoyed himself listening to the bands in the Third Section - especially as all the bands brought something to a quite fantastic test piece by Philip Harper.
---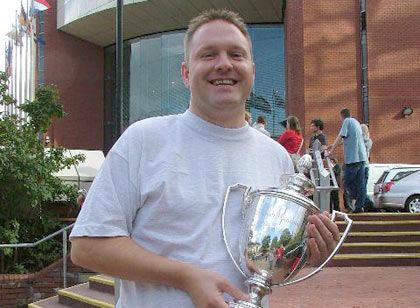 Jersey Premier MD Tim Prichard: Winners 3rd Section
Audio interviews:
Iwan Fox talks to winning MD Tim Pritchard, adjudicators Stan Lippeatt and Peter Roberts and best soloist Luke Brown.

Listen to audio interviews [MP3 1.03Mb]
---
Composers of test pieces can be accused of many things by the brass band movement: polluting the ears, using much and unnecessary percussion, producing music that can kill audiences by sheer volume or even just producing worthless entries for a band library. (There is a long, very long list of these in any bandroom in the country)
For once though a composer can stand proud, for Philip Harper's 'A Gallimaufry Suite' is a gem; as bright as a diamond – sharp and clear, clean edged and utterly fascinating. It was played by bands here in a manner that suggested they enjoyed every minute of it – and the audience at Harrogate did too.
It was a piece that asked all the right questions – the scoring of the music was unpretentious, it encouraged playing with both refinement and with bravura, and it was phrased with attractive syncopation and energy that came together in a mix and match sort of way that was never boring to the ear.
Each of the movements was a little miniature of quality scoring, not least, the third, the lovely hymn that was written with a simplicity that belied its inherent difficulties to create something quite wonderful. Add to that three other movements of varied character written with an intuitive understanding of the demands required to test bands at this level to the full and 'A Gallimaufry Suite' was as close a perfect work for the Third Section as could be possible. Added to that, not only the music held its head high - the bands did too.
As one of the adjudicating team Peter Roberts told 4BR, "The standard was very high…every band had something to offer…and they did".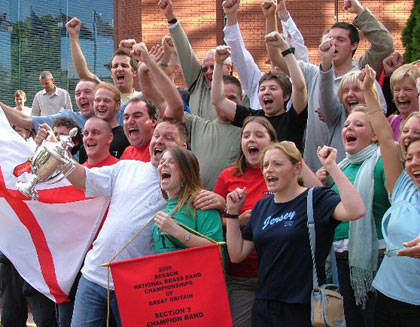 Jersey Premier Brass celebrate
With a performance that we labeled "a cracker" Jersey Premier Brass delivered sections of great quality - the hymn especially singled out for mention. The seven years work in building the band to the highly polished outfit that took the stage, with men in black jackets and the ladies in evening dress of either black or pink, was truly eye catching. They looked a million dollars and sounded equally as alive and refined.
Coming from an island which can boast more millionaires than can be seen on the pitch at Chelsea every weekend, you would have thought that the band wasn't going to be short of a bob or two. However, Jersey Premier, with a 100 year old history as a marching band and only a seven year one as a contesting brass band had to work their socks off to make it to Harrogate. The people they may entertain on the lovely island may be some of the richest in the UK, but at present not too many of them have put their hands into their pockets to help them out.
Tim Pritchard has done a wonderful job with the band since moving there from South Wales, but even at the moment of their greatest triumph he was considering a future that will see at least eight players leave to go to the mainland to college or university. You have the feeling though that he will regroup and rebuild just as effectively as he has built this band. He and the island of Jersey deserve it – as long as a few of those rich people now take notice and help refill the treasurer's bank account.
After a wonderful performance that had so much to commend, Jersey were rewarded with 1st place, where we had them 2nd. Irrespective of our thoughts, congratulations indeed and with some wonderful individual playing from the likes of Luke Brown who took the Best Instrumentalist award and a warm and broad ensemble sound that many bands in higher sections would be proud of they headed back across the Channel happy bandsmen and women indeed. It was a fine performance and an even better achievement. Banding needs new outposts and now we have one in Jersey. Well done to everyone involved.

Delighted: Arrow Valley Brass representative - 2nd place
With a safe and solid performance featuring a strong cantabile style when asked for by the adjudicators, Arrow Valley Brass conducted by Andy Culshaw scooped the £750 and the NCC Memorial trophy runners-up prize.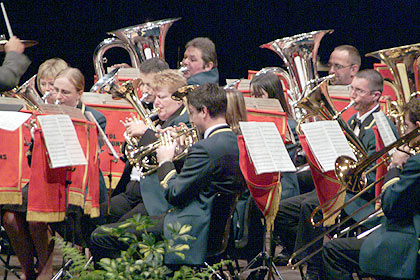 Arrow Valley Brass in action
After the contest they smiled, gave us a cheeky wink and quite rightly gave us the bird at 4BR for only placing them 9th overall. Theirs was a performance that were thought was just off the pace – but we were wrong and the adjudicators had them right up there, beaten just by the one band.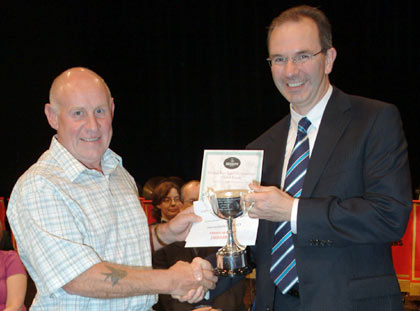 Portishead Town: third place
Taking the stage with a late draw Portishead Town took the risks – some of which worked a treat and some that didn't. The dynamics were massive and the risks enormous, and the MD, Rhodri Griffiths (another Welshman!) really set out his stall in expansive fashion. Even 4BR told readers reading on-line to 'wait and see' and so it proved. With a combination of power and breadth they gained a deserved 3rd place overall in the contest and from us at 4BR also.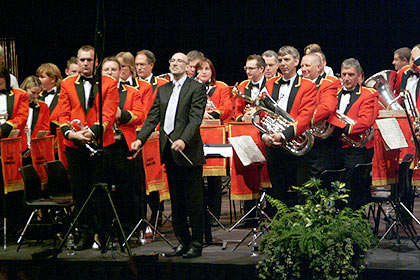 Portishead Town in action
Coming in the prizes off the number one draw at any contest is a fine achievement and Phoenix West Midlands Brass under conductor David Bishop-Rowe opened the contest in princely manner producing a real confident marker for others to beat. Their performance had plenty of zip and sparkle and the impact of this performance was undeniable and from a number one draw it was a performance never to be discounted. 4th place was a good reward but we had it spotted for winners in what we felt was the performance that we kept coming back to time and time again as the yardstick to beat.
Playing with striking character and with a fine control of dynamics conductor Paul Holland guided Newbridge Celynen to a well-deserved podium finish in 4th place a result with which we absolutely concurred. This was a performance of real merit from a band with a fair sprinkling of slightly graying ex top section players dotted around the stands. That experience was used to full effect though and it seemed to be heading them to the top of the prize list until a rather scrappy last section just took the gloss off what was building into a potential winner. They are a very good band in the making though.
United Co-operatives 2000 Brass and Jamie Meredith (the fourth Welsh MD in the top six) produced a hymn ensemble of pure joy in a performance that had real quality on show. 4th place from us on the day, but certainly another appropriate podium placing with a 6th place from the judges the Pontins Champions, are a band that has talent in spades. Just a tendency to overblow in places may have cost them the chance to have challenged higher up the prize list.
In 7th place came Eccleston Brass directed by Ian Bateson sporting surely the youngest player of the day on the back row – 7 years old? At times the musical vitality in their performance was compelling and tempted us on the 4BR team to consider a placing of 6th, but a finale that just went a touch OTT in the percussion may have robbed them of a couple of points that they lyrical approach deserved.
With playing over the whole piece that undoubtedly gave pleasure, Daventry Brass conducted by Paul Northey came into their own in the 'Toccata and Finale'. We didn't quite have them as high as the judges but only 10th as opposed to an 8th from the adjudicators, but this had moments to admire in the childlike 'Song' and the positive approach to each opening section of the four movements. .
MD Stuart Barton from Trinity Girls was obviously a little disappointed when he spoke to 4BR at the end of the contest. In truth, as with many of the performances on the day it just might have finished higher had it been just a touch more spruce and clean all through and the errors that they did make were noticeable and did detract. There was quality though despite this, but with so many performances making something from Philip Harper's score 9th from the adjudicators and 8th from us was about right.
Duncan Beckley did not have his most successful National Finals this 2005 finishing 14th with Five Rivers Brass in the 4th section and then a 10th place here with Grange Moor.

The band certainly had some moments of fine quality and we had them down as a possible dark horse to come in the prize list, but it wasn't to be. It was one of those performances that could have been better, but you didn't know quite why. Everything was there on show to listen to, but none of it was absolutely spot on and that is what may have finally cost them.
Shotts St Patrick's under the soon to depart to the Land of the Rising Sun, Alan Duguid were another band that seemed to be heading in the right direction until a final movement when the wheels very nearly came off cost them a lot of points. Up until then it was shaping up like a real contender, but excitement and a loss of control saw them give a very scrappy finale that was at odds that with what they had produced earlier. We had them 14th to the judges 11th.
St. Sebastian Wokingham under Dave Richards produced a performance very much cut from the same cloth, with quality playing in places that promised a possible higher return than their eventuial 13th place. It was the weakbesses especially in the 'hymn' that cost them though and even though we had them down for 11th place, the judges were just about bang on the money.
Dearham are a favourite band of 4BR, but on this occasion they really didn't play to the type of form we have heard from them previously on our travels. It started well with two fine sections of playing, but just when you may have thought it was going to be a corker it all went a bit pear shape and ended loosely and overblown. 14th from the judges and 16th from us.
We had Shrewton Silver up and around the prize list in 7th place. Not so the judges and 12th was their eventual reward in a performance we felt had lots to admire. The intonation noted may have cost we think, but they could still count themselves a little unlucky on the day.
The remaining places were taken by Slaithwaite under the direction of Barry Hudson who put in an interesting performance that we felt may or may not catch the ears of the judges. Sometimes a performance sticks in the mind for its approach even though the error count may be higher than rival bands, and this for us was one of them. Saying that though, sometimes such performances don't – and on this occasion it didn't for Stan or Pete.
Selkirk Silver had its moments, with each of the sections of the work having weaknesses that detracted from the overall picture they were trying to create. Brian Hermiston on euph was excellent but given the amount of ensemble problems they encountered and some poor tuning 16th was about right.
Hitchin under Martin Hurrell came in 17th and we thought they may be a bit of a dark horse after they gave a performance that had moments of real quality interspersed with some nasty clips and splits. It would be wrong just to discount a reading on the basis of how many clips there were, but after a while they do mount up, and that may have just cost them this time around.
Newtown Silver under Steve Edwards had come last at the Finals last time around, and on the face of it they will be deeply disappointed by only managing to improve on that by one place this time around. However, the piece as a whole gave us undoubted pleasure and had lots of potential on show on which they couldn't quite capitalise. A shame but we think that if they can stick together they will surely be one to watch as the 2005 contest season unfolds.
Hetton Silver came in 19th but it must be noted that their playing too, whilst falling short of real distinction, certainly rose above the routine. They 'hymn' was their best playing by far, but they just fell short of meeting the technical challenges in the opening and closing movements and that proved to be expensive. Still, Ken Wheatley has plenty of talent to work with here and they should return to the North East all the stronger for their experience here.
The day though belonged to Jersey Premier Brass with conductor Tim Pritchard who will now do battle in the Second Section. Meanwhile Philip Harper who deserves acknowledgement for producing a composition of excellence should be a very proud man also for giving the movement such an excellent composition to perform.
It says something when nineteen bands and nineteen performances went by in no time at all. It's contests such as this that bring home to you the real pleasure in banding.
John James