2005 Lower Section National Finals - Introduction and Predictions
20-Sep-2005
This weekend sees a plethora of bands converge on the posh bit of Yorkshire called Harrogate, all to have a great musical scrap to see who will be crowned National Champions for 2005.
---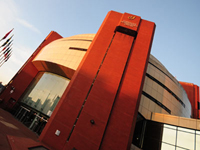 Preview:

Like many events in the banding calendar, it doesn't seem five minutes since the National Finals weekend in Harrogate last year does it? Once again, sixty eight bands will descend upon North Yorkshire this Saturday and Sunday with the aim of being crowned the National Champions of their respective sections for 2005.

Kapitol Promotions took over the running of the contest and they did a fine job in running things smoothly twelve months ago (amid some considerable criticism) and everyone will be looking for more of the same this time, especially if more people will take the opportunity of actually going into the fine hall to listen now and again! Both days finished at a decent hour giving everyone involved the chance to sample the delights of the area (especially the cake shops) or just head back on the journey home.

The dry acoustic of the hall caught many by surprise last year, and those returning again this year will be certainly prepared. For those whom Harrogate will be a first time experience, we're sure you read our comments last year and have spoken to those involved to get some valuable tips. There won't be many bandrooms with an acoustic quite like this stage.

Things kick off on Saturday morning with Darrol Barry's enjoyable 'A Mendip Celebration' testing the bands with the decisions resting in the capable hands of Roy Roe and Barry Thompson.

The Fourth Section finals is a great event aided by the bands and supporters who will be packing the hall to bursting point come results time. Appreciation will be given to everybody involved from off-stage helpers through to the adjudicators. The delight on the eventual winners faces is a sight that just has to be witnessed.

Saturday will conclude with the Second Section this year as opposed to the First last year, with Sir Arthur Bliss's 'Belmont Variations'. The music of Bliss is well known of course with 'Kenilworth' and 'Four Dances' from 'Checkmate' all having featured previously at the National Finals. This one may not quite be as exciting or interesting as those two, but it should prove a decent enough test and should cause a whole legion of cornet, euphs and trombones a sleepless few nights prior to contest day.

The combination of Phillip McCann and Steve Sykes will have the task of declaring the winners in this section in a piece that based on comments you've made to us, is testing a lot of bands to the full.

Sunday morning sees the arrival of the Third Section who will do battle with Philip Harper's four movement 'A Gallimaufry Suite'. Philip, is of course one of the movements most talented new composers along with being a respected conductor and his composition is awaited with plenty of interest.

Long-established friends and colleagues, Peter Roberts and Stan Lippeatt will be in the box early on Sunday morning to listen to the bands whom will do battle in what promises to be a fascinating contest. Both have been there and done it and know every possible trick in the book that players and MDs may try and use to get that extra little bit of advantage. Nice to see them in the box.

Finally, The First Section will round everything off with Herbert Howells' established classic 'Pageantry' complete with the additional percussion part courtesy of Professor Philip Wilby.

Once again, it's long-time friends Alan Morrison and Frank Renton sitting in the box with both of them knowing the piece backwards. Those who will be successful on this one will have to impress two men who know what they like and have strong opinions on what they don't. They make a refreshing duo.

Good luck to all the bands, and 4BR will be there all weekend providing our usual mix of comment, live coverage and opinion to keep you all entertained.

Who will win though? We will reveal our dodgy predictions for all the sections – but don't be put off if you have been mentioned to do well. Given our track record, it is about time we got a few right!
Finally, thanks to those who took the trouble to help us out, it was greatly appreciated and given over 45,000 people the opportunity to know more about your band. That can't be a bad thing eh?
---
Predictions:

4BR has made its scientifically proved, state of the art predictions of who we think is going to win in Harrogate on the weekend. Not even Jose Mourinho could pick more winners than us could he?
The Finals wouldn't be the Finals would they, without everyone having a guess on who is going to win the top prizes?

4BR is of course no different to any other pint in hand pub based know it all, and therefore we have cast our expert eye (what expert eye we hear you cry!) over the proceedings and tried to make sense of the disparate talents from all over the UK that have worked their socks off to try and become Champion Bands of Great Britain in all four sections.

As usual we have taken a great deal of time weighing up the talents on show (honestly we have) and made our usual intelligent and thoughtful choices.
We of course apologise in advance to those bands who now believe their chances have been crocked by us tipping them to do well. If we do get them all right though, 4BR promises to buy the biggest round of drinks in Harrogate for anyone who can catch us in the bar. (What would be the odds on that eh?)
Good luck to everyone.
---
First Section:
Sunday 25th
Test Piece: Pageantry (Herbert Howells)
Adjudicators: Frank Renton and Alan Morrison
Break after band 8
Starts after end of Section 3

Winning the First Section title hasn't been a passport to unlimited success in the Championship Section for those bands who have triumphed here since 1992.

In fact, two of the bands no longer exist as such, whilst a couple of the others have experienced periods of real hardship since taking the title. For most, becoming the First Section Champion Band of Great Britain is the high water mark of their contesting lives. Winning here is a fine achievement of course, but translating that into further progress and continued success in the top section is an even better accomplishment.

The last couple of winners here have done well though. Staffordshire, the Champions of 2002 find themselves at the National Finals in London in October, whilst last year's winners, BHK (UK) Horden only just missed out themselves. Looking at the line up this year, the omens could be good for whoever leaves the International Conference Centre as Champions.

And who will that be?

First and foremost the winners will be well deserved victors as they will have to overcome the old classic Pageantry. No band really stands out as favourites, but some of the 17 competitors will surely fancy their chances more than others. As always there is a fair sprinkling of experienced MD's to bolster some bands chances, whilst all the bands have star players who would grace any top championship outfit. It may therefore be a combination of the two that could be the secret weapon in gaining success.

Some contenders though have caught our eye, and we think could feature strongly. In no particular order we like the look of Parc and Dare and Wrexham from Wales and Staines from London all having the benefit have played here last year. Freckleton and Ashton from the North West won't be going back without a strong push for honours and Johnstone Silver will be relishing the chance of taking the title North of the Border as will Kirkintilloch Kelvin. Yorkshire Imps will be a real threat and could be the ones to beat for us.
All played very well at the Regional Championships and you got the feeling that they wouldn't be out of place in the top section.

The good news for the brass band lover is that just about every area will be sending at least one very strong outfit to try and claim the top prize, so don't be surprised if many of the others we haven't mentioned here come in the frame.

We won't hedge our bets though and we'll plumb for a top six in this order.

1. Yorkshire Imperial
2. Staines
3. Freckleton
4. Ashton under Lyne
5. Parc and Dare
6. Hatfield

Dark Horse: Johnstone Silver
---
Second Section:
Saturday 24th
Test Piece: Belmont Variations (Arthur Bliss)
Adjudicators: Steve Sykes and Philip McCann
Break after band 8
Commences after end of Section 4

The Second Section is one of the hardest competitions to guess the winners of. Last year for instance Hathern Band from the Midlands took the title on the day and they benefited from not being tipped to do well by 4BR!
All 16 bands here have more than a fighting chance of leaving with the Championship title under their belt and all of them will be making the trip to Harrogate full of confidence we are sure. Only one will be declared Champion Band of Great Britain on Saturday though, so 15 others will suffer a mixture of elation and misery depending on how well they thought they may have done prior to the results.

All face a test in the form of 'Belmont Variations', an old classic that has more than enough about it to sort out the men from the boys and much will rest possibly on the form of their cornermen or women. Good ensemble though will be at a premium as well and the two judges, Steve Sykes and Philip McCann are two musicians who have well deserved reputations for being well prepared. Bands will have to play well to impress them.
With that in mind who will win then?

Once more each of the regions sends strong contenders, but a few of hem stand out for us as the bands who could well challenge for the title. In no particular order we can pick out Wire Brass from the North West who benefited from playing here last year, St Keverne from the West of England, Hebden Bridge Yorkshire, Wigston from the Midlands, West Yorkshire Police from Yorkshire, Woodfalls from the West of England and Diggle from the North West. They are not alone though and the likes of Granite City and Lochgelly from Scotland and Lockwood from the North East and Sandhurst from London and the Southern Counties will also be strong competitors.

If we do get our prediction completely right though it will be a bit of a miracle, but we will plumb for a top six in this order.

1. Wire Brass
2. Granite City
3. Hebden Bridge
4. Sandhurst
5. Lochgelly
6. Shirland Welfare

Dark Horse: Lockwood
---
Third Section:
Sunday 25th
Test Piece: A Gallimaufry Suite (Philip Harper)
Adjudicators: Stan Lippeatt and Peter Roberts
Break after band number 10
Starts at 9.30am

If you thought the Second Section was hard to predict, then take a look at the Third! What makes the contest so hard to pin point is not just that there are a whole bundle of bands all more than capable of winning and winning well here, but that the difference in standard between them is also next to nothing.
In fact, there are any number of bands here who could well make an impression in the Second Section given the chance, and that reflects one of the problems of this Section nationally as a whole. Whereas there is now something of a gulf appearing between the Championship and the First, and a marked difference between the First and the Second, the gap between the Second and the Third both in terms of technique and the basics of musicality is nowhere as near as pronounced.

If the Championship Section represents the pretty face of the body politic of banding and the First Section the well developed chest, then the Second and Third make up a well fed, slightly corpulent midriff, in need of a bit of well tuned exercise and toning up maybe, but still bought and paid for through musical enjoyment.

The Fourth Section is of course the legs on which we stand - if we lose them we are all on our arses!

The Third Section is invariably that one that is full with bands on the up, bands on the down, bands holding their own and bands fearing for their lives - the whole gamut of contesting life in microcosm. Thankfully though, the bands that have made it to Harrogate just about all fall into the first of those parts, and so we have a lot to look forward to.

So then, what of the bands who have made it here, tackling Philip Harper's 'A Gallimaufry Suite' and who will the Third Section Champions be then?

Last year saw the title for a second year running head to the North West with Chris Wormald's Hoover (Bolton) Band taking the honours whilst United Norwest Co-op and Boarshurst made it a great day for the county by taking two further places in the top six. United Norwest Co-op are back for another crack at the title as are Slaithwaite from the host county of Yorkshire.

Amongst the others to look out for are the popular Trinity Girls from the North West, Dearham and Arrow Valley & Daventry representing the Midlands. Others who will fancy their chances are surely Grange Moor and the likes of Jersey Premier Brass who'll be making arguably the longest journey of the weekend. The Scots and the Welsh cannot be discounted either with Selkirk Silver and Shotts St Patricks and Newbridge and Newtown all in with a fine shout.

So, who is it to be for us?

1. United Norwest 2000 Brass
2. Arrow Valley
3. Newbridge Celynen
4. Selkirk
5. Dearham
6. Trinity Girls

Dark Horse: Phoenix West Midlands
---
Fourth Section:
Saturday 24th
Test Piece: A Mendip Celebration (Darrol Barry)
Adjudicators: Roy Roe and Barry Thompson
Break after band number 10
Starts at 9.30am

The most enjoyable competition of the whole weekend, and not just because its full of tremendously enthusiastic young (and gifted) players and fantastic supporters. Over the last few years the organisers have chosen some great pieces for the bands to perform, and this year is no exception. Add that to the great atmosphere and you get a real treat, and we think this year's contest will be a little cracker.

A Mendip Celebration' by Darrol Barry is an interesting test for the players and the MD's alike and it's full of the composer's musical traits and will take some playing. It will certainly extend the bands to the full, but won't test them for testing sake, as can all too often be the case in the higher sections.

Last year the top prize went to Potters Bar, with Pillowell and Grange Moor not far behind.
Gawthorpe and Matlock make a return to Harrogate this year; Gawthorpe from Yorkshire who came 6th and Matlock 5th will be strong contenders and A W Parker (Drybrook) from the West Country also make the journey North again. All three will want to improve on their placing of last year.

They will be challenged strongly by bands from all corners of the UK, with the other Welsh representatives Llwydcoed and Royal Oakeley a band with a proud history one to look out for and the up and coming Valley Brass (Haydock) from the North West another short price tip for success.

Whatever you do, take the opportunity to listen to Norfolk Wherry Brass (London & SC) and Oldham Band (Lees) from the North West. Both are newcomers here and will fancy their chances of upsetting the odds that's for sure.

The Celtic nations are well represented with Scotland sending two strong contenders in the form of Broxburn and Coalburn Silver who will be hoping to become the first winners here since Gorton Silver won back in 1990 whilst the West sends Swindon & Verwood along with A W Parker. London again is represented by Fulham Brass who'll be in confident mood whilst the North of England has Dunston Silver and never dismiss a band led by Duncan Beckley, Five Rivers Brass.

So who do we will really think is going to take the title here? Picking our top six is a bit like choosing those lottery balls. Well, these are our choices:

1. Five Rivers
2. Matlock
3. Coalburn
4. Fulham
5. Greenfield
6. Valley Brass Haydock

Dark Horses: Norfolk Wherry Brass