2005 British Open Championships - Contest retrospective
19-Sep-2005
4BR looks back on a day when Black Dyke took one step closer to achieving a 2005 'Triple Crown'.
---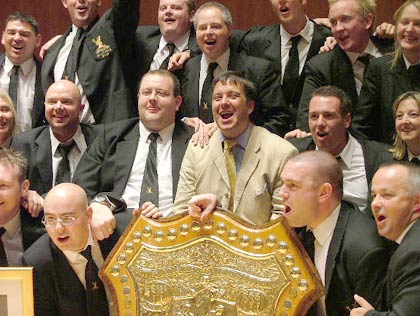 Black Dyke players and MD Nick Childs celebrate their win
Audio interviews:
Iwan Fox talks to winning MD Nicholas Childs, composer Bramwell Tovey, adjudicator Derek Broadbent and Black Dyke players David Thornton and Paul Lovatt Cooper

Listen to audio interviews [MP3 1.7Mb]
---
There is big black tidal wave of contesting dominance flowing over the brass band world at the moment, and it is a musical phenomenon that has its epicenter of creativity in the historic bandroom of the Black Dyke Band in Queensbury.
In the past twelve months, and what started with a victory at the 2004 National Finals, has become a force of musical nature and the proud wearers of the famous stags head logo now hold the three major titles they have competed for in the past twelve months.
Other bands and conductors now appear to hold as little power against the oncoming flood of continued Black Dyke success as King Canute did sat on a beach a thousand years ago. 'Live the Dream' they sang in Groningen in April this year, 'Championeese, Championeese' they sang here at Symphony Hall. If there is a song that contains the lyrics, 'Triple Crown Winners' to be hijacked by the time of the Royal Albert Hall, don't bet against it being sung with fervour by Black Dyke. They are on a streak of such force and purpose that you cannot really see anyone possibly stopping them in Kensington.
Given the immense sense of expectation that accompanies the band in its 150th year it has been a remarkable achievement by Nicholas Childs to blend the band together in such a way as to make them the undoubted outfit to beat wherever they now compete. Not only do they sound such a compact and cohesive force on the contest stage, they also display a happy sense of brother(and sister)hood off it as well. Previous incarnations of even successful Black Dyke bands have been riven by internal squabbles and in fighting in the past, but this group of players seems settled and happy – and most importantly, with a huge amount of professional respect and admiration for their MD.
It is no secret to success if you have a happy band under your command, and Black Dyke are a very happy band, and not just because they are now winning every contest in sight. You sense that the flow of contest successes has a very long way to go now that they have picked up the habit. The banding world could well be in for a period of sustained Black Dyke dominance to emulate even the very best years in the bands 150 year history.
The latest chapter to add to their recently released official history by Dr. Roy Newsome won't possible be the most thrilling one they will write, but it will be one that reflects their growing maturity as a band under Nicholas Childs' direction.
The 153rd British Open was a contest that took a long time to really catch fire, and not just because of the difficulty the bands faced with Bramwell Tovey's excellent test piece, 'The Night to Sing'.
Because of the way in which the draw loaded the contest with a back end bias it meant that for long periods of the day (and it was another overlong day for a contest) the standard of performances from many competing bands never really rose above the mundane.
It also meant that for long periods the hall was never ever more than half full. Even for the likes of Grimethorpe and Brighouse and Rastrick who were the really two big named bands to appear in the first half of the competition the hall contained huge swaths of red seats that made it look like a Mark Rothko painting.
This is no longer a worrying trend for the movement, it is a terminal decline in the way in which people now choose to listen to a major banding contest. Faced with up to 8 hours of bands, many of which they know are not going to come in the prizes, the audiences are voting with their feet and choosing to hand pick what bands they come into listen to. The result is for all to see, and now means that even for the best bands the auditorium was never more than three quarters full.
Something must be done about it or there will come a time when the number of players on stage will out number the listeners to whom they play to. Less bands, more breaks and definitely less presentations at the end of the contest and a way to make sure that the listener hasn't got to wait up to ten minutes in their seat between each performance would be a start.
When this contest did start it did so with a bit of a whimper with Desford taking to the stage and delivering a rather under rehearsed account of the test piece, that although it did have its moments (Mike Kilroy on euph was excellent) never sounded as if it had been mastered and was not in the same class as their showing a twelve month ago. Desford remain an enigma, and although we felt it sounded fine enough as a marker, in reality the longer the day wore on the less it sounded one to stand out. 16th place from the judges was about bang on. We had them down for 14th.
Much was expected of Hepworth (Persimmon Homes) before the contest and they certainly showed that they are now a band to be considered as strong competitors at major contests with a performance of real merit (and sounding very well rehearsed) under Mark Bentham.
The bravura approach was a bit brash at times, but they do have a very strong cornet section which sometimes gets the balance of the band out of kilter and that may have just robbed them of points in the final analysis. Their euph was another who took the opportunity to shine though and they will certainly benefit from this outing (and the handicap of the dreaded number 2 draw). 8th place was well deserved and about right for us. We had them down for 9th.
Whitburn were next to follow and gave perhaps the most robust account of the test piece that was heard all day. Why Andy Duncan choose this approach was a bit of a mystery because the piece didn't need such volume or aggression to work, and when his players did show their sweet tone and fine balance they sounded very classy with an excellent euphonium contribution and lovely shaped Adagio section that oozed class. Less is more sometimes and a little less on this occasion may have pushed them higher than their eventual 11th place. We had them down for 13th.
With three bands gone the first impressions of the test piece were made clear. This was proving to be a wonderfully descriptive work, full of warmth and affectionate lyricism but with a clever and subtle sense of humour and style.
The secret for success was surely for the bands to capture those dichotomies, but truth be told only a handful did; the rest used the sledgehammer and slapstick approach, making sure, as British holiday makers invariably do abroad, that if you can't understand the language just make sure you speak louder than anyone else in a bid to make an impression. This was dynamic corpulence at its worse; huge over fatted chords and dynamics, lardy and stodgy ensemble, lacking precision and clarity. People didn't have much to eat during the War (and were healthy as a result), but this was pig out time as too many bands stuffed their faces with volume and sound.
So many were ruined by overblowing, a total lack of subtlety to the humorous episodes and little or no appreciation of the need for dynamic contrast in the lyrical sections. The composer had produced a work of immense detail, but detail with a purpose yet so many times players and conductors totally missed the appreciation of this. Small lines marked mp or p were over layered by mf or underscored by pp entries yet time and again they sounded like a piano against a forte.
Also, many of the lyrical lines were given the misplaced tenuto treatment as to render the rhythm obsolete. Euphs in their cadenza at the Adagio were marked 'tratt' meaning tratenuto or held back, yet many choose to use this as a mini pause or even break and so rob the flow, whilst cornet players in the lovely tranquillo section at rehearsal marking P invariably lost the flow as they tried to give every bar some sort of lean. The art of playing a slow melody is fast becoming a lost one.
Not so we thought in the performance of Grimethorpe Colliery UK Coal under the baton of Allan Withington who for us (and many more in the hall) gave an almost complete account of the work with such a broad and detailed performance that we felt it hard to beat.
Not so the judges, which was a bit of a mystery, although some seasoned observers in other places in the hall to us felt that it was at times untuneful and that a few too many liberties had been taken especially in the solo lines.
Not for us though and we felt it was a cracker with delicacy and pace at the beginning to match some subtle changes of pace and style at the Allegretto and real warmth in the Adagio. We had them 3rd the judges had them 12th – even rival representatives on stage were more than a bit shocked when they heard where they came after the announcement of the results.
That really was the highpoint of the first half of the contest and with the crowds flooding out for their first (of many, as it was now obvious that only two bands an hour we on the cards) cups of tea, Tredegar took to the stage with the unenviable task of trying to follow Grimethorpe and give a performance that was to save their place at the contest.
It wasn't to be, and although they performed well in the first half of the piece, and were directed with a neat reading from Thomas Wyss, some expensive errors in individual lines in the Adagio and a lack of stamina in the top end in the last section cost them dearly. After a 12 year stay they drop down to the Grand Shield and it may be hard for them to claw their way back for a while. The judges had them 18th – a little harshly for us as we had them 15th, but that wouldn't have been enough anyway.
If there was one performance that left you scratching your head after it finished it was Brighouse and Rastrick, who to put it bluntly were flipping awful. We don't know why, but it sounded as if they were either under rehearsed, not interested or were just having one of those days (and every band gets them) when absolutely nothing goes right.
It was a performance that after a bold opening just fell away to such an extent that by the Adagio it was a real struggle for them to get through. The recovery came in the last section, but by then it was too late, their chance had gone and what could have been a cracker was a real damp squib. The judges though liked what they did and gave them a surprising 7th place, although we didn't speak to anyone who had them above 15th and we had them 18th! What do we know though (as we have said a thousand times before). The real Brighouse will be back for certain.
Sellers International followed Brighouse and gave a performance that caught our ears, if not those of the judges. This was an up tempo approach that although scrappy in places was light and did feature a very up tight drunk. There was also some superb horn playing from Leah Williams and Mark Bousie starred on euph so by the time it came to the big finish we had them up and around the prize list in 7th place. Not so the judges and 14th was their eventual reward. They can count themselves more than a little unlucky.
Eighth onto the stage came Kirkintilloch under Steve Bastable who were determined to show that the fourth place of a year ago was no fluke. Once again the MD set out a very musical stall, although in places it perhaps became a little too self indulgent and lacked flow, but it was a performance that certainly made an impression on your mind (even if the brilliant Steve Stuart on soprano made an impression on your ears with a scorching top D to finish!). It never quite came alight as they would have hoped and some nasty trombone tuning and a lumpy euph swap in the Adagio were noticeable minus points. 13th place was about bang on the money – we had them 12th.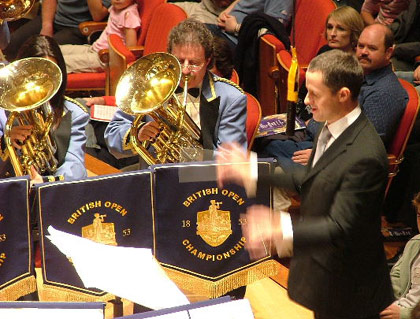 Fairey FP Music with MD Simon Stonehouse
The mid way point of the contest was reached with a real up beat performance from Fairey FP Music under the direction of the excellent Simon Stonehouse who had obviously worked his band well in rehearsal and given them a great deal of confidence in their playing. This was a super show, full of character and brio, with some deft touches from the solo lines (including Riki McDonnell on euph and Rebecca Crawshaw who was one of the very best soprano players on show all day) and some solid no nonsense ensemble playing.
It was also a performance that didn't slacken its grip either, even in the drunken episodes and perhaps a bit more time and space would have possibly enhanced a very good performance into a top-three placing, but there was quality all around on display and lots to admire. Fairey's it seems are back, and it was very well deserved. 4th from the judges and 5th for us.
The players of Ashton under Lyne must be living in their bandroom at the moment, what with their performance next week at the First Section Finals in Harrogate. It has been time well spent though because they certainly didn't sound like a First Section band here and gave an excellent account of themselves.
MD Phil Chalk set out a very solid and sensible account that was well delivered by his charges. There was nothing to suggest that they would feature more highly than they did, but there was also nothing to suggest that they were out of their depth either. Their euph once more showed his class and with the experience of this one under their belts they will head for Harrogate confident of doing very well indeed. We had them down for 17th and 17th they duly came.
Those unkindly souls who had decided to have an extended lunch for bands 10 and 11 may have not missed prize winning performances, but they did miss performances of merit and one conducting performance of the rarest class which deserved better support than they got.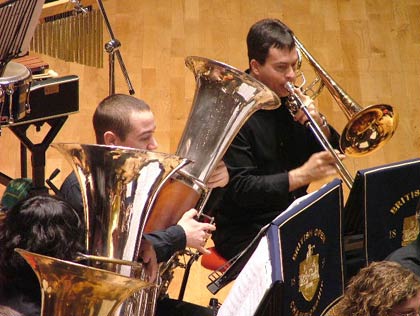 Brass Band of Central Florida: Basses and Bass Trombone
The Brass Band of Central Florida took to the stage under Michael J Garasi and even if his band sounded a little harsh and brash in places the MD was a smooth and sublime as a Florida marlin. This was conducting of the very highest class; superbly controlled and delicate, nothing done for effect or crass presentation. He was the best conductor on show all day.
His band were not of course in the same class, but nevertheless it was a brave effort full of detail and bravura, but the error count was high and that finally cost them the chance of coming higher than the 15th place they finally achieved. We had them 16th.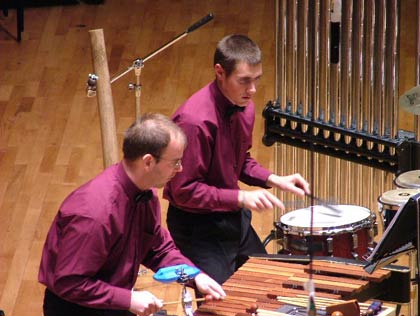 Rothwell Temperance: Percussion section
Rothwell Temperance also suffered with the handicap of a half empty hall, but it was a handicap that they threw off with a solid no nonsense, purposeful show that had hallmarks of intense rehearsal and real quality throughout. Everything had that feel that it had been looked at and then looked at again and again, and even though it just needed a bit more subtlety in places, it was a performance that it was hard to find major fault with.
Rothwell came to the contest with a real possibility of relegation, but by the time of the huge finish they had banished any thoughts of that way out of the window. They are now a band never to under estimate and much of that must go the excellent work of the MD David Roberts. 5th place was an excellent return, we had them 10th, but it was well deserved for the obvious effort they put into this one.
Now the crowds returned (although the hall never filled up to the brim) with bands 13 through to 18.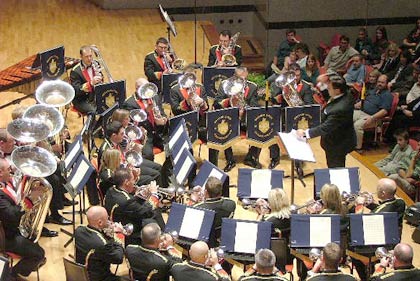 Black Dyke conducted by Nicholas Childs
Black Dyke were in irresistible form. A huge start and a scorching pace made an immediate impression, but thereafter it was the delicacy of ensemble playing and the lyrical playing of the soloists that really caught the ear, as did their ability to take the dynamic level right down to the barest minimum.
Only a handful of bands attempted to do that all day, but none really had the quality that Dyke did and allied to some sublime euphonium playing from David Thornton and the ability to capture the right 'tipsy' feel to the drunken episodes it grasped your attention. A fantastic end section also with such control made sure it was going to feature highly and it was those little telling moments of class that really made the difference in the end to a truly outstanding performance and a worthy winner.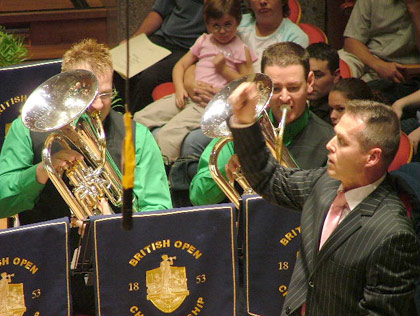 YBS Band and David King
YBS immediately strode onto the stage with a huge sense of purpose and a scorching opening section with so much pace and detail really caught you by the scruff of the neck. The control on show was amazing and the detail which David King brought out of the score had them ahead of Dyke as they produced a lovely drunken feature and great flowing lyricism in contrast at the Allegretto.
It was the Adagio however that saw them lose their chance for a fifth Open title with the solo lines not 100% and some discomfort evident. It all recovered in the finale section, but by then they must have known that their chance of glory had gone and with such a high standard to overcome 3rd place was about what they deserved (we had them 4th behind Grimethorpe). You do feel however that David King is building yet another brilliant band here and London in a months time could become a happy hunting ground if they can just maintain their brilliance from start to finish.
Although no one was betting big money on Scottish Co-op to win here this year, there were plenty of people willing to suggest that they could be in with a shout if they produced the form they showed twelve months ago.
All that went out of the window though with the opening bar when one cornet player came in before the rest of the band and resulted in a bit of a feel for all and discomfort in the first section that took a time to recover.
Frank Renton produced about the best reading of the score all day – full of insight, but that start robbed them of any chances of coming higher than their eventual 10th place, even though there was some wonderful stylised playing in parts and a fine dramatic close to their show. We had them down for 11th, but oh for a chance to start again.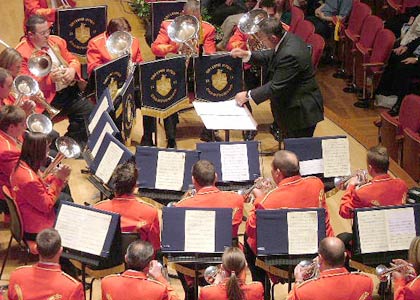 Buy As You View with MD Robert Childs
No starting problems at all for Buy As You View under Dr. Robert Childs who once again here produced a truly memorable account to come runners up for a second year in a row.
The MD has made subtle changes in the sound of his band in the last year and they now produce a less brash, much warmer and well balanced sound with significantly less errant vibrato. The result is superb and allied to the ability to play at the extremes of dynamic and with wonderful soloists they are able to produce quite stunning shows.
This was one of them, with great detail, masterful euphonium playing and rich lyrical solo lines when required. The ability to make startling effects was also kept under a tight rein and added so much to a very musical performance that oozed classiness, especially from Michelle Ibbotson who was on wonderful form and fully deserved the Brian Evans award as the best soprano player on the day.
It was difficult indeed to find fault with the reading from the MD, and even though they did have a couple scrappy moments in the opening section it did not detract and it must have been a very close call for the judges to separate them from Black Dyke. We had them 2nd too, but you won't bet against them over turning the tables come London – they are on awesome form at present.
That just left the final two bands, Reg Vardy and the reigning champions Fodens Richardson, and even though many thought the contest now to be a fight between Black Dyke, Grimethorpe and BAYV it would have been stupid to have written off the chances of these two fine outfits.
Reg Vardy produced yet another fine effort under Ray Farr that once more showed that they deserve to be bracketed with the very best contest bands in the country at present. Powerful and pacy to start, leading into a well-characterised Allegretto and warm Adagio, it nearly came off big style for the band from the North East.
A huge finish rounded things off nicely, but it was some expensive errors in individual lines that cost them dearly in the Adagio and hearing them against the best bands on the day who preceded them, to come 9th was a fine achievement once more and confirmed their standing and pedigree. We had them one place higher in 8th.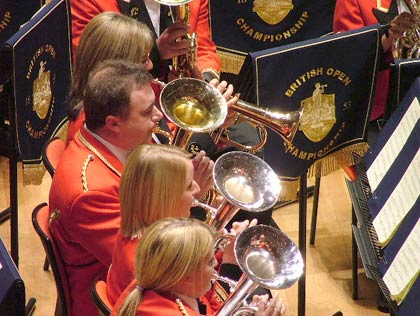 Fodens Richardson: Horn Section
That just left the final band to take to the stage, and the reigning champions, Fodens Richardson under the baton of Garry Cutt. This was an exceptional brave and forthright defence of their title – full of quality playing, great dynamic contrast and immense detail, but it was also a performance that had a number of individual errors that they must have known was going to cost them dearly. (10 grand dearly in fact, due to the incentive placed by their sponsors earlier in the week)
In the end it was those errors that saw them come home in 6th place (we had them 6th as well) and that was a pity as they were one band who really took risks on the day both with the musical shape from the MD and with the dynamics especially. When it was marked quiet they were quiet and when marked mp it was mp, not f or ff as many did.
No London this year again, but Fodens have been splendid champions and will be back once more stronger and even more capable of winning here we are sure with Garry Cutt at the helm.
So that was that – although we did have to wait an over long hour or so for the announcement of the results.
It is always nice to see worthy recipients get their reward, and in Paul Hindmarsh and Alun F. Williams there were two this year who deserved it more than most, but surely this could be done say in a half way break in the contest. Added to the other speeches and addresses it did make things a little wearisome.
Still, who is going to complain when you have just won the British Open for the 28th time, the first time since 1995 and just made a niche for yourself in the history books to boot. Not Black Dyke or Nicholas Childs for sure, and when they were announced as winners there was a general sense that the right decision had been reached by the three men in the box.
Dyke now head for London and the real possibility of a 'Triple Crown'. The Black Dyke tide is coming in fast and is ready to flood the Royal Albert Hall with its brilliance.
Iwan Fox