2005 British Open Championships - Postcard from Birmingham
19-Sep-2005
There was plenty to see and hear in Birmingham on the weekend - although you did need some opthalmic help with certain things.
---
Birmingham proudly boasts that it is Britain's second city, yet for all it splendours (more miles of canals than Venice, the magnificent Symphony Hall and some of the best curry houses you are likely to find anywhere) it still strikes you as a place with a bit of an inferiority complex.
For instance, what on earth was that mini version of the London Eye outside Symphony Hall? The Birmingham Squint perhaps? Given that that it didn't seem tall enough for you to be able to see further than the old Bull Ring Shopping Centre (or whatever has replaced that fantastic bit of 60s kitsch architecture), you wonder why it was there at all. You had to have the vision of the Hubble telescope to have seen anything of note.
Talking about aids to vision though. You were in need of an electron microscope to see what Bram Tovey had actually written if you took the time to part with five good pounds of your hard earned money to buy a study score. We know we are living in an age of miniaturisation, but whoever had the bright idea to place four pages of a complex score on one page of A4 and then flog it with added advert inserts couldn't have been thinking all that cleverly could they now.
Thankfully they have refreshingly owned up to their mistake and been generous enough to forgo the proceeds of the sales and give them to the Mortimer Trust – so every score has a silver lining!
It did however lead to the very odd sight of grown men peering into their scores rather like dirty old codgers getting a closer peek at the latest girlie mag in the newsagents. Certain things we are told will make you go blind, but trying to follow the euphonium part in a test piece shouldn't be one of them.
You certainly didn't need a microscope either to see the smile on Nicholas Child's face when he ran onto the stage to celebrate Black Dyke's win – the Cheshire Cat had nothing on it! His joy was clear for everyone to see, and whilst he has a bit of work to do with the choral section of the band – their singing of 'Championeese, Championeese' needs a bit of four part harmony and stronger lead tenors, they do sing it with a fair amount of gusto!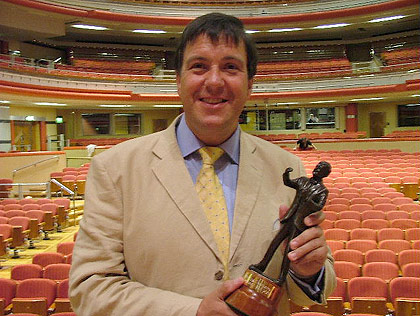 Nick Childs with his Maestro Trophy
The other strange thing about the British Open is that it remains a sell out contest that is never quite sold out if you know what we mean.
Not once throughout the long day was the hall full to the brim as in years of old in the King's Hall in Manchester, when there were more people crammed into a small space than could be found in the Black Hole of Calcutta. We are in an age when attention spans are diminished to gold fish proportions and people are quickly bored unless they are watching members of the public being ritually humiliated by Simon Cowell and Sharon Osborne. But why is it that the Open no longer attracts the horde of brass band anoraks that it used to?
Where are the thermos flask and white bread sandwich brigade? The people who would endure the pain of a numb backside, a stiff neck and bleeding ears so that they could proudly boast to their friends that they had listened to all the bands on the day?
Perhaps they have all joined the 'vestal choir invisible', shed their 'mortal coil' are just plain 'kicked the bucket', but one is for certain - they are no longer around and willing to spend 8 hours listening to a succession of brass bands, even if the seats are comfortable, the view splendid and the acoustics quite stunning.
The images of a packed hall listening rapt with musical attention are now a thing of the past – a bit like high pitched instruments, band trousers with a red stripe down the side or euphonium cadenzas that don't require the player to read from a succession of ledger lines half an inch above the stave.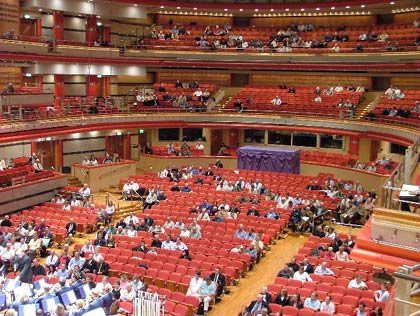 Sellers International play to an almost empty Symphony Hall
The reasons are varied of course, but even though the area around Symphony Hall does have a fine selection of trendy coffee shops, bars and exotic based diners, surely that isn't enough to deter the genuine brass band fan from sitting in a hall for half a day waiting up to 10 minutes between bands for the performers to set up their interminable selection of percussion instruments.
It is always a joy to see and hear quality percussionists perform, but why on earth couldn't the set up for percussion be standardized for the Open so to reduce the time spent waiting for them to set up?
On the plus side though, those who did take the opportunity to listen to more than a couple of bands in a row (after a few performances the exodus out the doors would have made Moses proud) had plenty to enjoy.
Not only was the test piece a cracker (and very poignant) it also gave the MDs the chance to show that they could conduct at speed – and with a marking of Presto minim = 92 many had a faster flapping speed than a humming bird. To say that more than a couple of MDs lost more weight during the test piece than they would have if they had 15 minutes in a sauna wouldn't be far off the mark, but one or two did sweat more than a bit.
The same could also be said of the euphonium players, who had to overcome the Himalayan heights of the fiendish cadenza written for them by Mr Tovey. Only a few got through it unscathed, with the notable talents of David Thornton and David Childs the pick of the bunch (although there were some super efforts from others). The strange thing though was that at the very end of the cadenza some players (about 50% in fact) played the top Eb and then followed it with a D natural before landing on the elongated D flat which started the finale section.
Given that the general rule is that accidentals go through a bar and that a D flat was written in the bar, why so many did this was a bit of a mystery. Mr Thornton was one, so was he correct? The judges felt so.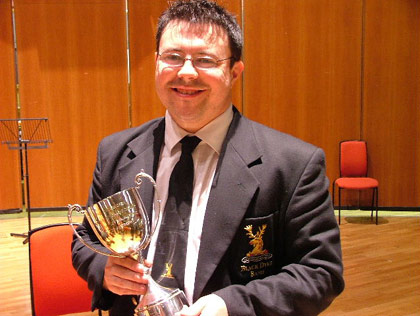 David Thornton displays his Soloist Award
A notable non sweater was Michael Garasi of the Brass Band of Central Florida who was suave and sophisticated (and with a superbly measured conducting technique) in a manner that stood him out from just about anyone else on the day, whilst Frank Renton must have come out in a cold sweat when one of his cornet players came in half a beat too early right at the beginning of Scottish Co-op's performance.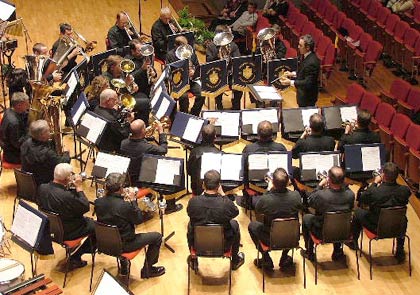 Michael J Garasi with the Brass Band of Central Florida
The award for sartorial elegance though went to Professor David King wearing a pin stripe suit and glorious pink tie a city gent would have been proud of, whilst unfortunately many others are still in need of a Trinny and Suzanna make over when it comes to suit selection.
Talking of women in strings of pearls though; Why is it we still have the ludicrous announcement of the patronage of old Brenda, the Queen when she has never as far we know, ever been to a brass band contest in her life, or is ever likely too. Does it really matter that we feel obliged to play the National Anthem at the beginning of every contest (they no longer play it when the television programmes end), so why are we still doing it now?
Perhaps the traditionalists will say we should, but wouldn't it be a far better idea to get a patron who actually knows something about brass banding, or perhaps could even pout a few bob our way in the process? What about an internationally renowned conductor for instance, or a Richard Branson type, or even a lottery winner with cash to burn? It would make more sense.
All that playing and still we couldn't get the results announced for a hour or more after the final band had played a note. The hall was just about full by then (those who didn't have a ticket must have found it very difficult to get past the security guards (sorry, door attendants), but somehow quite a few bluffed their way in.
Still they had to wait, and even though the presentations to some notable worthies was nice, it did mean that we were well into the ninth hour since the start of the day before we found out who had won – and that is perhaps the main reason why the crowds are no longer prepared to sit in a hall all day. Life is too short to waste it listening to speeches and presentations that could have been done at another time.
However, it also gave Bram Tovey the chance to produce the best one liner of the day when he described some of the misplaced octave playing as not unlike a flatulent grandfather. Ah, such sweet sounds! It rounded off the day just as it should.