2005 Spring Festival - Retrospective: Grand Shield
11-May-2005
4BR looks back at a Grand Shield that certainly lived up to its reputation and gave the Hepworth (Persimmon Homes) Band another title to its name.
---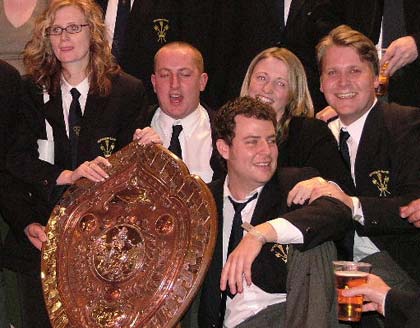 Hepworth Persimmon Band celebrate their win
Audio interviews:

Interview with Hepworth MD Mark Bentham [WAV 777kb]


Interview with Hepworth Principal Cornet - Robert Westacott [WAV 774kb]
---
The 2005 Grand Shield certainly lived up to its reputation as the hardest and most unforgiving contest in the brass banding world.
In perhaps the highest quality contest for many years, just two bands out of the 20 who took to the stage in the Empress Ballroom left Blackpool as happy as they could have wished for prior to the draw, whilst the remaining 18 would have left for home in varying degrees of disappointment and in many cases, pure frustration.
In the end though, it was the pre contest favourite, the Hepworth (Persimmon Homes) Band that had the widest smiles on their faces as they celebrated with the famous Grand Challenge Shield after the results. There was also a huge sense of relief as well, as seconds before they started playing the set work, 'Masquerade', the percussion section let it be known that for some unknown reason the beaters for the tubular bells had gone AWOL, and as they played an important role in the piece, it would have been something akin to musical hara-kiri to have started without them.
A quick comment to stage officials by the MD, Mark Bentham meant a nervous and sweaty five minute wait before they were located and returned to the stage (the percussion equipment was provided by the organisers, so the players themselves didn't have alternative beaters to hand), and the band could go about its business.
Sometimes events can conspire to act against you, but sometimes it gives the opportunity to strengthen resolve, and with beaters in hand, Hepworth set off nearly five minutes late to book themselves a place at the British Open. It says a great deal about the Hepworth Band that they were able to do it, as there is little doubt that others with slightly less self belief would have found it an insurmountable task.
It also tells you a great deal about how far the band has come under the direction of Mark Bentham, especially in the last two years or so. In 2001 they came 19th in the Senior Cup, and would have found themselves relegated if there had been another contest to fall into at the time, but with a touch of luck they survived and the following year they moved up to 7th place. A year later, and with Mark Bentham's work ethic and with a group of talented young players coming together with some experienced older heads they gained promotion.
A year later and they had the type of contesting year to savour, and had started to really show theirs doubters (4BR included it must be said) that this was a band to look out for. 2004 may have been good, but 2005 so far has been even better, and after giving a top class performance in Bradford they came here knowing that they had the ability to win and win well.

Beaters not withstanding, that they did, although the MD was quick to point out when he spoke to 4BR after the announcement of the results that he felt it was not quite as clear cut as he would have hoped. "The problem with the beaters could have upset us a great deal," he said. "However, once it was sorted we seemed to have an excellent focus and although we did make a number of little errors, I was very pleased by the way in which we had played."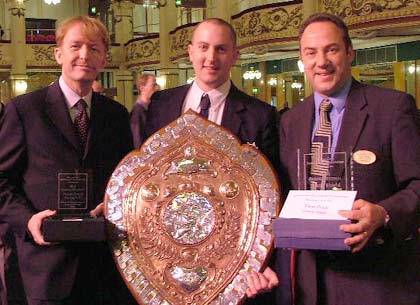 Hepworth Band: Grand Shield winners 2005
That was a very accurate assessment by the MD, and one that was echoed by their excellent Principal Cornet player, Robert Westacott. "The loss of the beaters could have caused us all sorts of problems, but we managed to sort it out, and in a way it helped us concentrate even more on the job in hand. There were some moments when we made little errors, but that was the case for nearly every band today. We are now looking forward to the Masters and then the Open – as that is all we wanted to do here today was to ensure we qualified. It means so much to us – it is all what playing in a top class band is about."
That was echoed by the MD also, who had high praise for his band and their efforts in the past few weeks. "They have put so much hard work in that I feel they deserved the win. We are aiming very high, but we know we have to work for what we achieve. All that is left now is to celebrate, and we have a free bar back home in our local pub, so it could be a long night!"
The quality of the contest itself surprised many. The test piece of Philip Wilby's has long been regarded as one of the hardest set works around, and when it was first used back in 1993 at the Open, it was only mastered by three or four of the bands on show. Come London in 2002 that number was up to seven or eight – but here, it was fair to say that at least 12 bands put in performances of real merit, whilst the top four in particular would have graced the Open itself with honour.
It was a point taken up by one of the judges, the experienced William Relton, who with David Read was in the box in London in 2002. (David Read was also in the box in 1993 as well). His genuine assessment of the overall standard of play on the day was shared by many seasoned observers, including the composer himself, who sat to listen to all the bands in the first tier.
The only thing we could disagree with him was in his pronunciation of the title, which for some reason (perhaps it was more to do with him now living in Italy) came out as 'Masqueraad' – the rad sounding as in radical rather than radiator! Odd that from a Yorkshireman.
Still, that aside he was spot on when he described the day as: "full of vignettes and embellishments of the great work." He also added; "I judged the piece at the Royal Albert Hall when only five or six bands gave satisfying performances, here today, it far exceeded that number, and it was great to see and hear such an appreciative audience."
When we spoke to David Read a little later, he too added that the was very impressed by the overall standard on show and added that for them, they had to pick the two bands which they felt would be able to perform in comfort at the British Open. "The winners in particular, and the bands in the top four places we felt would have been able to do that," he said.
Whether or not the bands they picked were the four bands that were on the lips of the audience come results time is another matter, but that is the beauty of contesting – you do get different opinions.
You also got a slightly different opinion it seemed depending on where you were seated in the vast expanse of the Ballroom.
It transpired that the reason for the contest being held there this year was nothing to do with the organisers, who had initially wanted to book the Opera House. Unfortunately, a certain Miss Geri Halliwell (no relation we are told to the great conductor) had booked it as well as, and as her star shone greater in the Blackpool entertainment firmament for the Leisure Parcs owners, she got the nod.
Unfortunately (or fortunately for music lovers) she also got cold feet and called off, leaving little or no time for things to re-arranged. The Grand Shield was therefore pushed into the booming acoustic of the Empress Ballroom where depending on where you sat (and we tried a few places) the sound did tend to differ. The judges though were perched on the first tier straight in front of the contenders, about 35 yards back, and having listened to one band from near the tent (we were taking a few photos), there was a different acoustic from that of the floor of the hall or that to the side.
That will of course not change anything in their minds, but it may account for the disparity in others. Thankfully, next year things we have been told will be back to normal.
The four bands that were on the lips of most people we spoke to who had listened to all of them during the day were Hepworth, Mount Charles, Flowers and Travelsphere Holidays, with strong mentions to Leyland in particular, Ransome, Aveley and Newham and Pennine Brass.
The winner it was generally felt was going to come from this batch, although possible top six places were also mentioned for the likes of Carlton Main and Beaumaris . Ashton Under Lyne did not, it must be said register with those we spoke to, although more of that later.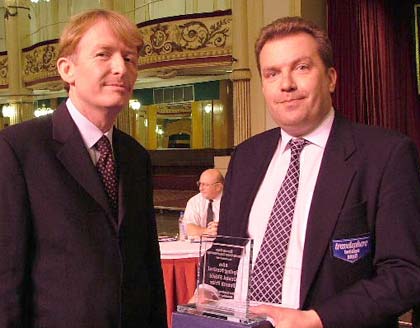 Travelshpere Holidays: Fourth place
For 4BR, it was Travelsphere Holidays who we thought would come out on top, after they gave a superbly crafted performance that featured not only some wonderful detailed ensemble work, but also had some outstanding solo interventions as well.
The obvious euphonium contribution from Robert Woods was of a very high class, but for us it was the soprano cornet playing of Gary Fountain that was the highlight of the day. This is some player indeed – a lovely warm and pure tone, spot on intonation and a security on the high stuff that is up there with the very best sop players in Europe. We haven't heard many better than him for a long time and he would have picked up the 'Best Soloist' prize if it weren't for the pyrotechnics of the euphonium part. Added to a lovely reading from the MD, Dave Stowell, and they could count themselves very unlucky indeed that they will not be playing at the Open in September.
Hepworth (Persimmon Homes) of course got the nod from the judges, after they gave a wonderfully committed performance of real character off the number 12 spot that saw them gain victory. It was a performance that had so much to commend – especially in the slower sections such as 'Nanetta's Aria' and the closing section where the build to the final romp home was expertly delivered and the cleanliness of the detail in the final pages touched on the awesome. The little blips and blobs – and there were more than a few (as well as powerful percussion), we felt would have just robbed them of top spot, but we had the second nonetheless.
They are a wonderful band in the making here, and come the Masters they will be one of the favourites for sure, whilst at the Open they will be very serious contenders.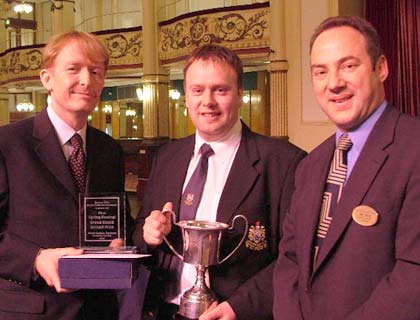 Ashton Under Lyne Band: Second place
The official second place went to the Ashton Under Lyne Band, conducted by Philip Chalk, who surprised many, including themselves we would have thought, by booking a place at the Open less than 18 months after they couldn't field a band at the North West Regional Championships and were relegated as a result to the First Section.
Philip Chalk was a delighted man when we spoke to him a day or so later and although surprised, felt that it was just reward for the efforts his band has put in during the period since he took over the helm just over a 12 month ago.
"We are thrilled with the result," he told us. "We came to the contest knowing we could play the piece very well, and we have been playing on top form of late. We really thought we could make a mark this year, although, truthfully, perhaps not as high as we did come, but given what the players have put in during the last few months they deserve all the credit for their fantastic efforts."
That is very much true, as they are now faced with the rare occurrence of having to play at the British Open one week followed by the next in the Lower Section National Finals! Given what the ex Fairey's man (20 years service) and full time television animation producer has done at Ashton, you have to take your hat of to him and the band, especially that it is his first MD appointment since giving up playing.
On the day though we felt theirs was a performance that was just off the pace, although a notable mention must go to their euphonium player, Bob Gee, who we stated played "within his comfort zone – one of the best of the day. Class act" - if that was playing in a comfort zone, heaven help us when he extends himself – it was playing of rare quality indeed.
Perhaps we misjudged Ashton, then perhaps we didn't, but the judges certainly liked what they heard, and as we have said a million times – theirs was the opinion that counted. Well done to them all – the good times are certainly back.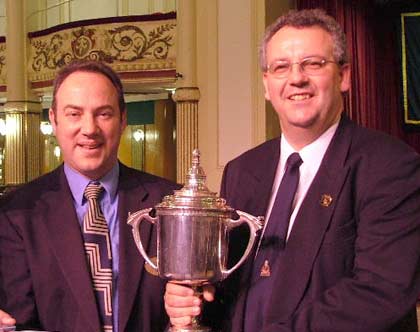 Flowers Band: Third place
Just missing out again this year were the Flowers Band under the direction of Philip Harper, who will make the trip back to Gloucester wondering what on earth they have to do here to book themselves a place at the Open.
This time they produced a wonderful account that perhaps just missed out due to the bass end being half asleep in the opening sections. After that though it was cracking stuff and the last two sections in particular were the best of the day. After coming 3rd in 2002, and being robbed in 2003, this will stick in the throat a bit, but will also show them that after a dodgy 2004 they are now back to top notch form. We had them 3rd as well though!
The final band to really get the tongues wagging were fellow West of England challengers, Mount Charles under the direction of Dr. Nicholas Childs and with the Norwegian Tormod Flaten on euphonium.
This was perhaps the most structured performance of the day – a deliberate opening section leading into some wonderfully controlled solo playing and the best use of the quietest dynamics. Tormod Flaten gave a masterclass in euphonium playing and by the end it was one we felt would be up there fighting for an Open place. Just that reserve at the opening may have cost them a point or two, but we had them 4th, the judges had them a slightly disappointing 6th.
The final band to make it into the top six were Pennine Brass, who continued the excellent form they showed in Bradford to give another quality account here. Ian Porthouse conducted in a lovely controlled manner, and his players responded in kind, with the percussion section on top form throughout. It got better as it went along, and after a slightly error strewn opening when the troms were insecure it built to a cracking show. We thought they would be up and around there and so it proved as we had them 6th and the judges a well deserved 5th.
Other bands though must have felt that they were in with a very good chance of making a mark in the top six or even better after they came off the stage, and we are sure more than one or two will be frustrated by their ultimate placing.
The main one for us will be Leyland, who under the very studious control of Frank Renton put in a corker of a show from the early number 6 draw. What was wrong with this one to make it come down with the dead men at number 15? We don't really know, as we felt it was a performance that had all the ingredients for it to shine: the ensemble work was precise and detailed, the dynamics were excellent, the tuba player was a star and other lead lines were of a quality few others bettered on the day.
By the time the final two sections were overcome with a controlled aggression and with a panache that was just what was wanted, it seemed they were heading for the Open. To be fair, the last page or two were a bit of a scramble and the dramatic end was a touch OTT, but all the hard work had been done and we had them as clear leaders up to Travelsphere's account. In fact we had them 5th in our final results table, whilst the judges added ten places to that. A mystery this – contesting never ceases to amaze us.
Of the very early bands to take to the stage, both Carlton Main and Beaumaris off numbers 1 and 2 could also count themselves more than a little unfortunate to come 13th and 11th in the final standings after giving two very good accounts that should have come higher. We had them down for 9th and 8th, but the only explanation we can give was that perhaps it was taking time for the judges to get used to the acoustic and their accounts suffered as a result.
Carlton Main had a few costly errors for certain, but also displayed a fine ensemble sound and Brian Grant picked out the detail where asked, whilst Beaumaris put down for us a real marker with a fine euphonium soloist and a stylish reading from the MD. If these performances had come later in the day, then we think they would surely have featured higher.
Ransome and Russell Gray will also head for home slightly frustrated that their efforts didn't quite see them come higher. Again the draw may have had something to do with this, but we think it may have had more to do with the rather prosaic slower sections that just lacked flow, even if the ensemble and individual playing was of a high quality. When they did open out it was British Open standard, but Russell Gray's usually so secure musical touch this time just didn't catch the ear of the men in the box.
The other honourable mention should go to Aveley and Newham who started as if they were really going to take the contest by the scruff of the neck from the number 13 draw. Just when it was really blossoming though and they were on top of their form, the wheels came off. Just a little crack in the solo cornet and a level of uncertainty crept in which spoilt a fine reading by the MD, and left them running on empty in the last section in particular. They were close though to really making a big mark, and 10th place was spot on.
After these bands, the standard did drop away somewhat, although not by the same amount that was heard in London a few years ago.
BT under Mike Fowles put in a fine effort to come 8th overall with a performance that had lots of good points and a few more expensive bad ones as well. It started with such character that it looked like it would really feature, but tiredness crept in and in the end it did well to hold its own against some very strong bands in coming 8th. We had them 11th.
The same could also be said of Besses who came 9th (we had them 12th) who worked immensely hard under the baton of Jim Cant to put everything in its right place and kept down the unforced errors to a minimum. It just lacked a bit of sparkle and sounded hard work in places, but overall it signalled a real upturn in the recent fortunes of the band, and they deserved what they got.
Cwmaman Institute were the last band to play on the day, and would have dearly loved to reclaimed their place back at the Open at the first attempt, but the long wait may have just taken the edge off them, and theirs was a rather error strewn performance that didn't really get going at all. It had promise, but never quite lived up to what it could have achieved and 12th place was a good return. We had them 16th.
Fishburn were another band that found the test piece hard work, although they had enough quality about them to ensure they were never going to be dragged into the relegation fight below them and 14th place (we had the 15th) was a fair result.
Meanwhile, Redbridge returned to London knowing that it was either going to be glory or disaster, after a performance that was certainly the most individual of the day from them and their MD, Melvin White. It was well paced and a little steady in places, but it had some idiosyncratic touches that we liked, but didn't cause too much satisfaction in the box. We thought it may score highly or not at all, and in the end we were just about right as they came 16th. It was a brave effort, but at this level, trying to be that different invariably never works.
The final four that fell through the cold trap door to the Senior Cup cannot have any complaints though.
Kibworth never felt at ease, although we thought it may just about hold its own, whilst Jaguar (Coventry) never really got to grips with the piece from the word go. Innovate Skelmanthorpe had far too many unforced errors and loses of concentration to feature any more highly, whilst East Yorkshire Motor Services tried manfully, but never met the technical or musical challenges to the same degree as their rivals.
The Grand Shield 2005 proved many things to many people on the weekend. None more so than the quality of performances from the bands here showed that there is real strength in depth in the Championship Section around the country. Also, it showed that standards have improved dramatically in even the short space of time since the formidable test piece was last used.
A word of warning though – lets hope that it will not mean that it will now resurface in a year or so in the Senior Cup or Senior Trophy as did 'Montage' this year. That was a mistake, and it would be a greater mistake to think that 'Masquerade' has now been tamed. It hasn't.
Iwan Fox