2005 Spring Festival - Postcard from Blackpool
11-May-2005
4BR enjoyed the weekend in Blackpool - really we did, although trying to enjoy the nightlife was a bit beyond a couple of Methodist Chapel boys from the Valleys.
---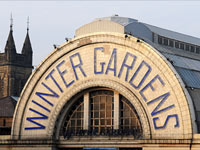 Love it or loathe it, there is surely no other place on earth quite like Blackpool to hold a brass band contest.
All the glory of the immediate post war years, when Blackpool bulged to bursting point with happy go lucky working class holiday makers is now a thing of the past, even though the Golden Mile still has a feeling of tacky splendour that in its way is almost appealing.
Where else can you get 20 sticks of rock, with any name of your choice written through it for a pound (although we have yet to come across one with the 4BR's Editors middle name, Gwythyr on one), one of the few Casino's outside London, and even a beach front that boasts more modern art sculptures than can be found in the Guggenheim on a wet Saturday?
If Blackpool is bulging, then it has more to do with the gaggle of overweight drunken girls on their hen nights than it is with numbers of miners and their families enjoying the bracing Irish Sea air in their vests and knotted hankies.
If ever a sight tells you more about how a place has fallen on hard times, then seeing 12 middle aged women on a freezing Friday night, with stomachs bursting out of skimpy croptops, singing 'The way to Amarillo' whilst simultaneously downing two bottles of 'Two Dogs' alco-pops, then please tell us what else does.
Blackpool is a town that knows what it now costs to survive in an era of cheap weekend breaks in Prague and Amsterdam, yet values its dignity even less than the cost of a greasy beef burger and chips.

George Formby once sang: "With my little stick of Blackpool rock, Along the Promenade I stroll. It may by sticky but I never complain, It's nice to have a nibble at it now and again." The only things people come here to have a nibble on would make poor old George turn in his grave. Blackpool has left its glory, and has even left it own mock caricature of itself behind. Blackpool is now just a sad and rather dispiriting place to visit.
The Winters Gardens are a case in point – a wonderful venue that has seen better days, and more importantly better entertainment. The Spring Festival is here, because there is perhaps nowhere else in the country that can host three (possibly four) brass band contests under one roof on one given day. That doesn't make it any better a place to come and play though.
As you walk through the main entrance to the Winter Gardens, there is a plaque on the wall, which nearly everyone walks past and gives very little notice to.
It was erected by the friends of the late and great Bernard Delfont – the impresario of Blackpool, who was responsible for bringing many of the greatest theatre acts here over the years. The plaque in fact goes back over one hundred years, and makes for fascinating reading, for it gives you all you need to know about how far the place has sunk.
In the early 1900s the bill was topped by Adalina Patty and Jenny Lind, whilst by the 1930s and 1940s George Formby, Vera Lynn, Arthur Askey and Gracie Fields were regular star attractions. The 1960s saw Bruce Forsyth, Jimmy Tarbuck, Shirley Bassey and Cilla Black. The Seekers, The Searchers, and just about any group worth their salt came and played here.
Reading the roll call of the great and good from the 1970s and 1980s though started to make you chuckle: Cannon and Ball, Little and Large and Stu Francis from 'Crackerjack'! In the past few years the star attraction has been one Darren Day (twice) who made an appearance on the same weekend here in a tabloid described as a 'Sex Slimeball'.
The great days of entertainment are things of the past and have been surpassed by karaoke, ten-pin bowling and slot machines, open all hour pubs, happy hours and fancy dress stag nights. Blackpool is no longer a place to go on holidays; it is a place to go and get drunk, try your luck with the opposite sex, wear fake designer shirts and spend lots of money on things you don't want or need.
Blackpool is the Chav Land capital of the UK.
So why do the bands love it so much?
Perhaps it is just because we know what Blackpool will give us. If you don't want to live it up a bit then don't stay here and pop down the road to the leafy genteel golf suburbs of Lytham St Anne's or do just like what a lot of bands did this year, make it a straight in, play and straight back out affair.
This year the organisers put on a concert by Black Dyke to give the Festival a fine finale, and it must be said, the organisation of the event is first rate by the team put together by Martin Mortimer. The bands are well looked after, the percussion is provided, the stewards open the doors to let you in without quizzing you and you can get a decent enough cup of tea and a sandwich without paying through the nose for the privilege.
The bars do brisk business and you can get to hear three different sections of playing within a earshot of each other and in pretty decent surroundings. Come on, where else could you get to hear 'Connotations' amid the splendour of the mock Spanish Room (although to be true, it is more Italian than Iberian in flavour) or 'Montage' in the snug warmth of the Pavilion Theatre.
And when all is done, where else could you get all the bandsmen and women into one big old space for the announcement of the results of all three sections?
Blackpool isn't a place you really would need to visit perhaps more than once a year, but when you do, you tend to leave with a smile on your face. For all its tackiness, you can't really complain about that.
Iwan Fox