2005 European Championships - Retrospective - B Section
4-May-2005
John James was up early in the morning to enjoy the B Section, and was treated to an absolute masterclass from the Austrians and a touch of genius from an ex Vienna Philharmonic trumpet player.
---
It is not often that we at 4BR are completely unprepared for a musical palette that is presented by a brass band, but this was the most certainly the case at the Martiniplaza, Groningen, during the B-Section of these 2005 European Championships.
Brassband Oberösterreich (Austria) simply gave us a master class of quality brass band playing.

We wrote that Black Dyke were "unbeatable" in our live coverage of the Own Choice works in the Championship Section and this remark was simply a mirror of this band in the B Section held on the Saturday morning.
One can only hope that a substantial portion of their programme is either broadcast or released on DVD and you know that this reporter will be first in the queue re-live the experience. It was half an hour of playing that would have to be included in any future list of great performances of any section at a European Championships.
What was it that made their performance so good? It was colourful; It was exiting; It was paced absolutely right and it was highly exhilarating. But most of all it was just unbeatable playing.
Adjudicators Roman Brogli, Dirk Lautenbach and Jan Van der Roost gave Brassband Oberösterreich a three-point win with 95 points over Brass Band Pfeffersberg from Italy with 92 points, and as you will discover, theirs was no mean performance either.
Opening a half-hour programme with the set test 'Match-Rhythm' (Jan Bosveld), Brass Band Oberösterreich was as clean and fine as one could imagine. Great dynamic contrast and classy playing produced all the elements asked of in the score, which was one of finely structured texture, tone, colour, dynamics and musicality.

Having been knocked back in your seat by this classy playing we then went on a true brass banding roller-coaster ride. Their programme was full of great (old but still fresh) arrangements from Howard Snell, but equally sparkling music from Philip Sparke and Kenneth Hesketh.
After the opening number, they launched into 'Candide Overture' (Leonard Bernstein arr. Howard Snell),
'Procession to the Minister' (Wagner arr. Howard Snell), 'Masque' (Kenneth Hesketh),'Song and Dance' (Philip Sparke) and 'Czardas' (Johann Strauss arr. Howard Snell)
This performance would have not have been out of place at any Spennymoor contest along side Grimethorpe, Fodens, Leyland or anyone else for that matter.
'Candide' had a glowing sense of joy. I think I caught a minor blemish somewhere but it was only trivial as they produced such electrifying playing. It had irresistible impact. 'Procession to the Minister' meanwhile was played with such poise and assurance during which the flugel, soprano and principal cornet played with immense discipline and musicality. It was a performance that was both invigorating and expanded gloriously to its conclusion.
'Masque' was a glowing and immaculate musical tapestry but this did not prepare you for the master-class of cornet solo playing that was to follow.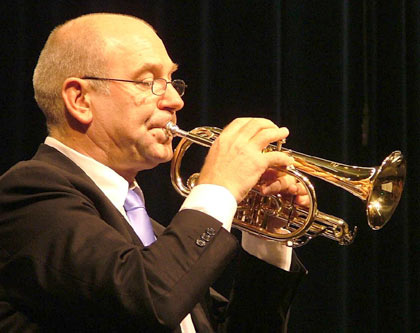 Brass Band Oberösterreich: Professor Hans Gansch
The principal cornet of the band, just happened to be just the most celebrated trumpet player in Austria – Professor Hans Gansch, played 'Song & Dance' and is the ex-principal trumpet player for over 20 years with the Vienna Philharmonic Orchestra and is Professor of Trumpet at the University Mozart in Saltzburg.
The accompaniment was highly sympathetic and responsive but the memory is of some of the finest solo cornet playing imaginable. Simply stunning and every bit as good if not better than anything you could have heard from the likes of Roger Webster, James Shepherd or Maurice Murphy. This man was a genius, and that was not overstating the fact at all.

The final piece 'Czardas' was, if anything, even more exhilarating than 'Candide'. All the technical problems were commandingly tossed aside and overcome at very fast speed, finishing to a phenomenal and deserved reception.
So good was this performance that the MD Hannes Buchegger even brought the band to their feet mid way through the programme - it was a thrilling and memorable show that will long live in the memory.
We were looking forward to hearing Brass Band Pfeffersberg (Italy) after the tremendous show they put on in Glasgow last year.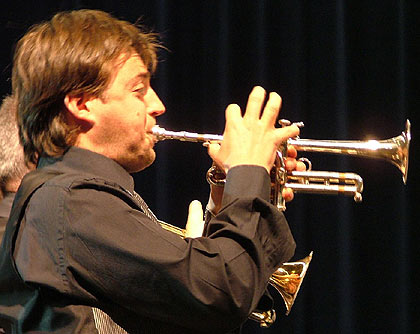 Brass Band Pfeffersberg
There was a sense of anticipation to see how they had improved during the following twelve months – and we were not disappointed, as the improvement was quite stunning. They may have used French Horns and an Eb Trumpet within the format of the band, but their playing too was of true Championship Section standard.
In addition to the set test 'Match-Rhythm' they played a classic contest formula of hymn and test piece, with fine performances of 'Abide With Me' (William H. Monk arr. Goff Richards) and 'Tallis Variations' (Philip Sparke).
They were clearly winning until Brassband Oberösterreich (Austria) took the stage – but then even Black Dyke would have been hard pressed to beat them on that form.
'Abide With Me' was directed with passion by MD Bernhard Reifer who told 4BR that in the twelve months since Glasgow only three personnel changes had taken place, so it was with sheer wonderment we listened to their major work that crystallised a great contest performance. 'Tallis Variations' was awesome.
As a comparison this piece was used as the Grand Shield test piece a couple of years ago and it is no exaggeration to say that the standard of this performance would have pushed any Spring Festival band hard and could quite easily have netted them a British Open place on that day.
Outside of these two splendid performances the standard wasn't quite as high and more the level of performance that one anticipated before the competition. It is certainly not to say that the other four bands were poor, by no means, but it had to be accepted that this contest was competed on two different levels.
Brass Band Oberschwaben-Allgau - one of the few German brass bands, have been quite successful in previous European Championships and really didn't come too unstuck in this one either.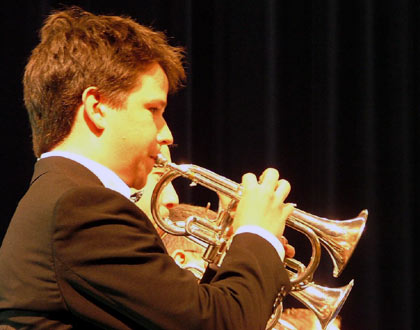 Brass Band Oberschwaben-Allgau
They were awarded third place and opened the programme with a warmth and vitality with the popular lower section own choice piece 'Dimensions' (Peter Graham). It was well played, but it couldn't compete with the sheer weight and complexity of the 'Tallis Variations' that preceded it.
The set test 'Match-Rhythm' was delivered with scope and potential and it was the work of the trombones and xylophone that particularly captured the attention, whilst a classic style march 'Mercury' (Jan Van der Roost) was given contest march flair and would not have been out of place if they had been playing in Delph on Whit Friday.
Their final piece was also from the contest repertoire with Edward Gregson's 'The Plantagenets' and this choice certainly helped the band showcase their broad and warm sound.
In fourth place came Arklow Shipping Silver Band (Ireland) and they too played a programme that matched established contest works with showy concert work.

Arklow Shipping Silver Band: Trumpet Blues and Cantabile
A movement from the Eric Ball test piece 'Prelude to a Comedy' opened their performance and they demonstrated a warm and well-balanced style that they continued throughout. The set test 'Match-Rhythm' was given a good reading and was unquestionably a well-rehearsed account.
'Saddleworth Festival Overture' (Goff Richards) was quite cleanly presented during which the principal cornet in particular played with lots of credit and it was apparent that this was a well rehearsed band under impressive command. It was however in the next selection that the band faltered and that, mainly from nervous playing.
'For the Love of a Princess' (arr. Andrew Duncan) was opened well by a nicely placed flugel but as the piece progressed the nerves did just unsettle the performance, which was a shame, and it came to a bit of a messy close. However, they recovered I fine style and put on a cracking Harry James feature of 'Trumpet Blues and Cantabile' that rounded things off with a smile and a bit of oomph.
Brass Sounds (Lithuania) will leave Groningen in high spirits and rightly so as this young band which opened the B Section and played with so much confidence.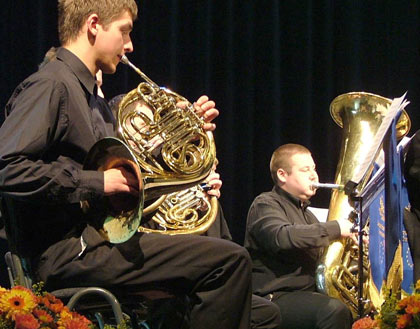 Brass Sounds - Lithuania
There ensemble featured both trumpets and French horns in the presentation of a quite contemporary programme.
'Prevision' (Jan Van der Roost), the set test 'Match-Rhythm', and two movements from 'St.Martin's Suite' (Jan Van der Roost) were all well scoped, but the depth and breadth of their ensemble couldn't match the more rounded tone of the higher placed bands.
3rd Carrickfergus Band (Northern Ireland) chose a quite varied programme. The opening contest march 'The Contestor' (T.J.Powell) was taken with real commitment but a spot of tuning and an unsettled bass solo might have proved costly points wise.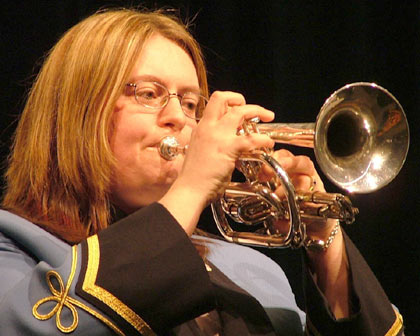 3rd Carrickfergus Band: Claire Heuston
Claire Heuston did herself proud in the cornet solo 'Let Me Try Again' (arr. Simon Kerwin) and the euphs and baris made a good impression with the hymn 'I'll Walk With God' (arr. Goff Richards). The set work 'March-Rhythm' had few scratches especially in the bridging lines but for the greater part they certainly lived up to the challenge of the Jan Bosveld work.
The 'Irish Blessing' was a most appropriate choice for the Irish Band and it is obvious that they are more than comfortable and used to this work.
'Swingtime Religion' (Barrie Gott) had the band relax and deliver quite convincingly but their last choice work 'Romance from Salute to Youth' (Gilbert Vinter) did not quite come off when the band took time to convey the lyrical nature of the music.
The band from Northern Ireland could not be criticised for commitment and gave their all, none less than their MD, Des Graham whose extrovert presentation and clear direction were notable and very enjoyable. This was not to be their day but they were mixing it with some very strong company in Holland.
As for final thoughts it would have been interesting to have heard the winners of this Section Brass Band Oberösterreich (Austria) take on the likes of Black Dyke with 'Extreme Make-Over', the Championship piece, and we have no doubts they would have been true contenders – we kid you not.
It was a memorable B Section – perhaps the best ever from EBBA's point of view, and if this continues next year in Belfast then everyone will be in for a musical feast.
John James