2005 European Championships - Championship Section retrospective
4-May-2005
4BR looks back at Black Dyke's triumph on a weekend when there were many unanswered questions - but not about who deserved to win.
---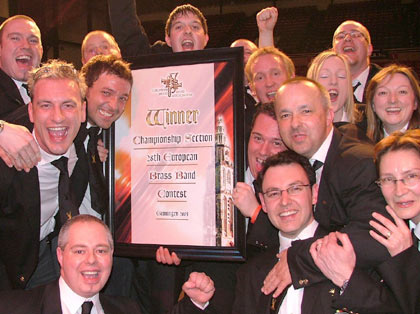 Black Dyke: celebrating their 7 point win
Audio interviews:

Interview with Nicholas Childs [WAV 1.42Mb]


Interview with Peter Roberts [WAV 690kb]


Interview with Peter Graham [WAV 793kb]
---
Black Dyke and Dr. Nicholas Childs will now be able to celebrate their 150th anniversary in Manchester in June as National and European Champions, after their twin performances in Groningen on the weekend gave them victory in quite emphatic fashion.
Their seven point winning margin wasn't the greatest in the history of the event – they themselves won their first title by 10 points, but it was one that was fully deserved. It gave them their eleventh European crown, and their first for a decade, whilst it also gave them the unique achievement of being presented with the third different incarnation of the Championship Trophy in the events history.
The first in 1978 was the award that latterly was given to the band placed third at the Besson sponsored Euros, whilst the famous treble clef and stave inspired design is now back in the hands of Besson, to be given to what they hope will be their new European Champions in 2006. This one, the size and shape of the FA Cup will now adorn the Queensbury bandroom and will no doubt be shined on a regular basis as Black Dyke display it in their concerts the length and breadth of the country. Aesthetically, it may not be quite in the same league as the old winners trophy, but believe you me – it means every bit as much.
That was self evident by the celebrations that took place on the stage of the Midden Hall of the Martiniplaza after the announcement that the band had won. Only two of the current band were playing with Dyke when they last won in 1995, so amazingly for such a band, and for the vast majority of their players, it was their first taste of a European title.
Dr. Nicholas Childs has won as a player (with Fodens in 1992), but this was also his first taste of victory as a conductor, so he too could identify with the joy of his players. Amazingly, Peter Roberts had the satisfaction of being a member of the winning band for the seventh year in succession.
There is little doubt that Black Dyke are now playing to a level of consistency that has never been bettered since Nicholas Childs took over the helm five years ago. His band has matured and subtly changed its tonal quality in the past two years in particular. They now have a huge bass foundation allied to warm and sonorous middle band sound, a sharp trombone edge and a rock solid cornet section. It is topped of course by Peter Roberts. They are also a band with an insatiable appetite for hard work to gain what seems to be their unofficial clarion call of "Living the Dream."
That call was heard on more than one occasion as they celebrated, and it was something Nicholas Childs alluded to when he spoke to 4BR, clutching the trophy and accepting the congratulations of what appeared to be half of the European banding scene.
"This has been a great victory for the band" he said. "They have worked so hard on the pieces that in the past three weeks they have only had five days off. I've been in the bandroom nineteen days out of the last twenty one, but it has been all worth it."
That commitment to the cause was reflected in the performances the band gave in Johan de Meij's test piece, 'Extreme Make-Over', and the specially composed, 'Journey to the Centre of the Earth' written by Peter Graham. Nicholas Childs expressed his thanks to Peter. "This has been a very special moment for me. It is a fabulous work and one which we thoroughly enjoyed playing here. From the moment I first looked at the score I knew it was going to be a trump card for us."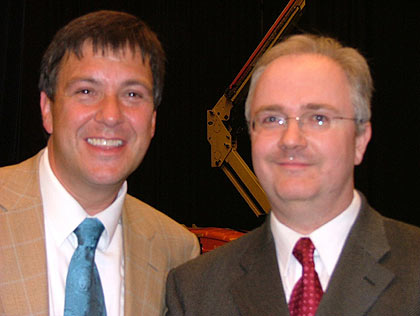 Nicholas Childs with Peter Graham
Peter Graham himself was extremely pleased by the winning World Premiere given to his composition. "I thought it was a wonderful performance – full of atmosphere and excitement, with some outstanding solo and ensemble playing."
On a day when there were signs that the 'Own Choice' selections at this contest may be heralding a new direction for the top bands - there was no Philip Wilby work used for only the second time since 1991 (excluding the two years when they couldn't be used), for the second time in a row, a specially commissioned piece, written with a specific band in mind, came out on top.
There are those who feel that this is a direction that may well give an unfair advantage to those bands who can afford to do this (and rumours abound that at least two of this years contenders are seriously considering producing their own new pieces for next year), but the flip side was also seen here as three bands took the opportunity to play 'Music of the Spheres' as their choices – a year after YBS used it specifically as a showcase tour de force for themselves.
It all made for a contest that threw up an intriguing number of unanswered questions.
The contest itself was not well served by the Midden Hall – a barn of a complex at the Martiniplaza, which was totally unsuited to host a brass band contest of this magnitude, even if it meant that up to 3000 people could get a seat.
The acoustic was so bad that after Brass Band Rijnmond had finished playing off the number 1 slot on the test piece, there was a migration of listeners from the middle of the hall to the front 10 rows of seats (and so close to the stage that the view was hampered by the flower arrangements) that was like a wildebeest charge on the Serengeti. Anyone who listened more than 10 rows back heard very little balanced sound and next to no detail. There may have been more people able to get into the hall, but there were surely more people who couldn't hear anything of any substance.
The bands themselves spoke of their disappointment with the venue (a sports hall is a sports hall, however big and however many people come and listen seemed to be their main gripe) and it was certainly not in the same league as what they have come to expect in recent years.
It also meant that it did not provide a suitable listening experience for the interesting set work, 'Extreme Make-Over – Metamorphoses on a Theme by Tchaikovsky', by Johan de Meij, and which was a very clever and intriguing work that tested the bands to the full.
Much was made beforehand of the 'Bottles' – a section lasting nearly three minutes of players blowing into tuned bottles and which accompany a virtuoso marimba and xylophone feature. In the event, it was an effect that worked wonderfully well (even if it was perhaps a tad long) and was enjoyed by players and listeners alike and added something to the music that was original and by non means 'gimmicky'.
The part that did however test the players involved to the full was the opening 51 bars of quartet playing – which on the day not one band came through unscathed. It was a timely reminder that basic quality brass band playing at a quiet dynamic level, in tune and with balance is still a real art form. Only Whitburn (with their quartet seated to the side of the band) managed it with any real sense of simple beauty and lack of split notes and missed entries – everyone else had more than a wobble or two.
The piece also contained some brilliant bands effects and immensely detailed writing that only the top three or four bands got close to. Rhythmic patterns and cross-overs, a complex dislocated Fugue and individual lines that developed and matched others in odd, almost surreal ways, made for an enjoyable listening experience. It would have been an even better one though if played in a proper concert hall.

The Friday evening left a number people guessing which of the nine bands were heading the field, as no one really played to their full potential and stamped their authority on the contest.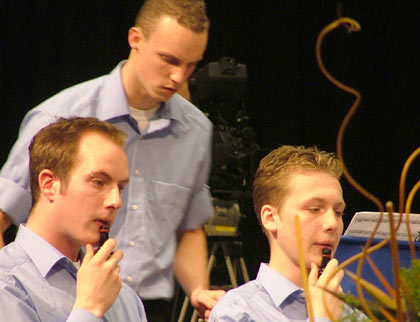 Brass Band Rijnmond: Bottled up
Brass Band Rijnmond kicked things off an error strewn effort that found favour with the men in the box – Jan Van der Roost, Dirk Lautenbach and Roman Brogli – Sacher, but not really with too many listeners who heard all nine performances. We thought they struggled, and put them 9th, but the judges felt they showed more promise and had them 6th.
They were followed onto the stage by the one band that many people thought could give mainland Europe victory for the first time since 1993 - Brass Band Willebroek.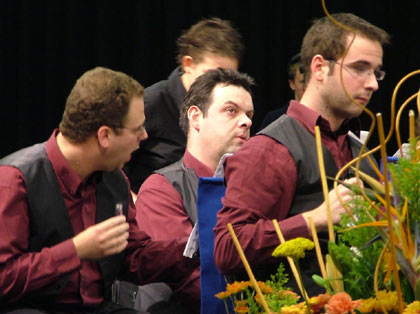 Brass Band Willebroek: Bottle problems
This was a times a superb performance, full of energy and drive, but also with a liberal sprinkling of blips and blobs from their usually exemplary collection of corner players. By the time they came to a huge ending they had done enough to suggest they would be up there at the top at the halfway point, and that was proved with 3rd place from the judges. We had them 4th.
Brass Band Treize Etoiles then gave a decent, almost cerebral account that had it moments (we had them 5th, the judges 7th) but which just lacked that drive and passion that Willebroek displayed. When it was good it was really good (and contained some quality bottle playing) but fell away somewhat towards the end which just cost them slightly.
Then the meat of the contest was set before us with Black Dyke, BAYV, Stavanger and Whitburn.
Black Dyke produced a superbly crafted account from a fine reading by the MD. The opening was not without flaws (Roger Webster's lip not withstanding) but did have Lesley Howie on top notch form on horn and it soon developed into a performance of real stature, detail and purpose.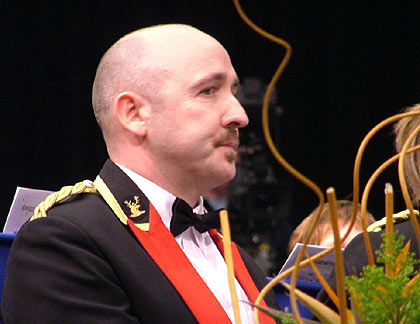 Black Dyke: A tight-lipped Roger Webster
The ending was awesomely done, with Peter Roberts giving a top edge to the playing that was not bettered by any other sop all day (he didn't have to change his mouthpiece either as other had to). It was a good few points ahead of what had gone already and hard to beat – and so it proved.
The other band with realistic hopes of topping that show were the Buy As You View Band who followed Dyke onto the stage.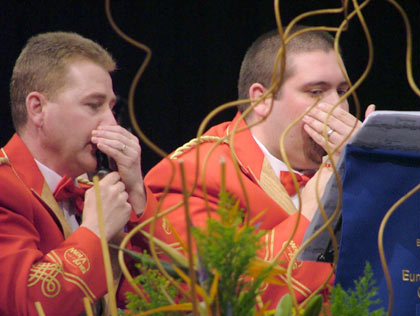 Buy As You View Band: Front row nose job...
This too was a very high quality account (although the opening once more didn't quite sound settled) and the bottle playing was exemplary. In addition they had the best trombone section heard all day, who added an exact bite and colour throughout. By the time they moved into their usual overdrive in the last third of the piece they were really up there with Dyke, and just a few bits of scrappiness may have robbed them of a point or two. It was fine stuff though and 2nd place was well deserved.
Stavanger had high hopes of doing well here, and Allan Withington produced a broad and spacious account that very nearly came off big time. It was thrilling in places, but also with a high error count (and surprisingly in areas that over the past couple of years has been some of their strengths) and that may just have robbed them of a few points in the minds of the judges. They had them down for 5th place – we had them 3rd, but if it just had a little more control it would have been up there for certain.
Whitburn can count themselves very unlucky to have come 9th and last on the set work. It started with the best quartet of the whole contest (the two cornets, horn and euph sat to the side behind the soprano), but perhaps the acoustic of the hall meant by the time it reached the box (they were about 50 feet away), the delicate approach may have sounded a little weak. Thereafter it didn't quite reach the same heights, and some obvious weaknesses in the solo lines and ensemble cost them dearly. There was still plenty to admire, but the judges were not impressed and put them 9th. We had them 6th
The last two bands were an interesting mixture, and ones that we felt got results that they didn't quite deserve.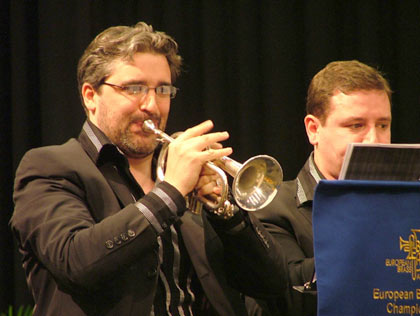 Brass Band Aeolus: Soprano player - Olivier Voisin
Brass Band Aeolus really surprised us all, with a warm and broad sonorous sound and some solid and confident solo players. The interpretation was a bit predictable and the error count did detract at times, but there was a real indication that these were players of quality and intelligence.

They did get a little tired and harsh towards the end, but even in comparison against the very best bands here they were not out of place. We had them 7th, the judges 8th.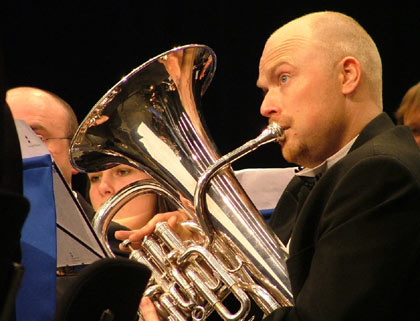 Lyngby Taarbaek: Bo Bollmann
Meanwhile the last band to play were the Danes of Lyngby Taarbaek who started in very nervous fashion and didn't really recover thereafter. Perhaps we misread this one completely, because we even felt Ray Farr's usual musical approach was a bit off beam. By the time they stood in formation to end the piece, and which resulted in ecstatic applause from the audience who had not been treated to much in the way of visuals from the start, we felt they were way off the pace and had them for 9th place.
The judges though thought differently, and perhaps (and this is only a perhaps) that huge response may have given them a false impression of what they had just heard. They had them for 4th – which was a surprise we must say, as we had them 8th.
That set things up very nicely for the own choice on the Saturday, but for the record we had a line up of Black Dyke by two points from BAYV, with Stavanger a couple of points back in third and Willebroek in fourth. These were a class above the rest. Behind them for us were Treize Etoiles, Whitburn, and Aeolus with Lyngby Taarbeak and BB Rijnmond holding up the field.
Saturday 20 April: Own choice selections
Saturday afternoon and the bands lined up for the own choice selections.
The draw at the European isn't as critical as it is at other major contests events, but still, BAYV must have been a touch disappointed at having to play second, whilst Black Dyke would have been more than happy with number 7. Willebroek had drawn 6 whilst Stavanger, the last band in most peoples opinion to be able to win the contest had picked number 4.
Whitburn had picked the dreaded number 1 out of the hat, and after the slightly disappointing show the day before knew that they had to pull the stops out to make an impression. They certainly did that with a very spacious and musical account of 'Concerto Grosso', but once again after such a promising opening section it fell away somewhat as tiredness crept in.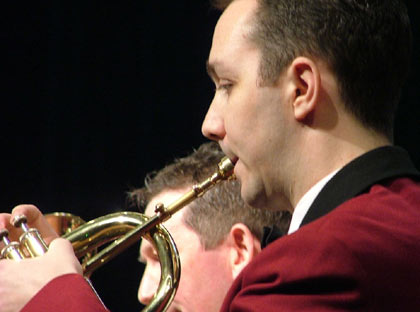 Whitburn Band: Flugel Player - Jim Chamberlain
They did however have two very fine tuba and flugel horn soloists allied to a sterling euph and horn, but the general ensemble was never in the same class and the evident weaknesses of the day before showed once more. Andy Duncan really gave the piece plenty of time to develop (the flugel quazi cadenza in the blues section being a case in point), and there was evidence enough that this is a very fine band in development. Not quite there yet though and 6th place was bang on the money, although 8th place overall was not what they really deserved and we had them in 6th.
Buy As You View followed on, and also followed with the same piece , 'Concerto Grosso', which immediately you could hear the difference in the depth and broadness of sound. The reading was also different too from Dr. Robert Childs – a more controlled and disciplined account with more emphasis on detail and rhythmic pulse rather than the broad musical brush strokes of Andy Duncan.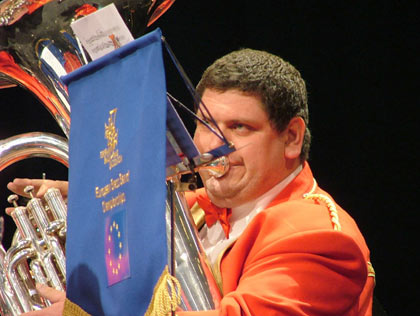 Buy As You View Band: Gavin Saynor
The opening showcased the brilliance of their soloists (Gavin Saynor on tuba was exceptional), but just like Whitburn the general ensemble play wasn't at times of the same quality with the Tico-Tico section in particular, scrappy. The flugel solo in the blues section was a little gem of classy playing (although not as expansive as Whitburn) and by the time the huge reprise came along they seemed to be back on course. It wasn't quite vintage BAYV over the two days, but they were still immensely impressive and 3rd place here and 2nd place overall was fully deserved. Next year they will be back, and will once more be very strong contenders.
Next up was Lyngby Taarbaek and a rather poor account of 'St. Magnus' that never quite got off the ground. Ray Farr tried his very best to make the most of his resources, but individual errors were far too frequent for him to gain control. There were some notable efforts from the soprano, euphonium and solo horn, but the ensemble was never at ease and the final Presto section was a mess.
After the bit of luck they got the day before there was none left this time and they got what they unfortunately deserved in coming 9th (the same as 4BR). Once more though they showed the signs of a band that will continue to develop as long as it is competing against quality opposition, so Belfast cannot come around quick enough.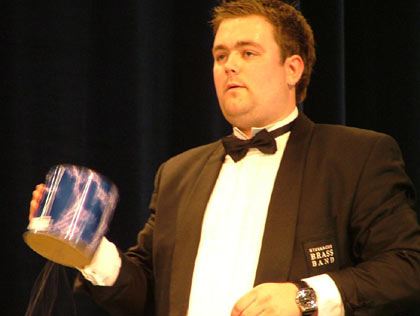 Stavanger Brass Band: Percussionist
With BAYV setting down the marker to beat, Stavanger and Allan Withington knew they had to do something special, and for the second time in two days they very nearly did just that. The performance of 'Music of the Spheres' was at times stunning (the opening sections in particular were of the highest class), but just when you thought it about to take off, little niggles crept in and some sloppy playing in the bells section in particular robbed them of valuable points.
This was a return to the form that the band had shown under David King over a year ago, and credit must go to the MD for his approach as he never got in the way of the flow of the music and his direction from the middle was an example of understated class. His players responded brilliantly as well, with some superb touches from the principal cornet and euphonium in particular, although once more some other lead lines were not as good. We had them down for 4th whilst the judges (which included the composer) had the down for second place – so who are we to argue, and it meant that overall they came in 3rd - a fine achievement after last years major let down (and this years fire) and once more showing what an outstanding band they are.
The most interesting work of the whole weekend came next with Brass Band Rijnmond's performance of Johan Evenepoel's 'Ginnungagap… seeming emptiness', a work of immense proportions and musical scope. This was delivered with real aplomb and was received with an enthusiastic response from an audience who thoroughly enjoyed its spacious tuneful writing.
We believe it was slightly cut from its original form, but it was still played with an authority and confidence from the band that they sounded a completely different outfit from the day before. The broad dual arcs of their formation also gave them an orchestral feel as the instrumentation was mixed to enhance the differences in timbre that feature in the work as a whole. The ending when they stood and faced the audience was particularly well done and brought to a close a brave and most welcome performance of a fine work. We had them 5th and the judges did too and overall they came in 5th as well – a bit high for us as we had them 8th but bravo for their audacity.
Willebroek now entered the fray with the second performance of the day of 'Music of the Spheres', but a rather inaudible start from the percussion section left the solo horn sounding isolated and in the minds of the judges it never recovered.
That was a bit odd for us, for thereafter the vast majority of the playing was of an exceptionally high level with the soprano and solo cornet work allied to a quality euphonium something to sit back and admire. The second major horn feature didn't work though, but it was thrilling stuff at times.
The last section of the work seemed to be heading for a huge ending but just as things were ready to explode, they rather imploded with a disastrous last two bars. Either the MD miscounted or lost his place, but for some reason it all fell apart and all the good work in the eyes of the judges was lost once more.
We had them down for 2nd place behind Black Dyke, but perhaps we overlooked those major errors, but 7th place was still harsh for a performance that at times reached the very heights, and it meant that overall the band had to be content with 4th place. We had them 3rd.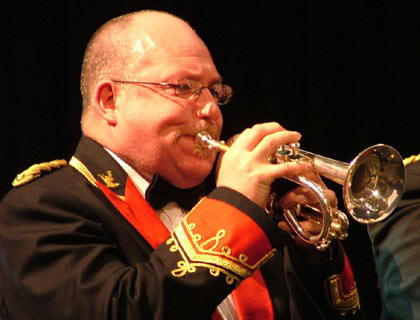 Black Dyke: Peter Roberts
The hall now filled up to almost two thirds of its capacity to hear Black Dyke, and the band from Queensbury certainly didn't disappoint them with 'Journey to the Centre of the Earth' by Peter Graham.
This was a bit of a risk for the band and the MD to take: Was it going to be another 'Music of the Spheres' clone many asked, or was it going to be hard enough? The answer was no and yes.
This was film music for brass – highly evocative of the storyline and with effects that at times mirrored the burrowing machine the heroes use to get them to the core of the planet. It was a sound picture – full of sonority rather than full of technical pyrotechnics, but one which the effects themselves asked a great deal of the players, but were not there for their own sake (although we doubt that any other soprano player could have done what Peter Roberts did on the high stuff – at one point at least the writing reached top Eb above top C).
The solo lines were not exhibition stuff either, with a wonderful elegiac trombone solo and gentle love duet between the euph and solo cornet. The horn playing of Leslie Howie and flugel work of John Doyle were of the highest class and a special mention to a quite awesome bass end. Add to that a really spooky 'whispering' section when a CD player and the band combined to produce a stunning 30 seconds of 'lost' voices in the tunnels beneath the ground and it set itself up for the huge finish that brought the audience to its feet.
We thought it unbeatable, and so it proved and they were awarded 98 points for their efforts and which overall gave them the title by a massive seven point margin. We had them winning by six (but what's a point eh?). Dyke were back and no one could have disagreed with the decision.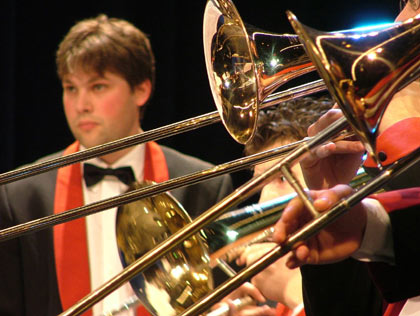 Brass Band Treize Etoiles: Tormbones and percussion
That just left the remaining two bands with Brass Band Treize Etoiles having to follow Dyke on. That they gave a very worthy 'Music of the Spheres' is a great credit to them, and at times they really got to grips with the music and its technical demands. It just lacked real fizz though and a touch of warmth, which could have used to greater effect than it was. We put it as the third best 'Sphere' of the day, but the judges gave it as the second and awarded the band 4th spot for their efforts (we had them 7th), and which meant that overall they came 6th (we had them 5th). They are another band though who are on the cusp of being real contenders, if they can just possibly release a little bit of the Swiss reserve that seems to hold them back.
Finally, the French and Brass Band Aeolus who gave a very fine account of 'Essence of Time' – a piece that has fallen out of favour in recent years after being so popular a decade ago. This was a splendid account and once more showed a band of players of intelligence and musicality.
There were some rough edges at times, but you sensed that perhaps they could have easily coped with something a bit more taxing, but it was a performance that perhaps deserved more than it got from the judges who placed them 8th. We had them 8th as well, so perhaps we underestimated their playing as well.
Their performance also left the final unanswered question of the day – What if Black Dyke or BAYV had played this piece, and had played it without a fault? Would the judges have scored it as high as their original choices? We would hope they would have, because it is such a fine work, but there in lies the problem now facing the bands and the organisers of the contest in the future.
Do they encourage the very best (and best funded) bands to commission special works for their exclusive use at the contest or do they try insist on works that have been published for a specific length of time and so are available to all bands to play if they so choose?
Next year in Belfast we may well find out, but here in Groningen it was Black Dyke who took the risk and saw it pay off for them with a victory that was perhaps never in doubt once they started playing. In their 150th year they are now European and National Champions – what price they add to that by the time they turn 151?
Iwan Fox