The great Gracie Cole - My Story
14-Apr-2005
Brian Ravenhill has been researching all about the famous Ivy Benson and her All Girl Band. One of the most famous players in the band was Gracie Cole, who was no stranger to the brass band world (even at Grimethorpe) in the 1940s.
---
Introduction:

4BR was contacted recently by Brian Ravenhill, who had logged into the letters page of the site and had seen a letter written by James Scott in respect to the great Gracie Cole.

Gracie was in fact the first female player to perform with the Grimethorpe Colliery Band after she had decided to take lessons with the equally great George Thompson. She played with the band and even recorded with them, before she was snapped up by Ivy to play trumpet in her 'All Girl' Band.
The rest as they say - is history
---
Brian Ravenhill's introduction:
Funny how your viewpoint changes as the years roll on; ambition slips away and reminiscences and memories begin to come into focus and take centre stage.
I reached that age a couple of years ago, somewhat earlier than the usual 65, due to Margaret Thatcher making me (and several thousand others) offers we could not refuse. My thoughts often rolled back the years, and I began to recall wonderful happy times as a youngster – long forgotten names came back to me, and I wondered how friends from the 1950's had got on in their journey through the years. How to get in touch; very difficult after 50 years, so being interested in computers I set about searching for their names on the Internet.
I remembered being on holiday on the Isle of Man with one of my friends in the 60s – he had two friends who were sisters, and they played Trombones with Ivy Benson and her All Girls Band in the Villa Marina Gardens for the holidaymakers – where were they now? I had not seen them since that holiday, but I thought Ivy Benson, famous and long time bandleader was bound to be the starting point.
But the name drew a virtual blank; I couldn't believe it – with a band which had over 250 girl musicians in it and had lasted 40 years; it seemed incredible that such a large piece of UK musical history and social comment was not recorded. All I could find was a number of specialist record retailers who had a few Ivy Benson vinyl's for sale.
My interest was up – I put a note on line asking for information – what had happened to all these musicians? Fuel to the fire came by way of a reply from one of Ivy's vocalists now living in Detroit. And the rest, as they say, is (recent) history!
Over the last 2 years, the contacts and ex members she helped me locate, together with heavy use of the Internet, has created something which has filled my retirement years with fascination, information and even invitations to visit some of these ladies, now scattered all over the world. The website has grown enormously, and I've provided information and details to a Theatre (who were putting on Alan Platers "The Blonde Bombshells", University of Lancaster where a Lecturer was writing a book, and to top it all, the Isle of Man Arts Council – who when originally asked if they would supply photos etc of Ivy's ten summer season on the island and were unable to do so.
My greatest pleasure is when ex members, and there have been many - email me with thanks for helping to rekindle memories and friendships – even reuniting family members.

"Thank you for the memories" they say; and I have to reply "it's only been possible with your help".
So, before we lose many more of "Ivy's Girls", and with them the fascinating history, may I ask anyone reading this, if they can help in my continuing quest to gather memories, photos and stories about Ivy, her "Girls" and those Dance Band days, to contact me and have a chat, send me some details or point me in the right direction.

Brian Ravenhill
www.ivybenson-online.com
---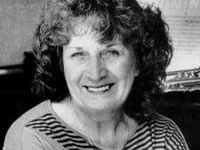 Gracie Cole's story - in her own words:

Back in 1940 when I was starting to make a name for myself as a cornet soloist, doing the broadcasts with top brass bands like Grimethorpe Colliery Band, Fodens etc. I received a letter from Ivy Benson when she was resident with her band at Manchester's Ritz Ballroom.
She'd heard one of the broadcasts and wanted me to join the band. Although I was also playing piano and singing with a dance band in Mexborough, Yorkshire at the time I wasn't keen to switch from cornet to trumpet or to leave my beloved brass band world. In any case there was a war on. I was only 16 and my father thought I was too young to leave home. Ivy was persistent. She continued to write to me until 1945 when I eventually joined her.

Before joining Ivy I'd had various offers - solo cornet in the ATS band, Gloria Gaye's All Girl Band, the British Symphonic Youth Orchestra, Blanche Coleman's Girls Band etc. My father decided it was Gloria Gaye so I joined on cornet and trumpet and stayed 18 months touring theatres in the UK and working for ENSA.

Then I joined Rudy Starita's All Girl Band. Rudy was an American vibes player, the brother of society band leader Al Starita, who was living in this country and formed the band mainly for USO (the US version of ENSA) and I played and sang all over the country with him before moving to Ivy. Even then the move was not immediate because Ivy was working abroad for ENSA, so I "depped" for Blanche Coleman until she returned.

Blanche had the resident band at the Royal Opera House, Covent Garden - an excellent band it was too - and I also did a couple of broadcasts with her ... "Saturday Night At The Palais" was one.

On November 2, 1945 (I'll always remember the date) began an unforgettable five years with Ivy. It all began with a rehearsal (Mac's rehearsal rooms in London) and a broadcast next day from the Aeolin Hall Studios, followed by tour after tour of the top theatres, ENSA trips all over Europe, the Middle East etc., television shows, her own radio series, recordings and so on.

To be part of this famous band was thrilling. Words can't describe the receptions and ovations that were accorded us, but I'll try to recall some of the shows and performances we were involved in. In December, 1945, for instance, my first ENSA tour took us to BAOR (British Army of the Rhine). Sometimes in the evening after a show Ivy, on clarinet, Lena Kidd (tenor sax) and myself would pop into a local jazz club and have a "blow" with local musicians (Ostend was the first date). We couldn't always converse too well, but jazz is a universal language!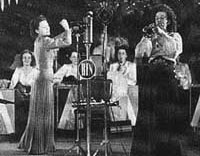 During this tour we made a memorable broadcast on Christmas Day from BFN studios in Hamburg, immediately after the King's message.

On concert programmes Ivy would often play Artie Shaw's Clarinet Concerto and what a superb performance it was. Apart from Artie himself, I've never heard anyone play it better, and it's one of my most vivid memories of Ivy's talents. Our "Ladies Night" series on Radio was a big event. Ivy's was the resident orchestra, with added strings, and we appeared with guest singers like Dorothy Squires. We recorded on the Regal Zonophone label.

The titles included "I cover the waterfront", and "I'm in the mood for love" while the late Rita Williams joined us for vocals on Billy Read's composition "A tree in the meadow" and "Turn over a new leaf", a pop song of the day.

In June, 1946 there was an unfortunate dispute over TV which made headline everywhere. Ivy was forced to cancel television appearances after the Stoll Theatre Corporation told her she would be banned from all theatres if the band appeared on TV. Around this time the band appeared in a film with Ted Ray ("Ray of Sunshine") in which we played the Sabre Dance. Ivy's father "Digger" was road manager for quite a while. The girls liked him and respected him as a musician (he had played in theatre bands like the Chiswick Empire etc).

I remember we worked on the same bill as Morecambe and Wise quite a lot. They were early days for them and they were billed as "Morecambe and Wise - Fools rush in". In later years I worked on the last Morecambe and Wise Christmas Show (ITV). Eric took ill, recovered to do the show, but died not long afterwards. I was in a sketch playing piano, Eric and Ernie were on trombone and drums and Tony Monopoly was singing "Cabaret" (all comedy, of course!).

I couldn't resist saying to them at rehearsals - "I worked with you in the 40s". They were very interested. "Who with?" they asked, and I answered with one name - "Ivy". They were really knocked out, asking about Ivy and the girls. Then at the end of the show Eric told the studio audience all about Ivy and how we'd all worked together. It all made for a lovely atmosphere.

Ivy could be a tough boss one minute, but the next moment she was quite capable of letting her hair down and being one of the girls. The memories come flooding back - about the Chelsea Arts Ball, the Lady Ratlings Ball (Ivy was a Ratling) or about the armed escort we were obliged to have in the desert. In 1950 I left Ivy and played with two male bands - the late George Evans ran one of them and Bill (Geldard) and I were married while we were with George. Then we joined the Squadronaires. I took Jimmy Watsons chair and playing next to Tommy McQuater, the lead trumpeter, was the thrill of my life.
Later when Tommy left to join the Skyrockets, who were then resident at the London Palladium, life wasn't so easy.

Bill and I decided it was time to move on. It so happened that Ted Heath sent a telegram asking Bill to join his band and made me a proposition. He wanted me to form a girls band and he wanted to handle it - "Ted Heath presents Gracie Cole and her All Girl Band". At this time I was working with Johnny Farley's band at the Festival Gardens in London (it was the year after the Festival of Britain - 1952). I was very keen on the idea, after Ted suggested it to me, and was eager to get started. He said it would take time - photographs, building up the publicity, his own arrangers would do the library and there would be a guest appearance with the Heath band at a Palladium Swing Session.

Weeks went by, then months and all the time Ted was on the road with his own band. Having got the bug, I asked him if he'd mind my going ahead with the Rabin Agency, as by now they had also approached me. He was very understanding so I started preparing the new band. My first letter was to Ivy Benson. I explained that I wanted her to know what was happening.

She was very helpful and recommended a couple of good trumpet players (which I needed) and also offered me some good advice on the pitfalls of running an all-girls band. She suggested we meet for a chat when she was in London for an appearance on "Henry Hall's Guest Night".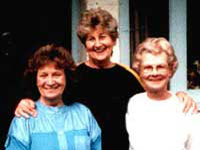 After that our paths rarely crossed again for several years. I had my band for five years, then disbanded to have a family (the first daughter was born in 1957) as by then I had settled down to family life.
Soon after, Rock 'n Roll came in - That wasn't for us; I joined Sidney Lipton at Grosvenor House, and then when I was expecting our second daughter, I left to settle down. This was the time when Ivy was doing the Isle of Man summer seasons and the US bases in Europe. I was invited to take part in Ivy's "This is Your Life"; it was the first time in twenty years that we had met, but we never lost touch from then on. Another TV appearance was on the "Russell Harty Show" with Ivy as a guest, and later, in 1989 I think, there was a TV documentary on Ivy.

There were several memorable reunions, when we congregated in Clacton with our old Boss. Sylvia England, a former trumpet player, worked very hard to contact the girls and helped to bring these reunions to fruition. There were girls from all over the country and abroad; it was wonderful to be reunited 40 odd years later and Ivy really loved these get-togethers.

I never got to know the girls of the later decades, but at Ivy's funeral in 1993 all the decades were represented, from the 40s to the 80s - it was a very moving experience.

Ivy really was a legend in her lifetime and will always be remembered as the foremost all-girl bandleader.
---
For more information on the Ivy Benson Band and its members, you can visit
www.ivybenson-online.com

Brian is always looking for information on the band and its former members. If you can help, please contact him through the website.