2005 National Youth Championships - Retrospective: County Championship
14-Apr-2005
4BR reviews the County Championship, where the enthusiasm and vibrancy of the winning MD was reflected in the performance of her brilliant Gold winning band.
---
The final contest of the day featured six bands that battled it out on the Sunday afternoon and early Sunday evening in the Bruntwood Theatre.
Alan Morrison declared that he felt that the National Youth Championships were the most important in the banding calendar as they contain the 'future of banding' performing (a phrase used many times during the day by other judges) and as with Richard Evans and James Scott last year (to name just two) he encouraged everybody to 'keep it going'.
Alan also cited the importance of choosing the correct music for bands to play as 'Own Choice' items. Finding music to that demonstrates bands strengths is very important and on more than one occasion Alan and Colin Hardy did wonder why bands had chosen the repertoire that they had.
As is the case with Alan, his comments were excellent – well thought out and constructive, and with the experienced Colin Hardy on hand this was a duo that caught the right mixture of constructive criticism and encouragement bang to rights. If only others on the weekend had done the same.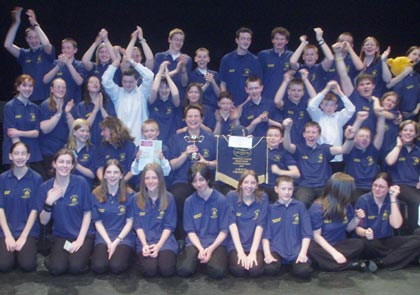 Bolton Youth: Winners
Alan and Colin didn't have too much of a problem deciding on the winners. Bolton Youth directed with a refreshing zest and enthusiasm by Helen Minshall claimed their first ever title with a programme consisting of 'Ravenswood', the set work, three movements from 'Jubilee Music' by Elgar Howarth, 'Swedish Folk Song' and 'Pastime with Good Company'. It had all the hallmarks of a well prepared and thought out programme and the players certainly appeared to enjoy it as much as the MD.
The lighter items were neat and tidy, and the MD kept a good lid on the dynamics, whilst the meatier stuff showed a control and balance that others on the day lacked.
The MD herself was somewhat speechless when trying to give an interview later on, but we are sure she wouldn't mind a temporary form of muteness after the standard her players produced for her, and they were deserved winners of the Gold Certificate and the £350 top prize.
This result for the band came hours after Smithills had taken the Schools Section making it a double celebration for bands in Bolton.
In second place came Oldham Music Centre under Martyn Evans who produced some neat and tidy playing in their ambitious set of works, and which possibly had the best test piece of the day and in third Kirklees Youth Band directed by Nigel Dolling who also showed a great deal of skill and commitment in their set. Both bands gaining Silver Certificates, and although they were a little behind the eventual winners in terms of quality, they certainly both made up for it in style and confidence – nearly all the major technical obstacles were overcome with aplomb.
Meanwhile, Joe Murray who had featured with Kirklees Youth was awarded the 'Best Instrumentalist' title for his cracking performance and in the process picked up a £100 bursary, framed certificate and trophy for his fine efforts. Well done mate – a fine young principal cornet in the making!
The judges made the points about the test piece, and how the bands coped with it. As with any set work at any level, it wasn't without its problems with the second movement 'Bonnie Briar Bush' causing intonation worries. The opening 'Girls and Boys come out to play' had a 'tempo to sit' and the final movement 'Men of Harlech' didn't have many bands that captured the 'fanfare' mood required, and too many of the bands tried perhaps to 'bow' their way through it rather than just sit back and relax a bit more.
Birmingham Schools, Milton Keynes and Stockport School Seniors all received Bronze Certificates of merit, and on the day they showed themselves to be young bands, but good bands in the making.
Each had moments of unease and some problems with intonation, whilst perhaps a couple of the choices of repertoire were a bit ambitious at this stage in their development. However, they will be a year older, a year wiser, and a year better next time they come here, and that promises to be an encouraging sign indeed.
It rounded off a great day out for everyone concerned, and especially for the winners from Bolton and their bag of energy MD, Helen Minshall. It is great to see such enthusiasm when it comes to brass bands, and it is an enthusiasm that certainly has rubbed off on her players. Long may it continue, and we hope others will follow suit.
Well done to them all – however, the only problem was perhaps how to get the MD down off the ceiling!
Malcolm Wood