2005 National Youth Championships - Retrospective: Community Championship
14-Apr-2005
4BR looks back at the largest section on the day when a Mount Charles Youth literally stood out from the rest in winning the title.
---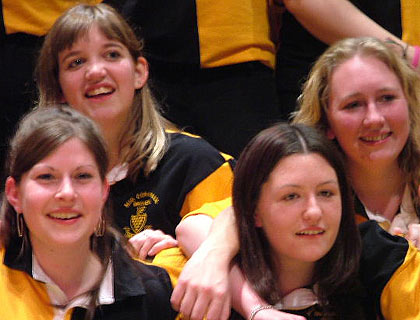 Mount Charles: Celebrating their win

In many respects, it was fortunate that Mount Charles Youth played twelfth out of thirteen bands in this competition. The overall standard during the seven hour contest was extremely high, but such was the quality of Mount Charles' performance, that once they had played there was no doubt any band could have beaten them.
Up until then though this contest was still wide open until Mount Charles came on stage with Lions Youth right from draw number 3 setting the early standard for the rest to follow.
People would have loved to have heard the winners, but unfortunately a large number had to be content with watching the performance on the television screens as opposed to being in the hall as slightly over zealous stewards abided to the letter of the Health and Safety Regulations.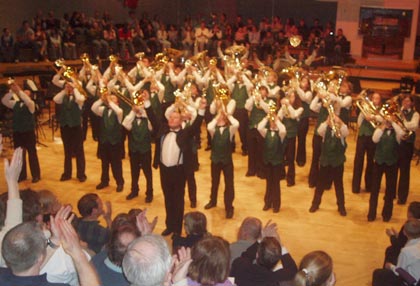 Mount Charles: In action
From the opening bars of 'Fanfare & Flourishes' by James Curnow, Mount Charles never sounded like a youth band at all. The overall quality of sound and level of performance was extremely high and never dropped throughout the performance, and at its conclusion, the large audience knew they had just heard the winning band.
The set work for the section 'Patterns' by Professor Edward Gregson was a challenge for a number of bands and the Cornish outfit produced a secure interpretation that included some lovely cornet work.
The work was originally written for the Butlins Youth Brass Band Championships way back in 1975, but it has weathered well over the years and some 30 years later it proved a good rhythmic and musical test. The only disturbing thing about it was summed up by the Editor of 4BR who informed us that he was actually 10 years of age when he last played the piece at those Finals, and hearing it again on the weekend played so well by so many young players, made him feel extremely old!
Anderson's march 'Goldcrest' maintained the bands up-tempo approach with the percussion players demonstrating their skills at the side of the stage with some cracking tambourine skills.
A complete change of mood in 'David of the White Rock' was next, but the overall standard of performance never diminished with some delightful playing from within the middle of the band.
At the end of 'David of the White Rock' music stands and chairs were cast aside and it was straight into 'Kongolela', arranged by Jon Magne Forde originally for Stavanger.
Bryan Hurdley, the bands music director, amazingly choreographed the whole thing in just seven days. Too be honest, it was nothing short of sensational, and all you could do was sit there and smile. Hopefully, John Berryman and Derek Southcott sat and watched it too, as it was just superb. Not only was the playing level of performance maintained, but every player knew where they had to be and what they had to do. They thrived on it and received a superb ovation at the end. The win and the subsequent Gold Certificate and £350 confirmed their quality and deserved success.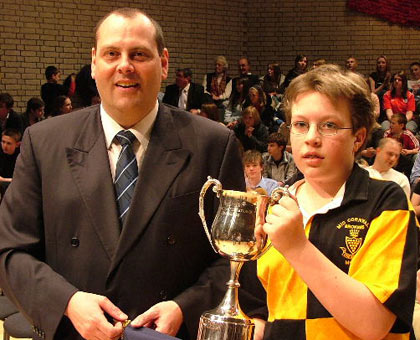 Mount Charles: Alan Edmond presents the prize
Bryan himself was a delighted man when he spoke to 4BR after the results were announced and his young band were beginning their deserved celebrations. "They are a great bunch," he said. "They work so hard and take everything on board. We decided to use as much choreography as we could, as the players so quickly picked up the music for Kongolela – and it worked!. I've been involved with the band for some time now and when I come down to conduct the senior outfit I always conduct these as well. It's great for me and I enjoy it so much."
Lions Youth drew number three and set the standard for the competition with a fine display that was always likely to feature.
Opening with the march 'Home Again' the ensemble led by Nigel Birch had an authoritative feel about it, whilst Gregson's 'Patterns' was one of the cleanest interpretations of the day with excellent control and rhythmic clarity.
Sarah Raisbeck, has recently taken on the Principal Cornet role and was a real star on the day as she demonstrated her qualities in a lovely performance of 'Intermezzo' by Jurgen Hemple.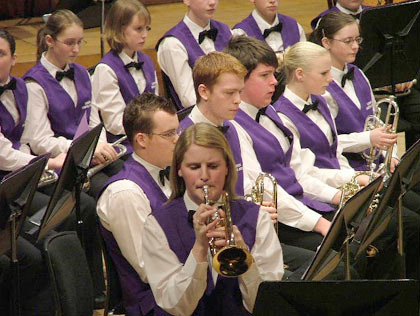 Lions Youth: Led by Sarah Raisbeck
To conclude the performance, Lions produced an impressive interpretation of Sparke's 'A Tameside Overture', which once more showed a nice rounded and balanced sound and had some little gems of individual contributions. It rounded off a fine overall contribution that perhaps didn't quite have the sparkle of the winners, but nonetheless fully deserved the Gold Certificate and the runners up prize of £200.
In third place came Poynton Youth under Andy Hirst. Poynton impressed in Blackpool in February at the Action Medical Research Youth Entertainment contest and did the same again here with a well balanced account that had plenty of quality from start to finish.
Apart from 'Patterns', their programme was centred on 'Cry of the Celts' that had paid dividends for them in Blackpool. Clearly this is music that the band enjoys playing and they never lacked any confidence or had uncertain moments. The quality of performance shone right the way through with some fine playing all around the stand.
The bands soloists coped extremely well when in front of the band, (the horn player in 'Suil A Ruin' in particular) and the band's Principal Cornet player, Holly Dollman took the award for Best Instrumentalist within the section with some neat and lovely toned playing. .
Poynton finished in third place, but this could easily have gone to Youth Brass 2000 under the direction of Chris Jeans. Youth Brass was the final band to be awarded a Gold Certificate for their level of performance on the day and this was richly deserved.
With a programme that included 'Carmina Burana', 'Deep Harmony' and music from 'The Pirates of the Caribbean', it was classy stuff and their performance of 'Patterns' certainly had plenty of energy and enthusiasm from Chris Jeans. It paid off for them as well, with Chris keeping the music flowing and with some nice sounds from within the middle of the band.
The bands final item was 'Highland Cathedral' featuring bagpipes, but unfortunately something went wrong for the piper right at the beginning. The poor lad looked crest fallen but hopefully he won't beat himself up about it as those cruel twists of fate that happens - but the band deserve praise for just getting on with it and producing a fine performance.
Five bands were awarded a Silver Certificate for their level of performances and there was some excellent playing on offer from the bands, whilst they didn't necessarily produce the overall standard of the Gold Certificate winners.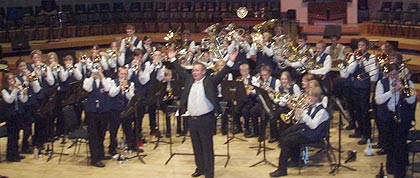 Sellers Youth with MD Mark Bousie
Sellers Youth under Mark Bousie sounded a completely different band from when 4BR had heard them at Blackpool in February. They went for it right from the off with Philip Harper's arrangement of 'The Muppets' that perhaps could have done with a little bit more dynamic contrast, but certainly had impact.
Of particular interest was the band's World Premiere of Pete Meechan's 'The Chronicles of Odersfelt (Four Portraits of Huddersfield)' which concluded the band's programme.
The four portraits are four movements depicting a number of periods in the history of Huddersfield. Yes, it is different, and is one of those pieces that would keep a senior band on its toes, never mind a youth one, but Mark Bousie's troops led by fourteen year old Joe Murray (who plays with the Senior Band) kept their concentration and produced a performance of real merit.
Sellers Youth are a band to keep an eye on. Last year, they received the John Henry Iles Cup for the 'Most Promising Band' in the Junior Section' and in this section they certainly held their own.
The 'Most Promising Band' in this section was given to Tewitt Youth under the excellent direction of Craig Ratcliffe who were awarded a Silver Certificate. The items that stood out were Derek Bourgeois' 'Serenade' and 'I wanna be like you' featuring the band's excellent bass trombone player. They concluded their performance with Peter Graham's 'Procession to the Cathedral' that certainly pushed the band to its limit.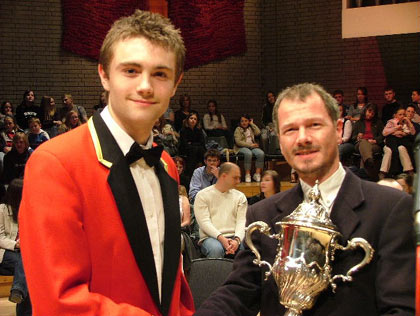 Tewitt Youth: Silver Certificate - Most promising band
Enderby, Houghton Area Youth and Northop were the other three bands to be credited with a Silver Certificate, and their most notable pieces were 'King Cotton' (Enderby), 'In the wee small hours of the morning' featuring Houghton's Helen Douthwaite and 'Concert Variations' for Northop.
Chalford, South East Cheshire and Towneley Youth all received Bronze Certificates, and all of them played extremely well with programmes that had their moments and which showed plenty of promise and talented commitment. There has to be both winners and losers even at a contest such as this, and these three bands will surely come back next year stronger and more mature in sound to challenge more strongly for the prizes. There were certainly plenty of good raw materials to work on.
Derek Southcott, one of the judges on the day stated, 'There was some, good, very good and very very good playing today with the top three bands standing out. The decision had been quite close, but those top three certainly stood out."
Meanwhile John Berryman was deeply impressed when 4BR spoke to him at the conclusion of the results. "This was a superb contest," he said. "I was amazed at the standard of playing and the top bands in particular produced wonderful rounded and balanced sounds – in fact, they didn't really sound like Youth bands, as it was so nice to hear the basics of tuning and balance so well presented!"
That was certainly true of the winner Mount Charles, and they produced a memorable performance for their MD, Bryan Hurdley just a day or so before he headed out for Australia. Bon Voyage indeed!
Malcolm Wood